Mimic Vat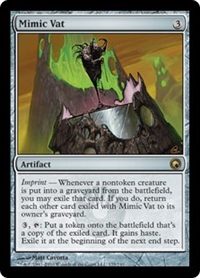 Oracle Text
Imprint — Whenever a nontoken creature dies, you may exile that card. If you do, return each other card exiled with Mimic Vat to its owner's graveyard.
3, T: Create a token that's a copy of a card exiled with Mimic Vat. It gains haste. Exile it at the beginning of the next end step.
Bonus Questions
1) [Rule Question] If the token is of a creature with persist, does it create the copy with the counter?
2) If you don't play mimic vat, what would need to change for you to play it? Converted mana cost? Cost of activation?