Ixalan review = done.
Commander 2017 review = done.
Rivals of Ixalan = done.
Update the set releases for the rest of the year = done.
Update the tips and tricks section = done.
Review of a spoiled Dominaria card =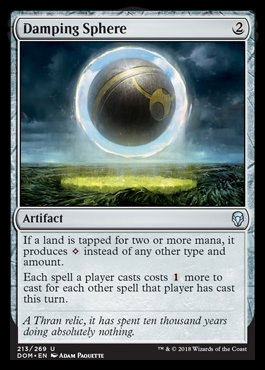 Undoubted autoinclude

Damping Sphere:
We're playing this. No doubt about it. It hurts greedy big mana decks and the newest addition to my meta: a
Shu Yun
spellslinger deck. It a hate card from top to bottom with a low converted mana cost. Check back when Dominaria is released for the official deck changes.