I think somebody at WotC loves me...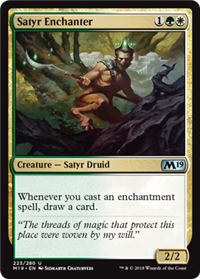 This basically makes my current Enchantress deck obsolete. Green is just about the best second colour we could have hoped for, and it comes with a strictly better body!
Just off the top of my head,
Rancor
,
Ancestral Mask
,
Armadillo Cloak
,
Utopia Sprawl
,
Abundant Growth
,
Wild Growth
as well as many of the digging spells like
Benefaction of Rhonas
,
Commune with the Gods
and
Kruphix's Insight
are going to benefit the archetype immensely.