Modern Horizons spoilers are done so here's some cards we would be interested in: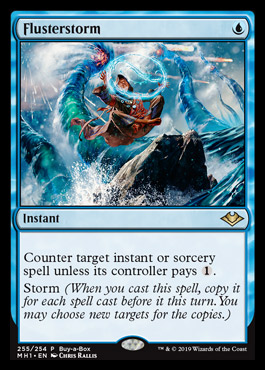 Flusterstorm is the best Storm answer around if what you want to do is counter them going off. I feel like that's probably wrong in Modern. Flusterstorm is a Legacy staple because Storm tends to go off much earlier and with less of a guarantee. In Modern when you're playing ways to just infinitely chain stuff like with Pyromancer's Ascension or Baral/Electromancer, this card loses effectiveness. An opponent realistically could just go off again. That being said, Flusterstorm is still an okay answer in some other matchups so there's a bit of a trade off. I would guess people won't play Flusterstorm but it's worth keeping in mind.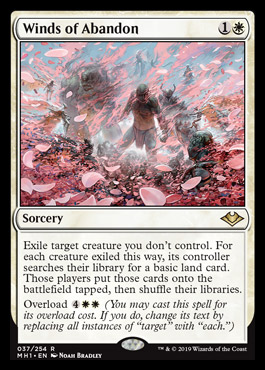 Winds of Abandon seems pretty cool. It's very similar to Settle the Wreckage with some minor differences. For one, your opponent doesn't have to attack so you can clear off some other stuff. Secondly you can cast it for two mana so it's not dead if you don't have the mana. I think it might be better than a sideboard Settle the Wreckage.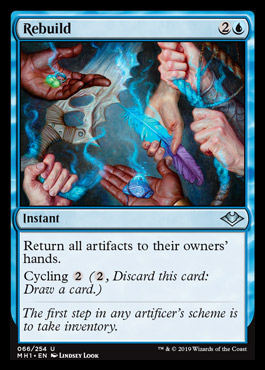 Rebuild is much like Hurkyl's Recall except it costs one more and can cycle. I think it's bad because if you're boarding in Hurkyl's Recall then you don't have any reason to cycle it. Against a deck like Affinity this card is so powerful that you'd be fine just casting it 10/10 times.
Not sure what I would want to fetch with this but any card that says search your library for an artifact seems like there's potential. Not something I'm excited about but something that I'd keep in the back of my mind.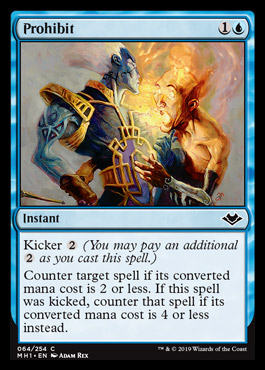 Prohibit doesn't seem amazing but who knows. There are plenty of decks where this is just Counterspell and the fact that it scales a bit is nice. I'm guessing that if you run the numbers it won't make sense, but counters with unique conditions at reasonable prices are, like Tribute Mage, things to take a look at.
I think generally MH doesn't add much for this deck. If anything I'd be more excited about people trying new decks and your ability to play this into a generic field knowing we have a great average matchup and game against basically anything.