SCDL
Join Date:

4/28/2010

Posts:

5,193

Member Details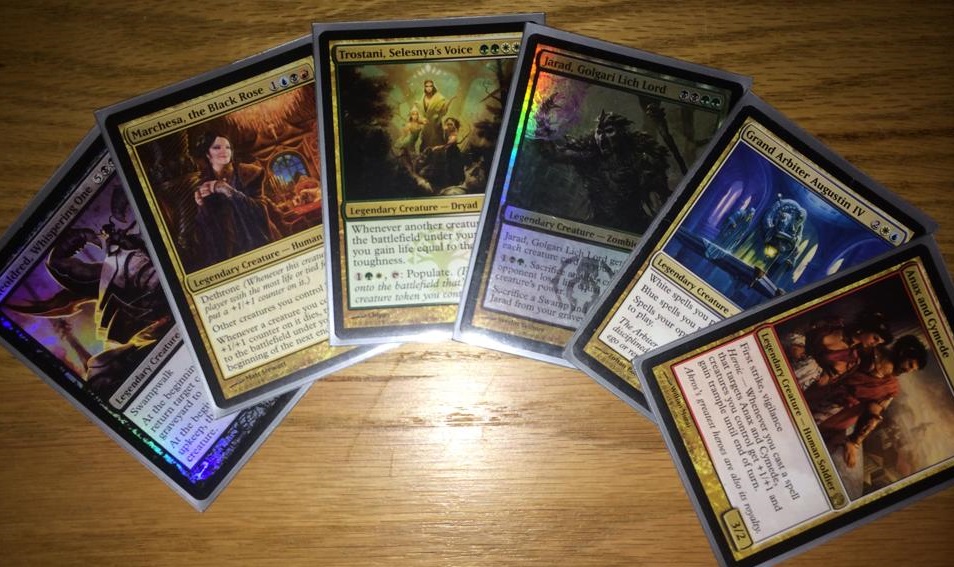 SCDL's Casual Commander Cube
A terrible cube for filthy casuals
When I made this cube I was a student on a small college campus, and I realized that a number of my friends on said campus who play magic have been fairly limited by the size of their collections. Many of my friends were restricted to only a couple EDH decks that are only really half complete. With the release of Conspiracy at the time, I realized that a cube designed specifically for the local format of choice would be a perfect solution. So I cannibalized my eight commander decks and my collection so I could build this cube:
This baby, held together purely by ductape, dreams, and six-drops, was the result of my efforts. This cube is designed to be a very casual friendly commander cube; specifically the cube is meant to evoke the "Battlecruiser" style of the Rise of the Eldrazi limited environment. While initially the cube was a scrapheap budget project built out of what I coul scrounge, time, effort, and a fulltime job helped it become something more. At this point, I'm open to any suggestions or recommendations, however do bear in mind that this cube was never meant to be fully optimized because the goal was to breed an environment that closely emulates casual EDH.
Basic Information
Cube Size:
620 Cards in the core cube with an additional 62 generals.
Breakdown:
74 of each monocolor, 13 of each two color combo, and 115 colorless
General Breakdown:
2 of each monocolor, 3 of each guild, 2 of each shard/wedge, and 1 five-colored
Standard or Theme:
Multiplayer Commander. It's also a bit of a slow/battlecruiser cube.
Snow Lands
: Nope.
Average Number of Players:
4-6
How Often Drafted:
Whenever the opportunity comes up. (Which is very infrequently.)
Card Selection
Proxies:
Yes, but only cards I own in other languages. (I have the foreign version under the proxy)
Powered:
No.
Portal:
No.
"Un" Cards:
Booster Tutor
Banned Cards for Power-Level
: Omniscience, Serra Ascendant, otherwise see the commander banlist
Banned Cards for "fun" factor:
Once again, see the commander banlist
Cube Design
Standard or Multiplayer:
Multiplayer
Sideboards?:
No.
Color Balance:
Yes.
Gold Balance:
Yes.
Hybrid/Split/Kicker as Gold:
Yes.
Color Abilities as Gold:
Yes.
Perfectly Balanced CMC:
That sounds like
waaaay
too much effort.
_____________________________________________________________________________________________
Special Drafting Rules
Drafting the commander cube is fairly straightforward, but naturally it has some special considerations. Cube drafts begin by drafting from the separate pile of Generals which come in a different type of sleeve. Generals are separated into packs of 6 and are drafted for one round.
Once generals have been drafted the main cube is drafted. The main cube is drafted just as you would draft any other cube, except there are four or five rounds of drafting instead of the traditional three. (I'd prefer five, but the cube doesn't have enough cards to support that with more than 7 people) Once the draft is complete, each player picks a general and constructs a 59 card deck around that general.
Special Rules:
- Generals you have drafted but are not using as your general may be switched into regular sleeves and included in your deck.
- Conversely, legendary creatures drafted from the main cube may be switched into general sleeves in lieu of using one of the generals you drafted.
- Decks include 60 cards. 59 Cards in your main deck, and your general which does not count towards that 59.
- Normal EDH color identity rules apply; you cannot use cards outside your chosen general's color identity, with two exceptions:
- Any non-general card named with
Unexpected Potential
has no color identity in deck construction. A side effect of this is that you must name the card with Unexpected Potential during deck construction and not at the start of the game, but that shouldn't change much.
- All extra packs (For Booster Tutor/Lore Seeker) are to be packs of 15 undrafted cards from the cube. If there aren't 15 cards left, no extra pack can be used and the card has no effect.
- Starting life is 30, and commander damage rules apply. (If any one general has dealt a given player 21 points of combat damage, that player loses.)
Optional Rules:
- Hyrbid cards can be played in decks which only contain one of their colors. Please note, this does
not
apply to phyrexian mana cards,
Selesnya Guildmage
, and
Mistmeadow Witch
.
- Players may use any number of
OGW/SOI taplands
in deck construction as if they were basics.
- If a card such as
Lore Seeker
or
Booster Tutor
asks you to look at a pack, you may choose either a 15 card pack from the main cube or a 6 card pack of generals.
_____________________________________________________________________________________________
GeneralsMagic OnlineOCTGN2ApprenticeBuy These Cards
White
1x Avacyn, Angel of Hope
1x Nahiri, the Lithomancer

Blue
1x Thada Adel, Acquisitor
1x Talrand, Sky Summoner

Black
1x Endrek Sahr, Master Breeder
1x Sheoldred, Whispering One

Red
1x Grenzo, Havoc Raiser
1x Daretti, Scrap Savant

Green
1x Nissa, Vastwood Seer
1x Yeva, Nature's Herald

Azorius
1x Geist of Saint Traft
1x Brago, King Eternal
1x Grand Arbiter Augustin IV

Dimir
1x Lazav, Dimir Mastermind
1x Grimgrin, Corpse-Born
1x Vela the Night-Clad

Rakdos
1x Lyzolda, the Blood Witch
1x Grenzo, Dungeon Warden
1x Kaervek the Merciless

Gruul
1x Thromok the Insatiable
1x Ruric Thar, the Unbowed
1x Wort, the Raidmother


Selesnya
1x Saffi Eriksdotter
1x Trostani, Selesnya's Voice
1x Karametra, God of Harvests

Orzhov
1x Ghost Council of Orzhova
1x Teysa, Envoy of Ghosts
1x Vish Kal, Blood Arbiter

Golgari
1x Skullbriar, the Walking Grave
1x Jarad, Golgari Lich Lord
1x Meren of Clan Nel Toth

Simic
1x Edric, Spymaster of Trest
1x Prime Speaker Zegana
1x Kruphix, God of Horizons

Izzet
1x Jhoira of the Ghitu
1x Melek, Izzet Paragon
1x Niv-Mizzet, the Firemind

Boros
1x Anax and Cymede
1x Brion Stoutarm
1x Jor Kadeen, the Prevailer

Jund
1x Shattergang Brothers
1x Prossh, Skyraider of Kher


Naya
1x Marath, Will of the Wild
1x Mayael the Anima

Bant
1x Rafiq of the Many
1x Roon of the Hidden Realm

Esper
1x Ertai, the Corrupted
1x Sharuum the Hegemon

Grixis
1x Jeleva, Nephalia's Scourge
1x Marchesa, the Black Rose

Jeskai
1x Shu Yun, the Silent Tempest
1x Narset, Enlightened Master

Mardu
1x Queen Marchesa
1x Tariel, Reckoner of Souls

Abzan
1x Ghave, Guru of Spores
1x Karador, Ghost Chieftain

Sultai
1x Sidisi, Brood Tyrant
1x The Mimeoplasm

Temur
1x Animar, Soul of Elements
1x Riku of Two Reflections

Five-Color
1x Child of Alara


(The changelog will be on cubetutor because that lets me be
wonderfully
lazy)
_____________________________________________________________________________________________
UNDER CONSTRUCTION
While from a drafting perspective the archetypes of this cube are fairly intuitive since everything you need to know about archetypes is written on the generals, from a cube-design perspective this warrants some amount of analysis. I refer to the "archetypes" in this cube usually as themes because they aren't strictly speaking archetypes; any given deck or general often has a couple themes that come together to build their deck.
Every general ideally falls under a main theme which describes their primary game plan, and many have secondary themes which support them. Any general without at least a main theme is probably one I'm looking at removing, and any general whose main theme overlaps with another in their color/guild/shard/clan is in a similarly precarious position. When picking generals to put into the cube, my philosophy was that generals of the exact same color combination should have different game-plans, so that wanting to draft certain colors doesn't force you to draft a specific archetype, but that generals that share some of their colors should have overlapping game-plans as often as possible, so that I have clearly defined "archetypes" I can build the cube to support. In practice I've found that the importance of these philosophies is even higher than I had expected.
Artifacts
Colors:
URw
Primary Generals:
Muzzio, Visionary Architect
|
Daretti, Scrap Savant
|
Jor Kadeen, the Prevailer
|
Sharuum the Hegemon
|
Karn, Silver Golem
Blink
Colors:
WUg
Primary Generals:
Yeva, Nature's Herald
|
Brago, King Eternal
|
Vela the Night Clad
|
Saffi Eriksdotter
|
Prime Speaker Zegana
|
Roon of the Hidden Realm
|
Riku of Two Reflections
|
Archangel Avacyn
Control
Colors:
WUB
Primary Generals:
Drana, Kalastria Bloodchief
|
Grand Arbiter Augustin IV
|
Lazav, Dimir Mastermind
|
Kaervek the Merciless
|
Niv-Mizzet, the Firemind
|
Zedruu the Greathearted
|
Damia, Sage of Stone
|
Child of Alara
Cost Cheating
Colors:
UR
Primary Generals:
Jhoira of the Ghitu
|
Mayael the Anima
|
Narset, Enlightened Master
|
Animar, Soul of Elements
|
Dredge/Reanimator
Colors:
Bgu
Primary Generals:
Sheoldred, Whispering One
|
Grenzo, Dungeon Warden
|
Meren of Clan Nel Toth
|
Tariel, Reckoner of Souls
|
Sidis, Brood Tyrant
|
the Mimeoplasm
|
Karador, Ghost Chieftain
Lifegain
Colors:
WB
Primary Generals:
Ayli, Eternal Pilgrim
|
Oloro, Ageless Ascetic
Ramp
Colors:
Gw
Primary Generals:
Avacyn, Angel of Hope
|
Nissa, Vastwood Seer
|
Karametra, God of Harvests
|
Kruphix, God of Horizons
Sacrifice
Colors:
Brg
Primary Generals:
Grimgrin, Corpse-Born
|
Lyzolda, the Blood Witch
|
Thromok the Insatiable
|
Ghost Council of Orzhova
|
Mazirek, Kraul Death Priest
|
Brion Stoutarm
|
Shattergang Brothers
|
Marchesa, the Black Rose
Spells Matter
Colors:
URg
Primary Generals:
Talrand, Sky Summoner
|
Wort, the Raidmother
|
Melek, Izzet Paragon
|
Jeleva, Nephalia's Scourge
Tokens
Colors:
GWr
Primary Generals:
Nahiri, the Lithomancer
|
Grenzo, Havoc Raiser
|
Trostani, Selesnya's Voice
|
Edric, Spymaster of Trest
|
Prossh, Skyraider of Kher
|
Marath, Will of the Wild
|
Queen Marchesa
|
Ghave, Guru of Spores
Voltron
Colors:
GW
Primary Generals:
Geist of Saint Traft
|
Teysa, Envoy of Ghosts
|
Skullbriar, the Walking Grave
|
Rafiq of the Many
Last edited by
SCDL
: Sep 25, 2016