NoD~
Location:

Idaho, USA

Join Date:

4/28/2010

Posts:

450

Member Details
I built my cube a while ago, but just now getting it to the point where I really feel it's setting into place. I have tried 360 up to 540... 360 felt like I had to make too many good cuts, 540 was too watered down. 400 feels pretty good. From 360 to 400 was mostly multicolored additions (going from 20 total to 40 total), but added 1 of each color and more artifacts as well. Finally, 405 to keep an even pack as well as make a bit more room for further artifact growth.
My ultimate goal is to pimp this thing out with foils and promos. My first mission is to put as many FNM and various foil promo cards in, as many of them are cheap. Next up will be to rid of all the proxies, which can be expensive. Finally, finish off with removing gold bordered and non-pimped cards. I will avoid full-art cards, as they will be reserved for basic lands only.
Banning goes as necessary, but I also wanted to attempt to make each card unique, as well as force colors to stay within their abilities. There are several that are "on the edge" in my cube, but allowed in for now.
Cube Size: 405
405 Breakdown: 270 mono color (54 each), 50 colorless, 50 multicolor, 35 land
Theme: None
Snow: No
Portal: Yes
Un-Cards: No
Proxies: 36 (8.89%)
Gold Border: 11 (2.72%)
Normal: 262 (64.69%)
Foil: 96 (44 Promo) (23.70% / 10.86%)
Overpowered

Jace, Memory Adept: Too difficult to deal with his heavy milling. Similar to Sword of Body and Mind, but the Sword has several characteristics that make it more balanced, such as a need for a creature and must be able to hit the opponent.
Sol Ring: 2 mana ahead on turn 1 is too devastating. Rarely did a player lose when dropping this within the first 3 turns.
Copy-Cat

I discourage cards that are near identical with different names. I want to try for a "1-of"... I'd put 2's or more if I wanted more than one copies of anything.

Savanah Lions: Elite Vanguard
Kodama's Reach: Cultivate
Terramorphic Expanse: Evolving Wilds
Fyndhorn Elves: Llanowar Elves
Ravages of War: Armageddon
Burning of Xinye: Wilfire
Arc Lightning: Flames of the Firebrand
Uktabi Orangutan: Viridian Shaman
Disloyalty

Cards that are "out of place" for it's colors.

Mana Tithe: Too blue for white.
Psionic Blast: Too red for blue.
Harmonize: Too blue for green.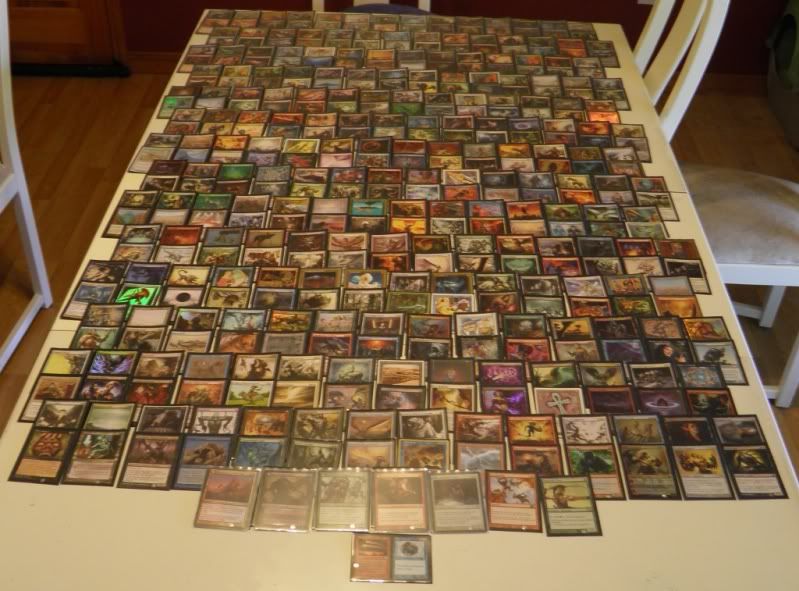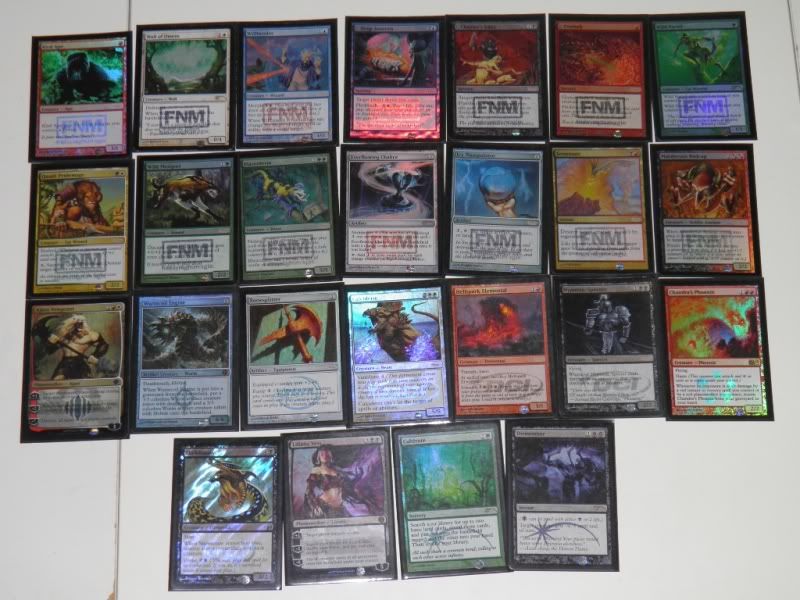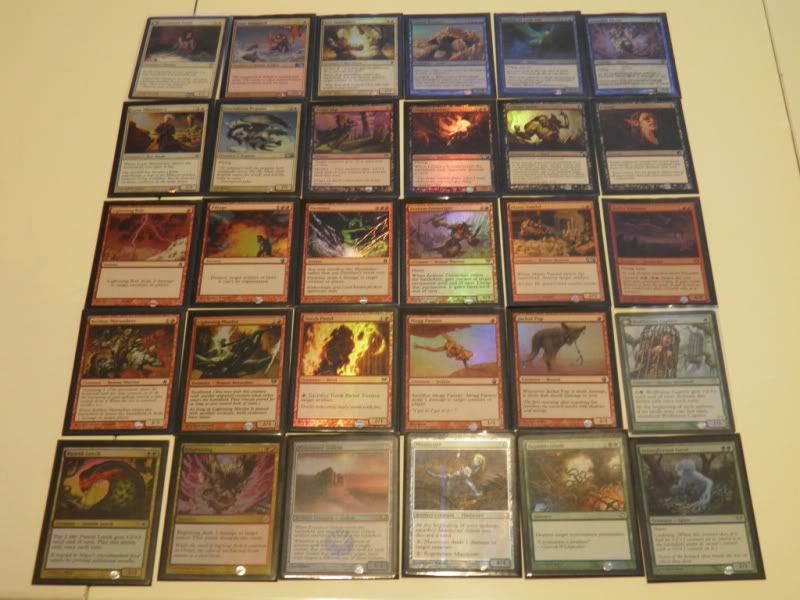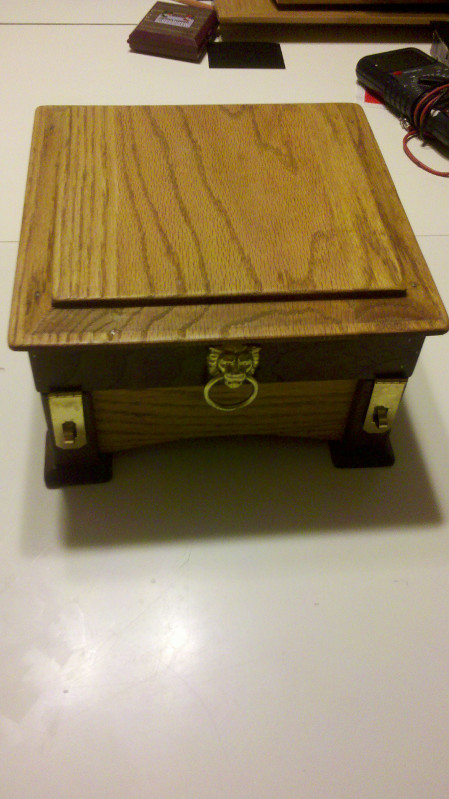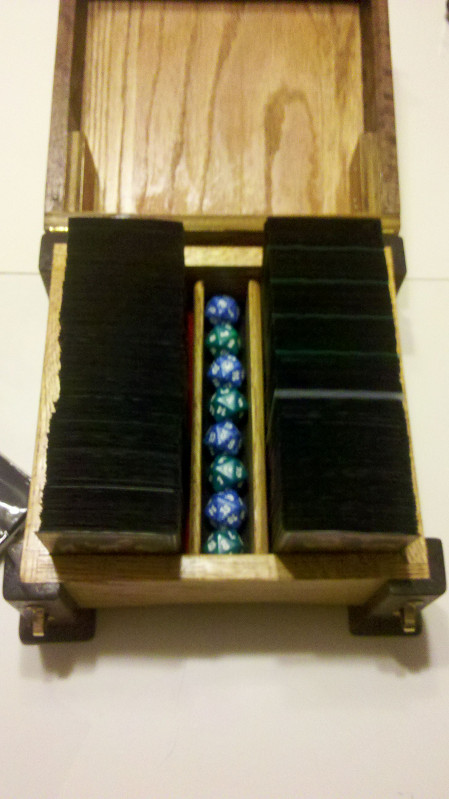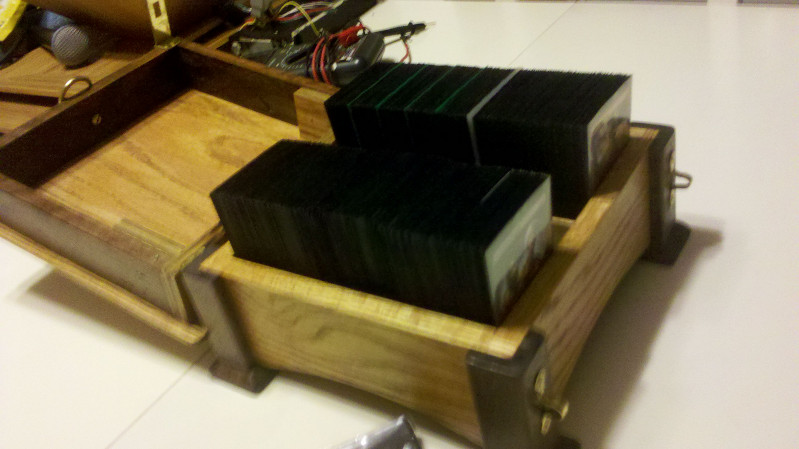 8-17-12
Vexing Devil
>
Thundermaw Hellkite
Just felt this was a worthy swap.
8-27-12
Calcite Snapper
,
Vampire Lacerator
,
Wolfbitten Captive
,
Smokestack
,
Sundering Titan
,
Ankh of Mishra
,
Guardian Idol
, and
Ring of Gix
> 10x
Signet
s,
Nantuko Shade
,
Somberwald Sage
,
Impulse
Bonfire of the Damned
>
Keldon Vandals
I had some comments on how the cube was missing the signets. I caved in, but decided to go 405, just to keep a full 3x booster available over the 8... good for odd 5+4 drafts, or a sealed on top over a 7 person draft. I've been wanting Keldon Vandals to make their way in, now it's being forced w/ more artifacts... Bonfire is the only miracle card and, playing this card enough in standard, it puts way more luck over skill, so I figured I'd give bonfire a break.
9-8-12
Desolate Lighthouse
>
Izzet Charm
10-18-12
Reckless Waif
>
Ash Zealot
Thornling
>
Deadbridge Goliath
Putred Leech
>
Lotleth Troll
Putrefy
>
Abrupt Decay
Panoptic Mirror
>
Chromatic Lantern
Tragic Slip
>
Pack Rats
Elesh Norn, Impulse; Nantuko Shade; Keldon Vandals; Jungle Lion; Precursor Golem; Razormane Masticore; Mana Vault; Black Vise; Sword of Vengeance
>
Absorb; Tezzeret, Angel of Bolas; Rakdos Cackler; Stormbind; Dryad Militant; Gerrar's Verdict; Niv-Mizzet, Dracogenius; Vraska the Silent; Duerger Hedge-Mage; Spitting Image
Some basic changes, but also cutting 1 of each color + 5 artifacts to increase multicolor from 40 to 50. Ultimately, I'd like to stuff more hybrids in, which will come in the next 2 sets, but just be a true heavy multicolor cube until then.
10-18-12
Vraska the Silent
>
Deathrite Shaman
Lotus Petal
>
Relic of Progenitus
Vraska was a bit underwhelming. Going to try out Deathrite Shaman as I recall it doing well at prerelease and I have heard complaints about lack of graveyard hate in my cube, so he should do well here. Lotus Petal was pretty weak, so further hate and draw come the relic should work out alright.
2-26-13
Been a while... lets see if I can remember all the changes!
Absorb > Supreme Verdict
Grand Arbiter Augustin IV > Detention Sphere
Ulvenwald Tracker > Experiment One
Tezzeret, Agent of Bolas > Duskmantle Seer
Storm Bind > Ghor-Clan Rampager
Slayers' Stronghold > Boros Charm
Duergar Hedge-Mage > Boros Reckoner
A few that were hard to decide, some experimental, etc. But all together, I think it's a good overall changeover.
Last edited by
NoD~
: Feb 26, 2013