kojiro
Location:

Columbus, Ohio

Join Date:

1/11/2005

Posts:

1,769

Member Details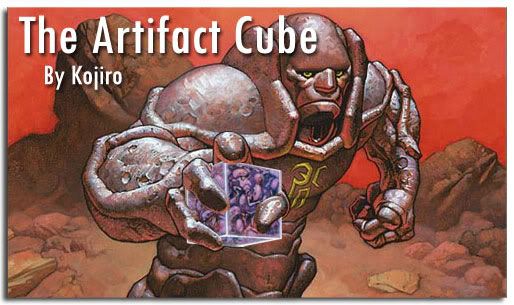 Welcome to the Artifact Cube Thread!
This project feels similar to when I built my cube for the first time. It's new, and exciting territory that is allowing me to build and refine a completely new format. The Artifact Cube has been a long time in the making and and I am happy to have it finished. I only have about 20 drafts with it so far, but have invested quite possibly hundreds of hours of discussing it, scouring shops and trade binders for interesting cards, and an embarassing amount of time on magiccards.info and Gatherer researching it. I am very happy to finally have it fully built and sleeved, and to be able to post it here for my fellow friends and cubers to discuss!
I am hopeful there will be a whole bunch of questions and comments, so please don't hold back. I know off the bat there are a few things I should get out there to explain my reasoning for actually building the darn thing, so I'll see what I can do to articulate my goals with my fingers aching from sorting and typing up this list!
Artifacts are the best. No truly, they're just the bee's knees. They're far and away my favorite card type, and I have always loved formats heavy in artifacts. Yes, I even enjoyed playing in Mirrodin Type 2. That being said, I first got the idea for an artifact cube when we were looking through my binder trying to find dark horse cards for cube. We came across Serum Tank of all cards. I mentioned that I wish it had a lower activation cost or simply didn't need counters to be added/removed to make it work. I mentioned it to a friend who had a C/U cube and he said it wouldn't be any good. I said that I was going to build an artifact cube so that my foil copy could have a home, and here we are about one year later with a complete list! I think I may be getting ahead of myself, so let me backtrack a bit.
At first I would just pick up any neat foil cards that had anything to do with artifacts. After construction was complete I found myself with quite literally hundreds of cards sitting in the on-deck binder and it's barely seen the light of day! Many of them are total trash artifacts, and others are probably good enough but I haven't realized it yet. Others are completely and utterly busted, but I'll get to that in a moment.
What I wanted to do with this cube is to create a draft format that is very powerful that incorporates the best of Magic's artifacts and limited strategies, and puts them in a draft format built for 6-8 players. Think of it as a super, awesome, turbo-charged MD5, or Scars draft. That being said, I am sure there are a lot of cards you're scratching your head as to why I haven't included them. In case you weren't paying attention when I first mentioned it, I have spent a large portion of the past 6 months' lunch breaks looking at Gatherer and magiccards.info. I have queried quite literally hundreds of different strings in hopes of finding some card I haven't seen before. I will say that I AM human, so I am sure there are cards I've missed, but for the most part, I think I have the best possible list to start off with.
Keep in mind, this format isn't about power, though it feels very powerful. It's about creating an exciting format for our group to play. It's about being able to open up a pack and slam down a first-pick
Myr Incubator
,
Ezuri's Brigade
,
Argivian Archeologist
,
Godo, Bandit Warlord
, or some other odd cards which would likely never see the light of day in a normal cube or any other format for that matter!
Now on to the actual construction. Did you know that most of the good red and green artifact-theme cards in red or green destroy artifacts? Did you know that they do it REALLY well? The first iteration of the cube was a total mess. I would make some random packs using deckstats and it was total crap. I would open packs with 4-6 artifacts and stuff like Pulverize, Shatterstorm, Deed, Primetive Justice, Crumble, Oxidize, etc. etc. In a format where you're trying to land 4-7 mana artifact creatures to win the game, those spells are WAY too efficient.
Did you know that most of white and black's artifact-themed cards SUCK? Well, white's a bit better, but you pretty much had one strategy to build around and that was it. I did some serious thinking about what I was going to do to balance it. Was I just going to make the cube built for a 6-man and only include the purest artifact cards in the cube? How will people remove Hoard-Smelter Dragons then? How will they be able to kill a friggin Yawgmoth's Demon? I will tell you there are appx 3 answers in the whole friggin' cube for non-artifact weenies, and I felt like this was really hindering my ability to create the best drafting environment. I decided I wanted to include some limited cards which aren't necessarily artifact-themed, but wouldn't go so far outside the design parameters as to mess up the environment. I added a few bouncelands and utility lands to help with fixing a bit. Black got some Terror effects and 187 creatures. Red got a little burn and a couple weenies which are good with equipment. White got a few good control spells to help push U/W and Esper control. Green got some utility cards like Rancor and E. Witness. Blue got...well, blue, hehe, blue has like 75 cards on deck, so it's going to be just fine as far as I'm concerned.
Now you may be asking yourself, where is XYZ card? Here's a few reasons why it's not in the list:
It's way too good. Cards that fall into this category are the P9, Sol Ring, Mana Crypt, Mana Vault, Tezzeret (potentially going to be added, but I need more data), Chaos Orb, Pernicious Deed, Shatterstorm (and other destroy all artifact variants), Kataki, etc. I also would put super-efficient artifact removal like Shatter, Manic Vandal, Organgutan and others here as well. I tried to put a few effects in each color, but I cannot justify having more than a handful of them or else drafting would be absolutely not fun at all. Remember, it's about balance!

It's not really in theme. Elspeth Tirel, Vindicate, Nicol Bolas, etc. I love these cards, but I don't think they're needed right away, and they could prove to be too good in their own right. I certainly am aware of their absence as they sit in my binder, but for now they're purposely out so as not to skew my initial draft results.

It's not really necessary. Nev's Disk, Akroma's Vengeance, and other board sweepers fall into this category. I will hold off until I've got a dozen or so drafts under my belt to see if they're needed. I am 99% sure I want to add Day of Judgement or another wrath effect, but I simply don't have enough data.

It's crap. Not much to say here. Just because it says artifact on it and it's a black card, doesn't mean it should replace Nekrataal because he doesn't interact with artifacts. Though I suppose this is a good time to mention that most of blacks removal has been picked on purpose in that some of it hits arts and some of it doesn't.

Another fun part of the draft experience that I haven't quite figured out for sure how it's going to work is the addition of artifact lands. Right now each drafter is able to pick up to three artifact lands (Darksteel Citadel, Great Furnace, etc.) and add it to their deck after the draft. Others have suggested making it the 16th card in each pack which could be interesting. I've also discussed including 5-pack vouchers in the packs which allows a user to take 5 of them from the land box.
One thing I am absolutely sure of is that I have probably built something incorrectly or overlooked some card. That's where you all come in! I have a ton of respect for the members of this board and have really grown to appreciate the community. That's why I have taken the many hours it has taken to put this together to broadcast to you guys first!
Enjoy!

Basic Information
Cube Size:~390
Breakdown: Approx 40 each color, 25 land, 25 multicolor, and 150 artifacts
Standard or Theme:
Snow Lands: No
Average Number of Players:This is a variant cube and it's barely been played yet! I'm hoping to get one big draft and one small draft per week with about 6-8 players max. When we get more than 8 players we won't be able to play it, unfortunately.
Card Selection
Proxies:No
Powered:No
Portal:Yes
"Un" Cards: Yes
Banned Cards for Power-Level:Yes
Banned Cards for Time Constraints:No
Banned Cards for "fun" factor:No
Cube Design
Standard or Multiplayer:Standard
Sideboards?:Yes
Color Balance:It's not an exact science as I am tweaking the numbers a bit, but I would like it to be <1% difference between each color.
Gold Balance:No
Hybrid/Split/Kicker as Gold:Not at this time, but eventually.
Perfectly Balanced CMC:No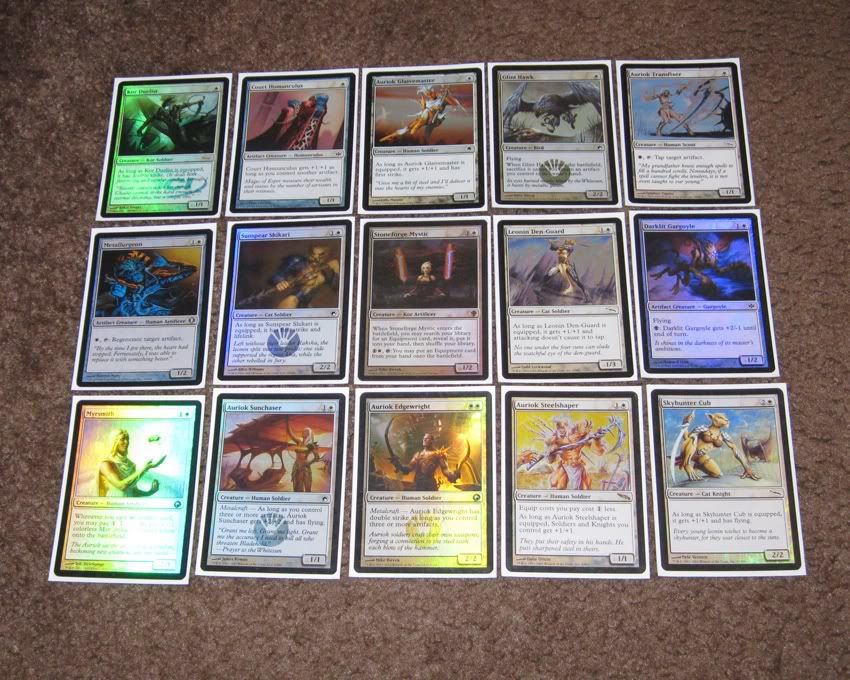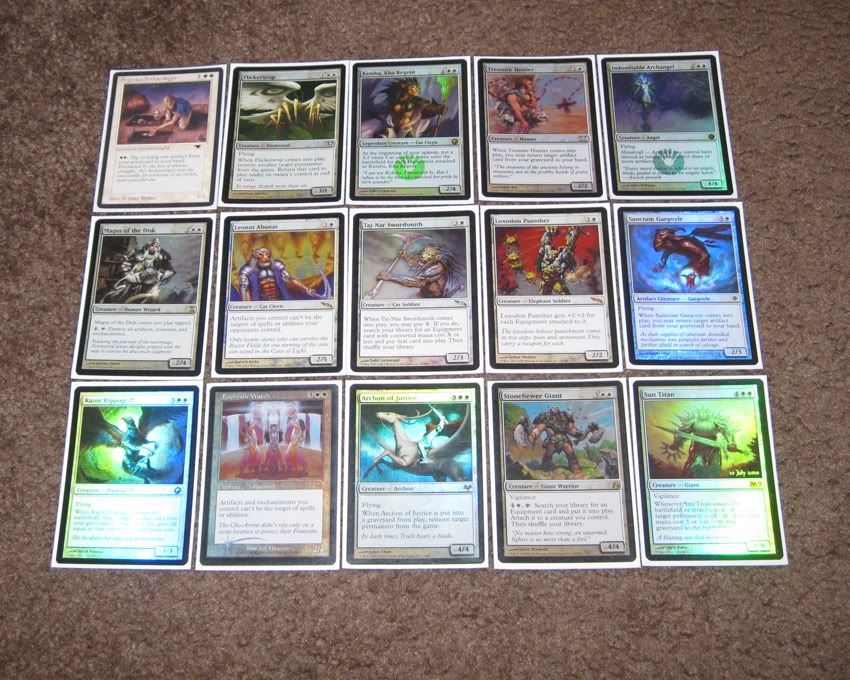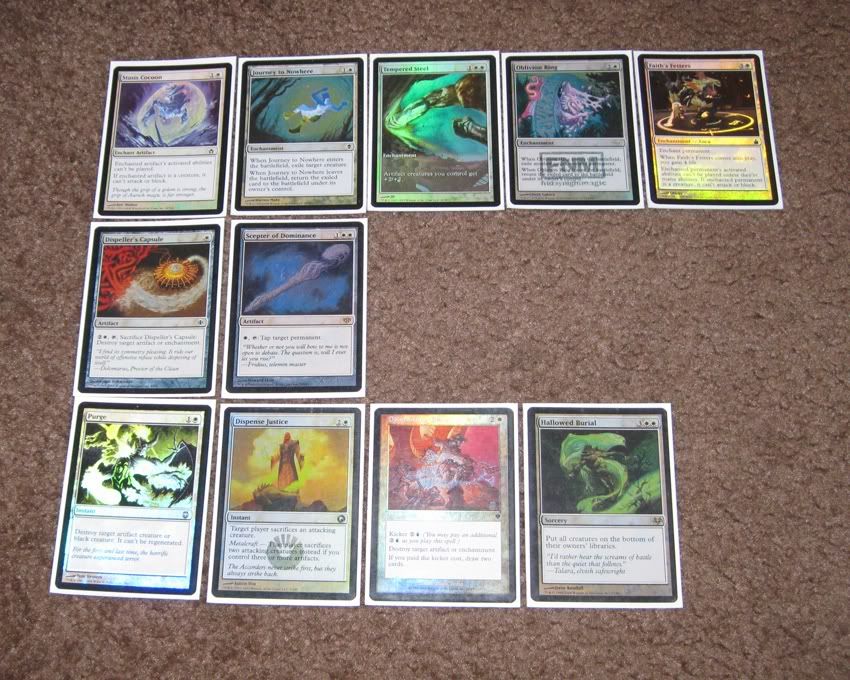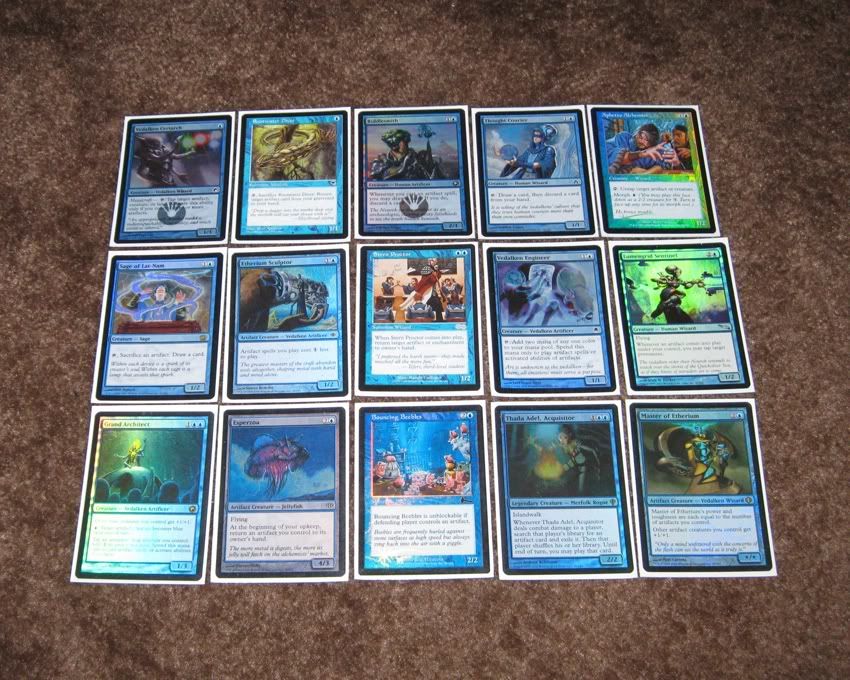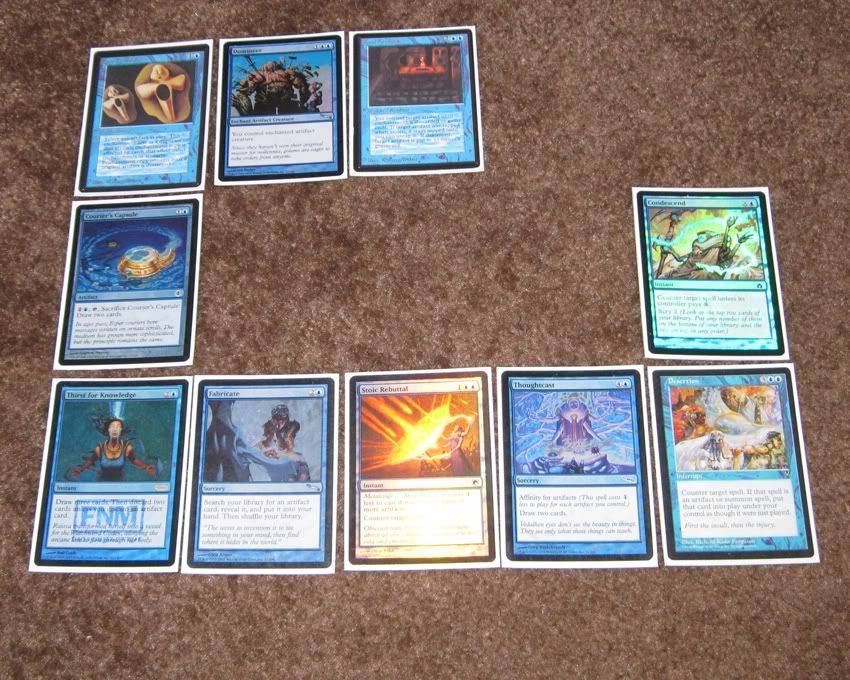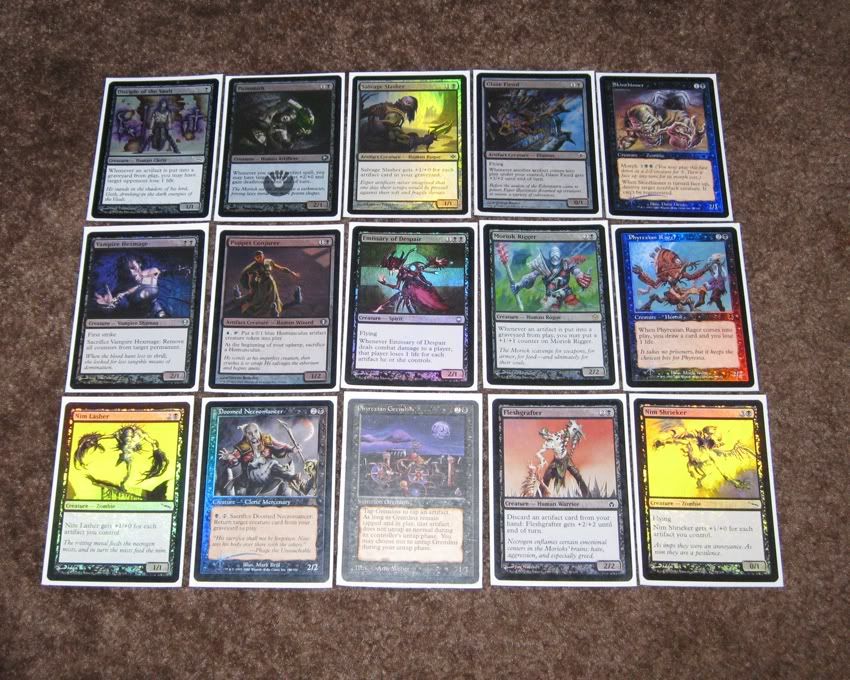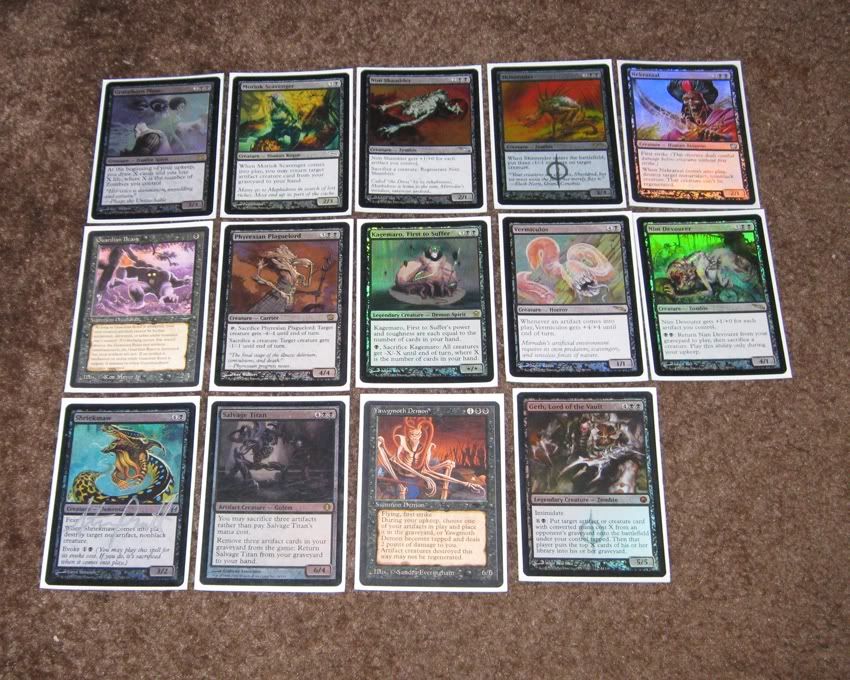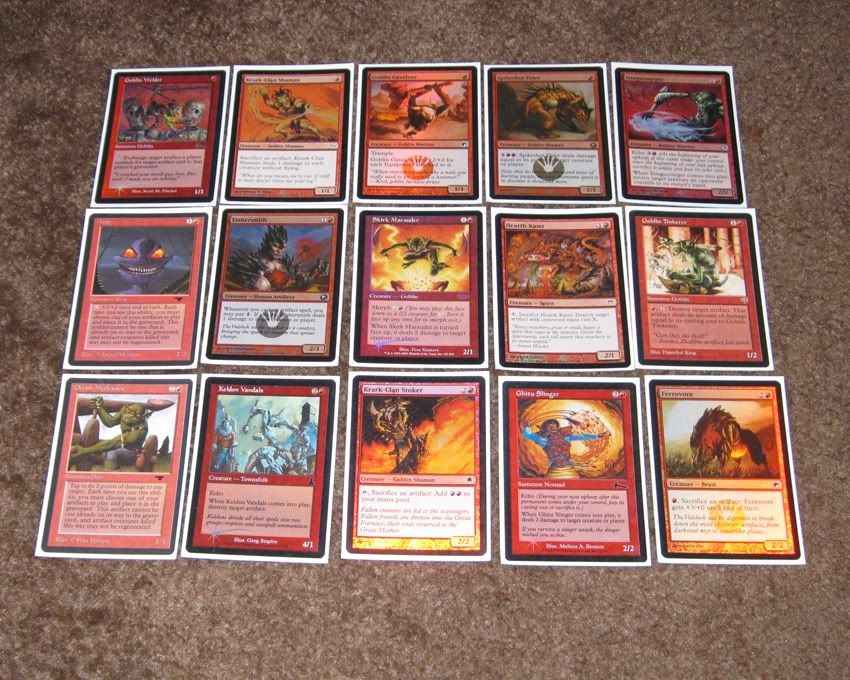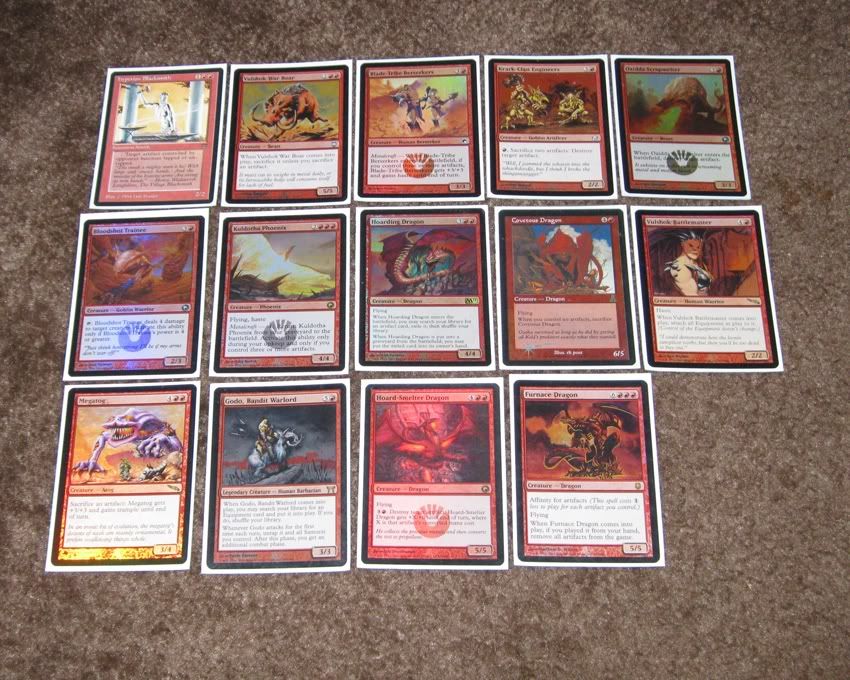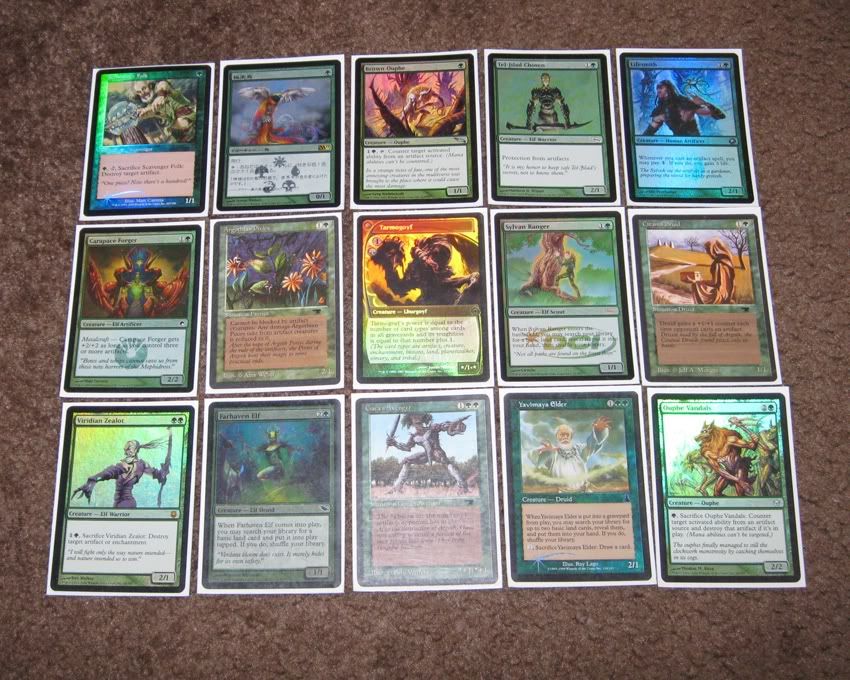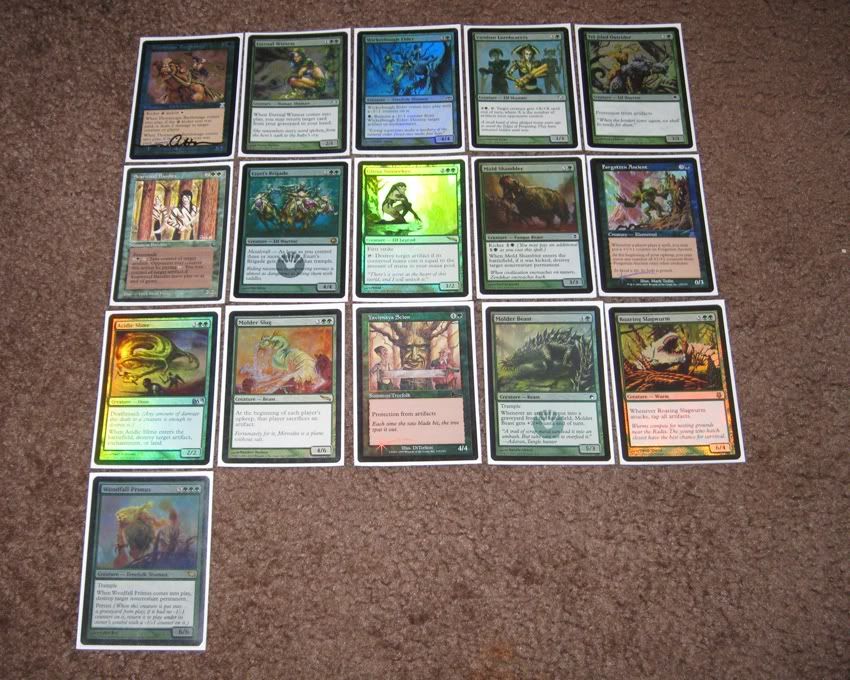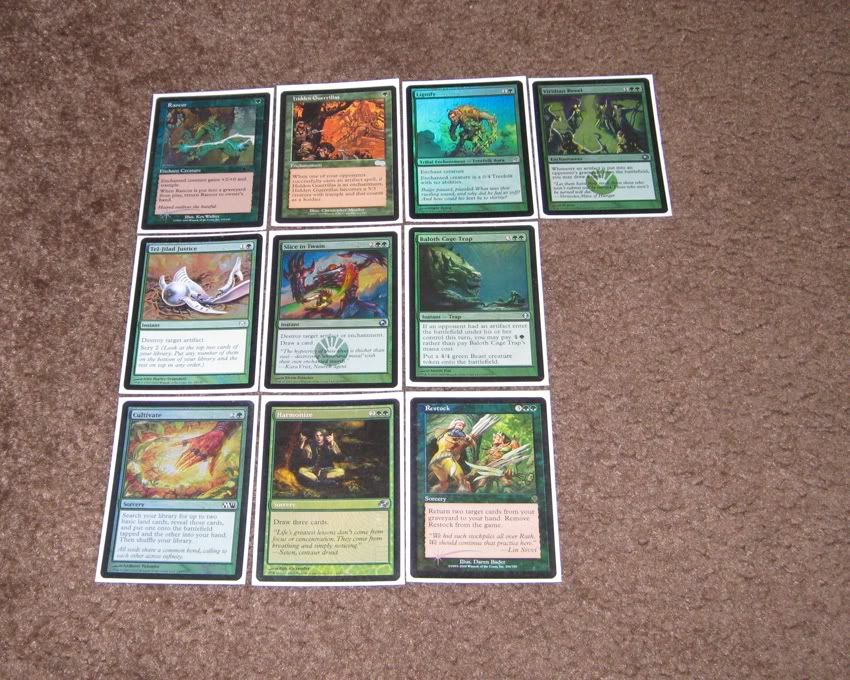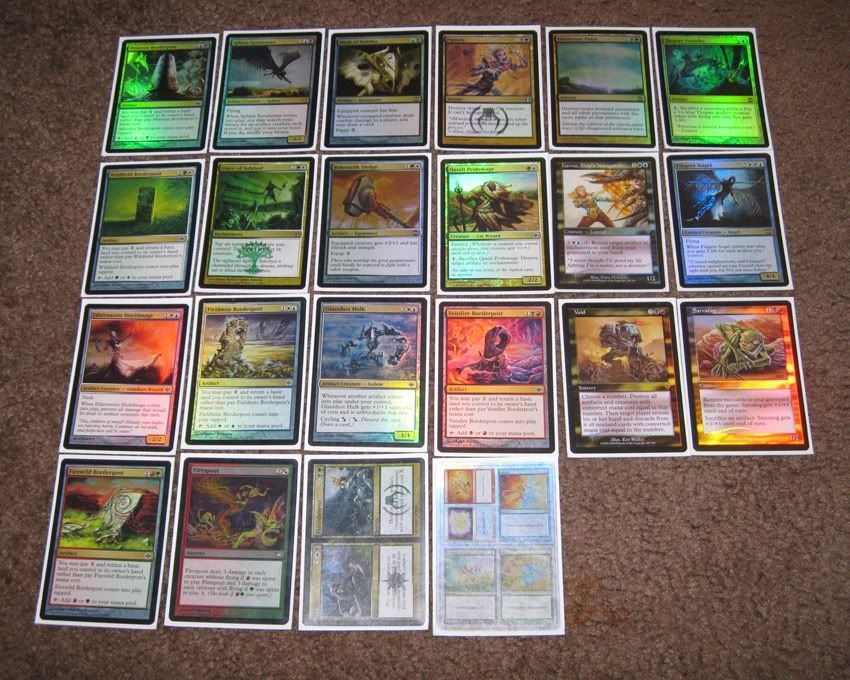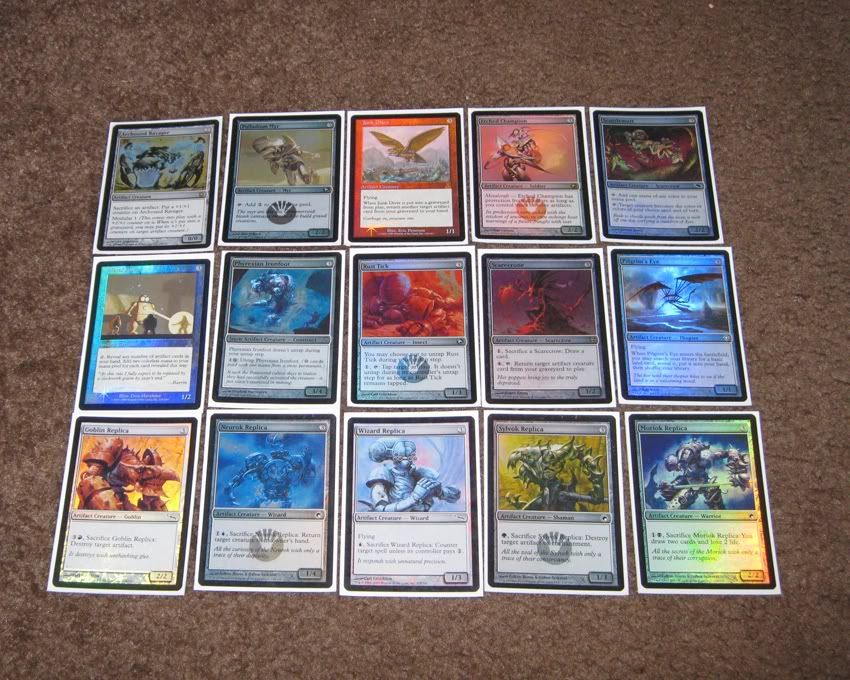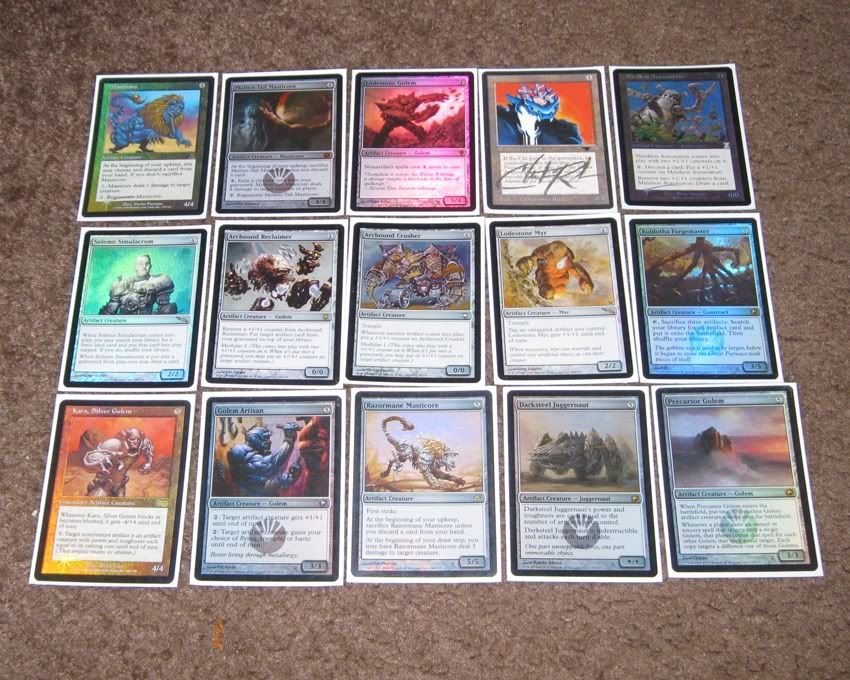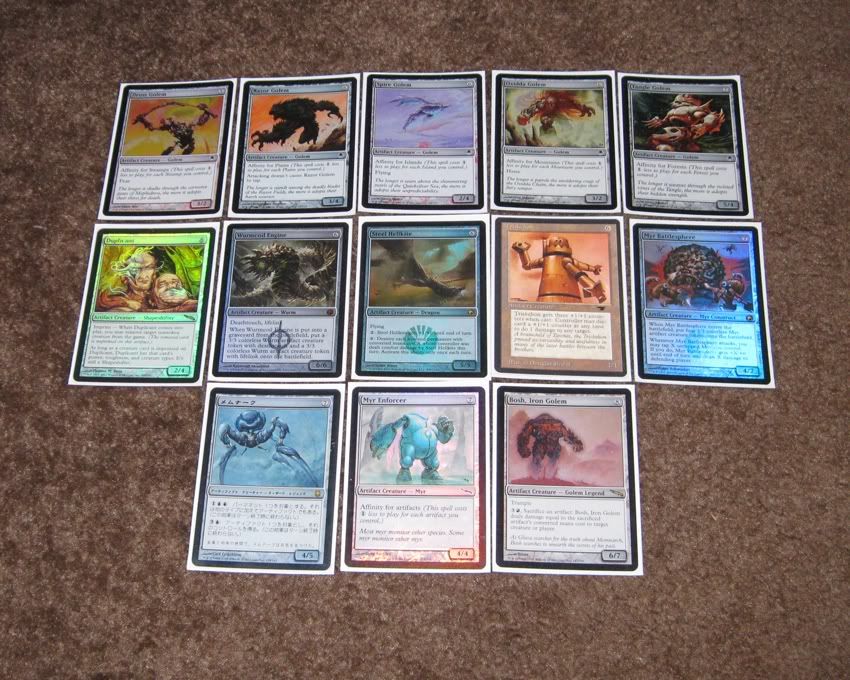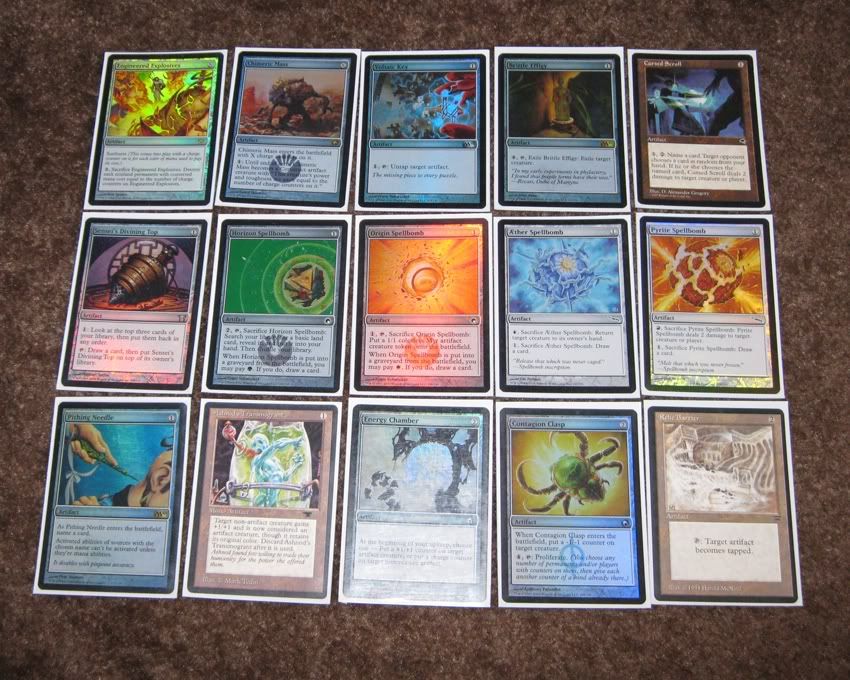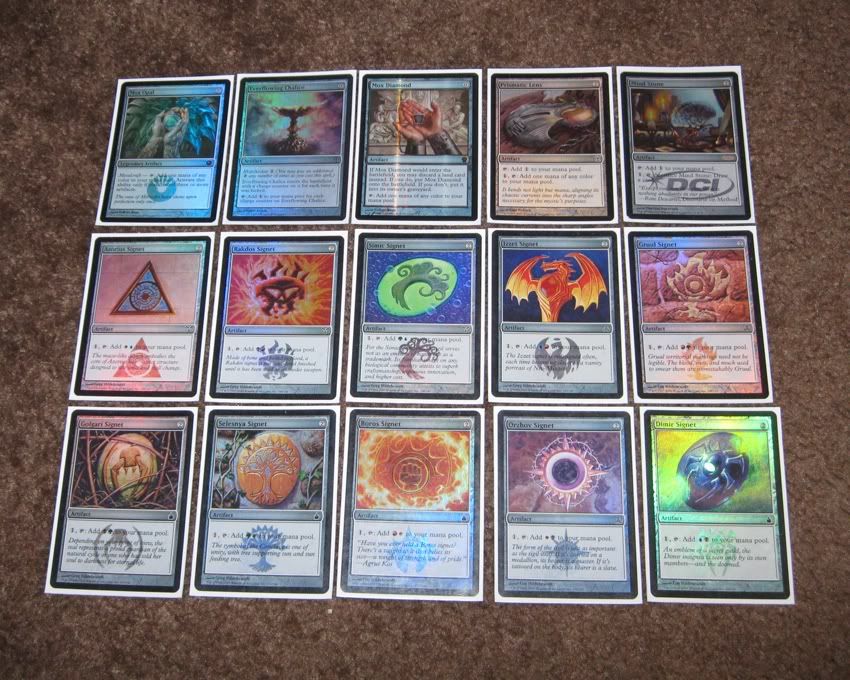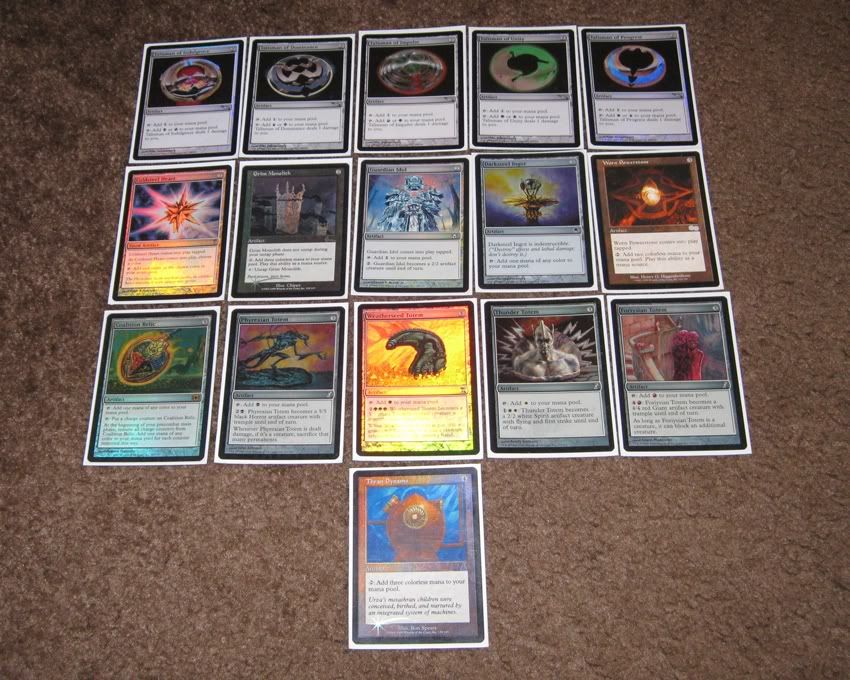 Last edited by
kojiro
: Jan 22, 2011