klug
Join Date:

1/12/2005

Posts:

1,412

Member Details
This thread is retired. The updated list and rules can be found here.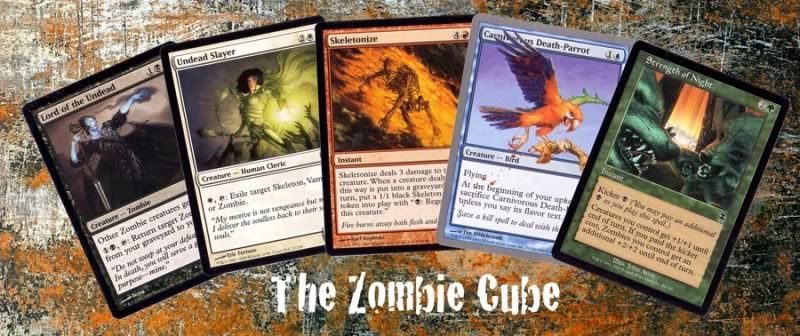 I idea behind this cube is simple: a cube that's flavor resides in a zombie apocalypse. Flavor trumps power, but poor or unplayable cards are a no-go.


Breakdown (Total 368)
White (60):
White is the second largest section in the cube. It represents the primary resistance post-apocalypse. There's a fairly deep soldier theme here. There is a secondary religious theme as well.
Blue (30):
Blue holds a likely connection with the initial outbreak. Because of this, much of blue's flavor lies in a search as to what went wrong, and a search for a cure.
Red (30):
Red has a resistance theme similar to white. Red is less organized however, meaning it's creatures are more individualized, nomad types.

Green (30):
Green has a love for the hunt. Much like red, it's creatures are small bands defending their home turf. Despite this fact, there are a few that have decided asceticism is safer.

Black (120):
Obviously the largest section in the cube - a full third. In the zombie apocalypse zombies are
everywhere
.
Gold (38):
Zombie are still plentiful, but because there are six non-black color pairs, I'm keeping this section small.
Artifact (30):
Choose your weapon. Most of the artifacts represent weapons and/or supplies. When you're defending your home and family, all you need is a
Trusty Machete
.
Land (30):
Some needed fixing and a few flavorful locals to boot.
The List:
Change Log:
Last edited by
klug
: Jun 26, 2013