meltingsho
Join Date:

4/9/2020

Posts:

141

Member Details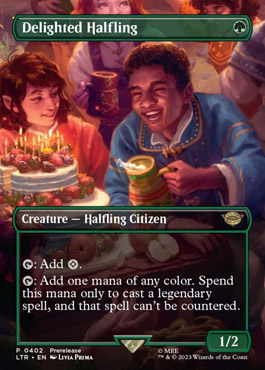 If you're already running all the best 1 mana ramp creatures, then Delighted Halfling might be a nice addition. Here's where I would rank it in the 1 mana ramp creature hierarchy:
S Tier
Noble Hierarch
Ignoble Hierarch
Birds of Paradise
Joraga Treespeaker
Tier 1
Llanowar Elves
Fyndhorn Elves
Elvish Mystic
Arbor Elf
Tier 2
Delighted Halfling
Gilded Goose
Deathrite Shaman
Avacyn's Pilgrim
Boreal Druid
Elves of Deep Shadow
My 540 card cube has 88 nonland legendary cards, so having legendary creatures, planeswalkers, enchantments, sorceries, and artifacts be fixed and uncounterable could matter. 2 toughness is also fine against aggro or token decks.