NotScottMescudi
Location:

MA

Join Date:

6/16/2018

Posts:

377

Member Details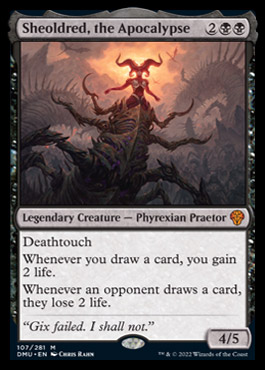 Sheoldred, the Apocalypse
Legendary Creature - Phyrexian Praetor
Deathtouch
Whenever you draw a card, you gain 2 life.
Whenever an opponent draws a card, they lose 2 life.
4/5
Some others in my playgroup don't like the card, but I think it has some potential. Good body on board that generates value without costing you any extra mana or cards. It's bad vs hard instant speed removal and mediocre vs hard sorcery speed removal, but survives a lot of soft removal and can run away with a game quickly if you untap with it or even if it just sits in play for a few turns. It's also worth noting that it can be part of several game-winning combos for midrange decks alongside
Wheel of Fortune
and
Timetwister
(or other variants of those cards), while already being in black to support the tutors to get the combo off.
I think I might want to test it, but I'm honestly not sure how it will perform.