NotScottMescudi
Location:

MA

Join Date:

6/16/2018

Posts:

343

Member Details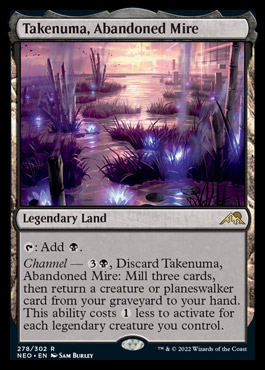 Takenuma, Abandoned Mire
Legendary Land
: Add
.
Channel -
, Discard
Takenuma, Abandoned Mire
: Mill three cards then return a creature or planeswalker card from your graveyard to your hand. This ability costs
less to activate for each legendary creature you control.
An untapped black land that can dig and recur creatures or planeswalkers at instant speed.
Grapple with the Past
is valued at 2 mana and saw standard play, and while both cards are very different on paper, both are used to provide mana early or gas in the late game. Being able to grab planeswalkers is big game for both control and midrange decks, and while I doubt the uncountable nature of this card will be particularly relevant, the fact that it plays well with land synergies like
Wrenn and Six
and
Life from the Loam
can be very relevant in-game, in addition to being targetable with land-based dig like
Once Upon a Time
and
Wrenn and Seven
. I can't imagine the legendary mana-discount clause being particularly relevant with any sort of consistency, but it doesn't hurt that this may cost as little as
on choice occasions.