NotScottMescudi
Location:

Beantown

Join Date:

6/16/2018

Posts:

328

Member Details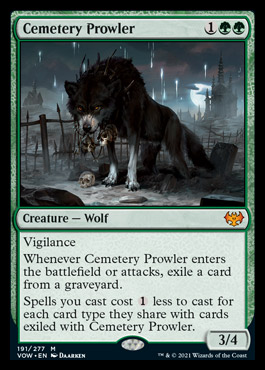 Cemetery Prowler
Creature - Wolf
Vigilance
Whenever Cemetery Prowler enters the battlefield or attacks, exile a card from a graveyard.
Spells you cast cost
less to cast for each card type they share with cards exiled with Cemetery Prowler.
Could be cool in decks high in specifics card types, like UG is with creatures and instants or GW is with creatures and more creatures. Cheating mana is historically very strong, and the statine on this creature is quite large for its cost. With that said, it requires jumping through a couple hoops to get those mana discounts, and doesn't always have the opportunity to exile what you want. How much mana reduction does this typically need to provide in order to be a good cube card? And is the statline good enough to make this not a bad topdeck?