NotScottMescudi
Location:

Beantown

Join Date:

6/16/2018

Posts:

328

Member Details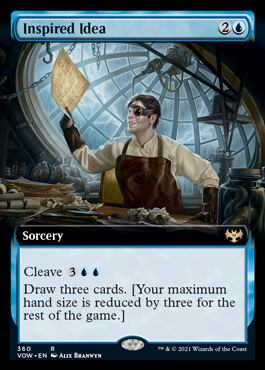 Inspired Idea
Sorcery
Cleave
(You may cast this spell for its cleave cost. If you do, remove the words in square brackets.)
Draw three cards. [Your maximum hand size is reduced by three for the rest of the game.]
Me and my playgroup think this looks pretty good.
Secrets of the Golden City
saw a decent amount of standard play, so the precedent of 3 mana draw 3 is powerful enough to risk it being a
Compulsive Research
sometimes. This only works in decks that can dump their hands a little faster, but our card comp for this has been a souped-up
Chart a Course
. This is certainly playable in reanimator, agressive strategies, and a variety of combo decks that just want more card draw. It's splashable, digs deep, can enable discard, is a lethal topdeck, and even has the cleave cost if need be.
With that said, that is one hell of a downside. There could be situations where the limited hand size comes back to bite you later, like if this is used to bin a
Griselbrand
or if this draws you into more card draw. Also has very bad synergy with cards like
Lutri, the Spellchaser
,
Snapcaster Mage
, flipped
Jace, Vryn's Prodigy
,
Eternal Witness
, etc.