IMorphling89
Join Date:

1/9/2011

Posts:

488

Member Details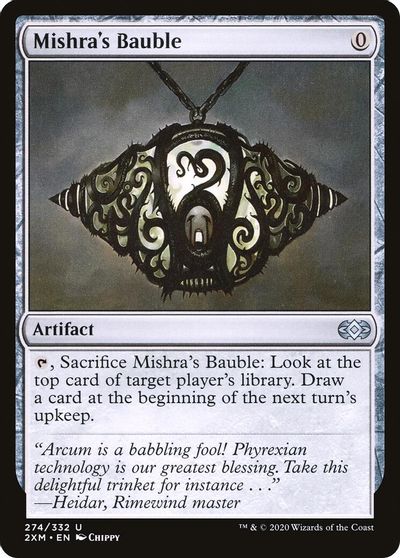 This is certainly not a common cube card, but I do see it's usage in cube trending up.
Mishra's bauble has come into its own over the years and is now a modern staple.
A few years back it was doing big things with the likes of
Urza, Lord High Artificer
and
Emry, Lurker of the Loch
, two popular cube cards that it's great with.
More recently, it's been tearing up the modern metagame in Rakdos delirium decks built around
Dragon's Rage Channeler
and
Unholy Heat
, which seems to be the top deck at the moment (although the metagame is still relatively nascent). It makes great food for
Kroxa, Titan of Death's Hunger
and is an efficient card draw engine with
Lurrus of the Dream-Den
, two other modern staple cards that hold their own in cube.
But beyond that, it's also a free card selection cantrip with any fetchland or shuffle effect - this is extremely powerful in both constructed formats like Modern as well as cube, as anyone who's played
Preordain
can attest. Because of this, I actually think the card is most viable in 360 cubes where fetchland density is highest.