NotScottMescudi
Location:

MA

Join Date:

6/16/2018

Posts:

339

Member Details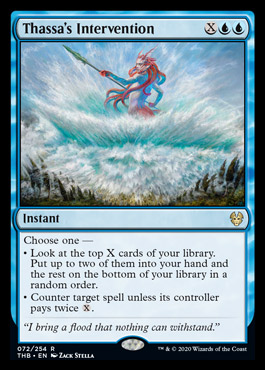 Thassa's Intervention
XUU
Instant
Choose one -
- Look at the top X cards of your library. Put up to two of them into your hand and the rest on the bottom of your library in a random order.
- Counter target spell unless its controller pays twice X.
---
Card looks incredible to me, drawing parallels to Miscalculation and Supreme Will. I have enjoyed playing the previous two cards and have no intentions to cut them, and am ready to add another modal counterspell/card draw spell to the mix. Thoughts?