TheTennesseeFireman
Join Date:

2/24/2012

Posts:

3,337

Member Details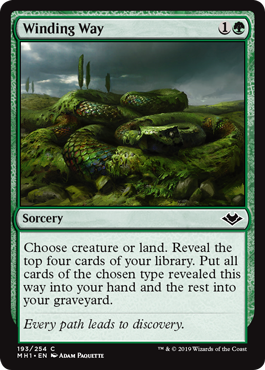 So, this is probably going to be the last thread I ever create on this forum, so I'll preface this by saying thanks for everything, and I hope to see you all wherever this community heads next. It's been real.
This card seems pretty fantastic to me. For starters, it's a strictly better
Mulch
. That's the half of the card we will likely use less often, but it still has plenty of uses in filling up the graveyard and ensuring you hit lands in certain scenarios, along with possible lands matter applications. At the very least, it's nice backup mode for certain situations; you can think of it as a form of landcycling with extra utility
The creature mode, on the other hand, is a really powerful piece of card advantage. In a green deck running 20 creatures, this will average out to drawing 2 pieces of action whenever you cast this, along with filling up the graveyard for recursion. That's an incredible rate for 1G, a sort of green
Chart a Course
. The easy comparison is with
Lead the Stampede
, but at 2 mana this doesn't have to compete with planeswalkers and offers several forms of extra utility in exchange for missing out on the 5th card. Rarely will this miss, and even when it misses it digs you toward action. And if you're deathly afraid of missing, cube offers several ways to look at and set up the top of your library to ensure hits.
I've had a few card evaluation misses in the past few sets, but I feel quite certain this card is fantastic and should be in many, many cubes.