Cythare
Staff
Administrator
Don't be Scared, This is Great
Location:

Boston, MA

Join Date:

1/18/2012

Posts:

14,158

Member Details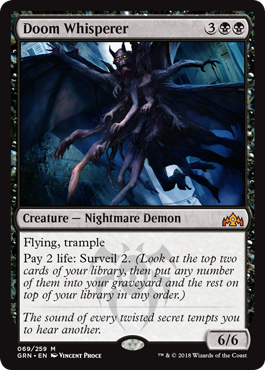 This seems great to me! Currently, my 5-drop black slot is:
-
Custodi Lich
-
Night Incarnate
-
Shriekmaw
While that gives black a lot of different removal options, having a flying/trample 5-drop beater that filters your draws seems like a nice option that gives me something to do that isn't "kill the stuffs", which I'm excited about. Also, it's a 6/6 in black that doesn't have a drawback! I'll probably cut Night Incarnate for this.

Level 2 Judge circa 2016

My Helpdesk!
Draft my cube! (495 cards)