wtwlf123
Location:

Tucson, AZ

Join Date:

2/11/2009

Posts:

44,096

Member Details
I've been exploring the idea of including an artifact aggro support package to the cube, which would allow some of the lower-end aggro bodies to be replaced with tier-1 1-drops. The cost being the loss of some interchangeable parts for a couple of aggro bodies that are only viable with a high enough density of artifacts to "power them up". Of course, I'm mainly talking about these two cards: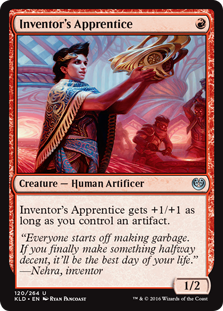 Which have a really high ceiling in terms of 1-drop quality; being much better than Lion clones or tier-3 red aggro beater variants.
There have been a lot of cards printed in recent sets that allow you to play artifacts and continue applying pressure that are playable in aggro shells. Cards like
Porcelain Legionnaire
and
Blade Splicer
are already in the cube, but when you start counting up all the other aggro/tempo-playable artifact cards, there's quite the list:
In addition to all the playable artifact mana!
With a handful of extra support cards, potentially in the form of:
or any number of other fringe-playable artifacts, these 1-drops could prove to be formidable replacements for some of the current lower-tier inclusions.
I'll be playing around with this aggro sub-archetype and see if I can't have some success with it.
Please leave feedback with any comments you have about artifact aggro and how it has played out for your group!
Cheers, and happy cubing!