wtwlf123
Location:

Tucson, AZ

Join Date:

2/11/2009

Posts:

43,805

Member Details
Hello everybody. I was originally planning on doing a full-blown set review for AVR, but because two other folks have already posted them (and did a great job with the reviews) I decided to do something a little bit different. I'm going to post my top 20 list for AVR cards in the cube, starting with #20 and counting down to my favorite cube card from the set. This list doesn't necessarily encapsulate every card that could potentially see play in cubes from the set, but it just my favorite of the bunch. Each section below will include the card image, a description of why the card is one of my fav's, and what type/size of cube would likely benefit from playing it. Hope you enjoy!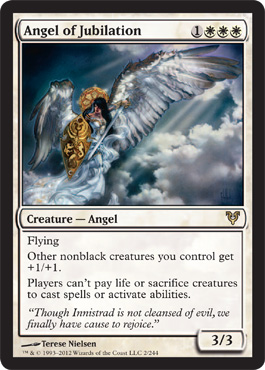 Angel of Jubilation is not the best 4cc card ever, but it's certainly a solid one. It contributes to the token/anthem theme commonly seen in cubes nowadays, and it has a decent body. Additionally, it has a reasonable secondary benefit that can shut down quite a few spells and abilities in the cube. Not enough of them to have the Angel reliably come in as a sideboard card against them, but it may randomly screw an opponent out of being able to cast a Force of Will or activate a Yawgmoth's Bargain. White doesn't run particularly deep in the 4cc creature section, and this card may be the 6th or 7th best creature available for that slot.
Verdict: I think cubes that support tokens can start to consider the Angel at 630, and it may be decent enough on its own merits to be included at 720.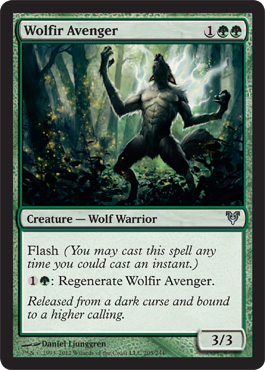 Flash creatures in green are pretty cool, because they double as removal in a color without much. A Trained Armadon with Flash isn't exactly something to write home about, but it'll serve it's purposes and kill a fair number of aggro bears in the cube. The regeneration is nice icing because after it's flashed it, it allows it to tangle with bigger creatures and survive, and cause unfavorable trades for your opponent. There's a wide range of cube types that could benefit from the card, but it's going to fall into your typical good-stuff decks, not doing anything that's specific to one archetype or another. Could make for an interesting T3 play in an aggro mirror when you surprise your opponent with it mid-combat and tilt the race in your favor early.
Verdict: I don't want to say this card is going to become a staple of medium-sized cubes like a lot of the cube hype will lead you to believe. I think he's more at home in the 630-720 range, and even there it may not last long.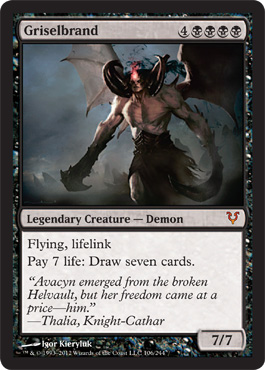 This is one big scary monster. Smaller cubes have their quota for fatties filled up in black with cards like Grave Titan, Kokusho and Tombstalker already. But bigger cubes dabble in an extra fatty or two, and I think this dude should be up for consideration against the latter inclusions. If you're playing other big Demons or Praetors, consider this guy for a second. He costs one more mana than the other two, but the impact is ridiculous. He passes the Terminate test if brought out early enough ...Animate Dead this dude will result in a minimum of drawing 7 cards. And if he blocks/gets in there even once, the draw is free. I mean, it's a 7/7 flying lifelink after all, and getting in even once with this guy will end the game for your opponent. Not only will they have just been bashed for 7, but you're going to bury them in card advantage.
Verdict: Small cubes can't afford to run him, but if you're playing any black fatties besides the core staples, give this guy at least a trial run. I think he'll find a home in the 630-720 range.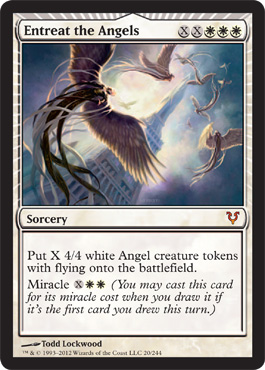 I'm not a fan of the Miracle mechanic in general, but this pushes the envelope of bad/broken to the absolute extreme. Drawing this card without being able to Miracle it is awful. But when you can, it's really good. On T4, you can Miracle this for 1 which gives you a 4/4 flying for 3 mana. Not too exciting, but still above average. But on T5, it gives you 8 evasive power for 4 mana. That's
really
good. And then it scales up from there to get to just silly numbers on T6 or later. This is my favorite Miracle card from the set, and I could see mid-sized to large cubes running this as another big non-creature spell in their white sections.
Verdict: Another card that small cubes can pass on, but anything on the larger side of average might be able to find room. Depending on the setup, this is another card I feel falls in the 630-720 group.
This creature is kinda a sleeper card from the set. 3-mana 0/1 creatures are fragile, and generally not useable, but this creature may be different. Dedicated ramp decks in cubes with higher concentrations of high cc creatures will have a field day with this card. If you make your 4th land drop, you can cast 7cc creatures off the back of this single card. In dedicated ramp decks, you'll have lots of other ramp and lots of fatties, making that a real possibility every time it survives for even one turn. Other openings include a T1 mana dork, T2 Sage, T3 ...7-drop? Wow. If you play "big mana green" in your cube, give this creature a spin.
Verdict: Larger cubes typically have a higher concentration of big creatures. 630-720 card cubes should naturally be able to support an effect like this without any extra effort. If you heavily support green ramp, or support the "big mana" decks, this could see play in 540 or even all the way down to 450 card cubes. I think it's pretty good.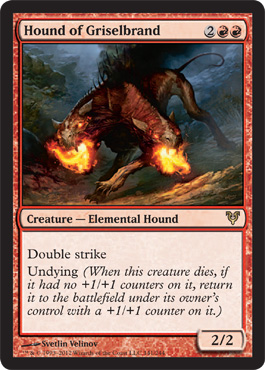 Hound of Griselbrand is a solid creature. It's a 4-power beater and a 6-power beater for 4 mana, which can't really be ignored. Additionally, the double strike pairs so well with equipment, pump, anthems and battle cry... this can just get out of hand pretty quick. It's not good enough to compete with the 4cc creature suite in tight lists, but for cubes that run 7 or more 4cc creatures in red, he's worthy enough.
Verdict: I would play this card at 630 for sure.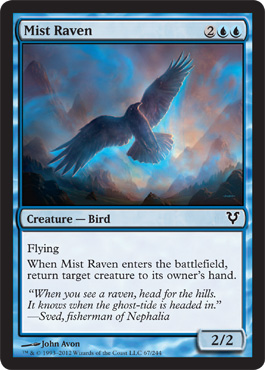 The blue 4cc creature section isn't particularly deep. You have 3 staples, a 4th good card in Dungeon Geists, and the Magpie/Lu Xun options for larger cubes. Then it dries up completely. You could do worse than a Man-o'-War with flying for 4 mana, and it will fall somewhere between the 5th and 8th creature on the roster for its slot, respectively. Tempo decks will like to play it, and extra blink/bounce targets are always ripe for abuse.
Verdict: This could see play somewhere between 540 and 630.
This guy is interesting, and he'll likely split the cube forum with supporters and people who simply aren't fans. I'm in both camps. Repeatable green removal has value to it. I don't know exactly how much weight this guy will pull, but he's solid enough for a 1-drop in some strategies. Ultimately he'll play out like a Magus of the Arena, but that may be okay because of the color he's in. In any case, he's interesting and he brings some extra value to the 1cc green creature section.
Verdict: This could see play somewhere between 540 and 630. I'd be hesitant to include it in cubes any lower, unless you're not supporting green aggro and you're lacking in good 1-drops as a result. In those cases, it may be good enough for 450 as a card worth testing.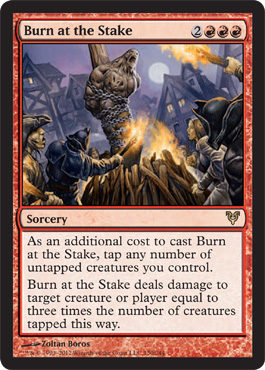 This card is pretty serious business, and the competition in its section is close to nil. There comes a time when red creatures can't do much damage through combat anymore. Due to blockers, Moats or whatever else. This card pushes through damage in a big way. With 3 creatures on the board, it deals 9 direct damage to your opponent for 5 mana. That will just about kill them on T5/6 when this spell is played. And like I said before, there's not a whole lot of other 5cc red non-creature spells to go around. Word of Seizing was playable because the competition is so loose, but that card could well get cut for another AVR card, leaving its old slot vacant to be stolen by Burn at the Stake. I think this card is capable of doing some pretty serious damage. Additionally, it allows me to tap 2 1-drops to kill off a Baneslayer or Titan that causes red so many problems. Pretty good.
Verdict: This could see play somewhere between 540 and 630. It's a lot of damage, and a lot of reach when your creatures may not otherwise be able to attack efficiently. Due to the lack of competition, this thing may even be playable all the way down to 450.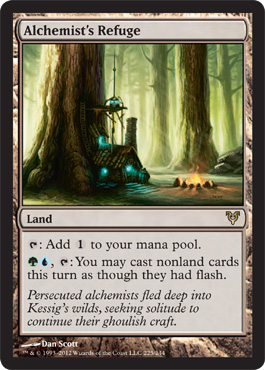 This is a pretty good utility land. The opportunity cost is low because it can replace a basic some of the time, and UG mid-range and control decks can get quite a bit of value from it. Not only will it give your creatures Flash, but it will allow you to play sorceries and non-land permanents at instant speed too, which can be very powerful. Once you reach your 6-7 mana, all of your 2, 3 and 4cc cards can have Flash, which is pretty nice. Blue/Green has 4 gold cards that I consider to be better than this card, in addition to the Signet that may or may not be better depending on how you value it.
Verdict: I think it's either the 5th or 6th best Simic card, which means it will likely see play at either 540 or 630 respectively, depending on how you rank it personally.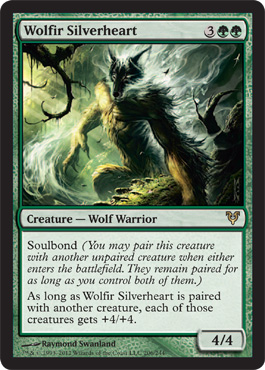 This is kinda just a big dumb animal, but once they reach a certain size, the cost/power benefit becomes too high not to use. This may be that size. It brings 12 power for 5 mana. The pairing can be fragile, but it's still a really high cost/power ratio. 4 of the power has "haste" if you pair it to an existing creature, which helps this 5-drop pass the Vindicate test. 12 power is a lot. I think he should be used in medium sized cubes.
Verdict: I would play this card at 540 for sure.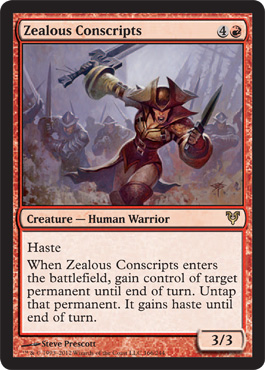 I always wanted a good threaten effect. I always wanted a little more from my Word of Seizing than just Split Second. This is that card. Exchange the instant speed on the WoS for a 3/3 haste? Sign me up. It can be abused and get all kinds of benefits from being a creature, as well as still being able to steal planeswalkers when they're ready for an ultimate, or just get in for a ton of damage with a stolen creature. I think this card has a lot of potential to do some fun, exciting and powerful things in the cube.
Verdict: I would at least test this card at 450, and I'd include it permanently into cubs with 540+ cards.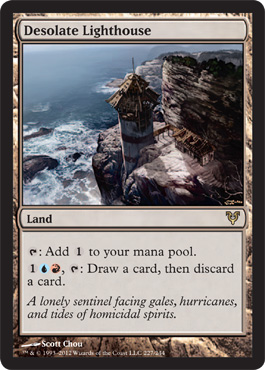 A repeatable looting effect strapped to a land? In R/U, a notoriously weak color combination after it's first few cards? Cool. I like the design, and I like the card. Personally I'm a fan of the burn + draw cards that make up the traditional suite of Izzet cards, but after those three, this becomes my next favorite effect. I can't decide between this card and Izzet Signet as which is my 4th or 5th favorite card for the combination, but that's where I think it falls.
Verdict: 450 if you like it more than the Signet, 540 if you think it's 5th best in Izzet.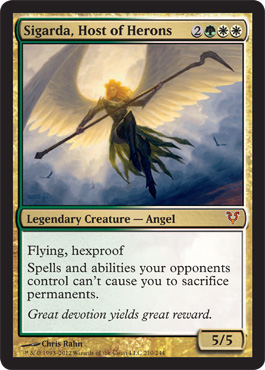 This creature is just so good. In a color combination that wants control finishers or is light on amazing 5-drops, this would be a slam-dunk auto-include in every size. Unfortunately, WG is not that combination. It has the best gold cards, a large suite of good finishers, and the competition is pretty stiff. If this was a WU card, it would be perfect. But alas, we get yet another great card for Selesnya. A 5/5 flying hexproof that protects your team from Edicts ...for 5 mana. Thanks Wizards. Make it an Azorious card next time please.
Verdict: I think this is the 4th best card for W/G, and I'd play it at 450.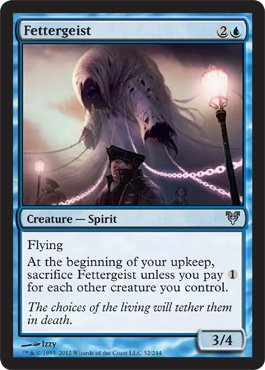 Serendib part deux. Better in control than the Efreet, but slightly worse in mid-range and much worse in aggro/tempo. A 3/4 flying creature for 2U is just so good. I have no doubt that this creature will make an impact on the cube world. The only reason why I continue to give the Serendib the nod is because it sees so much play in aggro, and we play a lot of GU mid-range where this creature's terrible interaction with mana dorks will prove to be too much of a drawback. An excellent creature though. Don't underestimate!
Verdict: If my cube were unpowered and I had a few extra slots in blue, I could see including this card even in a 360 list, and I'd put it into every 450 list for sure.
This is a damn-fine 3-drop. For 3 mana, if paired to a bear, he brings 6 power to the table. With the interactions between him and anthems and equipment, it can get out of control real quick. What a 3-drop. I currently can't find room in my powered 360, but that's not to say he won't go in eventually. A bit more playtesting with my current suite may prove to find a weak link that's just begging to become a Paladin.
Verdict: Somewhere in the 360-450 range, depending on personal taste. I think this card is really good though.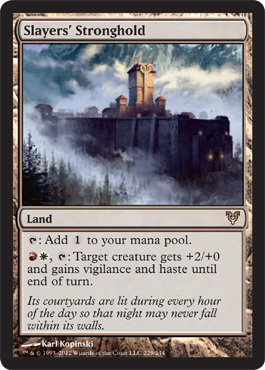 What a sick land. Pump, haste and vigilance? It's valuable in every single Boros archetype. It adds value to your cheap creatures on the board, makes your aggro beaters reasonable topdecks and wins mirror matches through vigilance. Insanity. I'm going to be testing this card against Lightning Helix for the 3rd slot in my powered 360, and I honestly don't know which one will prove out better. I'm leaning towards this land though, in all honestly, because it's just a really powerful card. I can't decide without seeing it in action if it's the 3rd or 4th best Boros card of all time, but it's destined to be one of the two.
Verdict: 360 if you can stomach cutting Lightning Helix for it, 450 if you're more conservative with your inclusions.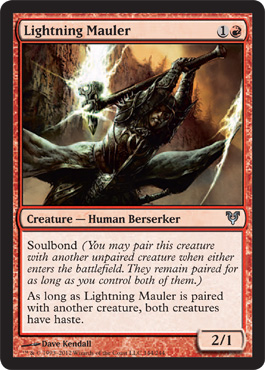 This card? Really? Yes. Really. I've been waiting for a 2/1 haste for 1R since ...the dawn of time. Good splashable red 2-drops just don't come along all that often, and thanks to the competition that's been printed and the precedence that's been set, Goblin Piker + is the established guideline for what's good enough. Now lets talk about his functionality. Play him as a 2-drop, paired to a 1-drop so he has haste. Fine play. Nothing flashy, nothing exciting, but a decent red 2-drop. Play him as a 2-drop unpaired, providing haste to your 3-drop. This is also a good play. Any time the 3-drop has the potential to get in for more than 2 damage, this can be the right call. Especially with something exciting like a 4-power Vandal or a double strike paladin. What really excites me about the Mauler is his power on T3-5 when you play and pair it to another 1, 2 or 3cc creature from your hand at the same time, giving haste to both. T1 1-drop, T2 2-drop, T3 Jackal Pup + Mauler? Insane. As is T4 Mauler + Marauders. So much potential. So simple, yet so complex. I really dig this 2-drop and I can't wait to see what kinds of cool plays he'll be capable of. Sometimes the creature he was paired to will die off in combat and he'll be unpaired when you play your 5 or 6cc creatures. Just madness.
Verdict: I consider this creature to be a core 360 staple.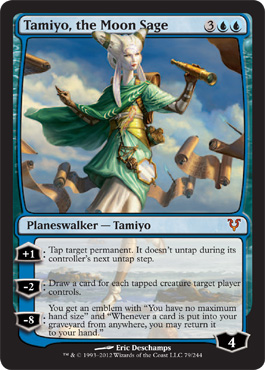 I'm really looking forward to playing with this planeswalker. Locking out your opponent's best threat while building up to an insane ultimate? Sweet deal. A high starting loyalty planeswalker with the ability to protect itself? Nice. Occasionally being able to draw insane amounts of cards in or against aggro/token strategies is also freaking sweet. I consider the card to be an interesting hybrid of Dungeon Geists, Capsize, Icy Manipulator and Frost Titan, combined with the occasional repeatable draw mixed in. I exchange the creature body for a planeswalker that can draw cards and build up to a game-winning ultimate. I think this card is going to do great things, for blue decks of all kinds.
Verdict: I consider this planeswalker to be a new 360 staple 'walker.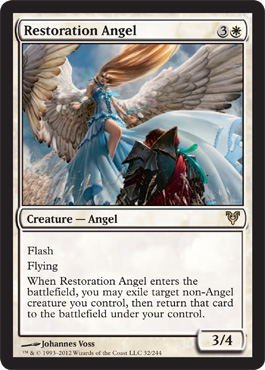 This creature is really good. No matter which way you slice it, it's going to be some nice card advantage for white. Flashing it into combat and killing a creature, leaving a 3/4 flying body behind for 3W? That's just about the worst-case scenario for the card, and that's pretty damn awesome. Mix in there the ability to protect your creatures from removal, re-trigger ETB effects and perhaps do up to all three of those things in one turn? Bonkers. Flashing this guy into play during combat, flickering an ETB creature and killing an attacker is 3-for-1 CA that just ravages your opponent. And for what? A 4-mana creature that's damn-near worth it for the cost/body ratio alone? Crazy talk. I underestimated this card when it was first spoiled, but now I think it's one of the better 4cc creatures in the cube.
Verdict: 360 windmill-slam.
Hope you enjoyed this brief review of my favorite AVR cards. Not a full review, but just a glimpse of the cards I like the best.
Happy cubing!
Image leeching replaced.
—Lanxal
Last edited by
Lanxal
: May 20, 2013