wtwlf123
Location:

Tucson, AZ

Join Date:

2/11/2009

Posts:

43,958

Member Details
Mana Short: A study in limited resource management.
Introduction
It's been a long time between major articles for me, largely in part because I've been waiting to be able to discuss a topic that can be really beneficial to the cube community as a whole. Over the past year, I've been tracking discussions that I've had with other cube managers regarding how to properly sculpt a mana base that's appropriate for the kinds of decks the cube tends to create. What I've found is that the cube community tends to criminally undervalue the importance of mana fixing, and a good portion of the evaluation is probably based on a misunderstanding of the real requirements for casting spells. I had never spent the time to crunch the numbers and find out how demanding the spells the cube plays can be on their respective mana bases, and I learned a lot from this study myself. Information I wish I could unlearn sometimes, as the numbers turned out to be pretty ruthless and unforgiving.
High level tournament players already understand the numbers this article will present to you. Especially players that focus a lot of their professional development on limited. But the cube is largely a casual format, and studies in resource management aren't a big part of a casual player's focus. But that doesn't mean that we don't want to win games when we sit down to draft the cube. There's no single aspect of Magic that correlates with your win/loss ratio more than your mana (particularly in casual play). Mana screw and mana flood lead to a ton of losses on their own; so it's best not to compound those issues with being unable to reliably cast your spells. But even for players that are familiar with the basic mana requirements for traditional limited face new challenges when drafting cube. Why? Because the cube is jammed with color-demanding spells that present a whole new set of challenges to properly cast. Wizards creates (or tries to create, at least) limited environments where players will be able to cast their spells. The common slots aren't typically jammed with double-color 2, 3 and 4-drops, and the average 2-color deck in draft and sealed deck can survive with the mana base you can sculpt with your free basics. The cube isn't as forgiving. You need to resolve powerful spells to compete, and often enough, those spells require a stronger dedication to its respective color.
This article will hopefully help people identify color-demand and mana source issues, as well as providing some options to help mitigate the issue during the drafting and deck construction process. The first thing to do is to determine how comfortable you are with the greed inherent in the resource department. Then use that information to determine the minimum required sources, and how that information can influence your drafting and deck-building processes to put a deck together that can reliably cast its spells. Without further ado, I'll start giving you the information that my study unveiled.
Part I: "Do I feel lucky?..."
Typically speaking, cube drafters can be divided into two categories in terms of how comfortable they are with the spells they opt to play. Conservative players (like myself) try to build my decks with consistency in mind. I want to be able to cast all my spells. I want to be able to cast all my spells on curve. I want to have flexible and reliable cards that will give me the highest average performance. Other players are more comfortable being as greedy as possible. Their primary concerns are playing the most powerful spells possible. They'd rather have a lower percentage chance of casting the spell on curve if the result when it happens has a greater impact on the game. For the purposes of this article, "Conservative" players will want to include cards in their final 40 that they'll be able to cast in roughly 75% of the cases where the option to do so presents itself. Whereas "Greedy" players are looking to do so with anything more than 50% of the time. So the term "conservative value" essentially equate to ≥75%, and the "greedy values" are >50%. Keep that in mind when the numbers come up later on in the article.
There are definitely cases where both can apply in the same deck. Cards that are critical to the deck's success can have their mana requirements evaluated based on conservative values, and high-impact "splash" cards you might be more willing to assign a greedy casting value to. Only you can determine how comfortable you are with each type of spell, and it will vary from player to player. For example, I might use a conservative value when determining how many sources I need to play my
Inquisition of Kozilek
, because it's a spell I want to play immediately once it's available. Whereas a card like
Balance
might be able to wait for proper timing, and has such an incredible impact on the game that I'm willing to build greedily just to have the spell available. Additionally, the numbers can also be warped based on redundancy inside your deck. Casting a
Soltari Priest
on curve is critical to your deck if you have the bare minimum number of 2-drops available to you at your disposal. But if it's the only mana-demanding 2-drop in your deck, and you have a ton of other more easily castable options available to you, it might be okay to be slightly more greedy with your white sources. It will change from deck to deck, based on redundancy and how critical a particular spell is to the success of your game plan.
Before we talk about determining how many sources of each color are required, have you ever calculated how difficult it might be to simply play a land each turn? Take a look at this table and see how many sources your deck might need:
As you can see, if resolving that 4-drop is critical to the success of your deck, is running a 17 land mana base really the best way to go? Are you okay with being unable to play that 4-drop on turn 4 almost 30% of the time? How many other 3cc options are in your deck? Are the 4-drops in your final 40 critical to the game plan you've established? Do you have any non-land mana sources that you can use to raise those numbers on the back end of your curve? All of those questions need to be evaluated when you're determining how many total lands you're adding into your deck.
Note: The above chart doesn't reference the ability to properly curve, or even how many sources are required to cast a spell on a given turn. It simply looks at what your percentages are of playing a land every turn given the number of sources included in the deck.
One more quick thing before I move onto the color-demand numbers: Non-land mana sources. As a general rule of thumb, non-land mana sources are less reliable than your land base. For me, I count each two non-land sources as one true "source" when calculating demand. If my demand requires 18 sources because my 4-drops are critical to my success, I'd be comfortable with 17 lands and two mana rocks, but not 17 lands and one mana rock. Why? Because there's a fundamental risk of losing those sources to removal, counter-magic and other forms of mitigation from your opponent. So be weary of overconfidence and/or an over-reliance on your non-land mana sources when determining overall mana source demand or color-source demand. That
Coldsteel Heart
can be a great source of the second color for your 4-drop, until your opponent's
Manic Vandal
crushes it and you're left with an uncastable spell that was critical to your survival. An 18th or even 19th overall mana source (matching the color of the color-demanding spell) can be the difference between winning and losing that game.
Part II: "Never tell me the odds."
This section will cover the mana source requirements for any given spell you might want to cast. Reminder: the green values indicate the conservative values. That's a ≥75% chance of having that number of sources on a given turn. That doesn't necessarily mean you'll be able to cast the spell (see the total mana source chart above) but simply have the minimum required sources of that color to cast it, assuming you have enough overall mana sources available to do so. The red values are the greedy numbers; a >50% chance of having the number of sources of the respective color to cast it if you have enough total sources of mana available (and as the chart indicated above, that can be a BIG if). Also a reminder that these stats assume you're on the play. They can taper down by a source (or sometimes two) if you want to assume you'll be on the draw, but that doesn't seem like a fair way to evaluate the requirements. If I can't reliably cast my spells on the play, what's the benefit of being on the play to begin with? These numbers assume the most demanding of the predictable situations you might find yourself in.
One Source Values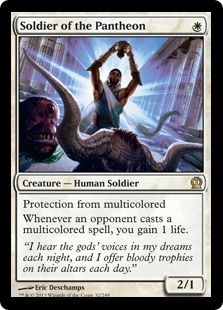 TO

These will be the easiest of all your spells to cast. But as you can see, the values for the conservative numbers are still higher than I wanted to see. Typically speaking, the 1- and 2-drops are paramount to the success of your deck, because a proper curve is really important. Aggressive decks in particular can ill-afford to fail to cast their 1-drops. So if you're running a 2-color aggro deck that contains 1cc cards of both colors, you need a minimum of an 8/8 split to reliably cast any given 1-drop in your deck. Sucks, doesn't it? Sorry to say, but it doesn't get any easier from here.
How do I use this information?
There are three things you need in order to cast a spell. 1) You need the spell in your hand. 2) You need enough sources of colored mana to meet the colored mana cost requirements. 3) You need enough total sources of mana to meet the converted mana cost requirements. The numbers in these charts cover the first two requirements ONLY.
Example:
Hymn to Tourach
Lets say that I have a Hymn that I want to include in my deck, and I want to make sure I have enough sources of black to cast it. First, determine on what turn you're willing to wait to cast the spell on (this will vary from spell to spell) and then consult the chart for the Two Source Values (because it requires two sources of black). If it's a spell that needs to be played on turn 2 in order to be valuable enough for inclusion, the number will be quite high. But Hymn is a spell that's powerful enough (even when cast in the mid/late-game) that I'd be willing to cast it somewhere around turn 4 or turn 5 and still be happy with the results. So the color cost requirements drop, because it's a easier to meet your color requirements the deeper into the game you get. If the card were a
Sinkhole
instead, I might not be as willing to cast it in the later stages of the game. So I'd check the values required for reliably casting it on turn 2 (or
maybe
turn 3) instead.
So again, the data isn't for determining your total number of mana sources required to play a 5cc card on turn 5, but simply calculating your color demand for playing a card with that number of mana sources in it by a given turn. It's up to you to determine how many total mana sources you'll want to include.
Two Source Values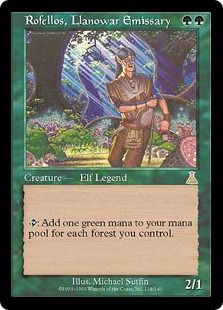 TO
These are the most important stats, and they were the eye-opening values that really made me re-evaluate my mana demand in the cube. You're reading them right. That same
Soltari Priest
we were discussing earlier requires 13 sources of white in your deck in order to conservatively cast it on turn 2. 3cc cards with a double mana requirement need 12 sources to have 2 sources by turn 3. So lets look at this objectively, and be honest now. How many decks have you played that contained a card like
Soltari Priest
and
Vendilion Clique
simultaneously? Did you realize that it requires a 13/12 mana base to reliably cast them? That's not casting both, mind you, just one or the other. Curving from an XX 2-drop INTO a 1XX 3-drop of a different color is exponentially more difficult. A 13/12 split just gives you the ability to cast one of the two on curve if you draw it. But even with this information available, and avoiding decks with that demand, look at the requirements for a 1XX 3-drop and a 2XX 4-drop in the same deck. We create decks like that all the time. That requires a 12/10 split. How many of us are honestly creating decks with that good a mana base? Want your Azorius tempo decks to contain a
Brimaz, King of Oreskos
and a
Sower of Temptation
and be able to reliably cast either of them if they're drawn? I do too. But I'll be hard-pressed to create that kind of mana base in the vast majority of my drafts.
Three Source Values
TO

Here's where it just gets silly. If playing that
Geralf's Messenger
on turn 3 is critical to the success of your deck, you better be playing mono-black, and have zero colorless lands in there. Or what about
Cryptic Command
? If your deck isn't heavily rooted in blue, the chance of reliably playing it on turn 4 shrinks significantly. Keep that in mind when you grab a Command for your U/X deck and want to ...you know... play it.
Four Source Values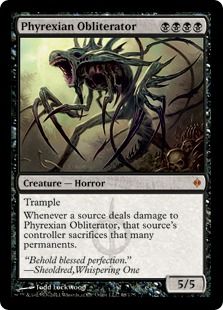 TO

Folks, this is why we don't play cards with quad mana sources. That
Phyrexian Obliterator
requires more sources of black to play on curve than you have total mana sources in your deck. And
Cloudthresher
can really only be played in mono-green. Pass.
So what does this all mean?
Part III: "My God man, I'm a cube drafter, not a statistician!"
Those numbers mean one thing; I need to pay more attention to my mana bases when I'm drafting cube. This isn't a format won on the back of
Pillarfield Ox
en, I need to be able to play those
Elspeth, Knight-Errant
s instead. So what can I do to ensure I can? What steps can I take to mitigate those mana-demanding cards?
During the deck construction process, evaluate how critical a given mana-demanding spell is for the success of the deck. If you can elect to pass on a double-color card in your secondary color, you'll probably have to do it. But how do you make that determination? If you're staring down at a
True-Name Nemesis
and a
Mirran Crusader
, and your 4cc section contains an
Elspeth, Knight-Errant
and a
Fact or Fiction
, you might have to elect to leave the Nemesis out of your final 40. Why? Because you can keep only one of your two colors as the demanding color. If you can meet the requirements for the Crusader, you can meet the requirements for your Elspeth. But if you elect to run enough sources to cast the Nemesis on curve, you might be deficient for two spells in your other color now. A lot of the decision-making process will be governed by how much mana-fixing you drafted, and how important your color-demanding spells are to your deck. All of us want to automatically slot the most powerful spells in wherever available, but doing so will often lead to you having spells in your final 40 you can't reliably cast. Nothing costs you a game more often than mana issues will. So avoid them wherever possible. Maybe I need to be running 1-2 more lands in each deck than I've been doing historically in order to curb the mana requirements. Something to keep in mind.
The easiest place to mitigate these issues is during the draft process. Once you've taken some color-demanding cards, use that as a benchmark to determine what your "primary" color will be. This will be the color that needs ~12 sources to play the spells you've elected to draft. Don't take the
Vendilion Clique
from the pack (even for your R/U tempo/aggro deck!) if you already have an
Ash Zealot
,
Sulfuric Vortex
and
Koth of the Hammer
you know you're gonna want to play. Because you won't be able to cast the damn thing, even with an above-average mana base. And the #1 thing to take away from this article?
Prioritize your mana fixing.
There are very few cards in the cube that I'd be willing to pass an on-color fixing land to take. No card is worth taking if it means that the end result will be having multiple cards in your deck that you're now incapable of reliably casting.
I think cube drafters are too often invested in what they consider to be "free splashes". It's really rare for a splash to ever be truly free. Even looking at the least color demanding card you can possibly splash (lets say that you wanted to splash a
Meloku the Clouded Mirror
and are willing to wait until turn 6 to cast it) you're still looking at a minimum of 4 sources of your now 3rd color in order to do so. You might be able to do that with proper fixing if neither of your two primary colors have any color-demanding cards in them, but that's going to be really unlikely. And even if you can, and you meet the minimum qualifications for both your other colors to be conservative, there's still room for improvement on the front of your two primary colors. Remember that even the conservative numbers are ~75% chance of being able to play them. That means that a quarter of the time, you still won't be able to cast that
Vendilion Clique
on turn 3 even if you have 12 sources of blue in your deck! So most of the time, adding a 13th or 14th source of blue will be better for your deck than adding in the additional sources to reach the minimum requirements for your splash card. Especially if your primary color has more than one double-color costed card in it, or if you're trying to run double-color cards in your secondary color at the same time (which we often do).
In that same vein, lands that tap for colorless mana have a significant impact on your mana base. They're not "free" inclusions at all. Lets say that you build a "good" mana base. You draft 4 mana-fixing lands, and you're playing a typical 17-land deck. That means that if you split your basic lands in a 9/4 way, you'll have 13 sources of your primary color (so you can cast your
Rofellos, Llanowar Emissary
) and 8 sources of your secondary color (so you can play 1-drops of that color, like a
Thoughtseize
, for example). That leaves zero room for colorless lands, and zero room for double-color cards in your second color. In a deck with 4 mana-fixing lands! Lets say that you are really careful when you're drafting. Your most mana-demanding card in your primary color is a 1XX 3-drop, and your secondary color has no double-color cards, and no 1-drops. You'll need to build a 12/7 split to include something like
Phyrexian Arena
and
Looter il-Kor
in the same deck. With 3 mana-fixing lands, you can run a 9/4 split on basics and be able to do it perfectly. But again, that's with no colorless lands, and a very conservative drafting/deck-building process with a really low color demand. The eye-opener for me was the stats on running a 1XX 3-drop and a 2XX 4-drop in the same deck (who doesn't want to curve from a
Pillage
into a
Braids, Cabal Minion
?). That requires a 12/10 split. With 5 mana-fixing lands, I can do it with a 7/5 basic split. Five fixing lands. FIVE. Anything less, and I'll be deficient in one of the two colors. No colorless lands. No splash color. No double-color 2-drops. Ouch.
The last thing I'll touch on is how this can potentially impact cube design. Am I running enough mana-fixing lands to have each player reliably acquire 3-4 on-color fixers in every draft? Are there too many color-demanding 2-4cc cards in the list? Are there too many multicolor cards that may be traps for players trying to "splash" them? Are there too many lands that tap for colorless mana? Am I running enough non-land cards that can fix my mana to help mitigate the source requirements? I'm in the process of answering some of those questions right now. And most of those questions I fail to answer positively, if I'm being completely honest with myself.
In conclusion...
I hope this information is valuable to you other cube managers and cube drafters. I have observed a pattern of dismissive attitudes when it comes to mana requirements throughout the entire cube community. On this site, on other sites, and even from the professional Magic players that dabble in cube drafts. I've always prioritized mana fixing, but still found myself deficient on source requirements in the majority of my drafts. Even with other players undervaluing their importance. And that was before crunching the numbers. The study was eye-opening for me, and the impact it has on everything from cube design to the drafting and deck-building procedures will be significant for me and my playgroup.
Please feel free to provide feedback and commentary! Thanks for reading. Cheers, and happy cubing.
..........
Afterward–Notes on the math.
Interested in the math behind the charts? Here's a brief summary of how they were calculated:
All the information was calculated using a Hypergeometric Calculator (a link to an online service can be found here:
http://stattrek.com/online-calculator/hypergeometric.aspx
).
For the chart regarding playing lands on a given turn: the Population Size was set to 40, the Successes In Population was set to X (whatever the values were for that given source number), the Sample Size was set to 7 for turn 1 + 1 for each additional turn afterward, and the Successes In Sample were set to the target value for the turn (the number would be 3 for turn 3, as an example). The Probability demonstrated was the ≥ value, because it simply needed to establish drawing at least X lands by a given turn, not exactly X by a given turn, so the results checked were Cumulative Probability: P(X > x).
Now, for the charts regarding having X colored sources by a given turn: the Population Size was set to 39 (to accommodate for the remaining pool after the card you're attempting to cast had been drawn), the Successes In Population was set to X (the number of sources of that color in the remaining 39 cards), the Sample Size was set to 6 for turn 1 + 1 for each additional turn afterward (because one of the drawn cards is the spell you've drawn that you want to play), and the Successes In Sample were set to the minimum number of colored sources needed to cast the spell. The Probability demonstrated was the ≥ value, because it simply needed to establish drawing at least X sources of a given color by a given turn, not exactly X by a given turn, so the results checked were Cumulative Probability: P(X > x).
Both charts were generated with the assumption that the player is on the play.
Hope that helps to clarify things a bit!