Lesurgo
Location:

Washington

Join Date:

1/18/2005

Posts:

7,898

Member Details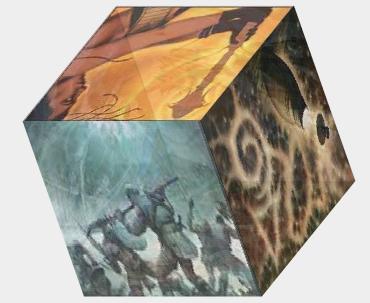 The Cube
Imagine sitting down for a booster draft. You've drafted plenty of times before. You know that you can deal with whatever the boosters throw at you. You open up the following pack: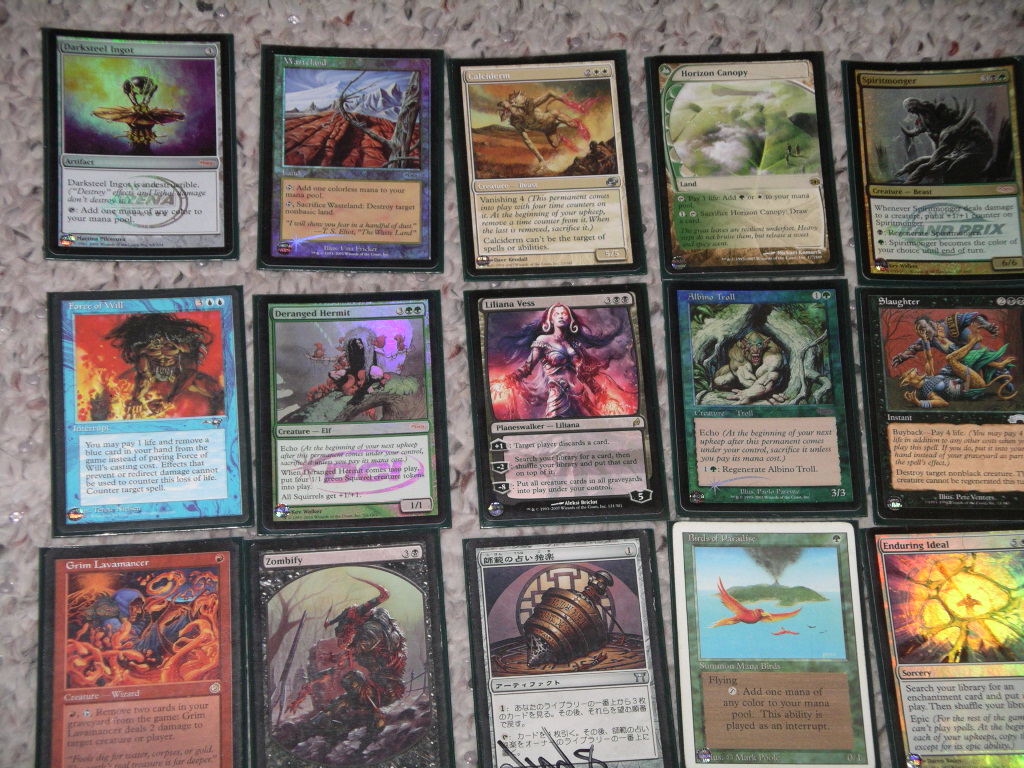 So many options. You can take the safe pick with the Ingot or the Top, because you'll probably find a way to play them regardless of how your deck ends up. Countering spells is always nice though, and free ones mark the start of a great control deck, so maybe you'll head towards blue and take the force. On the other hand, there's a Spiritmonger over in the corner that is telling you that you shouldn't be so afraid of commitment, because he'd be a perfect fit for a rock deck. As you think about the pick, you gaze towards the Enduring Ideal and wonder what kind of enchantments could be in this crazy set. But is it fast enough? Hmm, that Liliana Vess might wheel though, she is quite the combo enabler....Too bad this pick isn't relevant. These cards would never appear in the same pack. Back to figuring out if Mulldrifter or Summon the School is the better pick, right?
Welcome to cube draft.
A cube is a large stack of mostly powerful cards selected by their owner from throughout Magic's history. No, really, it's a large stack of cards:
It's like you have your own set you get to play with. Even though the cards already exist, you build in your own power level, synergies, strengths, and so forth to use them in combinations you would never see otherwise.
Makeshift Mannequin
a
Masticore
midcombat to crush the attacking force? Check. Playing the sneakiest Ninja ever by casting an end step
Ninja of the Deep Hours
off of a
Teferi
? Check. Having someone smugly cast an
Armageddon
only to turn their glee to horror as you respond with an instant speed
Rout
? Check. Cube allows odd synergies to exist by mixing all of these cards together in a fresh environment.
The most common practice done with a cube is to booster draft it. Each person drafting grabs 45 random cards out of the cube, and randomly put them into 15 card packs. (Some people do smaller packs, but I prefer the norm of 15.) Cube draft has the unpredictability and adaptability skillset of a normal draft, but the power and synergy basis of constructed. It's like drafting a constructed deck. You can draft aggro, control, and even combo. Consider the booster above. You can't really go wrong with most of those cards as first picks, so you can go down the route you want to.
You can also do pretty much any other draft format with a cube such as, but certainly not limited to, Winston, Rochester, Points, and anything else. In addition, it makes a convenient high-powered stack to play type 4 with in between rounds at an event.
You may be thinking that cube is inaccessible for you, but you don't need all of these old cards to construct a good cube. The great thing about a cube is that you control its power level. If the cards are just from recent Standard formats, the power level will be fine while still being fun by being a conglomeration of cards from recent years.
If you are interesting in building your own cube, go read
Tom Lapilles Cube FAQ
. Most of what I'd tell you would simply just be restating what he said. In a nutshell, you want each color to have the same amount of cards so that there isn't an imbalance, and each color needs to have a few obvious strategies that play to its usual strengths that it can utilize. There is a little more too it, and I recommend reading that bit on Tom's site for more information.
My cube:
My cube has 720 cards. This is enough to run two eight man drafts at once. The breakdown is 88 cards per color, 100 lands, 90 colorless cards, and 90 multicolored cards with seven per two color combination and 20 that are a mix of split cards and cards that cost three or more colors. Cards that are one color but in practice often play like multicolor cards like Desolation Angel, Court Hussar, Kird Ape, and more take up slots of their colors, not multicolor slots. It became too subjective to decide what went where. People could use cards in odd ways, so maybe somebody will want Desolation Angelunkicked, or Nightscape Familiar just for a Drudge Skeletons. I felt that it would just work out better if cards were collated based on what their actual mana cost was. Zombie Cutthroat and Gathan Raiders are the only exceptions, because anybody can easily play them. I count them as colorless, so they take up artifact slots.
There are some cards that will be in the cube eventually, but are not right now. Cryptic Command, Mogg Fanatic, Swords to Plowshares, some of the Lorwyn multicolor legends, and a few other cards I can't think of right now definitely have a spot in the cube, but I don't like using proxies in casual formats except in rare situations, and I don't own any of those cards yet. The same goes for the original dual lands. I only own three and it'd be very imbalanced to just have three in there, but I don't want to use proxies for them.
My cube is unpowered, and I prefer it that way. Not having them makes games more interactive, lets people play their awesome cards, and feels like a better game of Magic in general. I think that the one Sol Ring is fine because it means that there is a "card above cards" in the cube that you're always looking for and excited to open because it ranks above everything else, a bomb rare of sorts. If you play with power in your cube that's something a lot of people do and I respect that, but I like it to be unpowered.
There is a high land density because I like having a lot of nonbasic lands. They're good for three main reasons: they fix your mana and let you play the cards you want to, you always draft so many playables that lands give you playables without taking away from deck slots (especially when they mimic spells!), and having more lands makes games more skill intensive as you try and figure out when you should be playing certain lands and their abilities. You have to be careful that the packs don't become too full of lands, but otherwise I think more lands is helpful to game play.
Finally, yes, there are a few Unhinged cards in the cube. But, it's because they play well, not because they're goofy. I kept anything annoying or dexterity based out. Turbo Slug is basically just a pact of 3/1 haste and Blast feels like it could of just came out of Time Spiral block. Super Secret Tech is neat because it lets you draft a theme nobody else will care about that works well in the cube. I'm sure somebody will eventually first pick it and draft a foil based deck. There are some others, but the only real ridiculously powerful one is Richard Garfield, but I think its strategic and rewards better players. Plus, combining cube and mental magic in the same game is pretty awesome.
Finally, here are pictures of my cube for a reference on what a cube can look like. If you want to know what a specific card is because it's obscured, please ask. Before anybody asks, the Inkfathom Divers is a Garruk. I lent mine out of the cube because a friend really needed it for an event and I haven't received it back yet.
Lands:
Black:
Green:
Red:
White:
Blue:
Artifacts:
Multicolor:
I would love it if more people got into cube and were interested in building their own. It is a great format to play, and it attracts curious spectators at events in a way I've never seen elsewhere. If you have any questions, I will gladly answer them. This thread is for all things cube related, so you can post your cube, your opinion on cube issues, petition for Shepherd to run a 8 way cube draft, share cube draft stories, ask questions about Cubes, and so on.
Have fun Cubing!
Last edited by
Lesurgo
: Nov 25, 2007
Former MTGSalvation Administrator