hoser2
Staff
Moderator
Standard Denizen

Location:

Rural WA state, north of Seattle

Join Date:

9/26/2012

Posts:

2,055

Member Details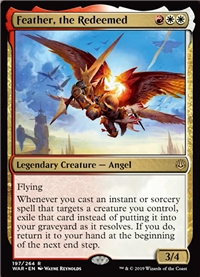 Okay, okay, a 3 drop with no ETB effect in a format with a 4 mana wrath in one of the best decks is probably just bad. The text on this card has me drooling: a card advantage engine on an above rate flyer. So I guess that I am talking about fun FNM decks.
I like fun FNM decks! Please help with ideas and decklists.
Abraham Stein has an
article on Star City Games
here.
The obvious companions:
Do we have enough multicolor cards to emphasize multiple colors? Multicolors matter cards:
Let's fight! Naya options:
Removal got you down? Jeskai options (credit Ryder052!):
Does she work with Judith? Mardu anyone?
Last edited by
hoser2
: Apr 11, 2019