stokpile

Join Date:

2/8/2014

Posts:

1,147

Member Details
.
Sultai Control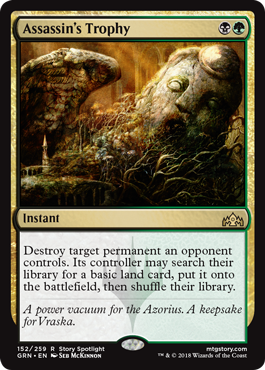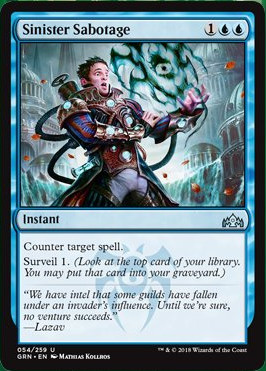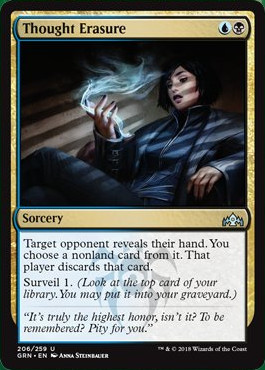 .
(The name Sultai really BUGs me)
It's been a long, long time since black blue and green were in the same deck and even longer still since they were in a competitive deck. With the rotation and printing of Assassin's Trophy that seems to have changed. This will be my opening salvo at attempting to find the best control deck for the format. With trophy making things difficult for the traditional UW builds, sultai is my pick for best control deck moving forward and beginning with the best removal spells available seems like a great starting point to build.
Why Sultai?
Assassin's Trophy. That's the reason. Glad we had this conversation.
Ok. Why not UW, Jeskai, or Grixis?
Assassin's Trophy. Yes that is the entire reason to avoid other color combinations and dive in head first with the bugs. Both because we can play it and because we aren't soft to it. We aren't reliant on
Ixalan's Binding
to deal with walkers (trophy gets them right back) or enchantments like
Seal Away
to answer creatures and our finishers are spells and hexproof threats. Going BUG gives you the best removal spells in trophy and contempt, you get the best finisher and mirror breaker combo with
carnage tyrant
all wrapped up in a sweet inevitability engine with
gaea's blessing
and
The Mirari Conjecture
.
One less obvious, but especially important reason to go with sultai is the manabase and a clean mana base is facilitated by, you guessed it, the trophy. Having access to "BG - Kill A Thing" means we don't need to run
field of ruin
to handle utility lands like azcanta or the flip side of
Legion's Landing
. That combined with two immediately supported guilds gives us all the duals we need. Furthermore we have a reusable draw engine from gaea's blessing which means we don't have to run a copious number of
arch of orazca
to help keep the cards flowing for when our recursive draw elements get turned into basic lands. We end up not needing a single colorless land and the ability to run a good amount of basics to take advantage of any opposing trophies and to easily cast our own.
As we learned in the previous format, UW control struggled against decks that started with 4x
Vraska's Contempt
or were aggressive enough to clear Teferi easily. Not relying on a walker that gives us a completely random card off the top before dying gives us a leg up on decks who plan to employ this strategy. With a pile of divination effects, better live top decks, and a draw engine that always gives us a
good
spell makes for a clear advantage.
We do give up the purity of Teferi as a win condition and lack a hard sweeper like
cleansing nova
, but we are well set up to play the point and click removal game. Should tokens become a thing to make the infinite kill spell plan difficult, we do have
Ritual of Soot
available to cleanly answer that strategy. Simply put, BUG checks all the boxes you want checked with a control deck. Power. Versatility. Clean answers to literally everything and absolute inevitability.
Let's start with a pair initial deck lists.
Sample List 1
Sample List 2
As you can see we have answers to all the major players of the format. Seven ways to eat a troublesome walker, six counterspells, and a play set of trophy lets us eat annoying artifacts or enchantments.
Ritual of Soot
to answer super go-wide plans,
Vona's Hunger
for hexproof threats, and
thought erasure
to answer anything else before it comes down. We are able to stop something in hand, on the stack, or on the battlefield. We are not relying on Azcanta or walkers as hard as previous control decks which makes Assassin's Trophy much less effective against us if Teferi was our primary source of card advantage. With The Mirari Conjecture plus
Gaea's Blessing
engine, we are also well equipped to use the extra mana that we could get from the trophy as well and never losing access to our long term advantage.
The lack of
Search for Azcanta
might put off some players, but it is a way for us to reduce the effectiveness of trophy as much as possible. All of our draw engines happen immediately with our divination effects or give us value before being transformed into a basic island. Relying on something to stick around on the battlefield in a world of trophies and contempts is a rather dubious plan. Focusing on spell based card advantage is the best way to ensure that you're never cut off from maintaining a material advantage.
Our primary way to actually end the game is simply decking them with their draw step while we sit around reshuffling answers with gaea's blessing indefinitely. The first blessing puts back three counters or kill spells and the second blessing gets back two draw spells and the first blessing and we can repeat this until the end of the game. While not as clean as doing the same thing with a teferi emblem hanging around, it does the trick just as well. The sample list includes the single carnage tyrant as a concession to our opponents not giving us the concession and will kill through anything quite fast. It also allows us to win game one against any deck playing
Nexus of Fate
as that card's mere existence prevents the use of decking as the sole win condition.
The overarching game plan of the deck past the traditional control strategy is to eventually recycle our entire deck. Gaea's blessing ensures that the top of our deck is going to be more live than our opponent's and prevents us from not only running out of cards in our library, but also prevents us from running out of the right answers. If we have to spend our edicts early to stay alive we can still find them again and again if hexproof threats start rolling off the top. Because of this infinite recursion aspect the only things that we are truly afraid of are dedicated hate for our blessing engine like
Unmoored Ego
and
banefire
.
With Banefire being in the format it may be correct to run
Pelakka Wurm
as the dedicated win condition. The wurm gains a huge amount of life when it enters and some extra value on the way out. The only real downside of this swap is that a hard exile effect like contempt sends us to the dedicated mill plan. One potential consideration is going down to only one copy of blessing as you can still recur it indefinitely with the mirari conjecture which gives you an extra main deck spot for another answer or hard win con. Only time will tell which is correct.
Thoughts on Removal
Our removal suite is going to be changing from week to week, which is typical in standard control decks. The only spot removal spells that will always be in the deck are the contempts and trophies. After that we will have to decide if we want to lean towards hard removal like
Cast Down
and
Vona's Hunger
to fight green stompy and their hexproof threats. After that is the red aggro decks where we'll want to shy away from edicts and focus more on
Ritual of Soot
and
moment of craving
.
Should control variants become equally as popular as the midrange and control decks then we may want to cut our additional removal entirely. Without gear hulks in the format,
essence scatter
loses all of its value against control so this will be an extremely delicate balance. Because of all of this, there really is no point in suggesting a "this is what you should do" set up for spot removal outside of the two base inclusions with the caveat that we want something in addition to assassin's trophy for early game kill spells.
Card Advantage Options
There are no shortage of great options to get ahead on raw card count in standard and choosing the best one depends on several factors. First of all is how much red aggro are you expecting to face? How often will you find yourself in a control mirror? These questions must be answered before you select your draw spells. Here are a few suggestions of which spell might fit best in a particular meta.
Chemister's Insight
- This inspiration variant puts you up one card on the first cast and another on the jump-start cast making it a grand total three for one with some finesse required. The biggest draw to this spell is the instant speed nature and the ability to filter dead removal spells in the mirror. Meanwhile it has the down side of the 4-CMC and the requirement to have a card to pitch when you cast it a second time. A solid card, but it does ask a bit of you for everything to go right.
Secrets of the golden city
- Fine early and great later on makes this a solid middle of the road choice. The double blue cost may be a bit tense at times, but a three mana ancestral in the midgame is still very powerful. This should most likely be your default choice until you have done more testing with your list against the predicted metagame.
District Guide
- While not card draw in the traditional blue sense, this is still a 2-for-1 spell that might have some added value. It does turn on opposing removal, but what it does is help fix your mana and provide you with a nice speed bump that can harass any walkers you can't immediately clear. If you want to go this route you'll want to include some additional basic lands and perhaps a singleton guild gate to make the trigger worthwhile. Another minor point worth mentioning is that if you're running Secrets of the Golden City this is yet another permanent to help you get the city's blessing.
The guide also fills the role of allowing you to run a lower land count than you typically would to avoid flooding while helping you still hit all of your land drops. What it really comes down to is how useful is the body and is it better than simply running
anticipate
. I can easily see a situation where this is a 4-of value play that is mediocre game one, but is more useful post board when all of the removal comes out.
Notion Rain
- A sweet call back to the very powerful Read the Bones with the surveil mechanic replacing scry. We know from past experiences that this is a very powerful card, but the life loss is certainly not free. If you expect a lot of opponents to be aggressively attacking your life total this is not a good choice, especially since you plan to cast it 4-8 times a game. However in a slower, midrange centric meta this is one of the best choices. Even though it doesn't get you a third card, the surveil 2 that's tacked on makes up for that and in some cases may end up being superior.
Finishers
In the bug colors there isn't a perfectly pure and clean win condition such as Approach from the previous format or looping Teferi with an emblem. Furthermore, relying on walkers to get the job done is a bit risky due to the Trophy + Contempt combo making them exceptionally hard to stick around long enough. Luckily there are a few other options for us that are a bit more likely to go the distance.
Millstone
- The original win condition of durdle do nothing control decks. It fights on a unique axis with the effect that now bears it's name of milling. With a perpetual loop of gaea's blessing this isn't exactly necessary to win the game by decking your opponent, but it can help accelerate the process by a huge amount which can be important. If you are playing online and don't want a creature based threat, one or two of these is highly recommended to prevent yourself from losing to the clock. Decking does have one glaring weakness however: Nexus of fate. If your opponent merely discards to hand size each turn pitching their nexus, you will never be able to kill them this way. This one tiny wrinkle might make a pure mill plan impossible to execute.
Carnage Tyrant
- The implacable death lizard has been giving people fits for as long as it has been around. With the rotation of
doomfall
there will be much fewer decks that are running an answer outside of blocking. This is a much more reliable finisher than most options and checks all the right boxes. Hexproof, can't be countered and a way to punch through blockers in the form of trample. The seven power means it gets the game over in a hurry and can still trade with other control "mirror breakers" should the need arise.
Nezahal, Primal Tide
- Another finisher that got better with the rotation, but this time it is from the lack of
Disallow
. Pitching several cards to save it only to have the return trigger stifled made the dino very sketchy, but now it is just one suitable option among many with a bit of card advantage tacked on to boot.
Sideboard Options
In our sideboards we do have a large amount of respectable directions to attack any given meta. First and foremost you have to decide which plan of attack you want for the control mirror because that will require the most dedicated slots. After that you must look closely at the aggro and midrange decks of the format and decide how many of what effects you will need. For ease of reading I will split up this section into Control Options and Aggro as there is very little overlap in utility.
Control
Negate
and Unwind - Extra counters are one of the few things you are certainly going to want and which combination depends on your strategy. The default tends to be a play set of negates before adding any extra counters in the side.
Thief of Sanity
- A fantastic new addition to the "dimir specter" variants that threatens to get out of hand super fast. It's the Gonti that keeps on giving and is fantastic against any deck with little to no removal or blockers. Just like control mirrors. I'm a huge fan of this card and would recommend you give them a try first.
Mystic Archaeologist
- The half way mark between the card advantage and aggro plan that beats down early and can draw a pile of cards later on. A slightly different version of Thief of Sanity, but still an option to consider if you're wanting a cheaper threat that might be a touch easier on the mana. The CMC is the main reason to choose this card over another as it is quite easy to slip in under permission even though it takes a long time to get value from it.
Nezahal, Primal Tide
- An additional hard to answer threat with built in card advantage. As mentioned previously, the absence of a stifle effect really makes this card worth considering.
Duress
- Thought Erasure in the main deck makes duress less of a home run, especially since it can't take the creature threats, but it still fulfills a certain role and the information gained is incredibly valuable.
Arguel's Blood Fast
- Yes, this card is still in standard and will continue to give headaches to control players. This time though there is a cheap answer to it which means it is less of an instant win card. It is still going to be worth several cards if it resolves and if the card advantage plan is how you want to approach the mirror this is likely the best option.
Knight of Malice
- If you want to go for the "Gotcha!" plan post-board then this is one of your better choices. The black-ish knight is at its best against the white based control decks of course, not just for the bonus power, but also to brick wall any tokens from
History of Benalia
that might come in.
Vine Mare
- Another gotcha card for the control mirror. This one has the fun word "Hexproof" written on it which makes it almost impossible to be removed post-board. It being four mana does open it up to permission, but if you're heavy on the discard plan it can be quite easy to force through. Once you get to untap with it the game is going to end in very short order as you are able to counter the very few things they'll have to remove your threat.
Arch of Orazca
- An extra land in a control mirror is always a good thing and one that draws cards is even better. With a number of playable answers to utility lands this might not be a great option if drawing cards is your primary motivation, but the extra land to draw into makes this a worthy consideration.
The Eldest Reborn
- Should you want another option for a grindy late game card with some additional utility this has always been "fine." Never amazing, but always acceptable. It's another edict effect for
vine mare
or dinosaurs and can potentially steal a walker to win with. All around solid without being amazing.
Aggro
Ritual of Soot
- Even though The Chainwhirler is keeping token decks from being played, some number are still fine. With goblins being a semi-supported tribe and boros aggro looking to be quite good, having access to an effect that can clear the board is great to have in your list. Depending on the typical sizing of the aggro decks you can easily end up wanting a full set or just one. It is worth pointing out that
golden demise
is another possible option for a sweeper slot if costing one mana less ends up being important.
Moment of craving
- If burn heavy, hyper-aggro decks are prominent then this will be your best card against them. This one requires the most context to be correct so any number from zero to four could end up being right on a given weekend.
Dead Weight
- A sorcery speed disfigure isn't anything to be especially excited over, but this is our only option for turn one removal. The more popular Llanowar Elves are the more that you'll want these. Pay close attention to the general sizing of creatures as this could easily make its way into the main deck.
Cast down
- For the bigger green decks where the ramp from Trophy can be a real liability this is your best spot removal spell and will always be good to have a couple copies around. There will always be a stray legend hanging around like Kari Zev or Tajic that you can't tag with this, so keep that in mind when deciding on your final count.
Pelakka Wurm
- Even though this is quite the odd inclusion, it acts as a slightly better finisher against the aggro decks because of the life gain attached to it. The main reason to want this over a dinosaur is to get yourself out of
Banefire
range. If the unstoppable fireball is popular you can easily want more threats that gain you life to keep your head above water and not get got. Not to mention the fact that gaining seven life tends to win the game on its own as was shown with the first casting of
Approach of the Second Sun
. Depending on the metagame you expect, some number of these could even be considered for main deck play if the durability of carnage tyrant isn't necessary.
As you can see there are answers to everything that we could be facing down. From token swarms to walkers to hexproof threats, everything can be neatly answered with a single card. With a properly constructed 75, we could easily end up being favored against anything we want to be. It all comes down to having the correct configuration of removal and draw spells which won't be too difficult. Let's get the discussion started by posting our initial testing experiences and deck lists.
EDIT: Added a second, more "expected" looking deck list to the start.
And on that day, Garfield said unto the world "Go ye forth and durdle!"