khaosknight69
Join Date:

4/18/2015

Posts:

604

Member Details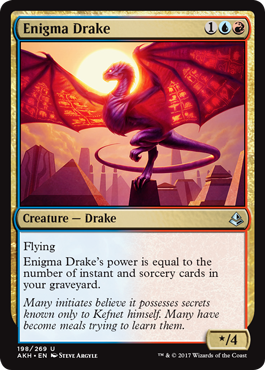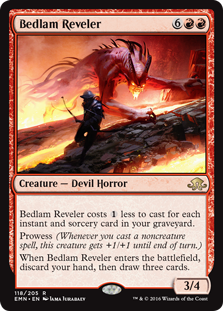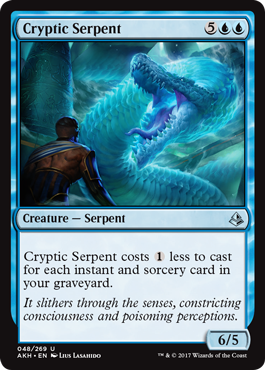 UR Drake is a midrange deck that plays a controlling early game with spells like
Magma Spray
,
Lightning Axe
, and
Censor
, while overwhelming your opponent in the midgame with superior card advantage and ultra-undercosted threats. It's a deck that rewards you for simply playing magic, and has a very strong "snowball effect". Turns 1-4 are usually spent playing a Draw-Go game, holding up removal or a counter to use if needed, and otherwise playing an
Anticipate
or cycling a spell at EoT. Once your graveyard has 5 or more Instants/Sorcs in it (which can happen surprisingly quick), its time to change rolls from control to aggro/control, throwing down super efficient beaters like
Cryptic Serpent
,
Bedlam Reveler
, or the deck's namestay
Enigma Drake
.
UR drake plays very much like a midrange Modern deck. You have excellent card advantage tools, excellent removal and counters, and your finishers are cheap and powerful. Bedlam Reveler and Cryptic Serpent are essentially this deck's
Tasigur, the Golden Fang
and
Gurmag Angler
, while Enigma Drake is our 3 drop flying
Tarmogoyf
. Often the game will be over after swinging with Drake 2 or 3 times, and your late game is exceptionally strong (paying 3 mana for a 15/4 flier feels really good).
- Really fun. This deck draws about half it's library each game and when games go long you get to play 2 mana 6/5's and 3 mana flying 15/4's which is pretty sweet.
- Excellent Top Decks. The deck has significant draw power, using tools like Anticipate, Take Inventory, and Cathartic Reunion alongside cyclers like Censor and
Sweletering Suns
to both refill your hand and also fill your gy with Instants and Sorceries, you will rarely find yourself in topdeck mode. When you do you can rest assured that this deck has close to the best "topdecking" of any deck in standard.
-Fantasic Mid/Late Game: Bedlam Reveler and Cryptic Serpent are some of the best midrange creatures in Standard at the moment. Tossing out a 6/5 for UU or a 3/4 Prowess + draw 3 for RR just feels great, and can really help in wars of attrition.
-Strong Early Game: UR Drake doesn't have the amazing curve of Toolcraft > Heart > Gideon, but we do have
Magma Spray
for their toolcraft,
Lightning Axe
for their Heart, and
Censor
for their Gideon.
-Great against decks that go wide:
Sweltering Suns
is a 3-4 of mainboard. Both modes are relevant, and the 3 damage won't kill any of our creatures so it's a very one-sided board wipe that also fuels our main gameplan when we don't need it. With all the draw power in the deck, you're very likely to see at least 1 in a game.
-Landbase: One of the biggest factors of whether a deck can be competitive in Standard is what lands are available to it. In Eternal formats this isn't as much of a thing, but in Standard having access to a fastland like
Spirebluff Canal
and arguably the best manland in Standard in
Wandering Fumarole
is a pretty huge advantage.
-Budget: The entire list posted below can be ordered for $95
-Control is a tough matchup: The deck is somewhat threat light, with 4x Drake 3x Reveler 3x Serpent, thats only 10 answers they need mainboard. Due to the draw power of the deck you will likely end up seeing about half your library in a single game, so its not a terrible matchup but it's not amazing either.

-No direct enchantment or planeswalker removal in : PW's can be killed by combat damage of course, but when a problem non-creature non-artifact permanent resolves it can be hard to get rid of.
Decklist:
Standard:
Rock

Modern:
Sun & Moon
Dredge
Burn

Legacy:
Death & Taxes