Cassial
Location:

Lexington

Join Date:

4/3/2012

Posts:

461

Member Details
Hey folks, so glad to see the thread is moving now! Real life takes me away for like 2 days and suddenly 2 pages! :> Anyway, I'll start with replying to you Spooky, you bring up a lot of points I think should be addressed - even if some of us don't agree with them. I'll go line by line:
@Spooky:
Well you just keep telling me that because his deck won a tournament, the dorks must be worth something. Of course you'll never know what to tell people with that mindset. Dorks make for horrible topdecks.
Well, to start this off, you mention that they are terrible topdecks. I won't argue that one. However, it's hard to argue that there's a better T1 play. Just the simple use of them requires proper deck construction, if you're going to use them at all,
your threat density needs to be as high as possible as well as high impact
, to alleviate the bad topdeck problem. I would also like to point out a fact that isn't necessarily the mana-dorks' fault;
they are well positioned right now in this format
. With no
Whipflare
or
Slagstorm
type effect seeing wide play, sure there's
Bonfire of the Damned
, but you don't have to worry about getting 2-for-1'd as soon as T3 typically short of miracles. If somebody wants to wrath your dorks, it's going to take them at least 4 mana, and that's fine - it was the 2 mana
Pyroclasm
effect seeing wide play that kept them out of the format last standard (ex:
Rampant Growth
/
Sphere of the Suns
being the superior ramp package).
Gavony Township doesn't change that. A dork's value is only as good as the play that follows it, that's why Somberwald Sages and chainable 7 drops are so good. Killing the mana dorks has always been the imperative in MTG; I seriously hope you're not disputing that because that's a whole different principle you should've been acquainted with ages ago. The discussion should be, what do you get for your (vulnerable) mana acceleration? Gavony Township doesn't cut it. For Sages, I've come up with two justifications: Serenity Now (that's what I'm calling my deck now) and being able to play Restoration Angel with a single land untapped... implying that I could play 2 and 3 drops while keeping the option to drop an angel open.
With your hypothetical examples in mind, I'll try my best to give some hypothetical rebuttal, as rooted in real world experience as I can.
Gavony *does* change things when it's a creature vs creature battle, and there's no sweepers to worry about. Have you ever screwed up your opponent when they thought they were going to be making good trades, and you declare an
Arbor Elf
as a blocker, and tap it for mana before damage happens to have *just enough* for a Gavony activation? The point of Gavony isn't to kill opponents with mass dorks and mass gavony pumps, that's all kinds of linear, slow, and means you drew absolutely nothing but mana-dorks all game. This deck is nothing if not based around creature and combat math - if the game goes to a board standstill, you can often pull ahead simply by pumping your
Loxodon Smiter
(s) into 6/6's which keep their
Thragtusk
(s) at bay.
The mana-dorks getting pumped is largely just a side benefit, but they enable it's use while being bodies at the same time
.
Now I'll try to take a stab at
Somberwald Sage
you mentioned. I agree with your thinking in the lane of a mana-dork is only as good as the play that follows it, and I looked over your list again. I would like to point out that you could potentially make Somberwald Sage's acceleration *faster* by actually running 8 mana-dorks - you want her down on T2 if possible. Yes, it's more vulnerable that way,
but you're committing to a 3 mana 0/1 accelerator in the first place
- you either get the payoff from it or you don't. T1 Mana dork, T2 Sage - T3 you have 7 mana assuming no missed land drops. This is where we're treading in rough hypotheticals, but, T3
Angel of Serenity
could be amazing or it could be unimpressive with nothing to remove a lot of the time. I would highly suggest you take a look at Brad Nelson's "Hoof There It Is" take on Somberwald Sage - it functions as a high risk, high reward combo deck, and both him and Martin Juza (Juza took 1st in GP Bochum) blew away the format when it was unprepared for it. (source:
http://www.wizards.com/magic/magazine/article.aspx?x=mtg/daily/eventcoverage/gpboc12/welcome#t8dl
).
My only advice on the Sage, you should want T1 accelerators with her I believe, as these guys thought too. You may or may not want to go that route, but that's possibly one of the most
proactive
strategies utilizing Sage, where
Angel of Serenity
by and large
is a defensive-stabilizing trump card for our Bant decks here
.
Not trying to criticize your list at all, but it seems you have the base for an extremely proactive/aggressive start with the Sage, but the rest of the deck may or may not go with that gameplan. I would only ask that rather than assume. I think what it comes down to is there is a pretty cut and dry clear gameplan for "Prime Speaker Bant" as an archetype here, while I definitely encourage out of the box thinking, what you're working with has some clear pros and cons and different elements entirely. TLDR: You should really just test it and report back to us as much as you can on it.
Standard: Team
http://forums.mtgsalvation.com/showpost.php?p=9157664&postcount=1
South Carolina State Champion: 2012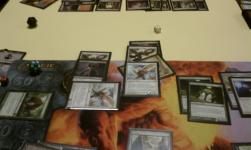 Yo dawg Frites Player, we herd you liked getting 1 for 3'd by Angel of Serenity, so we put some Angels in your Angel (Avacyn) so you can get chained while you get exiled. ANGELCEPTION.
RAMP