Nerubian
Join Date:

10/5/2011

Posts:

432

Member Details
JUNK TOKENS PRIMER
[url]http://gatherer.wizards.com/Handlers/Image.ashx?multiverseid=245250&type=card[/url]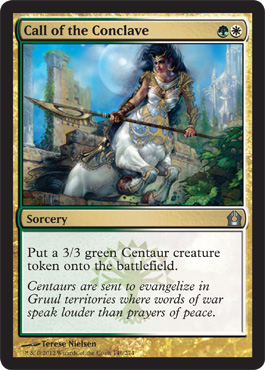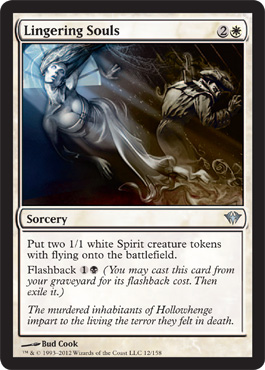 [url]http://gatherer.wizards.com/Handlers/Image.ashx?multiverseid=249985&type=card[/url]
What is Junk Tokens?
Junk tokens is a developing deck that focuses on the midrange to win. Like all token decks it uses token generators to eventually overwhelm your opponent with the ability to buff a certain subset of creatures 'tokens' using specific synergistic cards. Specifically, this deck focuses on White, Green and Black as its main colour-combination. To compare, it seems to be the lovechild of aggressive B/W Tokens and Slower G/W Token Township at the start of Innistrad standard.
Why Junk?
Currently, I believe, that when you look at the current standard (Innistrad - Return to Ravnica) the best token cards are in these colours. Some may argue for GW, Bant or even Esper – however, I would argue that Junk's colour combination is the strongest option. The reason for this is because of Selesnya's token generators followed by a splash of black for
Sorin, Lord of Innistrad
and
Lingering Souls
. Black not only offers two amazing and relevant cards, it offers a diverse set of sideboard cards.
GW suffers from a lack of good sideboard cards as such they may struggle at dealing with prevalent matchups. Bant has an interesting allure with
Geist of Saint Traft
,
Cackling Counterpart
along with
Snapcaster Mage
– however, consistency is always a critical factor in magic. I believe that Junk's manabase has the strongest base of all the manabases in this standard (for tri-colour decks at least). Jund is probably the second strongest however it suffers from the desire to have both B and R mana on turn 1 for
Gravecrawler
and
Pillar of Flame
and/or
Tragic Slip
. Junk's manabase on the other hand is stronger – we have access to two sources of dual lands which have access to green compared to all other 'versions' of this deck that only have one. Bant, in particular, I find has one of the worst manabases without
Breeding Pool
as they require such strict, differing mana costs for their 'game winning spells (such as T2 Call of the Conclave and T2 Geist of Saint Traft). Bant in particular was hit the hardest losing
Birds of Paradise
, whereas both Junk and Jund have not been hit as hard.
Why black?
I would argue that the splash of black adds far more diversity in the sideboard to help us out in different matches while giving us access to two extremely powerful cards mainboard.
Sorin, Lord if Innistrad
is everything that this current meta needs for tokens. He creates lifelink Blockers (which can be buffed via token buffers) thus protecting himself, an indestructible emblem that increases our attack power of the swarm, and an extremely relevant ultimate that also can count as mainboard removal (albeit a stretch). Sorin I believe is the reason to splash black. We also have access to Lingering Souls, a good card that cannot be argued or trifled with. In the sideboard it gives us access to tools that GW builds cannot run;
Abrupt Decay
gives us much needed removal against certain annoying cards that GW cannot,
Tragic Slip
is fantastic as well. It gives us access to
Golgari Charm
(main or side) which may be relevant against zombies (and/or the mirror) as it's moduals are still pretty good.
Blood Artist
is a fantastic card that may make it mainboard, if not, sideboard. We get
Vile Rebirth
– which is an instant token generator that hurts Zombies a lot (in terms of tempo – discarding Gravecrawlers to Loleth Troll and us getting a 2/2 zombie in the process to deal with the now 3/2 Troll). We get access to
Deathrite Shaman
; a fantastic card with two easily relevant tap abilities and a third that may help us against certain matchups (American Control discarding lands).
Now, let us get to the actual deck construction
THE CORE:
These cards are non-negotiable.
Lingering Souls
x4 – Probably the best token generator in standard in terms of mana cost, bodies, power and versatility. Any deck that has black ought to have Lingering Souls if they want to consider themselves a token deck.
Intangible Virtue
x4 – Oh wow. The reason that token decks work right now! This card is required to be a 4 of in all token decks… +1/+1 and an aggressive keyword Vigilance (which allows us to attack and still be safe from aggro decks. It's also cheap. And, unlike
Honour of the Pure
from last years standard, our list is more diversified than 1/1 white spirits.
Selesnya Charm
x4 – It doesn't take a rocket scientist to figure out why this card is good. Let's start from its worst mode to best. +2/+2 and trample – it can save a creature from a burn spell or trading with a blocker/attacker, push the last few points of damage in and can buff an enemy card to than exile it (bad idea – but it is an option). Exile Target Creature with Power 5+ - good removal spell for creatures. It is good at dealing with powered creatures –
Olivia
, Rancored
Geralf's Messenger
,
Loleth Troll
,
Desecrator Demon
,
Niv-Mizzet, Dracogenius
. Now, let's discuss the good mode. Put a 2/2 White Knight creature token with vigilance on the battlefield. A 2/2 Vigilance creature is on par with the curve, make it a token and it's good in a token deck – now add Flash onto this creature and it's fantastic. Oh, did I mention it still has the versatility of being the other two modes as well? Yeah… It may be better than Izzet Charm.
Call of the Conclave
x4 – We get
watchwolf
…as a token! If only it wasn't a centaur and it was a Watchwolf token I'd be even happier (but not wolf). Regardless, this card is fantastic. A 3/3 for GW is not only above the curve, but we can populate it and buff it with
Intangible Virtue
,
Collective Blessing
and
Gavony Township
.
Gavony Township
x2 (at least) – A land that helps us make our tokens stronger. Instant speed +1/+1 counters can change the game and for only GW3 it is a fantastic card that needs to be always in our deck. I'd argue for two, but to each their own.
THE POWERHOUSES
:
Obviously, there are some cards that not everyone uses – but these cards are strong and I would highly suggest at least looking at them and trying them out before discrediting them.
Sorin, Lord of Innistrad
– Sorin is a card that was not really used to his full potential last season. Why is this? Because tempo was so popular and Sorin came down too slow to be able to fulfill his role. Now, we are in a meta in which midrange has taken domination or at least Wizards is attempting to do make this the ideal. Sorin's +1 creatures a 1/1 lifelink vampire. Now, 1/1 isn't the best – but when paired with a buffer it becomes relevant. Lifelink is also relevant against certain aggro decks that want your face beaten in. These 1/1s can be used as chump blockers that help us stabilize more and more, they also can be used as attackers with virtue to gain lots of life (especially if they are decently big). His -2 is an emblem. Non-ultimate emblems are fantastic regardless, but a +1/+0 buff for doing nothing but saying "hey, I don't want a vampire this turn" is a fantastic second ability. He can also come down, use this and still survive if your board is good enough. His ultimate is relevant, but chances are we won't be used it that much – but, destroy 3 target creatures/planeswalkers and then put them on our side of the field is not a bad idea. Especially when it only requires two turns to do this.
Garruk Relentless
– Garruk is the token master planeswalker. 2/2 beasts are not bad. Left alone Garruk can provide a massive army that supplies us with huge card advantage – especially with a token buffer on the field. He also has a fight mechanic to deal with troublesome cards (
Vampire Nighthawk
,
Sublime Angel
, Non-buffed Olivia). While not the best on his flip side, you can get 1/1 deathtouch blockers and the abilitiy to find a win-con creature (if your deck supports this idea). His ultimate honestly isn't that good in a token deck – but giving everything trample (even without the +x/+x buff) is good.
Collective Blessing
– WAIT! Don't judge this card yet. Yes, I know it is a 6 cost expensive enchantment. HOWEVER, this card is fantastic and in my opinion the reason that this deck can do what it can do. These card turns 1/1 spirits into 4/4s flyers – that's
Serra Angel
(not a bad card), with a IV on the field it is even stronger. It turns Centaurs into 7/7s (8/8 Vig), Wolves into non-trampling titans… Plus, with decks slowing down – this card is allowed to be played. This does effect the field the moment it hits, and can turn surprise Main Phase 1 wins. Oh, your Lingering Souls now is swinging for 20… cool.
Rootborn Defenses
– This card is maindeck worthy. Protects against Sweepers, is a 3 mana indestructible combat trick, populates. This thing does it all and is worthy of a mainboard spot. Raikou Rider posted a good analytical post about this card: " Rootborn Defenses is probably the best card in this deck besides Lingering Souls. It's not just good vs Bonfire, guys – I'd go as far as to say this card IS our deck's 'bonfire'. It completely blows out other aggro decks, and will make people think twice about running too many guys out, which gives us time to stabilize and start throwing out bigger threats… [In regards to maindeck slot] Absolutely Defenses isn't just an anti-sweeper card. IMO it's as strong as Bonfire in our deck. It makes combat totally one-sided, blanks most sweepers, AND gives us another body. It can even be used to blank spot removal in a pinch."
Midnight Haunting
– Instant Token Generation is hard to pass up. A 3 drop instant (the same as Rootborn) that gives us two 1/1 bodies is still good as it can be used to flash in these blockers or use them on the end phase to be able to have surprise attackers. This is also an anti-sweeper card as you can play this after their turn 4
Supreme Verdict
and still have attackers next turn. It is good, it is being used in most lists – however still is being cut from some lists.
Vault of the Archangel
– A good colourless land. Lifelink in a token deck is relevant, as is giving your 1/1s deathtouch to kill
Sigarda, Host of Herons.
THE DEBATABLE CARDS
These cards are up for contention. Many discussions await.
Trostanti, Selesnya's Voice
– Populate on a stick is good. Lifegain is okay, in this format it is strong. GGWW is a restrictive mana cost, and a 2/5 body is decent at best. Some people swear by this card, others do not. Some believe her to be too slow at her job (4 drop that requires you to untap to create a 1/1 token to a 3/3 token). A lot of people don't like her mainboard – but a decent sideboard card. However, the debate is still up for this card.
Wayfaring Temple
– Oh jeeze, this card is usually the first card added to a token deck for some people. Others look at it and go 'well, this is garbage'. My verdict is on the later aspect of this card – as I believe that you have to build around this card too much. He requires you to hit with it, and has no evasion – which makes Rancor a necessity for this card. He encourages over-extension and is a terrible topdeck draw after a sweeper. However, t2 Wayfaring Temples followed by a t3
Rancor
+
Midnight Haunting
swinging for 6/4 trample is an impressive play to say the least as he would then become a 7/5 on turn 5. However, one
Golgari Charm
and your board is gone… So, he is a high risk, high reward card.
Thragtusk
– Great card. No one would argue this, or at least, no one smart. 5 Life ETB followed by a 3/3 beast token has relevance to our deck. However, the question arises – is this card not worth it without its partner
Restoration Angel
. Also, is it too slow to deal with the fast aggro decks and is it worth a mainboard slot as a necessary evil? Sideboard – probably.
Rancor
– Another fantastic card that synergizes with our deck well. Need to push a 1/1 token through early game, how about give it +2 and trample? It'll push through then. It also has FANTASTIC synergy with
Selesnya Charm!
Give anything with 3/X Rancor and than exile it with Selesnya Charm's second mode. You then get Rancor back into your hand. Instant Speed removal is at an all time low – so it makes aura'ing the card not as risky. However, it lowers our threat density and can lead to times where you are drawing nothing but support spells and not threats. I would suggest leaving
Rootborn Defenses
as our support spell.
Precinct Captain
– A Strong 2 drop that has a relevant combat ability to deal with the current 'zombie' threat. It also produces tokens on a hit and has a fair body for its cost. The downside? Its cost… Not only does it compete with two other core cards (Conclave and IV) but it also is WW. I don't believe we can support this manabase until Gatecrash (as Green is our main T1 Mana).
Mana Dorks – Okay, this is a hot button issue. I personally believe that
Avacyn's Pilgrim
is a necessary evil as it helps us ramp into our turn 4 plays. I don't believe that we need to run 8 dorks as they pollute our main deck and we don't need 3 mana on T2.
Call of the Conclave
is sometimes the better card as the 3/3 body may be more relevant than the two 1/1 spirits. I would say Priest over
Arbor Elf
for a variety of reasons. One being that we don't need green that heavily, the second being is that Arbor Elf has the chance of being a dead card for mana production, third – Priest gives us white mana… we like our white mana more than any other colour in this deck. It allows us to keep worse hands (Overgrown Temple, Forest, Priest) that we normally shouldn't be able to keep.
Abrupt Decay
– A very, very strong card. It allows us removal that we normally wouldn't have in other colours while also getting rid of one of our series threats. Vampire Nighthawk – this card avoids Rancor + Selesnya Charm, 2/2 Spirits and is an overall beast card… Kill it with this card. Go, make a tally… I'll be happy.
INTERESTING CARDS
These are cards to think about and could become major forces of our deck.
Entreat the Angels
– This may be a one of finisher, however it also may be a terrible card to get in our opening hand. Hardcasting it for 5 to get one 4/4 angel isn't bad however because of the populate mechanic. However, it isn't great 'non-miracled'. If you do Miracle it and it sticks for a turn, you probably just won.
Garruk, Primal Hunter
– Gives us much needed card draw. He gives two different types of tokens + and ultimate. However, he is a 5 drop which increases our curve. He is at least worthy of testing and discussion. Brought to my attention by Maraga.
Geist-Honored Monk
– This card may make a place in our mainboard. Unlike BW tokens we can actually use this card. The power that this card supplies is electrifying! It supplies it's own tokens unlike Wayfaring Temple and has a relevant keyword for our deck (Vigilance). Downside is it can be chump blocked. Relentless can search for this finisher. Running Monk however probably requires at least one mana dork. Brought to my attention by LucidVision
Armada Wurm
– The titan replacement. It also creates a token that can be populated. A card that may be better served in GW flickering ramp decks. May be used as 1 one of that Relentless can search for.
Vitu-Ghazi Guildmage
– My favourite card in this deck actually. Is not a terrible 2/2 bear at 2 mana. Her abilities are strong, very strong. She rivals Trostanti in populating (she can do it instantly if you drop her at 6 mana or can do it multiple times a turn if you have the mana). She can also create her own tokens if you topdeck her late game in a board stall. She can be a mana-intensive planeswalker in my eyes. I've used her as a three drop before when my hand wasn't the greatest and starting pumping out populated 3/3 Centaurs the next turn while holding onto cards so that I can my hand stocked if I get swept. It is also an instant speed ability meaning instant blockers and/or mana saved for Rootborn Defense/Midnight Haunting/Gavony Township shenanigans. I love this card.
Champion of lambholt
– Pros of Champion are that she fits the role of an alpha striker. In a token deck, especially with populate she fits an important role. Winning. Assume that you play Champion t2, followed up by a Midnight Haunting or a Lingering Souls t3. Your champion is now a 3/3. This means that you should have no issue getting in with your tokens, and she can end the game extremely quickly if let unchecked. With populate especially she doesn't require as many cards to become bigger. She also does not need to swing to make advantage of her, which is huge. She simply is a threat that grows and grows. If let unchecked in a token deck she can win the game with small 1/1s and 2/2s. Her biggest weakness is that she is subject to bounce. We have no way of saving her (
Autumn's Veil
) besides
Ranger's Guile
which is not that good. She also does require other cards to be good, albeit not much.
Deathrite Shaman
– An interesting card that may make Mainboard if we really need mainboard answers to the graveyard. His abilities are useful for hybrid mana. We use a lot of instants, therefore he can be used as a repeatable black direct shock. His Green ability is relevant for Undying and Gravecrawler while also gaining us life. He is pretty versatile.
Doomed Traveler
– a great one-drop that comes back as a token allowing for a good chump blocker. However, with Pillar of Flame so rampant it lowers his effectiveness. Also, without Honour of the Pure and Champion of Parish his effectiveness is lowered. We also don't have the mana to support white on Turn 1 reliably.
Gather the Townsfolk
– I personally don't believe that we should be focusing on 1/1s. It is a sorcery that isn't that great compared to Call of the Conclave. It may be relevant with Fateful Hour, but I doubt it.
Korozda Guildmage – This is an interesting card brought to my attention by feastofthedead. She can turn dorks into at least 1/1 token threats late game, she can also sac herself to create 2 1/1 tokens. Use this with Thragtusk, Wayfaring Temple, Geist-Honored Monk and watch the saprolings spawn!
Grove of the Guardian – I find this card to be a trap after extensive testing, however others still enjoy it. I find that the 8/8 vigilance token is fantastic but it requires us to have a few conditions out. 6 Mana being one, while sacrificing one land AND tapping at least two creatures (so no dork mana for you). Because of this, I've found that this utility land doesn't matchup to Vault or Gavony.
Blood Artist
– Good card to deal with enemy blood artist triggers. Punishes enemies for sweeping you and for making bad trades (or trades in general). However, without a sac engine – you have to question its usefulness. A Sideboard card if anything.
Vraska the Unseen
– May be used as a sideboard card as a control finisher. However, in regards to mainboard I would argue that she doesn't fulfill enough roles to consider it. Her +1 while effective at protecting herself can be ignored against aggro and her -3 is a 5 mana vindicate. Yes, it is good at dealing with Curse of Death's Hold, Planeswalkrs and annoying creatures but is it really worth the slot? Her ultimate isn't relevant against most decks – which is why I'd argue her to deal with control. If you can keep her down she can -3 any threat they play, they won't be able to hit her +1 and they won't be able to outrace your life (if you aren't already dead).
BAD CARDS
Parallel Lives
/
Growing Ranks
– Please don't lynch me. Yes, creating lots of tokens is cool! PLives takes an initial investment and then doubles our tokens whereas Growing Ranks allows for a small growth every turn with no investment required. However, these are both cards that are traps. You don't want to spend turn four doing an enchantment that does nothing. If Ranks populated as an ETB it would probably be playable… it doesn't. Test them, go ahead! But, you'll probably realize that they weren't played last standard for a reason! I also, may be wrong and you can post how it works and laugh at me. That's always fun!
SIDEBOARD:
WIP! (Sorry)
Current Thoughts –
Terminus
– GB Zombies
Sundering Growth
– Populating Artifact/Enchantment Removal, Mirror Matchup, 5CC, Pike builds?
Druid's Deliverance
– GB Zombies, GW Humans, BDW, RDW.
Abrupt Decay
– Removal
Deathrite Shaman
– GY hate
Trostanti, Selesnya's Voice
– Lifegain and Population Card Advantage
Rest in Peace
– Massive GY and 'blood artist' hate
Odric, Master Tactician
– Alpha Striker
Champion of Lambholt
– Alpha Striker
Golgari Charm
– Cheap Sweeper, Enchantment Removal, Protection against Sweepers
Rootborn Defenses
– More protection Against sweepers
Tribute to Hunger
– Lifegain and removal
Tragic Slip
– Cheap effective removal
Blood Artist
– Counter Jund Zombies, Sweeper Punisher
Sever the Bloodline
– Removal, Mass Token Removal, Exile effect
Vraska the Unseen
– Control finisher?
Vile Rebirth
- Instant Speed GY Creature Removal and a token on our side
Sigarda, Host of Herons
- While does nothing for tokens - she is a great anti Jund card. I'm hesititant to add her here, but there is no harm in trying
The Deck:
Two variants
The Aggressive Version
This deck is a version brought forth by Believeinapathy. I feel that this deck makes some interesting choices that allow for an extremely aggressive viewpoint of this deck while still holding some of its resiliency. If you are looking to play a deck that plays like former standard's BW Tokens - I would look at this list first. Notable omissions are
Call of the Conclave
and
Collective Blessing
. Reasons for his choices can be found here [URL="
http://forums.mtgsalvation.com/showpost.php?p=9100263&postcount=67
[/DECK]"]here[/URL]!
The Grind
This is a grindy version of this deck that focuses on surviving through raw power of being resilient to most threats. I have opted for more Planeswalkers for the card advantage as I find we desperately need it because of this, this deck has a hard time being over-run or being weak to sweepers. The downside is that it is not as aggressive as other versions of this deck. Anything Starred is my own preference
Here are some other options to this deck –
LonelyPenguin's Wayfaring GW Variant:
Sacrilegion's Wbg (White Focus) - Will be Reformating with his approval
Cards sorted by CMC
0 CMC


1 CMC


2 CMC


3 CMC


4 CMC


5 CMC


6 CMC


X CMC


About me and this Primer: This is my first primer. I tried to keep it analytical while still being enjoyable to read. If you have any comments, criticisms or I have made any errors - please post them and I shall fix them up as soon as I can. I have tried to keep my information from their original sources - if you see anything that I have mis-quoted or mis-credited please let me know in a PM. I will obviously updating this post when it comes to tournament results, sideboard strategies, meta-results and discussions found within this thread. The original thread is located here to see discussions leading up this primer: [url]http://forums.mtgsalvation.com/showthread.php?t=446239[/url].
Leeched images removed. ~parinoid