Voltage
Location:

Traverse City, MI

Join Date:

10/24/2010

Posts:

607

Member Details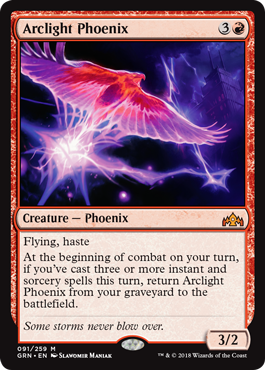 Arclight Phoenix
has been lightning up Standard, Modern, and I've even seen people such as LSV trying it in Legacy. It's a very powerful card and this is a deck capeable of a abusing it.
The deck has a solid pedigree with a Pro Tour Top 8 by Yuuya Wantanabe, another 2 in the top 32, GP Top 8 in the hands of Owen Turtenwald with another 3 in the top 32, 7 copies placing in the last MOCS, and 2nd at a SCG Classic.
While Arclight Phoenix is the namesake and a very powerful engine in the deck, most of the games are won by
Enigma Drake
and
Crackling Drake
. With a ton of cheap cantrips, those two hit very hard indeed and one is often a 3 turn clock on it's own. 4 toughness is critical and paired with flying, makes them quite a problem for many decks. The ability to protect such a threat with
Dive Down
means the deck can steal wins against anyone.
As of yet, there is no consensus on the best build although most stick to UR with
Goblin Electromancer
. Still, others eschew the 2/2 in favor of more 1 Mana cantrips.
My personal preference is a version splashing for
Deafening Clarion
and
Ixalan's Binding
. Deafening Clarion is backbreaking against Mono , Aggro, and many versions of . Our Drake's 4 toughness make it especially backbreaking clearing the opponent's side and granting Lifelink to win nearly any race.
Ixalan's Binding is the perfect answer to
Niv-Mizzet, Parun
which has become Jeskai Control's wincon of choice and a mirror breaker. It's also great against
Teferi, Hero of Dominaria
and any other problematic permanents.
These lists are a good representation of the top preforming versions. They vary from 27-31 Instants and Sorceries and 18-21 lands.
Last edited by
Voltage
: Dec 1, 2018
Standard: Jeskai Control
Modern: UW Spirits