Redirus91
Location:

Lincoln, CA

Join Date:

8/4/2009

Posts:

3,039

Member Details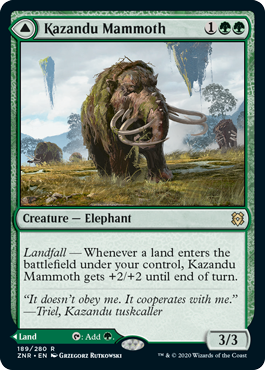 First take with mono Green. SB changes with meta game. After seeing
Rumti
play Swarm Shambler I came up with the second version.
I watch Rumti and
RintMS
that I watch for updates to the archetype.
Another build I just thought up to increase the number of routes to a Turn 4 Henge is to remove 2 Yorvo for 2 Garruk and -4 Beetle adding 4 Lotus Cobra. T2 cobra, T3 untapped land makes 4 mana to cast Garruk, most likely make a token then on T4 +1 garruk to give +3/3 to either lotus cobra or the beast token and cast henge. It would look like this:
This has been feeling better than having Horned Beetle and Yorvo. I am going to -1 Forest, +1 Passage to see if I can really abuse Cobra.

Props to DarkNightCavalier 4 da banner and SGT_Chubbz 4 avvie,
here
Standard
Aggro
Naya Purphoros
Aggro
Retired 9/19/2014
Primeval
Titan
RIP
1/5/2010
- 9/30/2011
Top 4
Channelfireball Winter series
5k Feb. 2011
3rd at California National Qualifiers 2011
40th
at GP SLC 2012
Find me on MTGO @ Ruslvmusl91