Redirus91

Location:

Lincoln, CA

Join Date:

8/4/2009

Posts:

2,985

Member Details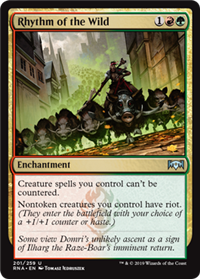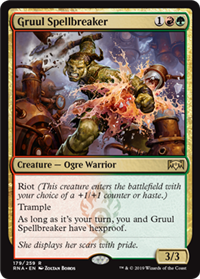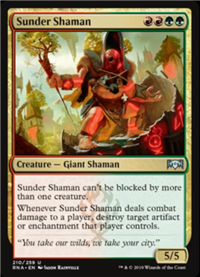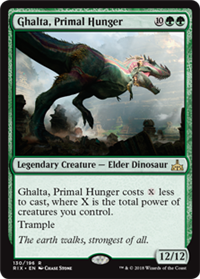 This deck is a carry over of
Mono Green aggro
from last rotation to
Golgari Aggro
the start of this current standard.
Everyone knew with access to
Stomping grounds
that this deck could change shape and with
Rhythm of the wilds
and
Gruul Spellbreaker
among others, it has in a big way!
My initial draft looks like this:
Redirus91's DeckMagic OnlineOCTGN2ApprenticeBuy These Cards
Creatures - 27
4 Llanowar elves
4 Kraul Harpooner
4 Thorn Lieutenant - easier to cast than Zhur-Taa Goblin with Green base
4 Growth-Chamber Guardian - card advantage, good 2 drop
4 Gruul Spellbreaker - settle the wreckage answer
4 Sunder Shaman - cant be double/triple blocked, hits enchants and artifacts, its big
3 Ghalta, Primal Hunger - imagine the Haste!

Spells - 10
3 Thrash // Threat - removal, answer to planeswalkers, creature
4 Rhythm of the Wild - reason to play red over other colors, hoses control
3 Vivien Reid


Lands - 23
7 Forest
5 Mountain
4 Stomping Ground
4 Rootbound Crag
1 Gruul Guildgate - should this be a forest or mountain or 3rd Territory?
2 Unclaimed Territory - naming Warrior for: spellbreaker, harpooner, thorn lieutenant or Growth-Chamber Guardian early or Shaman later. Can also name elf for Llanowar T1 if needed.


Sideboard
4 Nullhide Ferox - punish grixis/discard decks, take out spells from main, Vivien/thrash?
4 Deathgorge Scavenger - hyper aggro, grave strats
3 Fiery Cannonade - tokens, decks that go wide, white weenie
2 Pause for Reflection - other midrange, mirror, stalemate, they finally swing out, fog, crack back.
2 Find // Finality - get cards back that have been killed, could we splash black to use finality


The heart of the deck is
Rhythm of the Wilds
; stackable Riot triggers enabling haste and ignoring counter spells. Maybe at some time 3 would be the correct number but for right now 4. Casting hasty 12/12 Ghaltas or Kraul Harpooners with their undergrowth trigger enabled is nuts!
-
Gruul Spellbreaker
is up next as he is the creature who disables settle the wreckage and cant be hit by instant speed removal.
-
Thrash//threat
is a fine instant speed removal spell as long as you have a creature in play ESPECIALLY since it can hit planeswalkers!!!!! if you dont have a creature then create one as a 4/4 trampler.
-
Sunder Shaman
is a concession to no longer wanting
Nullhide Ferox
due to all the non creature spells and not liking the lack of toughness in
Vine Mare
. Also because there is no room for
Thrashing Brontodon
so it is nice to have a card that can deal with enchantments and artifacts main.
Perhaps a later version will not play Ghalta but she is still my pet card, I love playing 12/12s for 4-2 mana and now that she cant be countered and has haste, FORGET about it!
I dont know if Vivien is the best card but she is card# 31-33 out of 37, but if not her then what?
-
Unclaimed Territory
is a test to try to increase the odds of having T3 red for spellbreaker (maybe T2) or T3/4 x2 red for Shaman while not sacrificing the green needed to cast other green creatures. I think they are replacing forest #8 and Mtn #6. Calling "warrior" on territory can cast Spellbreaker, Thorn Lieutenant & Kruul Harpooner.
I'll be adding more to the Primer later.
Let me know your thoughts.

Props to DarkNightCavalier 4 da banner and SGT_Chubbz 4 avvie,
here
Standard
Aggro
Naya Purphoros
Aggro
Retired 9/19/2014
Primeval
Titan
RIP
1/5/2010
- 9/30/2011
Top 4
Channelfireball Winter series
5k Feb. 2011
3rd at California National Qualifiers 2011
40th
at GP SLC 2012
Find me on MTGO @ Ruslvmusl91