Lord of Atlantis
Join Date:

1/6/2005

Posts:

2,212

Member Details
UWx Skies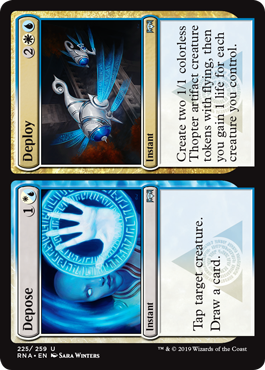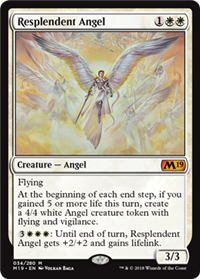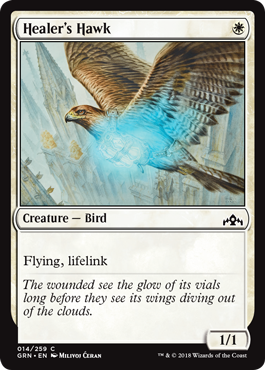 Aggro-control with flyers. Where
Resplendent Angel
is OP.
Healer's Hawk
is early target for the attachments. Its lifelink along with
Deploy
can trigger
Resplendent Angel
.
Lyra Dawnbringer
will trigger Resplendent Angel on her own; not to mention 10+ point life swing.
The Azorius split cards
Depose // Deploy
and
Warrant // Warden
are amazing. Early they can be tempo, and later they create tokens to finish the game. So they count as creatures, but also fill the grave for
Pteramander
. Furthermore, they can be flashbacked with
Mission Briefing
--it's absolutely sick. Recast
Deploy
to gain more Thopters and gain huge amounts life; or recast
Warden
for another 4/4 flying vigilant.
Shalai, Voice of Plenty
will protect you and all your creatures, and
Siren Stormtamer
has similar effect if holding .
Curious Obsession
for cheap draw engine. Since all we have are flyers, good chance of it triggering for free draw.
Favorable Winds
pumps every creatures in this deck, since we only use flyers. Win on turn 5 more consistently.
Dowsing Dagger
can be both faster kill and ramp into bigger threats.
---
This Bant version is pure aggro, but still the same ridiculous midgame and endgame:
Playtest Bant Skies
---
Esper is more controlling, but Azorius/Bant is more explosive. Where
Resplendent Angel
is OP.
However, Azorius version is harder to afford the discount to
Pteramander
; hence removed
Pteramander
in Azorius version. slight change to improve early game for UW:
Playtest Azorius Skies
Sphinx of Foresight
will smooth out your opening hand, especially since this deck is low on lands, and great P/T for its cost.
Prying Blade
, then, creates extra sources of mana, to ramp into the more expensive spells--especially if wanting to flashback spells.
---
Playtest Dimir Skies
Esper aggro-control with focus on Surveil and filling graveyard with instants and sorceries. Finishers are
Pteramander
,
Dimir Spybug
,
Warden
--all of which can become dangerous 4/4 or 5/5 flyers; or a bunch of flying Thopter tokens via
Deploy
.
The spells perform one or more of these:
-
surveil
to improve your next draws
-
control
ala countermagic, discard, removal
-
tempo
to slow down opponent
-
protection
via counters (Siren Stormtamer), hexproof
- creature
tokens
as finishers
Shena'Fu's Online Card Creator
........................