Upkeep
Location:

Québec

Join Date:

7/23/2012

Posts:

2,872

Member Details
Banner by
Ace of Spades Studio
You are a woodland mage, seeking a quiet and isolated life among the trees and the trickling streams and rivers, studying them and wielding the knowledge you gain from them. You are quick and furtive, and have no need for weapons or an army of monsters to protect you. Invading creatures sent by hostile mages return empty-handed and weary. Upon following your trail, they encounter thick, impenetrable fogs, paralyzing spores and impassable rivers. This mighty forest is your home, and any mage who dares enter it will slowly be stripped of all of their resources, knowledge and will to fight.
"The art of war is turning obstacle to advantage."
-Jaeuhl Carthalion, Juniper Order Advocate
Turbo Fog is a control deck consisting of two essential kinds of cards:
Fog
s and draw spells. The deck draws many cards in order to play a
Fog
every turn until victory, which is most often sealed through milling the opponent with
Jace's Erasure
or
Stream of Thought
.
---
The deck can be categorized into five parts: Fogs, Draw, Mill, Counters and Lands.
When building your Turbo Fog deck, you'll want about
10-12
Fog cards,
16-21
draw spells,
4-6
mill cards,
3-7
counterspells and
18-21
lands.
There are tons of options out there, so I have compiled a list of cards for each category that I have played in the past or believe could be useful in the deck.
Fogs:
There are a great many Fogs available in Green. I advise against any Fogs costing 4 or more mana, as they are too expensive. Very few Fogs are playable at 3 mana, but there are some. 1 and 2 mana fogs are the easiest to play. Here is a non-exhaustive list of Fogs to choose from:

~~~~~

Fog

A no-brainer. The name-sake card can sometimes be cut if we want to maximize our fogs with additional effects.

Fog Patch

This has advantages when playing against

Flaring Pain

. It also has the disadvantage of letting creatures with Trample deal all of their damage regardless.

Lull

This is somewhat of a stretch in playability. There are very few situations where you'd rather cycle than keep the fog, but they do occur.

Moment's Peace

This is the very best Fog spell in Pauper. Getting the effect twice out of one card is immensely powerful.

Respite

Gaining a few life can save you a Fog later, or can put you out of burn range. A very nasty surprise for some opponents.

Spore Cloud

This can act as a double Fog for an unsuspecting opponent. It gives you time on your turn to cast sorceries or tutors to get ahead. The double can sometimes be difficult to obtain, however.

Spore Frog

While having a Fog in creature form can have its advantages in certain decks (such as with recursion or in order to deal some damage), it is a much less reliable form of damage prevention than an instant or sorcery that can only be stopped with Countermagic. If the opponent has any instant-speed removal at all, the Fog effect will be completely wasted.

Tangle Warning

: this card was only printed as a common online in Vintage Masters, not all groups allow rarities from online expansions. It is, however, an excellent card to use if you're playing online.

Undergrowth

If you feel like 4

Fog

s are not enough, here are 4 more.
Draw:
Drawing cards is important to find more Fogs and to mill the opponent. Blue is what makes the deck come together. There is a panoply of draw to choose from in Blue, and this list is far from exhaustive. Here are some choices to consider:

~~~~~

Accumulated Knowledge

This card only feels terrible with its first cast. Once there are one or more in the graveyard, this is the best card draw spell in Pauper. Instant-speed is extremely important in this deck. The only disadvantage this card has aside from its first casting is graveyard hate. It becomes an interesting sub-game when the opponent is also playing them.

Artificer's Epiphany

The closest thing to an instant-speed draw-two without giving the opponent cards. Running a few

Artifact Lands

is easy, and

Pristine Talisman

is also a card some decks will play.

Brainstorm

This is often the best choice of cantrips three reasons. First, it is an instant. Second, it actually draws you cards, triggering

Jace's Erasure

multiple times for a single mana. Third, it can allow you to use any of the cards you drew by placing cards already in your hand back on top, which also helps fight discard effects. It is often coupled with lands like

Terramorphic Expanse

to have a shuffling effect to put bad cards away.

Compulsive Research

Essentially a better

Divination

since it draws a third card and lets you discard excess lands that may have been drawn.

Deep Analysis

This will give you the most card advantage of the whole lot, but at a high cost (both life and mana being spent). A good choice, but to use in sparse numbers.

Fathom Seer

Can be useful to block early creatures to save yourself some Fogs. It turns on your opponents' otherwise blank removal, however.

Frantic Inventory

essentially the same card as

Accumulated Knowledge

, but only counts your graveyard. This can be good or bad, in some situations.

Gush

Drawing cards for free is always nice. This can even help fuel

Oona's Grace

in the late game for even more cards.

Ideas Unbound

This card has the huge upside of drawing you three cards for only two mana. Having to discard three at the end of turn however is an enormous drawback. It might be worth playing in some circumstances.

Impulse

Digs very deep at instant speed and puts the other cards on the bottom. An excellent draw spell. Those who can't find copies can always use the inferior (but still good)

Anticipate

. Unfortunately, these cards don't trigger Jace's Erasure at all, as the cards are placed in hand, not drawn.

Keep Watch

This card can have a huge impact on the game when it works. Capable of drawing you 4+ cards at instant speed, Keep Watch has huge potential. That being said, it is often hit and miss. Some decks never attack with more than one or two creatures, or rarely attack at all. Having a draw spell depend on your opponent playing a certain way can make this card difficult to use. It also comes with a hefty mana cost that makes playing it even at instant speed difficult. I think the window of opportunity for this card is narrow even in the best of scenarios.

Krosan Tusker

"What is a

green creature

card doing in the

draw

section?!" you may ask. The answer is you never use it as a creature, but always for it's cycling. This card is a powerful draw spell because it's uncounterable, instant speed, guarantees you a land (something this deck needs a lot of), and uses green mana (which is otherwise only used to cast Fog spells). An uncounterable source of card advantage (2-for-1) is otherwise non-existent in Pauper. The fact that it costs three mana to use is the only thing holding this card back.

Oona's Grace

Filtering your lands late in the game at instant speed can help you find the cards you really need. 3 mana is a bit steep, however.

Pieces of the Puzzle

Since most of our deck is instants and sorceries, this card will essentially give you the best two cards of the top 5. The fact that it puts the others in the graveyard also synergizes well with cards like

Accumulated Knowledge

,

Moment's Peace

and

Deep Analysis

, which will often mean that Pieces feels like you are drawing 3+ cards. In the right build, this is well worth paying 3 mana at sorcery speed.

Ponder

When choosing among the digging spells such as this one, I would recomend not using too many. They're good at fixing your draws, but they don't actually gain you any cards. The shuffling effect of Ponder is very welcome in this deck that's looking for specific cards at the right time.

Preordain

Although you don't see as much of your deck as the other two, Preordain allows you to place the cards you see directly on the bottom, basically guaranteeing that you won't see them again (unless you shuffle).

Rain of Revelation

Sometimes the simplest cards can be the most effective. Drawing 3 cards at instant speed is well worth the 4 mana and discard.

Scour All Possibilities

This card will dig up to 3 cards deep to find the right card. The Flashback cost can be quite prohibitive for a sorcery, as opposed to

Think Twice

, which costs less and is an instant. Scry 2 is quite a big upside, however.

See Beyond

Another 2-mana draw spell that draws you two cards. Although it seems like a worse

Brainstorm

, the fact that the card you choose is shuffled and not placed on top is very important.

Take Inventory

This card is in almost all ways worse than

Accumulated Knowledge

. It's sorcery speed really makes it much worse, and not counting the cards in other players' graveyards can also come up. The real question is if this card should be run

with

AK. Even if the effect is strong, it is still sorcery speed, which means that other instant-speed draws will likely be better.

Telling Time

This is is instant-speed, digs three cards deep and puts the worst card on the bottom. The only disadvantage Telling Time has over most other draw spells in this list is that it doesn't trigger

Jace's Erasure

.

Think Twice

Although it is expensive to draw two cards from this, the fact that it has flashback makes Blue players very hesitant to counter it. The flashback also comes in handy in later turns where mana isn't an issue any more.

Tragic Lesson

Drawing 2 at instant speed is always good. The drawback can even be a good thing when running utility lands or

Thornwood Falls

.

Tolarian Winds

One of the biggest trap cards for the deck, Tolarian Winds appears to be the ultimate combo card with

Jace's Erasure

, both milling the opponent for a ton and getting rid of a hand full of dead cards. Unfortunately, this is rarely the case. Turbo Fog burns a lot of cards in a turn, and requires you to play your lands, so holding back cards in order to discard them doesn't make sense. If you built your deck correctly, you shouldn't even have many dead cards to begin with. Winds is also card disadvantage, which Turbo Fog really doesn't want.

Vision Skeins

The same applies for this card as it does for

Words of Wisdom

, although this version gains the opponent an extra card, making it significantly worse.

Words of Wisdom

instant speed draw-2 is good, but comes at the disadvantage of the opponent getting free cards. This is generally mitigated by the fact that the opponent most likely won't draw anything useful, as creatures and removal are useless against us. It also contributes to milling them out.
Mill
Milling the opponent is an efficient way to win, given the slowness of the deck in general. Here are a few options to choose from. Again, there are many options, but a few stand out as being the most efficient.

~~~~~

Curse of the Bloody Tome

An excellent option, this can be

Jace's Erasure

5-8. Athough it is not as elastic, it mills an extra card naturally over Erasure. It does cost an extra mana, however. This is a bigger deal than one might think, as this means it can't be tutored with

Muddle the Mixture

.

Jace's Erasure

Given that we draw a ludicrous amount of cards in a game, this card can mill a great many cards in a turn. It guarantees at least one, but can mill 6 cards and upwards easily.

Mind Sculpt

An extra mana for an extra 2 cards milled, it is another efficient option, given that there is limited space for finishers.

Shriekhorn

6 cards milled for 1 mana, but over 3 turns. I find this card to be better than

Tome Scour

not only for its efficiency, but because it can often be used to disrupt players who manipulate their library with effects like

Brainstorm

. It also has the marginal advantage of leaving you with an extra permanent to sacrifice to

Ulamog's Crusher

.

Stream of Thought

This is exactly what we want a mill spell to do. Not only does it mill the opponent, but it also shuffles back important cards into our deck, such as Fogs, countermagic, or more card draw. It's worth noting that it also provides a cheap shuffle effect for

Brainstorm

. As if this weren't already enough, it can also be replicated for an even greater effect to end the game.

Thought Scour

Halfway between a draw spell and a mill spell, this card is not particularly good at either. It can speed up milling slightly while helping you go through your deck, but doesn't give you the card selection that other 1-mana spells do and isn't as efficient as other mill spells available. It is a good compromise between the two, and is also good at disrupting prepared

Delver

flips.

Tome Scour

1 mana for 5 cards is hard to beat from a mana to effect ratio.

Vision Charm

What this spell lacks in mill-power it makes up for with its versatility and instant speed. It can screw with an opponents' mana for a turn, buying you time. It also can get rid of an attacking artifact creature, such as

Myr Enforcer

.
Countermagic
Turbo Fog wants to run a minimum of counterspells in order to protect itself against non-combat situations, for example against Combo or a giant

Rolling Thunder

, or to protect the Erasures. Again, there are tons of cards to choose from, but here are a few of the popular choices for this archetype:

~~~~~

Arcane Denial

This is probably one of the most underrated counters. In matchups where counters aren't needed, it turns into a draw-three by countering one of your own spells. Countering a copy from

Weather the Storm

generates extreme value. If an opponent uses countermagic against you, it is sometimes preferable to counter your own spell and get three cards back and wasting your opponent's counter. If the opponent is very low on cards, they sometimes decline to draw two, making this a two-mana hard-counter that cantrips.

Counterspell

Can't go wrong with this one. The cost can sometimes be problematic, but shouldn't be an issue past the early game.

Faerie Trickery

Excellent against decks using graveyard tech. As you mill, they gain an advantage.

Faerie Trickery

is very good against cards like

Mnemonic Wall

,

Flame Jab

,

Haunted Fengraf

or Dredge decks.

Memory Lapse

With any mill, this becomes a better

Counterspell

, as the top card (the one that was countered) finds itself into their graveyard soon after.

Miscalculation

While conditional counterspells are absolutely awful in the lategame, this one is acceptable because it can be cycled once it is no longer useful. I still would not recommend, as the counter just turns into a bad draw spell. We want the counters to stay useful throughout the game.

Muddle the Mixture

This is a very relevant counter that also doubles up as a tutor for almost anything you'd need in your deck. It can fetch your

Jace's Erasure

,

Moment's Peace

or silver bullet for just three mana.

Negate

Seeing as Turbo Fog will counter almost exclusively non-creature spells, this counter is very useful. There aren't very many creatures that the Fog spells won't handle, so this can easily take care of the rest.
Lands
Because of the simplicity of Turbo Fog mana requirements and because it's so slow, it can afford to play around in the mana base. A land count of 20-24 lands is perfectly acceptable. Including lands that enter tapped can be very beneficial to fix your mana. Keep in mind, however, that on certain crucial turns, a land coming into play tapped can mean losing the game. Turbo Fog needs to have the right mana at the right time every turn.

~~~~~

Ash Barrens

This land can come into play untapped and produce colourless mana when you need it, or can be cycled from your hand in order to fetch the basic of your choice. It is most likely the go-to option for Bant builds and is very comparable to

Terramorphic Expanse

in utility and function. The ability to be an untapped land in a pinch makes it a very attractive choice over the traditional fetch land, at the cost of needing to pay to actually fetch.

Bant Panorama

An excellent option as well, as it creates mana and comes into play untapped. It can then be traded in for the correct basic land at instant speed in later turns. A good option for builds.

Simic Growth Chamber

An excellent way to both fix your mana and return Cycling lands back to your hand later in the game to draw cards with them.

Simic Guildgate

If ever 4

Thornwood Falls

aren't enough. Again, pay attention to the number of lands coming into play tapped. Having too many can be very dangerous.

Terramorphic Expanse

/

Evolving Wilds

A very important card when using

Brainstorm

and getting the colours you need.

Thornwood Falls

The easiest way to fix your mana. The life gain is also very welcome for this deck.

Tranquil Thicket

/

Lonely Sandbar

Cycling lands are an easy inclusion for the deck, as you generally won't want more than 8-10 lands in play. In the late game, these cyclers are very welcome draws.

Tree of Tales

/

Seat of the Synod

These have a very marginal purpose in some mana bases. Their only purpose is for matches where

Quiet Disrepair

is needed for the lifegain. It's possible to have Quiet Disrepair out as soon as turn two, making it difficult for Burn players to win. They enable

Artificer's Epiphany

and are useful against the odd

Wrench Mind

as well.
Sideboard Cards
Obviously, while most decks win through combat damage in Pauper, some do not. The sideboard is there to remedy matchups where the opponent can interact with Turbo Fog's strategy. The categories below highlight options that shore up Turbo Fog's weaknesses.
~~~~~
Countermagic:
Counterspell
: hits absolutely anything for just two mana. The only disadvantage is that it is , making it harder to cast in some scenarios.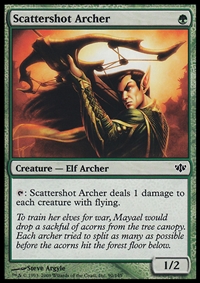 More
Arcane Denial
and
Muddle the Mixture
: These cards can shore up weaknesses efficiently, being generally good counters and either draw spells or tutors.
Hindering Touch
: This is a very narrow counter to hit storm cards (if your meta plays them) or just obnoxious combo decks.
Blue Elemental Blast
/
Hydroblast
: The hit only Red cards, obviously. Good against Burn spells, or destroying a
Thermo-Alchemist
that you couldn't counter the first time.
Dispel
: A surprisingly flexible counter, it will hit most of the cards Turbo Fog is worried about in the post-board.
Faerie Trickery
: very light graveyard hate attached to a counter. it is the perfect card to answer a recurring
Ghostly Flicker
or
Ulamog's Crusher
that could be brought back with
Haunted Fengraf
.
Anti-Flying:
Scattershot Archer
: Stops faeries dead in their tracks and can grind the Delver player to a halt. It can be very difficult for them to beat a resolved Archer.
Skyshroud Archer
: A worse version of Scattershot Archer is still good enough to be considered playable. It can also shrink the attack of certain creatures to take less damage.
Aerial Volley
: Can act as a mini board-wipe against Delver decks and also a
counterspell
against
Spellstutter Sprite
.
Hidden Spider
: once active, it will block any flier all day and has enough power to also kill them.
Squall
: perhaps too expensive, it can be a total blowout against decks relying on fliers.
Penumbra Spider
: 4 mana is a lot to pay in Pauper, but this spider is particularly effective at fighting fliers in decks that also run removal (like
Skred
Delver
, for example). It will eat up any common flier and has large enough toughness to survive. Once resolved, the opponent will have to sink at least two cards into it before they can continue their attack.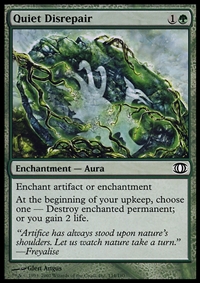 Bounce/Removal:
Capsize
: This will completely shut down other control decks with few win conditions.
Curse of Chains
: Tapping down an
Ulamog's Crusher
every turn can win games.
Lignify
: Lignify deals with the problematic
Crusher
while also taking away relevant abilities from creatures like
Thermo-Alchemist
.
Nature's Claim
: Since we generally don't care about life totals, this is just a better
Naturalize
.
Graveyard Hate:
Tormod's Crypt
: Very vanilla, but it doesn't hit your own graveyard like other, potentially better options do.
Relic of Progenitus
: Almost indisputably the best graveyard hate in the format. It replaces itself when you sacrifice it, so the cost of putting it in your deck is low. Its first ability can also keep an opponent's graveyard under control if they aren't filling it up too fast. It does hit all graveyards, which could be a disadvantage depending on your build. It also has the (unfortunate) benefit of being able to drain your opponent's time on MTGO, forcing them to click many more times, which can turn into a win condition itself (albeit of a dishonorable one).
Return to Nature
: This card has enough modes that it is generally worth considering in your sideboard. It is likely to be useful in most matchups.
Faerie Macabre
: Completely uncounterable, this card is difficult to interact with. Exiling two cards is often enough to disrupt someone's strategy. It is particularly effective against
Exhume
, leaving you with a 2/2 flier to either beat face or chump block.
Other Cards
Jace's Phantasm
: Against the decks where you board this, getting to 10 cards in graveyard is very easy.
It essentially becomes a faster clock than
Jace's Erasure
ever could be and can take the opponent completely by surprise. Another important function is as a blocker against fliers like
Delver
, being the biggest flier in Pauper to date.
Nourish
: The most amount of life for one card without dipping into White. It cancels out two
Lightning Bolt
s with just one card, making it fairly effective against Burn.
Quiet Disrepair
It helps fight Burn decks and can completely turn the game in your favour when fighting slower decks like MBC. Not only does it gain massive amounts of life but it can also destroy problems artifacts and enchantments.
Reclaim
: This versatile card will get you back what you need: a Fog, a Draw spell, a
Terramorphic Expanse
, a
Counterspell
. The only catch is that you only get it the following turn unless you also have a draw spell to play afterwards.
Rust
: Because the Turbo Fog deck has a tendency to play from the graveyard a lot, something to fight graveyard hate is sometimes necessary. Rust hits most of the graveyard hate out there:
Tormod's Crypt
,
Relic of Progenitus
and
Nihil Spellbomb
. These artifacts are sacrificed as part of their activation cost, so they hit the graveyard without doing a thing.
Weather the Storm
has potential to lock up a match against difficult matchups like Burn. There are many decks that will easily play 3+ cards in a turn, netting easily 12 life or more for just two mana. The only other spell capable of comparing with that much raw life is
Crypt Incursion
.
---
This is the list I am currently playing. You will find tournament-winning lists in a spoiler below it.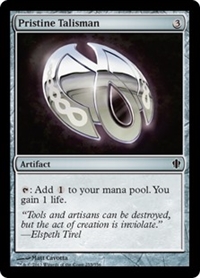 Bant Variants
White offers a lot of interesting options for Turbo Fog that can shore up on some of its weaknesses. Unfortunately, this comes at the cost of running a 3-colour deck with subpar dual lands, which sometimes results in a loss. Some players get rid of the Green entirely. I think that the value of
Moment's Peace
is too great in itself to forego Green.
White gives access to superior Fog effects, namely
Moment of Silence
,
its'
variants
,
Dawn Charm
and
Riot Control
. White has many other 1 mana Fog effects, namely
Holy Day
and
Ethereal Haze
. Just about every -costing Fog spell is better than Holy Day, however. It also opens up avenues for the sideboard, such as
Circle of Protection: Red
. The Circle is a really powerful incentive to add white, as it improves the Burn matchup significantly.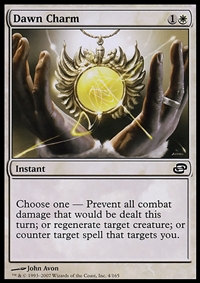 Here's an example of a variant:
---
Another interesting approach (proposed by Shoebaka) that tries to unite the stability of 2 colours with the greatness of CoP: Red is a UG deck with a small White splash: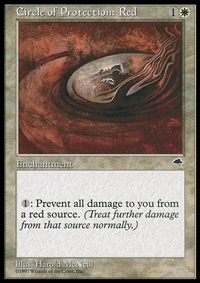 In this deck, the single Plains is found or fetched only to include White sideboard cards.
---
I've broken down my thoughts on many of the most popular archetypes in Pauper. This will give you a better idea of the decks' strength and weaknesses and whether it's worth playing in your playgroup/local game store.
DECKS IN RED USE CARDS FROM THE BAN LIST
.
Affinity:
Black Aggro:
Black Control:
Burn
:
Delver (Ux):
Elves:
Eye-Candy:
Familiars (WUx):
Goblins:
Handlock Control:
Heroic:
Hexproof:
Infect:
Inside Out Combo:
Izzet Control:
Kuldotha Kitty:
Mystical Teachings:
Pestilence:
Slivers (WGr):
Stompy:
Storm:
Tokens:
Tortured Existence:
Tron (Temur):
Tron (Murasa):
White Weenie:
Zoo (Domain):
---
---
This section is for the Peasant format, where a maximum of five uncommons may be added to the deck.
What does that mean for Turbo Fog?
Constant Mists
and
Isochron Scepter
. A recurable Fog is exactly what the deck needs to really go over the top. Other than that, looking around in other sections of the deck, I didn't find anything really valuable for the deck. We could use
Hedron Crab
as well, which would go very nicely with
Constant Mists
now that we're trying to hit every land drop.
Here is a Bant version of the deck created by Urdjur. Although built for his very specific metagame, it is a very well-rounded build to base your own on. Thank you, Urdjur!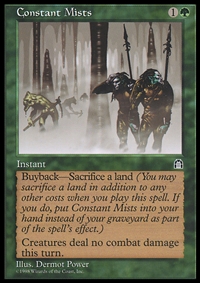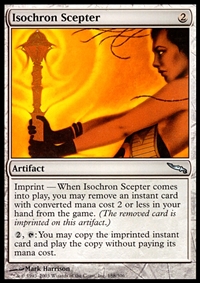 Here is a short deck primer written by Urdjur to accompany his list:
Quote from

Peasant turbo fog plays much like the pauper version, with one important and build changing exception:

Isochron Scepter

. In pauper, you're forced to include lots of draw-2s to fuel your fogging. In peasant, you can simply lazily rely on this fog machine instead. This also means that you no longer must include spells that may help your opponent draw into key cards that can defeat your strategy - instead, more and deeper dig is called for to find that posterior saving scepter!

Brainstorm

,

Impulse

and

Muddle the Mixture

ensure that you *will* be imprinting fogs on a stick by turn 4 at the latest every single game, much to your opponents' frustration. A key

Constant Mists

help defeat heavy artifact removal.

Isochron Scepter

also affects the mana base in more subtle ways. Since it essentially allows fogs to be played for colorless mana, it makes a bant mana base much more stable than in pauper, so you can truly enjoy the best of both worlds.

Bant Panorama

really shines with it since you can use it to cast and activate scepter, pay for the colorless half of fogs and Impulse, and still have a fetch at hand mid game when you want to Brainstorm.

My build reflects a very varied, semi-casual/competitve meta using the legacy banlist and quite a few non-peasant/pauper decks (such as Dredge and Sac Land Tendrils). It is still a very solid deck in such a meta, for a super low price. If you don't have any eldrazi in your meta, you can safely ignore

Moment of Silence

(playing more

Respite

instead) and most likely ditch

Incinerate

as an imprintable/tutorable alt win con in the board as well. Meta adaptation mainly involves finding the counters and fogs that work best for you (see the pauper primer), as well as any 2 CMC instants that work well as silver bullets that can be imprinted on scepter and tutored by Muddle the Mixture (split as appropriate between main and side of course).
Other options that were stumbled upon:
Fogs:
Sunstone
Spore Flower
Sleep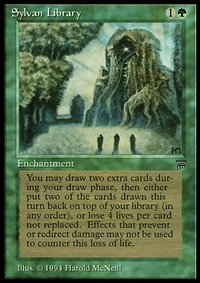 Draw:
Jace's Ingenuity
Skyscribing
Prosperity
Lore Broker
Sylvan Library
Other:
Sphinx's Tutelage
Heroes' Reunion
Elixir of Immortality
Enlightened Tutor
Dissipate
Psychic Spiral
Rise from the Tides
---
Thanks so much to Shoebaka and XBMYosho for helping in the development of Pauper Turbo Fog!
Thank you to XBM Yosho, Dedmer, and Urdjur for helping in the development of the Peasant Section!
Last edited by
Upkeep
: Apr 25, 2021

Sig by Ace5301 of
Ace of Spades Studio