Upkeep

Location:

Québec

Join Date:

7/23/2012

Posts:

2,769

Member Details
Banner by
Ace of Spades Studio
You are a woodland mage, seeking a quiet and isolated life among the trees and the trickling streams and rivers, studying them and wielding the knowledge you gain from them. You are quick and furtive, and have no need for weapons or an army of monsters to protect you. Invading creatures sent by hostile mages return empty-handed and weary. Upon following your trail, they encounter thick, impenetrable fogs, paralyzing spores and impassable rivers. This mighty forest is your home, and any mage who dares enter it will slowly be stripped of all of their resources, knowledge and will to fight.
"The art of war is turning obstacle to advantage."
-Jaeuhl Carthalion, Juniper Order Advocate
Turbo Fog is a control deck consisting of two essential kinds of cards:
Fog
s and draw spells. The deck draws many cards in order to play a
Fog
every turn until victory, which is most often sealed through milling the opponent with
Jace's Erasure
.
---
The deck can be categorized into five parts: Fogs, Draw, Mill, Counters and Lands.
Turbo Fog will generally run 10-12 Fog cards. Some run less, but they run the risk of not having a Fog for the turn, which can result in a loss. Following that, there will typically be 16-21 draw spells, 4-6 slots for milling, 3-7 counterspells and 18-21 lands.
Fogs:
Draw:
Mill
Countermagic
Lands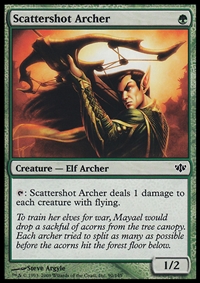 Obviously, while most decks win through combat damage in Pauper, some do not. The sideboard is there to remedy matchups where the opponent can interact with Turbo Fog's strategy. The common approach to sideboarding with a Turbo Fog deck is to shore up on specific weaknesses with general answers: more
Counterspell
.
Good cards to include in your sideboard, separated into general function:
Countermagic:
Counterspell
: hits absolutely anything for just two mana. The only disadvantage is that it is , making it harder to cast in some scenarios.
More
Arcane Denial
and
Muddle the Mixture
: These cards can shore up weaknesses efficiently, being generally good counters and either draw spells or tutors.
Hindering Touch
: This is a very narrow counter to hit storm cards (if your meta plays them) or just obnoxious combo decks.
Blue Elemental Blast
/
Hydroblast
: The hit only Red cards, obviously. Good against Burn spells, or destroying a
Thermo-Alchemist
that you couldn't counter the first time.
Dispel
: A surprisingly flexible counter, it will hit most of the cards Turbo Fog is worried about in the post-board.
Faerie Trickery
: very light graveyard hate attached to a counter. it is the perfect card to answer a recurring
Ghostly Flicker
or
Ulamog's Crusher
that could be brought back with
Haunted Fengraf
.
Anti-Flying:
Scattershot Archer
: Stops faeries dead in their tracks and can grind the Delver player to a halt. It can be very difficult for them to beat a resolved Archer.
Skyshroud Archer
: A worse version of Scattershot Archer is still good enough to be considered playable. It can also shrink the attack of certain creatures to take less damage.
Aerial Volley
: Can act as a mini board-wipe against Delver decks and also a
counterspell
against
Spellstutter Sprite
.
Hidden Spider
: once active, it will block any flier all day and has enough power to also kill them.
Squall
: perhaps too expensive, it can be a total blowout against decks relying on fliers.
Penumbra Spider
: 4 mana is a lot to pay in Pauper, but this spider is particularly effective at fighting fliers in decks that also run removal (like
Skred
Delver
, for example). It will eat up any common flier and has large enough toughness to survive. Once resolved, the opponent will have to sink at least two cards into it before they can continue their attack.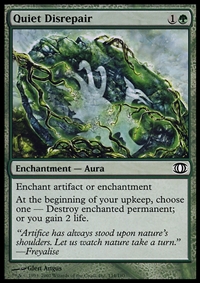 Bounce/Removal:
Capsize
: This will completely shut down other control decks with few win conditions.
Curse of Chains
: Tapping down an
Ulamog's Crusher
every turn can win games.
Lignify
: Lignify deals with the problematic
Crusher
while also taking away relevant abilities from creatures like
Thermo-Alchemist
.
Nature's Claim
: Since we generally don't care about life totals, this is just a better
Naturalize
.
Graveyard Hate:
Tormod's Crypt
: For paper players only as it was not released as a common online.
Relic of Progenitus
: almost indisputably the best graveyard hate in the format. It replaces itself when you sacrifice it, so the cost of putting it in your deck is low. Its first ability can also keep an opponent's graveyard under control if they aren't filling it up too fast. It does hit all graveyards, which could be a disadvantage depending on your build. It also has the unfortunate benefit of being able to drain your opponent's time on MTGO, forcing them to click many more times, which can turn into a win condition itself (albeit of a dishonorable one).
Faerie Macabre
: Completely uncounterable, this card is difficult to interact with. Exiling two cards is often enough to disrupt someone's graveyard. It is particularly effective against
Exhume
, leaving you with a 2/2 flier to either beat face or chump block.
Other Cards
Nourish
: The most amount of life for one card without dipping into White. It cancels out two
Lightning Bolt
s with just one card, making it an effective way to deal with Burn decks.
Reclaim
: This versatile card will get you back what you need: a Fog, a Draw spell, a
Terramorphic Expanse
, a
Counterspell
. The only catch is that you only get it the following turn unless you also have a draw spell to play afterwards.
Quiet Disrepair
Not enough good can be said about this card. It is absolutely essential when fighting Burn, and can completely turn the game in your favour when fighting slower decks like MBC. Not only does it gain massive amounts of life, but it can also destroy problems artifacts and enchantments. This card is so useful that I'm currently using one in my main deck, and have never regretted it.
Jace's Phantasm
: Against the decks where you board this, getting to 10 cards in graveyard is very easy.
It essentially becomes a faster clock than
Jace's Erasure
ever could be and can take the opponent completely by surprise. Another important function is as a blocker against fliers like
Delver
, being the biggest flier in Pauper to date.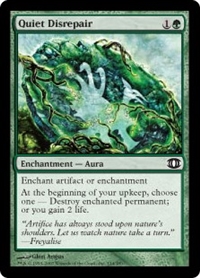 * Online, this is instead 4x
Tangle
.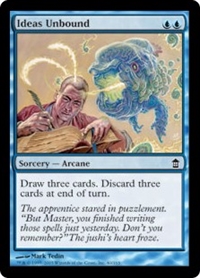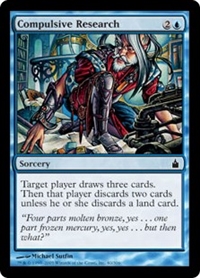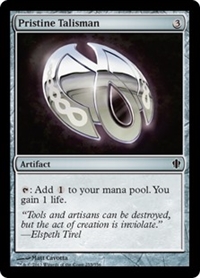 White offers a lot of interesting options for Turbo Fog that can shore up on some of its weaknesses. Unfortunately, this comes at the cost of running a 3-colour deck with subpar dual lands, which sometimes results in a loss. Some players get rid of the Green entirely. I think that the value of
Moment's Peace
is too great in itself to forego Green.
White gives access to superior Fog effects, namely
Moment of Silence
,
its' variants
,
Dawn Charm
and
Riot Control
. White has many other 1 mana Fog effects, namely
Holy Day
and
Ethereal Haze
. Just about every -costing Fog spell is better than Holy Day, however. It also opens up avenues for the sideboard, such as
Circle of Protection: Red
and
Benevolent Unicorn
. The Circle is a really powerful incentive to add white, as it improves the Burn matchup significantly.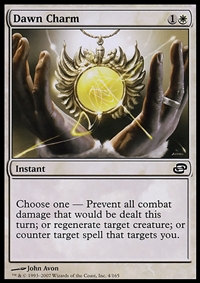 Here's an example of a variant:
---
Another interesting approach (proposed by Shoebaka) that tries to unite the stability of 2 colours with the greatness of CoP: Red is a UG deck with a small White splash: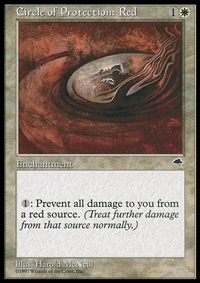 In this deck, the single Plains is found or fetched only to include White sideboard cards.
Although these are the casual forums, I feel it's necessary to include a matchup analysis for many of the most common archetypes in Pauper. This will give you a better idea of the decks' strength and weaknesses and whether it's worth playing in your playgroup/local game store.
DECKS IN RED USE CARDS FROM THE ONLINE BAN LIST
.
Affinity:
Black Aggro:
Black Control:
Burn
:
Delver:
8Post:
Elves:
Eye-Candy:
Familiars (WUB):
Goblins:
Handlock Control:
Heroic:
Hexproof:
Infect:
Inside Out Combo:
Izzet Control:
Kuldotha Kitty:
Mystical Teachings:
Slivers (GW):
Stompy:
Storm:
Tokens:
Tortured Existence:
Tron (Temur):
Tron (Murasa):
White Weenie:
Zoo (Domain):
---
This section is for the Peasant format, where a maximum of five uncommons may be added to the deck.
What does that mean for Turbo Fog?
Constant Mists
and
Isochron Scepter
. A recurable Fog is exactly what the deck needs to really go over the top. Other than that, looking around in other sections of the deck, I didn't find anything really valuable for the deck. We could use
Hedron Crab
as well, which would go very nicely with
Constant Mists
now that we're trying to hit every land drop.
Here is a Bant version of the deck created by Urdjur. Although built for his very specific metagame, it is a very well-rounded build to base your own on. Thank you, Urdjur!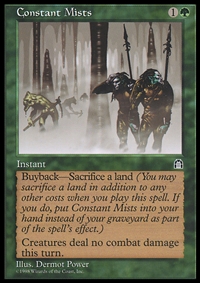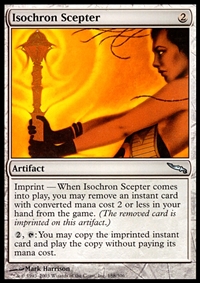 Here is a short deck primer written by Urdjur to accompany his list:
Quote from

Peasant turbo fog plays much like the pauper version, with one important and build changing exception:

Isochron Scepter

. In pauper, you're forced to include lots of draw-2s to fuel your fogging. In peasant, you can simply lazily rely on this fog machine instead. This also means that you no longer must include spells that may help your opponent draw into key cards that can defeat your strategy - instead, more and deeper dig is called for to find that posterior saving scepter!

Brainstorm

,

Impulse

and

Muddle the Mixture

ensure that you *will* be imprinting fogs on a stick by turn 4 at the latest every single game, much to your opponents' frustration. A key

Constant Mists

help defeat heavy artifact removal.

Isochron Scepter

also affects the mana base in more subtle ways. Since it essentially allows fogs to be played for colorless mana, it makes a bant mana base much more stable than in pauper, so you can truly enjoy the best of both worlds.

Bant Panorama

really shines with it since you can use it to cast and activate scepter, pay for the colorless half of fogs and Impulse, and still have a fetch at hand mid game when you want to Brainstorm.

My build reflects a very varied, semi-casual/competitve meta using the legacy banlist and quite a few non-peasant/pauper decks (such as Dredge and Sac Land Tendrils). It is still a very solid deck in such a meta, for a super low price. If you don't have any eldrazi in your meta, you can safely ignore

Moment of Silence

(playing more

Respite

instead) and most likely ditch

Incinerate

as an imprintable/tutorable alt win con in the board as well. Meta adaptation mainly involves finding the counters and fogs that work best for you (see the pauper primer), as well as any 2 CMC instants that work well as silver bullets that can be imprinted on scepter and tutored by Muddle the Mixture (split as appropriate between main and side of course).
Other options that were stumbled upon:
Fogs:
Sunstone
Spore Flower
Sleep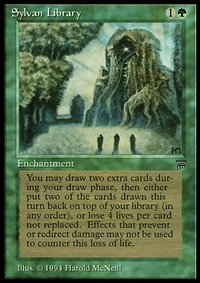 Draw:
Jace's Ingenuity
Skyscribing
Prosperity
Lore Broker
Sylvan Library
Other:
Sphinx's Tutelage
Heroes' Reunion
Elixir of Immortality
Enlightened Tutor
Dissipate
Psychic Spiral
Rise from the Tides
Big thanks to XBM Yosho, Dedmer, and Urdjur for helping in the development of the Peasant Section!
Last edited by
Upkeep
: Jan 4, 2019

Sig by Ace5301 of
Ace of Spades Studio