GumgodMTG
A Metal Slime draws near!
Join Date:

10/13/2011

Posts:

1,391

Member Details
Updated May 2019 - (In progress)
I have been updating this post intermittently since 2013. There is so much old school content out there now that it is very difficult to list it all here. Think of this as an introduction to the format, and if you have questions, feel free to come
join us on Discord
and ask away!
This format originally started in Sweden and gained popularity because of the
blog maintained by Magnus de Laval
. Now that same blog's Banned/Restricted page does an excellent job of not only laying out the Swedish version (which is the most restrictive version of the format), but it also summarizes the most popular local rules variants as well. While I do still have part of it copied and pasted below I'm also going to link to it. Go there, read it.
Banned and Restricted, some popular variations and errata.
I first happened across this blog in 2012 or so and I fell in love with the idea of playing with the cards I remember when I first learned to play MTG. In short, this is a format that only allows cards from the original sets released in 1993 and 1994 with a focus on those cards that have always been harder to obtain. Newer printings of cards are generally discouraged, and in some cases not allowed (more details further down).
Aesthetics are a huge part of this, the decks look beautiful, and trigger all those great feelings of nostalgia. I originally started this thread back in 2013 to see if other people had explored this format, and what I've found is that it is not only played in other places, but it
has become a global community.
Due to the fact that this is an organically grown casual format, there is some fragmentation on banned/restricted lists as different regions adopted it and added their own rules. To get started you could try to find a group
or event near you
and check with the organizer to see what format is being played. For the most part these events are intended to be casual and fun events (These are usually not DCI sanctioned events), and unless you plan on playing in Sweden, most communities now allow
various reprints that use the original art & original border
. In many communities this even includes Collector's Edition and
Time Shifted cards
. You could also join the discord or one of the many Facebook groups and try to get games via webcam.
Ok, so now you know there are people out there playing this format, and it's designed around the original sets, but what exactly is the difference between rulesets? Many groups in Europe follow the
Swedish banned list
(though as I said before some groups such as those in Italy and the UK allow non-foil old border reprints). In the US the
Eternal Central
rules are quite popular. The
Atlantic
and
Pacific Rules
rules try to merge/bridge the EC and SWE rules and helped develop playable errata for the card
Falling Star
.
If you play this format, feel free to adjust these rules to fit your local group
. The chart below provides a nice visual reference of some of the main differences.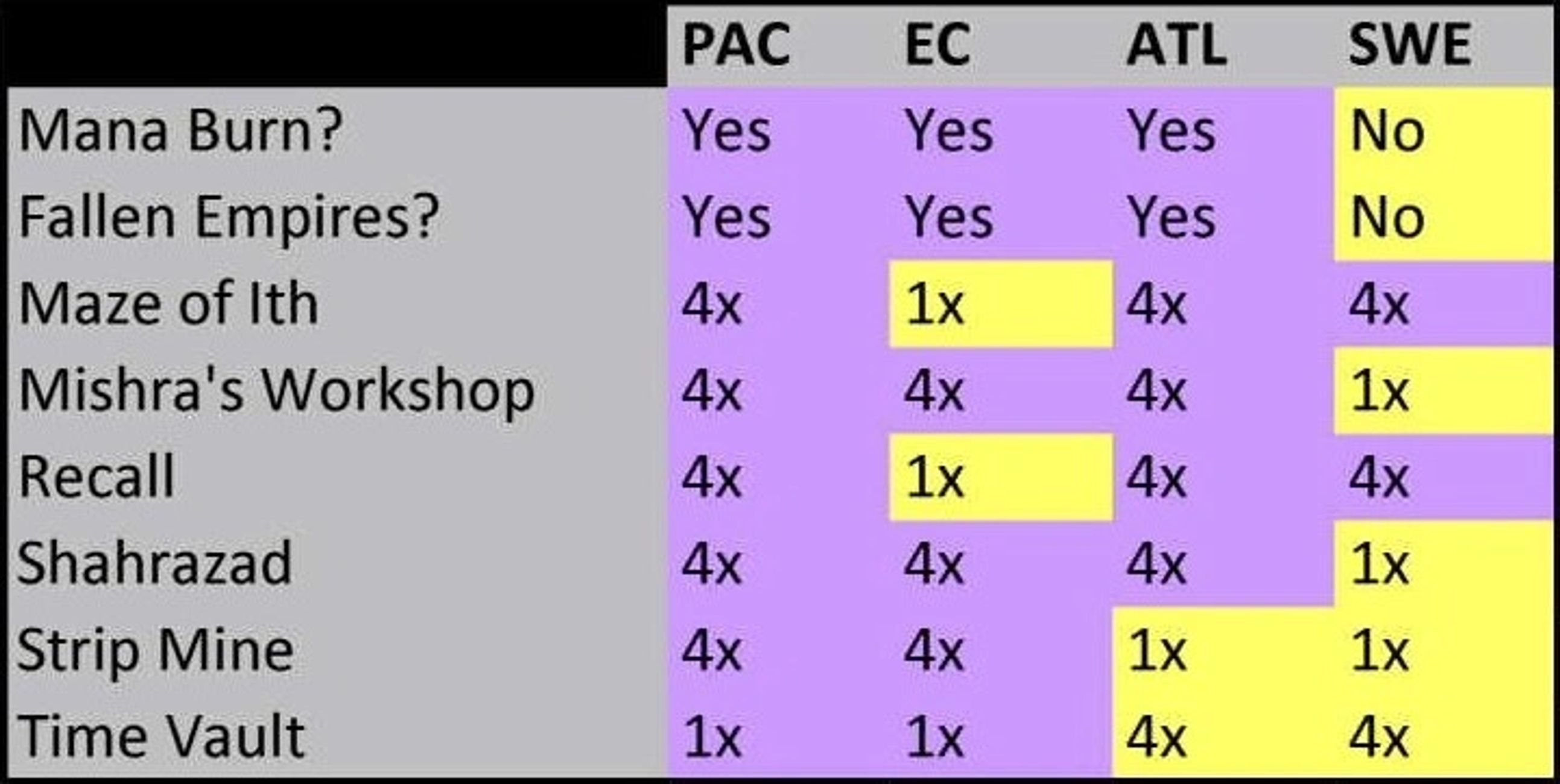 Deck construction rules:

Legal sets:

Alpha
Beta
Unlimited
Summer Magic (Edgar)
Arabian Nights
Antiquities
Legends
The Dark

Only English versions are allowed in 93/94 Constructed.

Restricted in 93-94 Constructed: Banned in 93-94 Constructed:

(The ante-cards are banned in tournaments that don't play for ante)

Errata

:

Chaos Orb

Artifact

1, Tap: Choose a permanent on the battlefield. If Chaos Orb is on the battlefield, flip Chaos Orb onto the battlefield from a height of at least one foot. If Chaos Orb turns over completely at least once during the flip, and touches the chosen permanent, destroy that permanent. Then destroy Chaos Orb.

Falling Star (2R)

Sorcery

Choose any number of non-overlapping creatures on the battlefield. Flip Falling Star from a height of at least one foot. If Falling Star turns over completely at least 360 degrees during the flip, it deals 3 damage to each chosen creature it lands on. Any creatures damaged by Falling Star that are not destroyed become tapped.

Note: For both dexterity cards, you are allowed a "fair flip"; i.e. you may move the card(s) you're choosing to a different position on the playing area to get a good flip. If you are Forking a Falling Star, please note that the copy should not be disrupting the game state. Do not use a bowl of soup to represent the copy and flip over your opponents cards. Be reasonable.

(1st of February 2012 Chaos Orb was unbanned and restricted. We use the errata in order to avoid people spreading out their cards too much).

Source
Even with this limited card pool, there are lots of ways to approach deck building and all colors are viable and fun to play. For a good introduction on how to build a deck on a budget check out
this document
written by Dave Firth Bard, and check out
episode 13 of the podcast All Tings Considered
.
Here are some additional links and resources
Places that have their own variants on the rules and actually host tournaments:
Old school variants with a slightly newer/larger card pool
Premodern Magic (Old border magic - the opposite of Modern)
Middleschool (another pre-modern variant)
QL Magic (yet another premodern format, this one complicates things by trying to use older wordings of cards).
Media and Related content:
Podcasts:
Twitch:
Blogs and websites dedicated to Oldschool Magic:
Other:
A series on Old School by Steve Menendian
Facebook and other communities:
Buy and sell Old School on Facebook
My original post from 2013:
I happened across a blog a while back that was discussing a format called 93/94. Basically it uses only the original sets for the game. Newer versions of cards aren't allowed or are deemed as proxies. The decks look beautiful, and I've been thinking it would be fun ever since seeing it, but I'm wondering does anyone play this format? I mean anyone other than the guys running the blog... Does anyone have any ideas that are 'budget' friendly? I'm thinking something with
Kird Apes
as Red Green Aggro/Burn with Unlimited cards wouldn't be too bad, or maybe Red/White Control/Burn with
Land Tax
and
Land's Edge
since I already have the Land Taxes and Alpha/Beta mana base (As well as Chain Lightnings and I'm working on Alpha/Beta Lightning Bolts). Any thoughts or ideas?
Archived links to specific things on Eternal Central: