the_cardfather
Location:

Tampa Bay, FL

Join Date:

6/7/2007

Posts:

11,489

Member Details
The purpose of this FAQ is to be an athority on MTGO set redemptions. If you have ever wondered something like:
"So I hear I can get paper cards?", "How do I get my cards offline?", "How do I make money on MTGO?", or "How much does redemption cost?"
You're in the right place.
To help assure players that thier online purchases would be valuable, MTGO created a policy that allows players to redeem complete sets of online digital cards for complete sets of paper cards.
When you redeem a set the cards are removed from your online collection and you are mailed physical copies.
Read the
Official Redemption Information
and
Redemption Policy
.

Magic Online Cards are released in sets the same way that paper cards are. A "Complete Set" is one of every card in that set. For example if you wanted to redeem a Zendikar Set you would need one copy of every card in the Zendikar expansion including a copy of each basic land.

Note that alternate printings and promo cards are usually not included. Zendikar for instance requires the full art lands that come from opening packs and not the standard lands that come out of the Zendikar deck products.

The easiest way to tell if you have a full set is to set the filters in the collection tab to show only the set you want to redeem and to toggle either for all foil, or all non foil. Order the list by collectors number. This makes it easy to see any missing cards.


You have the option to redeem either a complete foil set, or a complete non-foil (regular) set. You can't mix and match. If you redeem a regular set but have only foil copies of certain cards your redemption will not be processed. to ensure you have all of a certain type go to your collection tab, filter by the set you want to redeem and check the box to select either foil or regular versions. Order by collectors number. This makes it easy to see missing cards.


Unfortunately no. I find myself buying Tokens on eBay on a regular basis because of this.

The easiest way to tell is to go to the store in the client and click on set redemptions. This will bring up a list of every redemption available for purchase. Note that items will normally be removed from the store if they are out of stock, but they may appear later if they are reprinted. WOTC provides the following info for those who like to plan ahead:
"As a general rule, Magic Online sets will be available for redemption roughly one month after they are released. If a redeemable set runs out of stock before its Redemption Guarantee Date, the set will be reprinted. After a redeemable set's Redemption Guaranteed Date has passed, such set will be available while supplies last or until its Cutoff Date, whichever comes first."
You can see those dates on the Magic Online Calender in the section on
Redemption Schedule
.
None of these products are able to be redeemed. This means that unless the art is exceptional, or the print run is very small, promo cards are usually cheaper than non-promo versions if you need them for your decks.

To redeem a set go to the online store in the client and purchase the set redemption for the set you wish to redeem. Be sure to buy either the standard version (black logo) for non-foil cards or the Foil version (gold logo) depending on which type of set you have.


Cards are removed from your online account during weekly downtime (Wednesday morning). You must have your set complete and the redemption in your collection when the server goes down or it will not process. When the cards are removed from your account you will receive an email update from WotC.


Set redemptions of sets before Gatecrash have a base price of $5 per set. Set redemptions of Gatecrash and after have a base price of $25 per set. There is a one time shipping charge of $2.99 in the U.S. or $29.99 outside of the U.S. You will also be charged any VAT or Duties. Sets are valued at $75 each for this purpose.

Wizard's
Redemption Information
states that it can take 1-10 days to process your request and 1-3 weeks to ship your set. In my experience it is normally about a week (In the U.S.). You will get an email when the package ships with tracking info for FedEx Ground. Wizards employees have stated on twitter that redemptions are being processed faster now on average.
Per Wizards Website:
After the Redemption Requests are processed, they will be sent to the warehouse for fulfillment. Redemption orders will either be shipped via FedEx Economy or United States Postal Service, depending on your shipping address. Please note that your shipping address must be in the same country as your billing address or your redemption order may not ship. Please allow up to 3 weeks for delivery.

No. Unfortunately redemption is a one way street.

"?">
Redemption is one method of turning MTGO Objects into real money. Full sets can be sold to online stores or bot chains, singles can be sold to stores or on ebay or traded for other paper cards. There are several other ways to "cash out" depending on whether or not your goal is to play more MTG or to pay bills. The chart below highlights some of the options: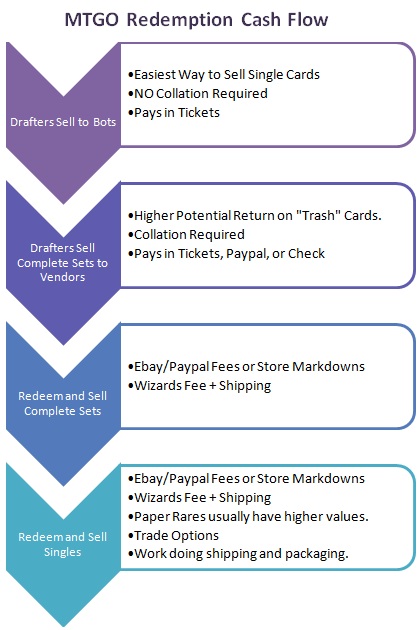 You will need all cards numbered 001-269. The Deckbuilder's Essentials cards numbered 270-284 are not required.
I will continue to add to this FAQ as needed. In the meantime feel free to ask questions if they weren't covered above. Thanks.

12/31/2013 - Added Redemption Fee Increase Info
8/3/2014 - Fixed minor spelling errors. Added new mothership calender links.
8/17/2014 - Added M15 information
2/27/2014 - Updated Information about Tracking
Out of the blackness and stench of the engulfing swamp emerged a shimmering figure. Only the splattered armor and ichor-stained sword hinted at the unfathomable evil the knight had just laid waste.