FunkyMo
Join Date:

4/3/2010

Posts:

166

Member Details
Good news, everyone! The MTGO shuffler is random! Hooray!
So, with the good news out of the way, how did I come upon this glorious discovery? Well,
I trained an army of hamsters
created a script to record the number of lands in over 13,000 openings hands drawn from a 60 card deck with 24 lands.
Hypergeometric Distribution
Now, how do we know the results are random? Well, that's where the
hypergeometric distribution
comes in. The hypergeometric distribution is usually described by the following problem:

Given a bag with N white marbles and M black marbles, what's the probability, if you remove X marbles from the bag, that Y of those marbles are white?

So, we can state the problem like this:

Given a deck with 24 lands and 36 non-lands, what's the probability, if you draw 7 cards from the deck, that Y of those cards will be lands?

The Data
Numbers! Charts!
# Lands in Opener	# Hands (MTGO)	Chance (MTGO)	Chance (Hypergeometric)
0			284		2.18%		2.16%
1			1602		12.30%		12.10%
2			3535		27.14%		26.94%
3			4032		30.96%		30.87%
4			2518		19.33%		19.64%
5			882		6.77%		6.93%
6			160		1.23%		1.25%
7			12		0.09%		0.09%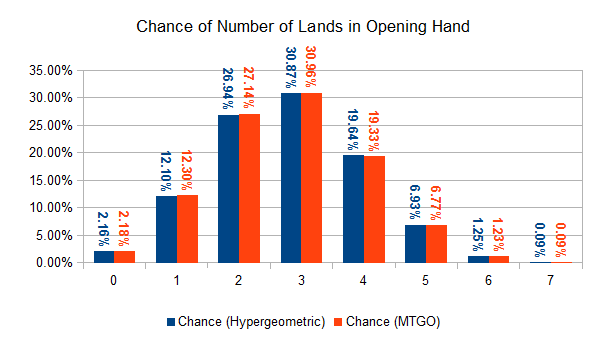 Now, I'm no statistician, but it looks good enough for government work.
Code
https://github.com/akeeton/MTGO-Shuffler-Tester
If you wish to try this for yourself, the code I've provided is most of what's necessary. First, you will need
Sikuli X
to run the script and for ease of manipulating pictures and regions. You'll want to change
PATH_BASE
to wherever you want the results to wind up. The beeps are there because I had my laptop churning away behind me, and I needed to know when MTGO caused a hiccup.
Miscellaneous
Here are some posts with additional details:
#9
,
#17
Last edited by
FunkyMo
: Jul 7, 2014
Divide & Conquer Card Shuffler
Divide & Conquer is an Android app that completely shuffles your
real
deck of cards. It's great for unwieldy decks (Battle of Wits, Commander, etc.) and the
paranoid
thorough 40/60-card player. Check it out!