Arkaedrian
Join Date:

8/6/2014

Posts:

806

Member Details
BURN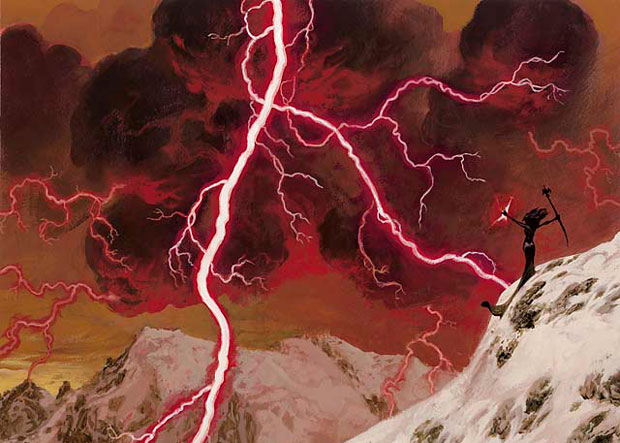 "Of course you should fight fire with fire. You should fight everything with fire."
—Jaya Ballard, task mage
---------------------------------------------------------------------------------------------------------------------------------------------
1. Introduction
So you want to play with fire? Kill your opponents with flame and lightning? Well this is the right place. Burn is a deck made up primarily of the most efficient burn spells available. We don't care about a long term plan, and for the most part, we don't even care about what our opponent is doing either. We simply want to deal as much damage to our opponents as quickly as possible. Lightning Bolt is the epitome of a burn spell. It deals 3 damage, where ever we want, at the low cost of 1 mana. And it does it at Instant speed. Filling our deck with as many similar spells as possible will benefit us in the long (short) run.
Burn was originally known as a deck called Sligh, which was developed by Jay Schneider and taken to a second place finish by Paul Sligh at a PTQ in Atlanta. At the time, second place was good enough to earn him a spot on the Pro Tour, and the internet went ablaze with hype of this new type of deck: an aggro deck. People still often refer to this style of deck as Sligh. As time went on and more cards were printed, the deck changed into what it is in Legacy today. While we don't have all the fun toys that the Legacy counterpart has access to, we still have quite a lot of gas to work with.
While the original Sligh decks were focused on filling the board with efficient creatures and widdling opponents life totals down to 0, we are going to take an approach that is more focused on throwing spells at our opponent's face. There are a handful of creatures that we will be looking at, but primarily we want to get as much damage per mana spent as possible. Three damage for 1 mana is what we are looking for. If we curve out, and net 3 damage for each mana spent, by turn 3 we would have dealt 18 damage. Turn 1: 3 damage. Turn 2: 6 damage (9 total). Turn 3: 9 damage (18 total). I realize that we start the game with 20 life, but thanks to fetch lands, as well as the shock lands they fetch out, we often need to deal less than 20 damage to win the game!
Of course things don't always go as planned. Counter magic, such as Spell Pierce or Dispel, and hand disruption, such as Inquisition of Kozilek can slow us down a bit. Cards that gain life for our opponents is probably our primary hindrance. But if we have a high enough threat density, and a little luck, we can usually finish off our opponents while they are still trying to establish their central strategy.
There are many variations of Burn, including Naya (RWG), Jund (RGB), Mardu (RWB), Boros (RW) and the OG mono-red. The most successful Burn lists however, have been Naya. There are 2 main Naya Burn lists; With or without Wild Nacatl. This card has been a heated subject in the Burn community with many arguments for and against it. In the end, both versions of Naya Burn have put up good results in high level tournaments.
Traditional Naya Burn
Nacatl Burn
2. The Cards
The basic Burn spell is
Lightning Bolt
, 3 damage for 1 mana. All spells in Burn must be compared with Bolt, Incinerate and Searing Spear are surely good cards, but they usually don't make the cut in this deck, not being efficient enough with a cost of 2 mana. When a spell does cost more than 1, it should also have some additional benefit.
Let us now discuss the specific cards, although I'll leave the mana-base for a later section.
Goblin Guide
- One of the best creatures in Burn. He will usually get in for 4 damage, if not more, and then still needs to be dealt with. You can use him as a blocker once our opponent has established a board presence. Play 4 without question, and always play him on Turn 1 if you can.
Monastery Swiftspear
- Doing a very good impression of Goblin Guide, sometimes out-damaging our Goblin friend, this card is a must have for any Burn deck. There's no doubt you should run 4.
Eidolon of the Great Revel
- One of the newer creatures Burn has adopted. This card is what helped propel Burn to Tier 1. It can be difficult to play with, but if you're ahead on life (which you almost always will be early game) this card becomes a nightmare for our opponents given the low mana curve of Modern. Even if it gets bolted or Path'ed instantly, you've gained value from him. Always play 4 along with the Guide and Spear.
Grim lavamancer
- This card is more of a flex slot, however I would recommend running 1-2. He gives us "reach" once we run out of Burn spells, can help clear the way for our creatures to attack and best of all, uses our burnt spells in the graveyard for additional damage. While some people prefer not to run it as it's an awful top-deck, I play 2 and it has won me more games than I can count. Besides if we're top-decking, the game is nearly over anyway.
Wild Nacatl
- The famed Nacatl. This card has had more controversy surrounding it than almost any other card in Burn. Some people argue it's an awful top-deck and you will lose 2-6 life just to cast him, while others argue that it's a recurring Bolt effect. Whether you decide to run it or not is up to you. Play 4 or none.
Lightning Bolt
- The most important spell in our deck. If you aren't running a playset, you aren't doing it right
Lava Spike
- Lightning bolt #5-8. Just as with Lightning Bolt, you need the full playset.
Rift Bolt
- While this is a 3 mana spell, we almost never cast it for the full cost. Always exile it for 1 mana. Bolt #9-12 you need to run a full playset
Shard Volley
- A lightning bolt with a pretty big downside. This is more of a finisher spell so it's not recommended to run more than 2. One is usually the optimal number as having it in doubles or in the opening hand isn't ideal.
Bump in the Night
- This card is one of the main reasons to splash black. It gives us access to Bolt #13-16. While it's always good to have as many Bolt effects as possible, it's not necessary to splash black as Green and White tend to provide better Mainboard and Sideboard options.
Searing Blaze
- This card is like 2 Lightning bolts in 1. To play this spell effectively you need fetch lands, and your opponent needs to have a creature for you to target. I would recommend running 3; Although 2-4 is fine. Choose how many you would like depending on your meta.
Boros Charm
- This is arguably one of the best 2 mana spells in our deck and also one of the main reasons Naya is the most effective. 4 Damage for 2 mana is nothing to scoff at; Always run 4.
Skullcrack
- The OG "anti-lifegain" card for Burn. It's not usually ideal to pay 2 mana for 3 damage, but stopping lifegain and "damage can't be prevented" clause are very relevant. You can use this to kill a
Kor Firewalker
or
Master of Waves
if they block. Play anywhere between 2-4 depending on your meta.
Atarka's Command
- This is the newest addition to Naya Burn. Acting as a
Skullcrack
but with so many more options, this card needs to be run as a full playset. It get's around
Leyline of sanctity
and
Spellskite
, can give our creatures reach to block flyers, and even allow us to drop a land if we're on the play or want to get fancy with a Searing Blaze. This card can allow T3 wins by going T1 Guide (2 dmg), T2 Guide or Monastery Swiftspear + Bolt (7 damage), T3 attack and play Bolt + Atarka's command (12 dmg) for a total of 21 Dmg. This assumes no interaction from our opponent, but it's still crazy to think that this card alone has made Burn so much more dangerous.
Lightning Helix
- This is a flex slot. If your meta is heavy with aggro decks, I would recommend running at least 2. On the other hand, it can be completely dead against decks like Twin or Tron. 2 is usually the right number for this card but some people run a full playset or don't run it at all. Whether you decide to run it or not should be a decision made based on your local meta.
The days of running 3 CMC spells in the mainboard for Burn are over. Cards like
Flames of the blood hand
have been antiquated by more efficient 2 mana spells. That said, we do run some number of 3 CMC spells but in the Sideboard. You can find that below!
Destructive Revelry
- This card has become a hallmark in Burn sideboards. It allows us to deal with pesky Enchantments like Leyline of Sanctity or artifacts like Spellskite, and is also very good against Affinity; all while dealing damage to the face. Run 3-4. If for whatever reason you're not playing Naya Burn, Wear/Tear is an alternative.
Deflecting Palm
- This card hits opponents quite hard, especially since it's usually so unsuspected. Good against Tarmogoyf, Emrakul, the Aeons Torn, Wurmcoil Engine and even Infect, I would recommend running 2.
Kor Firewalker
- Burn is a very popular deck. That said you will run into it, and when you do, nothing will make you happier than dropping a Firewalker on Turn 2. I would recommend running 2-3 as this card alone can win you the game in the mirror match.
Path to exile
- This card may raise some eyebrows as it doesn't deal damage and every card we run should deal
some
damage. That said, there are certain creatures in the game that can just destroy our gameplan. Kor Firewalker is one of them and so is Wurmcoil Engine. Nothing will help you more than Path against these creatures; Run 2.
Volcanic Fallout
- One of the only 3 CMC Burn spells we will play, this card should be brought in on the play against swarm strategies. Merfolk, Elves, Tokens and Affinity will cry when you cast this spell. I would recommend running 2 as those matchups I listed can be very difficult if we have no way to interact with them.
Molten Rain
- This should deserve a slot or 2 in the SB against certain decks or meta's. Usually we are quite well placed against the decks we would bring this in against so I would recommend running no more than 2 should you decide to run it. Bring it in against 3 color decks to mana screw them, Tron/Eldrazi to slow them down, or pesky lands like Inkmoth Nexus(Infect/Affinity)
Ensnaring Bridge
- The newest addition to Burn Sideboards! This, along with Path and Palm are some of our only options against Eldrazi (Painters servant also). It deserves a slot or 2 in the current meta, but it is just that; A meta card, keep that in mind as it can quickly become useless based on meta changes.
Smash to smithereens
- If for whatever reason you're not running Naya, this is a good alternative to hate out artifacts all while Burning your opponents face.
Wear // tear
- This card is not nearly as good as Destructive Revelry, but if you're on Boros Burn it's your best bet.
Blood moon
- Some Burn lists will run this in place of Molten Rain, but given that most Burn decks are on 3 colors, I wouldn't recommend it. Play it if you're mono-red or Boros Burn and need to turn off problematic lands permanently.
Stony Silence
- This card destroys Affinity and Lantern Control. However, given that it doesn't deal damage, other cards such as Destructive Revelry may be a better option unless your meta is infested with Affinity/Lantern.
Rakdos Charm
- Typically found in Jund or Mardu Burn lists, this card is very good against Affinity, Twin and creature tokens or even Elves.
Rain of Gore
- If you're in Mardu/Jund colors and want to turn lifegain off permanently, this is your go-to card.
Crackling Doom
- Some Mardu lists will run this in their SB, it has good utility but for 3 mana it may not be the best option.
Self-inflicted wound
- Another SB card found in Jund/Mardu Burn, it's a great way to deal with Bogles or hexproof creatures such as Geist of Saint Traft
Dragon's Claw
- If you are playing Mono-red or Jund Burn, you need a way to deal with the mirror match. While not as effective as Kor Firewalker, this card will be your best bet.
Exquisite Firecraft
- 3 mana for 4 damage at sorcery speed is generally not where we want to be, however, the fact that it can't be countered is a pretty big deal. If your meta is heavy in control decks, running 1-2 in the SB or even main could be very good.
Leyline of punishment
- If lifegain is a huge problem in your meta and you don't have access to black for Rain of Gore, you may want to run some number of these in your SB to preemptively deal with any lifegain strategies. They do however take up precious SB slots and you may not even get it in your opening hand making it an awful top deck. If lifegain is that much of a problem in your meta you may be better off playing a different deck.
Shattering Spree
- This is an anti-artifact hate that scales (helps vs Affinity) and can completely avoid Chalice of the Void as copies aren't cast, but simply put to stack. If there's no Chalice in your meta, it's better to run Destructive Rev.
Searing Blood
- This can be a fantastic sideboard card if your meta is full of "small" creature aggro like Affinity, Infect, Elves, Merfolk and Small Zoo
Anger of the Gods
- This is an alternative sweeper option to Volcanic Fallout if you expect to encounter Zoo, Merfolk, Elves or other creature based aggro decks. Keep in mind however it deals no damage to our opponents.
Torpor Orb
- If ETB type decks (Kitchen Finks, Rhino, Soul sisters ect) are rampant in your meta, this can be a great 1 or 2-of sideboard option.
3. The lands
In burn, as in any other deck, the manabase is a matter of great importance. You generally only want to see 3-4 lands, but you definitely want to see 3. As such I recommend 20 lands. 10-12 Fetch lands is optimal since we want to access our colors consistently as well as thin the deck.
In terms of Mulliganing, if you have 4+ lands in your opening hand, probably mull it. Sometimes a 1 lander can be kept on the draw, or even on the play if you're feeling lucky, but I wouldn't recommend it as it's "burnt" me many times.
My suggested landbase:
4
Arid Mesa
4
Wooded Foothills
4
Bloodstained Mire
3
Sacred Foundry
2
Stomping ground
3
Mountain
Some people also like
Copperline Gorge
instead of, or in addition to Stomping ground. Most lists that choose to run Copperline are Nacatl Burn, although it is a painless way to access Green so if your meta is aggro heavy, I would recommend running 1-2. If you really want to get sneaky you can also play
Scalding Tarn
to make opponents think you're on a different deck, although this strategy in my opinion isn't worth the investment.
General Land Tips:
1. The only basics you should EVER run are Mountains. There's no reason to ever play basic Plains or Swamp.
2. In a 3 color build, you want at least 10 fetches, but no more than 13. The magic number for most builds is 12 Fetches.
3. In a Boros build you can get away with 8 Fetches, though 10 is optimal.
4. Five Shock lands is usually ideal with a 3-2 split of Sacred Foundry to Stomping Ground for Naya builds.
5. Naya with Nacatl will run 1-2
Copperline Gorge
. Mardu will use 1-2
Blackcleave cliffs
4. Piloting Burn
Many people are under the impression that Burn is an "easy" deck that takes little to no skill to pilot effectively. They are dead-wrong. Burn is a deck that requires you to play in the most efficient and optimal way possible; A single misplay such as killing a threatening creature, or playing into a counter spell rather than waiting for a better time can cause you to lose. Sometimes being patient rather than aggressive is the correct play, other times, you need to go for the kill. The most difficult thing to learn is sequencing. The entire decks' performance will be determined by how well you sequence your lands and Burn spells. This is something that can only be learned after playing with the deck against several different matchups and hours of practice.
Knowing your role is a very important aspect of Burn. There are some matchups where we are the aggressor, going for the kill as fast as possible, and other matchups where we need to play control in order to avoid death. Decks like Infect and Affinity turn us into the control player, especially on the draw. Know your role and play accordingly! It's not wrong to Bolt a Birds of Paradise/Noble Hierarch on turn 1.
Burn cares about life totals. Burn is the only deck where turn 1 Lava Spike is a correct line of play. Other aggro decks save their burn for after the creature beatdown, when the board has stalled. In Burn you throw it at their face from the start. Sometimes, of course, they have a creature that needs to die before it can do anything, like Martyr of Sands, Birds of paradise or Glistener Elf, in which case you send your removal at them, and then get back to throwing fire and lightning at the dome!
5. Match-up Analysis
Abzan:
60/40 Game 1. Games 2-3 50/50 depends on if you hit your Crack effects in response to Finks, Rhino, Feed the clan and Timely reinforcements
Jund:
70/30 Game 1; They lose a lot of life to fetching, thoughtseize and bob. 55/45 Games 2-3 depending on hitting your "Cracks" in response to their lifegain.
Affinity:
40/60 Game 1 they are faster than us. 50/50 games 2-3 depending on if you hit your hate cards (Volcanic fallout, Destructive Revelry and Searing Blaze) and can outrace them.
Infect:
50/50 They are faster than us but we can play control by bolting their creatures. Games 2-3 depend on if you hit timely Searing Blaze, Volcanic Fallout and Path with some Burn to the face in between as they side in Dispel/Spell pierce.
UW Control/UWr/Scapeshift/Tron/Grixis Control:
60-40 Games 1,2,3. We tend to do well vs control since we are much faster than them, and can bottle neck their mana by playing on the end of their turn.
Amulet Bloom:
30/70 I know it's weird because we're supposed to be good against combo, but this one is an exception. They have radiant fountain that can gain them more life than you would expect with bouncelands, and we have no answer once their combo goes off. Pretty bad matchup for Burn.
Merfolk:
40/60 They put on a quick clock with just enough disruption to outrace us, not to mention Aether Vial gets around Eidolon and Spreading sea's strains our mana base really badly. That said, we have to hope they don't get Spreading sea's to have a good chance at winning this one.
Elves:
50/50 They put on creatures really early but may not block with them. We can race them but just barely. Post board the games get much better due to Volcanic fallout but if you don't hit your hate cards it's really up in the air.
Abzan Company:
60/40 We can usually outrace them before they hit infinite life or we can just bolt the sac engine since they tend to only play 3. Having at least 6 Crack effects MB helps a lot.
Zoo:
50/50 It's a pure race but they put out early blockers which stonewall our Guides/Swiftspears so hitting Searing Blaze on time can sometimes make or break this matchup. Path in the SB is very important here as they will try combat tricks with Ghor-Clan rampager and Boros charm double strike mod. It's better to chump block and lose your creatures than hope to win on a backswing.
Living End:
We are really well favored 65/35 since their combo doesn't outright kill us and we can Burn them to death before, or even after they hit it.
Bogles:
40/60 They have access to lifegain and can put on a very fast clock. This deck is best dealt with Deflecting Palm to hit them back hard and Destructive Revelry as they will bring in cards like
Leyline of sanctity
post board.
Burn (the Mirror!)
: 50/50 As one would expect, this is a pure race. However, when you are on the draw, it's not wrong to side out all 4 Eidolon and 1 Lavaman and bring in 3 Firewalker and 2 Path. Path is for enemy Firewalkers. If you see
Dragon's claw
game 2, bring in Destructive Rev instead of Path.
Most matchups are around 50/50 as Burn leaves no room for mistakes. You have to sequence your Fetching, Burn and attacking/blocking perfectly to squeeze out a win against many decks. That said, a good pilot can turn any 50/50 matchup into a 60/40, or a 40/60 matchup into a 50/50 by being knowledgeable about the deck, knowing your role and playing very tight.
6. Alternate Builds
Mardu:
Jund:
Mono-Red:
7.Articles
Armed with this knowledge, go forth and bring Fire and Lightning to your opponents!