k0no
Join Date:

5/20/2009

Posts:

4,121

Member Details
primer under construction - ~Purk and ~xenob8
OFFICIAL DISCORD SERVER BOYS:
https://discord.gg/K6WnFzZ
join for high quality turns discussion
Taking Turns, or just 'Turns' is a
control/combo deck
with strong resource-denial, one of the more unusual tiered decks in modern, and has a unique strategy that brings with it its own brand of playstyle and game-state evaluation. The deck is primarily mono- , but many players (including myself) choose to include a small splash for powerful sideboard cards, such as
ghostly prison
or
rest in peace
.
As a Turns player, you aim to win games by quickly chaining multiple 'extra turn' spells together, building up a critical advantage of land-drops and spells until a significant win-condition can be utilised. Your ideal game will play out as follows - disrupt for the first three or so turns, denying mana or resources to your opponent, then at an opportune moment (with a heavily slowed opponent), flash in
Dictate of Kruphix
, untap for your turn and "go off", never letting your opponent take another turn. The safest and quickest way to win is by casting an
awakened
Part The Waterveil
, although some players favour other methods.
Time Warp
,
Temporal Mastery
,
Walk the Aeons
,
Temporal Trespass
,
Part the Waterveil
; these cards are your bread and butter, and the entire deck is built around the goal of playing them one-after-another, without your opponent being able to interact. You run
Dictate of Kruphix
and can run
Howling Mine
(your "
Mine Effects
") as a way to leverage these extra turns (increasing your chances of drawing more 'turn' spells and hitting your land drops), and you play an array of disruptive early-game effects in order to facilitate the strategy, such as
Exhaustion
and
Gigadrowse
, which buy you time and resources to take over the game. Familiar favourites such as
Snapcaster Mage
,
Remand
and
Cryptic Command
make an appearance as well, offering power and versatility during the course of the game.
The deck wins extremely quickly if not interacted with significantly, but can be forced to "play out" against disruptive decks, which lengthens the clock. In its current guise, the deck is not prone to going to time, and matches can be over in as little as 15 minutes, with an average match-length closer to 35 minutes. Our best matchups are
uninteractive creature strategies and go-big mana decks
such as Bant Eldrazi, Dredge, Melira Collected Company, Elves, Tron, Death Cloud, Scapeshift, Breach Titan and so on. Our poorer matchups are mostly limited to Affinity, Jund (because of heavy discard), Ad Nauseam and Delver. Aggressive 'pump' strategies such as Infect can be challenging but are winnable, especially with powerful sideboard options. See the MATCHUPS section for a more detailed appraisal & more decks discussed.
In the past, the deck was slow and win-conditions were various, from
Emrakul, The Aeons Torn
to the humble
Jace Beleren
, and the deckbuilder was necessarily forced to give up crucial slots devoted to interaction or extra turns, in order to have a way to win the game. The deck was slower, less refined, and to avoid decking yourself it was necessary to run
Elixir of Immortality
, further diluting the strategy.
This all changed, however, with the release of
Part the Waterveil
...
With the addition of this card, the deck became more streamlined, much faster, more competitive, and didn't necessarily have to give up any 'extra turn' slots in order to run a win condition. Your extra turn spells
became
the win condition. Now, with a building community and a dedicated core of competitive testers, the deck is entering a new era.
Welcome... to Taking Turns

Decklists are varied for this archetype, but there is general agreement about the importance and prioritising of certain core cards.
The decks listed below are meant as a rough starting point, as Modern is a changing beast & nothing stays relevant for too long. I will include a small selection of different versions, starting with the oldest first, to provide context.
Mono U lists
for your reference, here is a historic decklist which you could consider a "basic" or "blank slate" version
Here is a much more recent Mono
Rotanimod12
. Notice a relative increase of cards such as
gigadrowse
and
exhaustion
:
list, which won a large tournament last year at the expert hands of our own
Here is a current (circa Feb 2017) GPT-winning list, on the eve of GP Brisbane 2017. Not much to add on this one but it adds a couple of new cards into the pool of "considerations", as well as cementing the deck further into Mono fairly stock but showcases the general deckbuilding attitudes for Turns quite well:
territory. It's
A similar mono U list is what xenob8 is using. It has a trasformational sideboard to change from a creatureless build for game 1 to a time attack one that uses insta value creatures like snapcasters and cliques or thing in the ice to stall the game early turns. Note also that it plays a emrakul maindeck with jace beleren against infinite life. early versions played inkmoth nexus but it was switched for nefalia academy since the heavy discard meta. The transformational side can change based on preference. you should run 4-5 creatures. good side out cards are jace emrakul temporal trespass and often remand.
here's an example maindeck running
Ancestral Vision
(no sideboard, just a suggested starting point for those considering running the card)
UR Lists
Here's a version splashing
madcap experiment
, although it goes without saying (I hope) that you must side out all other artifacts otherwise this surprise "gotcha!" spell won't work the way it's intended:
which looks quite fun and is a good starting point for those wanting to test the izzet variant. Note the semi-transformational sideboard options with
A platinumless UR build:
This was played by Marcus Ewaldh and it is something nobody expected, a
As Foretold
as an engine to cheat ancestral visions and wheel of fate and then gain a huge advante over the opponent like the other turn lists. win con here is a very efficient Chandra. more about it
at this link
taking turns that uses the recently printed
UW Lists
Finally, here is a
Howling Mine
into
Thing in the Ice
, providing a similar sort of role (synergy with turn spells) but a different angle. It's not ideal for every metagame, but the switch is a valuable one against the right field:
list splashing for sideboard options, tailored to a proactive metagame. I have taken this list to a 16-4 record at GP side events, and numerous 4-0 wins at FNM. Once again, notice a relative increase in terms of interaction, and a move away from
UG(x) Lists
This list made a top 8 finish at scg charlotte! It is a bant
version (three color turns hasn't been played before!) with focuses on ramp and the interaction between planeswalkers and the low count of extra turn effects. Original list was made by Saffron Olive but Ali Aintrazi tweaked it for the tournament.
UB Lists
This 75 almost got the winning place at gp vegas. Great top 8 finish for Daniel Wong and his UB turns! A very surprise since nobody tested the ub splash but Daniel proved his skills with the deck. He also wrote
a very good report about the event so check it out!
currently adding more cards, as well as more detailed uses of specific key cards - thanks for your patience! ~Purk
Card Choices are versatile and metagame dependant in this deck, but ultimately we play a
synergy-based
game, meaning that how our spells interact with
each other
can be more important than pure card-value-in-a-vacuum.
Some singleton card choices in this deck may seem counter-intuitive, and that's for an important reason. The deck doesn't have any "unwinnable" matchups, and if able to combo off, we are able to beat any deck, apart from a couple of corner-cases. As a result, many of the choices you'll see (such as 1x
Inkmoth Nexus
in nearly every competitive list) are simply a case of "running the numbers" and figuring out what we
can't beat
when given the opportunity to combo off. Infinite Life, for example, is one of these fail states that we try to 'fix' with a spicy singleton, and it works. We also run the numbers on specific hate cards, as you'll see. Read on...
.
General Structure of the Deck - use this as a guide when building your own version, and see the STRATEGY section for a detailed explanation:
key for priority: Core Spells (essential), Personal Preference, Other Considerations
Extra Turn Spells
Disruption
'Leverage' Cards - used to take advantage of your extra turns
Consistency and Setup Cards
Serum Visions
-
4x
-
Always
4. As a synergistic combo deck, we need consistency enablers. Serum visions is the best we have in modern at this current time, so it's a non-negotiable include. Visions (see below in "
Strategy - Early Game
" is a key part of any opening hand or mulligan, digging you towards any pieces you happen to be missing from your hand. It has added value in this specific deck due to setting up Miracle spells for the following 1 or 2 turns. It plugs a lot of holes in the deck and we'd be much weaker without it. It is tempting as the deckbuilder to max out on big flashy effects to increase your chances of topdecking them while going off, but Visions does so much more than you'd get from that line of deckbuilding. It's an antidote (of sorts) to targeted discard, it flips
Thing in the Ice
very effectively, it sorts you out for the next couple of draws while allowing you to do something profitable with the rest of your mana. It's played in nearly every blue deck in modern, and we can see why. Bonus points if you have the DCI Foil versions with original art.
Lands
Creatures
Latest Set cards
Hour of Devastation
Amonket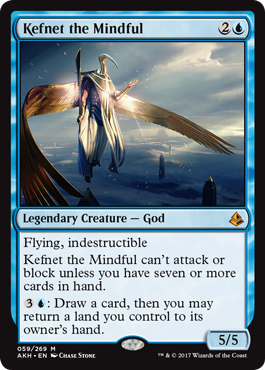 pro
very efficient creature to close games, four swings that can start as soon as we are able to chain turns and have 7 cards in hand, very easy condition to get since we have a very strong draw power and we can go back to 5-6 cards in second main and we don't suffer him losing block ability because we will get another turn right after
only answered by
Liliana of the Veil
,
path to exile
and
dismember
contro
doesn't impact the board early game, having it in the board and not able to defend us sucks a lot.
4 mana: draw 1 isn't good
takes slots we don't really have
pro
Strong card for sure, helps cheat in game mines and other cards. chaining a lot of extra turns means we can get it to a great number of time counters
Ancestral Vision interaction:
we can cast for free an Ancestal Vision with As Foretold the very same turn we get in the board. if someone wants to do that then should also cut snapcaster (bad thing) and include flip jace, since
Jace, Telepath Unbound
lets you cast AV from graveyeard. so the new engine(cutting dictates since we can cast 8 AVs) becomes:
4 ancestral visions
3-4 thing in the ice
3-4 as foretold
3-4 jace, vryn's prodigy - jace, telepath unbound
contro
since we get a lot of mana we don't really need it. we can simply play what we have. and mastery is enough to cheat things into play
early game with low time counters it will get us only serum visions and a free counter we don't care if it is free or not
"new engine" opens us to creature hate, graveyeard hate, cotv from eldrazitron ( a tier 1 deck and also we can't play it at 0 against a lot of decks)
"new engine" takes a lot more slots than 7 mines effect.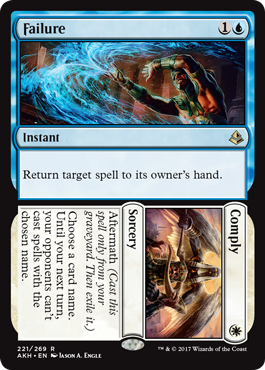 pro
can hit uncounterable cards (abrupt decay for example) and helps protecting mines. we can get protection for up to two turns with that or we can counter something and negate the possibility to cast a card with a different name aswell
compy can help A LOT to stop opponent plan in a lot of different ways and can be very difficult to play around it
another card that interacts well with gigadrowse
contro
doesn't have the versatility of unsubstantiate, since hits only spells on the stack and not creatures
doesn't draw a card like remand, and this is quite important
opens to graveyeard hate
Early-Mid-Late Game and Mulligans
Mulliganing:
Opening Hand Considerations:
- hitting your land drops, with mana sources early on (to enable
maximum
Gigadrowse
)
- drawing a leverage effect by turn 4 (so you can cast one on turn 4). we tend to run
about
7 of these (regardless of which build you go for), so your chances are good.
- having some disruption/resource-denial in your opener. You have effectively 12 of these effects (or should do) so you can usually rely on drawing one, and it makes mulligans reasonable as well.
- It's not necessary to have any 'turn' spells in your opening hand - it's often better when you don't. Out of all of them, the
most reasonable
one to have in your opening hand is
Time Warp
itself, as its base-cost is the lowest and so can be cast the earliest.
- if opener is weak on any of the above,
Serum Visions
is great at plugging the gaps and can get you there, as well as set up
Temporal Mastery
(remember, if you see a mastery from a turn-1 visions scry, put it as the
second
card down, otherwise you won't have the mana available to miracle it!)
Mulligans are highly important for Turns, and thankfully the deck mulligans
well
, as a rule. However, as with any competitive strategy, there are hidden depths to whether a poor mulligan choice actually ended up being the cause for a loss or a win, and becoming a better player with Turn relies on you being
fiercely
analytical with your pre-game choices. There are no shortcuts here; I can tell you what cards to prioritise (and you should look at the section on matchups) but the power of the deck comes mainly from a player's ability to foresee lines of play, and act with a sort of 'muscle memory' and familiarity that comes only with experience. This is true for mulligans, and I advise you when playtesting with fellow players to
write down or photograph
your choices, or show your mulls/keeps to your opponents and discuss them. Many people try to play at home or casually as if they were in a competitive arena, and sometimes that's viable, but you learn
far more
if you are open about your choices and discuss the optimal lines of play when you have the opportunity - in a
real
competitive arena, you don't have that luxury.
Here's a rough ranked order of cards you want to see in your opening hand:
1)
Island
(or source): We absolutely need to hit those U sources early, so we can start
Gigadrowse
-ing or
Serum Visions
-ing as early as we can. We also need to be able to play a land drop for every turn we disrupt our opponents. An ideal hand for us probably has 3+ lands and the rest early interaction.
2)
(on the play)
Exhaustion
: on average, against a metagame comprising a mix of go-wide aggro and GBx Midrange, Exhaustion is better than
Gigadrowse
.
2)
(on the draw)
Gigadrowse
: on the draw, you can gigadrowse your opponent's first land on their second turn. This small loss of 1 mana on turn 2 can be enough to set them back a whole turn. Against decks like Jund,
Burning-Tree Emissary
zoo, Cheeri0s and similar, this is very important!
3)
Remand
(either on the play or draw): we all know remand gets worse on the draw, but against most decks in modern it's still a viable speedbump before you combo off. I like to see them in my opening hand because at their very worst, they force our opponents to use their mana badly while drawing us a card. At their best, they set our opponent back an entire turn while drawing us towards what we need, giving us land drops and time while our opponent struggles to execute their game-plan. Niche but cool; can even trigger miracle on
Temporal Mastery
in our opponent's turn.
4)
Dictate of Kruphix
(or some other leverage card): Assuming you've got some early interaction, this is essentially your "i win" card & you want to see one early. Turn 4 by the latest, but in the opening hand is a great way to start the game. Cards like
Thing in the Ice
tend to be (just from experience) played better early.
5)
Cryptic Command
: It's basically as good as
Time Warp
most of the time, and sometimes better, and it's cheaper. I'm never upset to see one of these in my opening hands, but more than one can be iffy unless I have the disruption to get me there.
6)
Serum Visions
: This card fixes a multitude of problems, and sets up
miracle
very effectively. It's an ideal opening-hand card because whatever piece you're missing, it digs 3-cards deeper towards it. There are times (against fast zoo and burn decks) when we don't have time to sculpt our hands much, but even in those situations, Serum digs us closer to cards like
Exhaustion
which stall and set our opponents back while you develop your mana and draw disruption. That said, it's lower on the priority list than the other cards mentioned above because they are the "action" cards, and this merely plugs the gaps if you are missing them. It's essential, and you'll always be happy to see one in your hand, but it's not what's going to ultimately win you the game.
honorable mention:
Time Warp
: This is just about acceptable as an opening hand card... maybe. In reality we just don't want to see them until turn 4 or so, and having them early opens us up to hand disruption quite badly. A good opponent will leave the Time Warp stranded in your hand, and take the leverage cards or powerful cheap disruption - doing this means they've taken your route to victory and also rendered that Time Warp temporarily useless, a net loss of 2 cards in-hand. unless I mentioned it before, discard is
bad
for us....
In terms of opening hands, you don't really care for much else. Multiples of your disruption spells are great.
Early Game
The most critical stage of our game is the early one, and you will find as a Turns player, the majority of errors you make and losses you take will happen during the first four turns. Once we are 'in the clear' and can establish the mid-to-late game, there are very few decks which can beat us. This is the hidden strength of Turns as a lower-tier-but-competitive strategy, it's possible to beat any other deck reliably, if they stumble, are susceptible to mana-denial or have a slower game-plan. Our late-game is highly consistent and snowballs very well.

You may see where this is going. Turns can have serious issues with decks which do the following:
- place multiple threats on the board as early as turn 1 (Affinity, Emissary-Zoo)
- employ targeted discard followed by sizeable threats (Jund/Abzan)
- have a very quick clock via some other means (i.e. Infect and Burn)

With this basic context in mind, here's how we want to structure our first few turns:

Game 1 - unknown opponent


Game 2 - known opponent
Now you've played game 1, you'll have a good idea of what your opponent is up to. This can change your priorities:

Mid-Game
This section will be fairly short, as there's only a couple of things to discuss here.
1) Generally wait to play
Dictate of Kruphix
until your
fourth turn
(wait until your opponent's end step). This not only denies them a draw, but also allows you to use your mana on turns 1-3 to safeguard your life total and stall your opponent, rather than give them unnecessary resources.
You cast it in the fourth turn (in opponent's EoT) because this enables you to draw your fifth land and cast
Time Warp
in order to start "going off". Even if you don't have the Time Warp, it allows you to untap in your turn and perform some serious disruption with your five mana, and normally from that point your opponent is under the lock.
Exceptions:
If you have nothing else to do, and a Cryptic in hand, sometime's it's correct to drop the Dictate on your third turn (again in opponent's end step) and treat the Cryptic as if it were an extra turn spell.
Also, if you are playing against Jund/Abzan/discard decks, it can be correct to not only get the dictate out of your hand and onto the field (safe from being
Thoughtseize
d, but also mitigate some of the lost cards in hand by aggressively drawing more, even if it means more for your opponent.
Finally, against blue control players, try to protect your dictates from being countered by responding when your opponents tap out, or by using Gigadrowse to force it through (gigadrowse in opponent's upkeep to deny them a turn or the countermagic, and then flash the dictate in during your own upkeep to get you the all-important extra draw to keep hitting those land drops. This can leave you with a tempo-loss but most of the time works out just fine, drawing you into more Exhaustions and Gigadrowses.
2) Use Cryptic Command fairly aggressively. We want to draw as many cards as quickly as possible, in order to assemble a lock on the game. Don't go wasting it on unimportant things, obviously, but anything aggressive, anything that's going to slow you down needs to get countered, even if it's a one-drop (I see you,
Death's Shadow
). Your aim is to assemble the pieces as quickly as possible, and while it's reassuring to hold up cryptic and feel safe, many times if your opponent doesn't really do anything, the right play is to just bounce one of their lands and draw a card in their end step. Experiment with this idea and get aggressive with it.
3) if you don't have a
Time Warp
, the assumption is that you've probably got one of the other turns in your hand instead. In this case, it's
still
normally correct to slam the dictate in your opponent's fourth turn end step, because at this stage in the game you'll most likely be desperately needing more disruption, and thankfully the kinds of disruption we play tend to stop our opponents from using the cards in their hand. And of course, sometimes you just get lucky and draw Time Warp, and all is right with the world.
Decks to beat (scroll down for detail):
1. UBx Shadow
2. Affinity
3. Burn
4. GWx Company
5. Dredge
6. Eldrazi Tron
7. BGx Death's Shadow
8. Gifts Storm
also other non tier 1 decks
1. UBx Shadow

2. Affinity

3. Burn
Medium to Poor
- 45%-55% game 1, 55%-45% game 2
Burn can be a fast deck. Thankfully we dodge
Eidolon of the Great Revel
rather well, and Remand is good against
Rift Bolt
, so there's some positives to the matchup. Burn are definitely favoured in game 1. Game 2, if we run cards like
Timely Reinforcements
and draw them, we are favoured. It's a bit of a sideboard battle and you need to be careful in managing your life total.
Thing in the Ice
is decent here being a good early blocker and saving some life. Remand, although quickly outclassed against other quick decks, is ok here because burn often functions on only a couple of lands (you still side it out though). Don't play any Mine effects until you need to, or have enough disruption that you can just carry the game longer with counterspells. Burn decks try to win with only the top 10 or 11 cards out of their entire deck. giving them more chances to draw extra lands and cast multiple burn spells a turn is not where you want to be. Cryptic, while four mana, is still serviceable in this matchup.
sideboarding:
- Remand
- some number of Cryptic Command (i'd still keep a couple in)
+ lifegain/blockers
+ dispel
+ Chalice of the Void
the matchup is fairly straightforward. be aware the burn player will often side in
Destructive Revelry
and side out their fairly useless Eidolons. You can afford to drop the maindeck counterpells because any lifegain or blockers (pseudo lifegain) acts as a "negate" for one or more of their burn spells.
lastly, block with Thing in the Ice and Snapcaster when you need to, but don't throw them away unnecessarily. When you turn the corner, you need to win
really fast
. no dilly-dallying otherwise they'll just topdeck bolts and kill you while you durdle.
4. GWx Company

5. Dredge

6. Eldrazi Tron
Favourable
- 60%-40% game 1, 65%-35% game 2
This is why we play Turns. Their high mana curve and one-spell-per-turn game plan means we can leverage our disruption very effectively. Wait until the turn they threaten to play a
Thought-Knot Seer
and then fire it off.
Cavern of Souls
makes Remand worse, but not all decks run it (Tron variants often don't), and they have to draw it.
Cryptic Command
is a de facto 'turn' here due to the tap ability. Thing in the Ice is brilliant, as they play very little in the way of removal. They also play very little in the way of hand disruption. Generally speaking, use your disruption judiciously to prevent a
Thought-Knot Seer
from hitting the board, and combo off without much effort.
Sideboarding:
- some number of remand against Cavern of Souls versions (i.e. Bant)
+ Supreme Verdict
+ Path to Exile
I wouldn't side in Spreading seas here & the reason is fairly straightforward. We aren't able to clock our opponent very quickly, so it's more beneficial to us to bring in big 2-for-1s or hard removal, than light disruption. We already have all the disruption we need in the form of mana denial.
be very aware of bant opponents bringing in
spell pierce
,
stubborn denial
or
negate
. Play around it if possible!
7. BGx Death's Shadow

8. Gifts Storm

9. Abzan/Jund Midrange
Poor
- 40%-60% game 1, 35%-65% game 2
Jund, Abzan and similar discard-themed midrange decks are poor matchups because of discard. Discard is bad for us because of the sort of mana-curve we play in our deck (very high). A good player will often take your cheap spells and leave you with more expensive warps stuck in your hand. The net result of this is that you've lost a card and the more expensive cards are now rendered temporarily useless as well. Thankfully Remand is decent here & Dictate and Howling Mine are good antidotes to this issue. I'd suggest attempting to stick a mine effect as early as you can against these decks, and/or hold up Remand for
Liliana of the Veil
wherever possible. They often only play one or two maindeck ways to remove your noncreature permanents and around 6 discard spells on average across all builds. Not only will sticking a mine effect protect it from being discarded, it will also ensure that you hit your land drops and get into combo-territory on time. You'll out-draw your opponent in terms of spells vs. their disruptive effects. Try to side in any 2-for-1 effects and remove disruption that's card-disadvantage.
sideboarding:
-
Thing in the ice
if your opponent saw it game 1 (removal magnet)
- Gigadrowse (too much card disadvantage against decks that play tonnes of 1 drops)
+ sweepers (e.g.
engineered explosives
,
supreme verdict
)
+ anything that draws cards & disrupts (i.e.
spreading seas
)
general idea: reduce vulnerability to removal (even though they will side some of it out) and be more careful before awakening your lands. If you can protect them with counters or keeping your opponent tapped out, do.
These matchups are winnable but you have to play tightly and hope your opponent doesn't see many discard spells.
Pretty spot-on with the matchups in my experience.

Merfolk isn't 100% a lost cause, but it has become a pretty bad matchup ever since they've started playing more counters. It gets better if you splash for removal, but you have to draw it.
Burn isn't great, but better with the white splash. I would guess that people replacing their Eidolons with Shrines of the Burning Rage is overall good for us. Leyline and Chalice are the bomb; Mine, Exhaustion and Gigadrowse are bad.
Death's Shadow has game against any deck that isn't completely tuned to beat it, that's why it's so popular. Chalice is good either way, but I especially like the chances that the white splash has against it: Leyline is great, Path is great and Supreme Verdict gets around Stubborn Denial in Grixis (plus if you're really worried, you can go even harder with Celestial Purge or Blessed Alliance).
Elves is indeed a coin toss (speaking of which, going first is pretty important), but one that gets a lot more favorable with Supreme Verdict. Landing good Exhaustions is probably the most important thing in that matchup. You also have to be somewhat wary of Rec Sage.
Affinity is bad, lots of single target removal and Stony Silence helps though. On the play, you can just put Chalice on 0 turn 1 (if you draw it later, you might not need it anymore but on 2 it still shuts down Affinity's most threatening cards), but I wouldn't bring it in on the draw.
Storm is rough and doesn't get much better if you choose to play Remand. Chalice though!
Ad Nauseam is awful, but once again, Chalice shines (noticing a trend).
Your description of Vizier combo is very accurate. If they go for the Township plan, Turns should win. While we don't care about infinite life thanks to Inkmoth, if you have nothing going on, they're just going to scry the kill combo to the top.
Titanshift is about denying mana (Exhaustion is excellent), Leylines also improve the matchup.
And most everything else is indeed good, most importantly (in terms of meta share) Control and Tron, which is why you don't need specific sideboard cards for these matchups.
A sincere thank you and good luck to purk, you have made such a great job with the primer!
Upcoming:

- Jace unbanning 101
- More matchup discussion
- New cards from latest packs discussion

Latest changes:

- pixeleen quote for some matchups added in the relative discussion section
- Hour of Devastation interesting spoilers are now in the deck choice section

- Updated broken pictures
- Added different cards in the card choice section
- Subsection in "card choice" for creatures added!
- Amonkhet interesting spoilers are now in the deck choice section

- Subsection in "card choice" for interesting cards spoilered in the latest set added
- Slightly adjusted the matchup section in order to focus on tier 1 decks (for now)
- Foretold Turns and Bant turns added in the decklist section!

---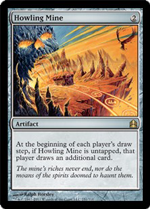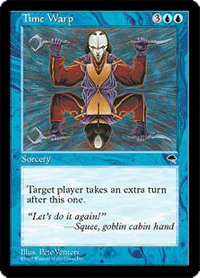 Welcome to the new primer for

Farf

's

Time Walk

deck!

The original primer can be found

here

.

Since the very first set of Magic the Gathering

Time Walk

effects have been one of the most powerful strategies in the game. From the earliest tournaments the ability to take an extra turn with all the accompanying steps and phases has dominated matches and decided tournaments.

Continuing that tradition, and even taking it one step further, once this Modern deck begins to combo off it's quite likely that your opponent will never get another turn again. After that your win condition is limited only by your imagination.

When time becomes endless, so to, do the possibilities!


---

In a format defined by Fetchlands and Shocklands and as a result saturated with two, three, and even four color decks, viable and competitive single-color decks are very rare. The original decklist for the Time Walks combo was conceived as mono blue and to this day remains a very real option.

Below is a good example of a generic Mono blue list

Time Walks is a unique combo deck in that it relies upon taking advantage of

Howling Mine's

symmetrical card draw as an enabler to chain together

Warp

effects until you can kill your opponent with one of any variety of win conditions. In the case of this deck that will be most commonly be

Part the Waterveil

or

Snapcaster Mage

.

In general the goal of the deck is to utilize the disruption package to land a

Mine Effect

and keep the opponent from winning before turn five. Then, it begins resolving

Time Warp's

and ideally the opponent will not get another turn before you win the game.

Additionally in the list posted above it is possible to actually take infinite turns if necessary with the use of

Elixir

to recycle

Time Warps

in combination with two or more

Mine

effects to continue to draw them.

As strange as the deck plays out in relation to traditional combo decks we see in Modern it is actually remarkably consistent once it begins going off.

If you are interested in the deck and want to try it out I highly recommend proxying up this list and seeing how you like it!

---

---

When constructing your Time Walks deck there are four main roles you want your cards to fill. Consistency, Combo Pieces, Win-Conditions, and Disruption. By ensuring your deck has a proper mix of these vital components you can have a powerful and consistent Time Walk combo deck.

It is worth noting that since this deck has a relatively small community that actively plays it there is no real consensus on what type of build or color splash is the "best". As a result there is plenty of room to experiment and see what works for you. However, for the purposes of this primer I will be putting an emphasis on the cards that are able to fulfill more than one roll in the deck (Such as

Part the Waterveil

being both a win-Condition and a combo piece) as those are usually some of our best options for inclusion.

Below and in the following sections I will give an explanation on the advantages and disadvantages of different card choices and some example decks that chose to splash one or more colors.

Recommended: 8-12

The average turn for decks to kill without any relevant interaction from their opponent is turn four. Since this deck wants to win starting on turn five by disallowing any further interaction on behalf of the opponent, spells aimed to disrupt their game-plan enough so we survive that long are vital.

This most commonly includes

Counterspells

,

Bounce

, and

Tapping

the opponents permanents or not letting them untap. Click the link below for a card by card discussion of the disruption package.

Due to the nature of the combo this deck has a surprising amount of flexibility with how many of the pieces it chooses to play. A combination of

Howling Mine

and

Time Warp

effects are needed to enable the win but aside from that the number and even the individual card choices can vary greatly from deck to deck.

In the link below I will be discussing the merits of individual cards comprising those two components of the combo.

Recommended: 6-10

Since the deck operates as a Combo deck first and foremost it is crucial that there be cards to help you have what you need when you need it. There are a couple cards that stand above the rest in this category but there are arguments for the inclusion of many more based on personal preference.

Recommended: At least 1

Win conditions are rather tricky in this deck since once you have achieved unlimited turns you can win with practically anything. The trick is to have those cards be relevant before you have achieved the combo so that they are not dead in your hand.

While the possibilities truly are astounding the most popular choices have been outlined below.

Recommended: 23-25

Lands are the foundation of any good deck and are critically important to winning games of magic. In particular this decks needs to get up to 5 Mana in order to start comboing so insuring you have a proper amount is of the utmost importance.

In addition there is a broad number of utility lands that can be played in order to shore up some weaknesses of the deck. To find out more try the link below.

Probably 15

The importance of the sideboard cannot be underestimated. Approximately 60% of your games will be after sideboarding so including relevant cards to help in matchups where your deck is weak will often mark the difference between winning and losing a close game.

There are 15 slots allowed in competitive tournaments and often you will wish you could have double that. A discussion of popular and effective sideboard cards can be found below.

Magic the Gathering

is a number centric game and this deck shines a spotlight on how complex the math of building a deck correctly can really get. Ensuring you have the right mix of these categories of cards will allow the deck to function but there is still little consensus on what is

optimal

.

---

---

Currently in progress

Let me know what you would like to have included in this and other card specific sections!

A hard counter for mana is amazing. The drawback of it only affecting cards with a converted mana cost of might seem too narrow at first, but when you look at the most commonly played (and most powerful) cards in the format, it becomes immediately apparent that is a very important number in the format. Playing two copies of

Spell Snare

in the seventy-five goes a long way to making sure this deck can get a foothold at the beginning of the game.
Last edited by
Ulka
: May 16, 2018
Modern: G Tron, Vannifar, Jund, Druid/Vizier combo, Humans, Eldrazi Stompy (Serum Powder), Amulet, Grishoalbrand, Breach Titan,
Turns
, Eternal Command, As Foretold Living End, Elves, Cheerios, RUG Scapeshift