Epsilonson
Location:

IL

Join Date:

1/8/2012

Posts:

323

Member Details
New Primer Here
---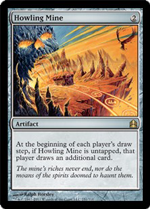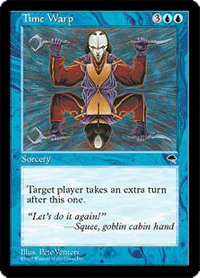 Welcome to the new primer for

Farf

's

Time Walk

deck!

The original primer can be found

here

.

Since the very first set of Magic the Gathering

Time Walk

effects have been one of the most powerful strategies in the game. From the earliest tournaments the ability to take an extra turn with all the accompanying steps and phases has dominated matches and decided tournaments.

Continuing that tradition, and even taking it one step further, once this Modern deck begins to combo off it's quite likely that your opponent will never get another turn again. After that your win condition is limited only by your imagination.

When time becomes endless, so to, do the possibilities!


---

In a format defined by Fetchlands and Shocklands and as a result saturated with two, three, and even four color decks, viable and competitive single-color decks are very rare. The original decklist for the Time Walks combo was conceived as mono blue and to this day remains a very real option.

Below is a good example of a generic Mono blue list

Time Walks is a unique combo deck in that it relies upon taking advantage of

Howling Mine's

symmetrical card draw as an enabler to chain together

Warp

effects until you can kill your opponent with one of any variety of win conditions. In the case of this deck that will be most commonly be

Part the Waterveil

or

Snapcaster Mage

.

In general the goal of the deck is to utilize the disruption package to land a

Mine Effect

and keep the opponent from winning before turn five. Then, it begins resolving

Time Warp's

and ideally the opponent will not get another turn before you win the game.

Additionally in the list posted above it is possible to actually take infinite turns if necessary with the use of

Elixir

to recycle

Time Warps

in combination with two or more

Mine

effects to continue to draw them.

As strange as the deck plays out in relation to traditional combo decks we see in Modern it is actually remarkably consistent once it begins going off.

If you are interested in the deck and want to try it out I highly recommend proxying up this list and seeing how you like it!

---

---

When constructing your Time Walks deck there are four main roles you want your cards to fill. Consistency, Combo Pieces, Win-Conditions, and Disruption. By ensuring your deck has a proper mix of these vital components you can have a powerful and consistent Time Walk combo deck.

It is worth noting that since this deck has a relatively small community that actively plays it there is no real consensus on what type of build or color splash is the "best". As a result there is plenty of room to experiment and see what works for you. However, for the purposes of this primer I will be putting an emphasis on the cards that are able to fulfill more than one roll in the deck (Such as

Part the Waterveil

being both a win-Condition and a combo piece) as those are usually some of our best options for inclusion.

Below and in the following sections I will give an explanation on the advantages and disadvantages of different card choices and some example decks that chose to splash one or more colors.

Recommended: 8-12

The average turn for decks to kill without any relevant interaction from their opponent is turn four. Since this deck wants to win starting on turn five by disallowing any further interaction on behalf of the opponent, spells aimed to disrupt their game-plan enough so we survive that long are vital.

This most commonly includes

Counterspells

,

Bounce

, and

Tapping

the opponents permanents or not letting them untap. Click the link below for a card by card discussion of the disruption package.

Due to the nature of the combo this deck has a surprising amount of flexibility with how many of the pieces it chooses to play. A combination of

Howling Mine

and

Time Warp

effects are needed to enable the win but aside from that the number and even the individual card choices can vary greatly from deck to deck.

In the link below I will be discussing the merits of individual cards comprising those two components of the combo.

Recommended: 6-10

Since the deck operates as a Combo deck first and foremost it is crucial that there be cards to help you have what you need when you need it. There are a couple cards that stand above the rest in this category but there are arguments for the inclusion of many more based on personal preference.

Recommended: At least 1

Win conditions are rather tricky in this deck since once you have achieved unlimited turns you can win with practically anything. The trick is to have those cards be relevant before you have achieved the combo so that they are not dead in your hand.

While the possibilities truly are astounding the most popular choices have been outlined below.

Recommended: 23-25

Lands are the foundation of any good deck and are critically important to winning games of magic. In particular this decks needs to get up to 5 Mana in order to start comboing so insuring you have a proper amount is of the utmost importance.

In addition there is a broad number of utility lands that can be played in order to shore up some weaknesses of the deck. To find out more try the link below.

Probably 15

The importance of the sideboard cannot be underestimated. Approximately 60% of your games will be after sideboarding so including relevant cards to help in matchups where your deck is weak will often mark the difference between winning and losing a close game.

There are 15 slots allowed in competitive tournaments and often you will wish you could have double that. A discussion of popular and effective sideboard cards can be found below.

Magic the Gathering

is a number centric game and this deck shines a spotlight on how complex the math of building a deck correctly can really get. Ensuring you have the right mix of these categories of cards will allow the deck to function but there is still little consensus on what is

optimal

.

---

---

Currently in progress

Let me know what you would like to have included in this and other card specific sections!

A hard counter for mana is amazing. The drawback of it only affecting cards with a converted mana cost of might seem too narrow at first, but when you look at the most commonly played (and most powerful) cards in the format, it becomes immediately apparent that is a very important number in the format. Playing two copies of

Spell Snare

in the seventy-five goes a long way to making sure this deck can get a foothold at the beginning of the game.
Last edited by
Lantern
: Jan 24, 2017

Active EDH Decks
Edric, Spymaster of Trest - Elfball
Oloro, Ageless Ascetic- Doomsday!
Ephara, God of the Polis - Blink + Control
Glissa, the Traitor - Stax & Lands
Maelstrom Wanderer - Goodstuff RUG
Mayael the Anima - Timmy
Prossh, Skyraider of Kher - The One Hit Wonder
Marath, Will of the Wild - Old-school Enchantress Hate
Aurelia, the Warleader - Equipment Aggro
Reki, the History of Kamigawa - Legends + Banding
Sedris, the Traitor King - Creatures with
: Ability
Phenax, God of Deception - Mill
*Sidenote, I specifically excluded infinite combos from all these decks with the exception of Marath and the squirrel nest + Earthcraft combo.
Horde Deck - Rise of the Cybermen
Looking for something Aggressive in modern? Try - BR Aggro