Zx_xZ
Join Date:

9/15/2011

Posts:

774

Member Details
This thread is now outdated. New thread can be found here
Modern DredgeVine Primer
Section 1: What is DredgeVine
DredgeVine as a deck has evolved constantly over the years to cope with new metas, new printings and new ideas. However the core focus of the deck remains the same. DredgeVine fills its graveyard to swarm the field with cheap recursive creatures, the most powerful of which being the decks namesake,
Vengevine
. DredgeVine excels at aggressively swarming the field with powerful threats, playing a grindy game, and quickly destroying opposition with a powerful alpha strike of strong, hastey creatures. While most decks rely on their hand to cast spells, the fact that DredgeVine can use the power of the graveyard as a resource at all stages of the game gives it a strong and unique play-style with great resilience to common answers.
Section 2: Building DredgeVine
DredgeVine has many builds that can be considered viable. All five of the colors can be used depending on how you wish your deck to play, but the two that every deck will want in its repertoire are access to BLACK and GREEN . Black gives access to recursive threats that help further the game plan like
Gravecrawler
and
Bloodghast
and contains the majority of creatures with the ability Dredge. Green allows you to run mana fixers like
Birds of Paradise
and
Satyr Wayfinder
, as well as allowing you to hardcast
Vengevine
.
Section 2.1: Creatures
Vengevine: The namesake of the deck. 4 power with haste coming out in multiples as early as turn two or three is a threat not many decks can deal with. Always run four, no matter what the rest of your build looks like.
Gravecrawler: Gravecrawler is an aggressively costed creature that can be cast from the graveyard. The fact that it says cast is a major bonus because of the synergy it provides in conjunction with Vengevine. Most list will want to run four, although an argument could be made for three.
Bloodghast: Bloodghast provides large amounts of pressure to the opponent. A 2/1 that will almost always present a clock no matter how much removal that is thrown its way terrifies control decks, however the fact that it cannot block makes it weak against aggressive decks. This fact along with DredgeVine's habit of hurting itself with greedy shock+fetch manabases is a reason for many to cut Bloodghast from lists alltogether. If you are going to run Bloodghast, you will always want four.
Lotleth Troll: Troll has it all going for him. Zombie typing for Gravecrawler, Evasion, an ability that makes him a huge threat while removing unwanted chaff from our hands like Vengevine and Bloodghast, and regeneration to make him even more resistant to removal. There is no deck that wants to face down a turn 2 6/5 regenerating, trampling behemoth. Almost always run four.
Hooting Mandrills: Vengevine loves one drops, and everyone loves one drop trampling 4/4's. Mandrills is immune to bolt and presents a major clock on its own, however too much delve in a graveyard based deck causes problems. I would not run 4, but if you are going to run it two to three is ideal.
Birds of Paradise: A one drop for recurring Vengevine, a mana accelerant, and a flying beater if pumped through several of the packages detailed below. Birds is relevant in every stage of the game.
Satyr Wayfinder: Wayfinder has an amazing ability, but a 1/1 for two is lackluster. Running at least two is nice for the mana fixing and mill, but four is excessive because of the shrimpy combat stats.
Varolz, the Scar-Striped: One of the more popular new package additions. Varolz turns everything dead into a permanent pump spell. The sacrifice regenerate stops common exile removal, and is major buddies with our next contender.
Death's Shadow: A really underestimated card on all fronts. One drop for Vengevine, super strong stats late game, and the package deal with Varolz. Scavenging a Shadow will give a creature +13/+13 permanantly for a 1 mana investmant. If thats not a way to win games, I don't know what is. Many people dislike Shadows inability to be much of anything in the early game and run him as a two of, but I swear by four of them if you are running Varolz.
Tymaret, the Murder King: A little bit of reach never hurts. Not being able to attack devastates DredgeVine, so a one of Tymaret in the main or side is a popular addition.
Stinkweed Imp: Cards with actual dredge have fallen out of favor because of inconsistency and weakness to the ever popular Pod and UR Delver. Stinkweed Imp is an unbeatable blocker and has the highest available dredge count legal in Modern.
Golgari Thug: The creature with the second highest dredge count in modern. Golgari Thug has lackluster combat stats as with most dredge creatures, but makes up for it with utility. The death trigger on Golgari Thug can range from amazingly useful to absolutely terrible depending on the situation.
Hedron Crab: The poster child for builds running blue. Does everything the deck wants. If you are not playing Bloodghast, remember to pop fetches in response to your own Hedron Crab triggers so you don't accidentally miss the land you are looking for, especially in such a mana greedy deck.
Magus of the Bazaar: The second lead creature for blue builds. For self milling with Dredge cards, no one beats Magus. She is very weak to removal however. If she lives till your untap step, you are in a very advantageous position. Not reccomended unless you are going balls deep into the dredge plan.
Fatestitcher: Fatestitcher is the major blue utility creature. In full dredge builds, Stitcher was used to untap Magus of the Bazaar, be a free* zombie for Gravecrawler, and do all sorts of combat tricks and utility tapping/untapping. With the fall of full dredge builds, Fatestitcher is not often seen but still has the potential of an amazing utility creature.
Skaab Ruinator: Big, castable from the graveyard and evasive. Skaab Ruinator is expensive and the drawback of exiling 3 creatures from your grave on cast is a doozy. Be careful if you choose to run it with anything with delve or without much mill.
Essence Warden: A sideboard choice against Aggro or Token decks. DredgeVine tends to put a lot of things onto the field so Essence Warden gains a lot of life over the course of a game.
Tasigur, the Golden Fang: A sidegrade to Hooting Mandrills. Tasigur trades trample for a point of toughness and an amazing ability which really helps in long grindy matchups. I would usually choose to only run one of the delve creatures, and 2-3 still feels like the correct number.
Gurmag Angler: Yet another Hooting Mandrills sidegrade. Angler trades trample for a point of p/t and much better typing. If you enjoy the high power and toughness brought by the delve creatures, but would like more zombies for the sake of Gravecrawler Zombie-Fish is the way to go.
Golgari Grave-Troll: Finally unbanned. Took ya long enough Wizards! Grave-Troll has less utility than the other available dredge cards, yet it just does everything bigger. Bigger mana cost, bigger body, and bigger dredge count. Its very hard to reach 5 mana to cast him, but a 20+ p/t dude is hard to say no to, even with no evasion. Dredge creatures are still controversial, so run some mix involving Grave-Troll if you don't mind losing out on the utility of Golgari Thug and Stinkweed Imp.
Splinterfright: Some people have run Splinterfright to great success, and I can see why it would be appealing. A large, relatively cheap creature with Trample and an ability that helps itself grow and helps to fill your graveyard. However the truth of it is that it is extremely weak to graveyard hate which already hurts enough.
Last edited by
Lantern
: Nov 20, 2015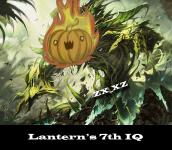 "I am disillusioned enough to know that no man's opinion on any subject is worth a damn unless backed up with enough genuine information to make him really know what he's talking about."
-H. P. Lovecraft
Unless you have Vengevine in your deck and your username is ZX_XZ, you should not be milling anyone.