FZA
Join Date:

7/30/2012

Posts:

1,332

Member Details
UWr Midrange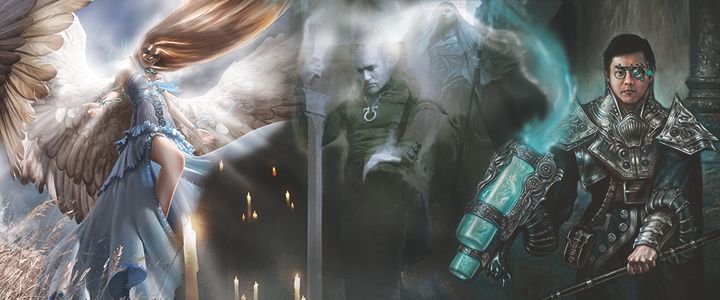 Introduction: Why play this deck?
UWr Midrange (also called Geist of Saint Win after our favorite friendly ghost) is a tempo deck that originated as a "Delverless" version of the WUR Delver deck, when its creator decided that
Delver of Secrets
couldn't handle all of the good removal that Modern has to offer. Thus, UWr Midrange was born.
If you like a deck that is highly interactive and has answers to a lot of things, or if you are just downright competitive, this could be the deck for you. It has had tons of success lately and is regarded by many as currently the best deck in the format. Unfortunately because of the deck's success and popularity the price has gone up pretty quickly, so if you're looking to build on a budget, you may be best looking elsewhere.
Card choices
Creatures
Geist of Saint Traft
Your MVP of the deck. Geist is an incredibly efficient threat that is also very difficult to remove once in play. Sticking a Geist turn 3 with some removal backup will mean a win in many cases. It is legendary, but most lists still run 4 because it is just
that
good. A lot of times you will ride to victory on the back of Geist alone.
Snapcaster Mage
The other core creature of the deck, Snappy is almost always played as a 4-of as well. With all of the great cheap removal/burn/counters that we play, this is the perfect deck for Snap to shine in. He doesn't require a lot of explanation; you get to reuse your spells and get a 2/1 body to boot. Sounds good to me.
Restoration Angel
I'm honestly not sure what Wizards was thinking when they printed this card. She saves your Geists from combat damage, saves your other guys from targeted removal, and abuses ETB effects, together with a 3/4 flying body. All of this for a mana cost of 3 . For these reasons almost all builds run at least 2 Angels.
Vendilion Clique
Here's where we finally run into a little bit of debate. While the majority of lists run Clique, there are a few compelling reasons not to. Clique is one of those cards that shines in certain matchups but is downright bad in others. It is awesome against combo for sure, but terrible in the mirror (you don't wanna be playing X/1's against any deck running
Electrolyze
). If you are going into an unknown or fairly "normal" meta, I'd say run a couple of Cliques, but if you know your meta is heavy with UWR Midrange or Control then I'd probably skip it.
The above 4 creatures are the most commonly run, but there are others that deserve a look as well:
Kitchen Finks
Finks is great against any kind of aggro. With Restoration Angel you can "reset" a Finks with a -1/-1 counter on it, having it gain you a net total of 8 life instead of 4. Pretty sweet for a CMC of 3. I'd avoid it against any deck playing Path to Exile however. A lot of people (myself included) don't run Finks in the main but have a few in the SB for aggro matchups.
Aven Mindcensor
This is really underrated card in my opinion. It straight up stops Pod, Tron, Gift Control and Scapeshift decks in the their tracks, and is very good against any deck running lots of fetches. Not to mention it can beat through the air as well. I run two of these main board.
Thundermaw Hellkite
Run as a one of in many builds, Hellkite is a really great curve topper, particularly against decks that run
Lingering Souls
.
Other spells
Lightning Bolt
The classic burn spell, 3 damage for 1 mana, not much to be said here. Removes creatures and can be a finished shot to the dome.
Path to Exile
The best creature removal in Modern. Exiles any creature for 1 mana. The drawback is not too bad either. Considering all of the creatures with "dies" effects that people run (Finks, Wurmcoil Engine, etc) path is indispensable in the current format.
Electrolyze
At best it will kill two of their creatures and draw you a card. At worst, it's 2 to their head and a card. No matter which way you spin it, Electrolyze is a very versatile tempo spell that fits the philosophy of our deck perfectly. It's an absolute powerhouse against Lingering Souls and Affinity.
Remand
For a tempo deck this is the best counter spell we can run. Cantrips and slows down the opponent; another card that is perfect for this deck.
Mana Leak
It's pretty much always a hard counter in the early game. Late game it loses power significantly, but still a very good counter to run.
Spell Snare
Notable 2 CMC spells in Modern: Tarmogoyf, Dark Confidant, Snapcaster Mage, Cranial Plating, the list goes on and on. Stopping all of these spells for one mana is really nice. Also, Snare is great for winning "counter wars" as it hits both Remand and Mana Leak.
Lightning Helix
A 6 life swing is very nice for 2 mana. It's the second best burn available to us after Lightning Bolt, and the lifegain really helps against aggro and to offset life loss from shocklands.
Cryptic Command
Seen in more control-oriented builds, Cryptic is extremely versatile and a force to be reckoned with. Run a couple if you'd like, but most lists don't. This is really a personal choice.
Izzet Charm
Another card that is seen in some builds, the upside is that it has 3 options, the downside is that none are particularly great. Run a couple if you want the versatility.
Mana base
Celestial Colonnade
This man land is an awesome late game beater, and early game it helps color fixing by providing both and . The activation cost is a little high, but it has vigilance so you can tap it for mana later. All around just a great late game threat as it survives sweepers and
Abrupt Decay
.
Shocklands (
Hallowed Fountain
,
Steam Vents
,
Sacred Foundry
)
The color fixers of choice in Modern, as they can be fetched and only have a slight initial drawback. Having access to blue mana is critical, so most lists run 2 Fountains, 2 Vents, and 1 Foundry.
Fetchlands (
Scalding Tarn
,
Arid Mesa
,
Misty Rainforest
)
You'll want to run at least 6-8 of these to fix your colors. I personally run 9, but the exact number is not extremely important. The more fetches you have the more consistent your mana base will be but at a certain point it starts to become somewhat suicidal as the life loss does add up.
Checklands (
Sulfur Falls
,
Glacial Fortress
)
A good supplement to shock lands for color fixing; once you have a shock land in play these will always ETB untapped.
Tectonic Edge
In a format where Tron decks and manlands are popular, it's good to have something that can deal with them. Though it's no
Wasteland
by any means, Tec Edge still gets the job done when needed.
Eiganjo Castle
Most lists run this as a one of, its purpose is to save Geist or Clique when necessary. Quite useful.
Sideboard options
Luckily for us, the colors red, blue, and white have access to some of the best sideboard options out there.
Kitchen Finks
As mentioned before, if you aren't running these main, you'll want a couple in the board as they help aggro matchups a ton.
Stony Silence
Affinity and Eggs are decks. Stony Silence shuts them down completely. It is also good against GR Tron, as without working Expedition Maps and Chromatic Stars/Spheres, it is really tough for them to execute their game plan. Against Mono Blue Tron it stops Mindslaver and their Talismans (which may be their only source of blue mana).
Rest in Peace
The most powerful and absolute grave hate out there, it completely clears out all graves and stops anything from going in for as long as it's on the battlefield. RiP stops decks like DredgeVine and Reanimator, turns Goyfs into useless 0/1s, and stops any combo that relies on graveyards at all (e.g. Melira Pod). If you bring in these you probably want to board out Snapcaster as it's kind of useless with RiP in play.
Supreme Verdict
/
Wrath of God
Sweepers are good against any kind of all in aggro deck like Gruul Zoo or Affinity. Be careful though because you don't really want your Geists to die unless absolutely necessary.
Celestial Purge
Unconditional exile stops Splinter Twin and Kiki Pod combos, and is great against any black or red deck.
Combust
Another great removal card to stop Splinter Twin and Kiki Pod, with the extra benefit of being uncounterable.
Sowing Salt
Resolving this against Tron or Scapeshift means good game a lot of the time. Downside is its high mana cost.
Spell Pierce
/
Negate
Great counters against combo when you aren't worried so much about creatures.
Engineered Explosives
Another nice fast sweeper that's strong against aggro.
Sample Decklists
Last edited by
FZA
: Apr 30, 2013
Current Modern decks
Junk / Grixis Shadow / Lantern Control / Bant Eldrazi

Current Legacy decks
Shardless BUG / Predict Miracles / Canadian Thresh / 4c Loam
Reanimator