izzetmage
Join Date:

7/16/2011

Posts:

6,671

Member Details
Ascendancy Storm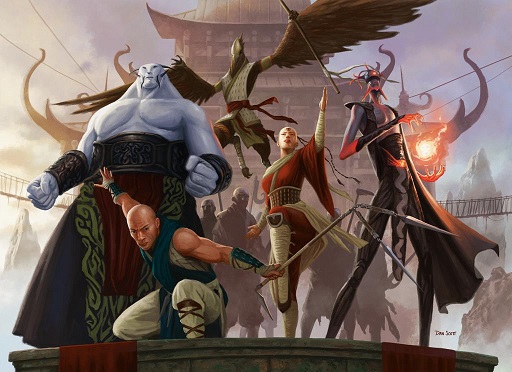 Also known as: Glitter Storm, Jeskai Ascendancy with green, 4C Jeskai Ascendancy, Jeskai Ascendancy 1.0 (without Fatestitcher), Jeskai Ascendancy 1.5 (with Fatestitcher)
Contents
1) What is Ascendancy Storm?
2) Card Choices
3) Deck Construction
4) Technical Play
5) Decklists
6) Articles
1) What is Ascendancy Storm?
Ascendancy Storm is a 4-color combo deck. The basic engine is
Jeskai Ascendancy
+ mana dork. The rest of the deck is filled with cheap cantrips (1-mana spells that draw a card or cards). You tap the mana dork for 1 mana, and use that mana to cast a cantrip. Jeskai Ascendancy will trigger, untapping the mana dork and looting (draw+discard) once. By untapping the mana dork, you basically get to cast the cantrip for free. This lets you draw through your entire deck.
With multiple Ascendancies or mana dorks, you can actually generate mana, instead of merely breaking even. You win by 1) Wishing for your sideboarded wincon (
Flesh // Blood
), 2) beating down with an Ascendancy-boosted creature (it pumps the mana dork too!).
Please don't confuse this Ascendancy Storm with the
other
Ascendancy Storm (in Standard): the one that uses Ascendancy + creature +
Retraction Helix
/
Banishing Knack
+ 0-cost artifact to generate unlimited triggers/Storm. That deck is completely different (and much more inconsistent, IMO), so I won't be discussing it here.
Please also don't confuse this Ascendancy Storm with the UWR version. That version is slower and packs a lot more controlling elements. They're different enough to warrant separate threads for discussion. You can find the thread for UWR Ascendancy
here
.
Why should you play Ascendancy Storm?
1) High level of redundancy. You can play 12+ mana dorks and effectively 7 copies of Ascendancy. You also have something like 20 cantrips in the deck to find what you want faster.
2) Wishboard.
Glittering Wish
isn't just a way to get a copy of Jeskai Ascendancy. It also grabs answers to hate cards that your opponent might have, even in Game 1.
3) Potentially fast kills. The fastest kill with Ascendancy Storm is turn 2:
T1 land, mana dork
T2 land, Ascendancy,
Gitaxian Probe
(paying 2 life). You can now untap your mana dork and combo off.
4) Resistance to grave hate. With the exception of
Treasure Cruise
, Ascendancy Storm does not require the use of its graveyard, unlike UR Storm. Even then,
Relic of Progenitus
is merely a soft-counter to Treasure Cruise. If you have priority and 7 cards in your graveyard, your opponent can't stop you from casting Cruise, since Delve is part of the cost. The best they can do is pop Relic before you get 7 cards in your graveyard and hope that you fizzle before you can get another 7.
Why shouldn't you play Ascendancy Storm?
1) Chance of fizzling. Even with the untouchable
Sylvan Caryatid
, Ascendancy Storm is still a combo that requires 2 cards
and
has a chance of fizzling. Compare this to other combo decks in Modern: Twin, Scapeshift and Ad Nauseam don't fizzle, and UR Storm only needs one engine card (PA/Mancer).
2) Too many colors. This hurts you two ways: one, your mana base deals a lot of damage to you, with constant fetching for untapped shocklands. Two, you have to keep track of a lot of colors during the combo. Some people use dice, some people write it down on a piece of paper. Be aware of this overhead.
3) Weakness to removal. One half of the engine is an easily-killed, summoning sick mana dork. Sylvan Caryatid is immune to most removal though.
4) Time. You will have to draw through a large portion of your library, which takes upwards of five minutes. This is especially a concern on MTGO.
2) Card Choices
a) Engine: Ascendancy
Staples:
Jeskai Ascendancy
: The sole reason this deck is possible. Unfortunately, you can only play 3 maindeck, because you need one in the sideboard to Wish for.
Glittering Wish
: Ascendancies 4-7, plus any card in your sideboard. Glittering Wish is much cheaper than other tutors, costing only 2 mana.
Wish exiles itself on resolution, so it doesn't feed the graveyard for Treasure Cruise, and you can't use, say, Treasured Find to bring it back. However, if Wish is countered, it goes to your graveyard.
Wish can't be used to retrieve a card in exile. This used to be the case before 2009, but the
rules have changed
.
Play 3 Ascendancy and 4 Wish. Avoid other tutors (
Idyllic Tutor
,
Supply // Demand
,
Drift of Phantasms
); 3 mana is too much and they're dead mid-combo.
b) Engine: Mana Dorks and Land Animation
IMPORTANT NOTE:
Your mana dorks MUST be able to tap for blue mana. If they don't, you can't cast your cantrips.
Staples:
Birds of Paradise
: The best mana dork for this deck. It costs the least amount possible, taps for every color, and has flying for when you have to win by beatdown.
Noble Hierarch
: Second best mana dork. It taps for 3/5 colors. No red means you need some other red source (Stomping Ground,
Manamorphose
,
Mana Confluence
) to cast Ascendancy, and no black means the same for some Wished cards e.g.
Slaughter Games
.
Sylvan Caryatid
: Hexproof mana dork. This takes a load off your back, since you don't have to worry about it getting killed. In exchange for that it costs 1 more mana to cast. And it has defender, so attacking for 20 isn't an option.
Fatestitcher
: An alternative, hasty mana dork. You use it to untap your lands, so it has the same effect as Birds/Hierarch/Caryatid. Here's a breakdown of the advantages and disadvantages of Fatestitcher compared to mana dorks:
Advantages
- It basically costs 0 mana on the combo turn, since it has haste and pays for itself by untapping a land. With a Stitcher in the graveyard, you can win on 4 lands: tap 3 for Ascendancy, tap 1 for Stitcher, tap Stitcher for a cantrip and combo off.
- It is safe from sorcery-speed removal. In addition, it can't be killed by Abrupt Decay. (Of course, the other player will save Decay for Ascendancy, but you might be able to tap their lands, empty their mana pools, and cast Ascendancy.)
- It can't be countered by traditional means, as unearth is an ability.
- It effectively turns one loot into a draw.
- It can tap down your opponent's permanents, such as their lands, or a
Trinisphere
(lol). Its ability also makes it easier to win by attacking; just tap all their blockers.
If you tap down your opponent's lands, you need to enter the second main phase to empty their mana pools.
- It can be unearthed midway through the combo. Once you do that, you get back 2 mana per spell. Cantrips which cost 1 mana now put you ahead instead of breaking even.
Disadvantages
- It needs to be put in the graveyard first, which means playing Faithless Looting or Thought Scour. Alternatively, you need an Ascendancy and 2 cantrips. Cast Ascendancy, then cast a cantrip. Trigger Ascendancy's loot and discard Fatestitcher. Then unearth Fatestitcher and combo off. Note that you can do this over two turns, e.g. T3 Ascendancy > T4 cantrip and combo off.
- It uses the graveyard, so it can be hated on (by
Scavenging Ooze
for example).
- It needs a blue source that can be used indefinitely in order to combo off, i.e. basic Island or Breeding Pool. Mana Confluence pings you for 1 each time you tap it for mana and Gemstone Mine is gone after at most 3 uses.
Play 12 mana dorks. The traditional build has 4 each of the green ones. The Fatestitcher build has 4 each of Birds, Hierarch and Fatestitcher.
Other choices:
Wind Zendikon
: This card turns one of your lands into a creature, so it gets the benefit of untapping from Ascendancy. It also counts as a noncreature spell, so it triggers Ascendancy mid-combo.
Postmortem Lunge
: Another hasty mana dork. When you pay black mana for it, it acts the same as a Zendikon. However, it is a lot less consistent. A deck with 8 mana dorks and 4 Zendikons can still win if it draws 0 mana dorks and 1 Zendikon. The same can't be said of a deck that plays 8 mana dorks and 4 Lunge.
Kiora's Follower
,
Hydroform
: You can Wish for them.
Lifespark Spellbomb
: More expensive Zendikon, with the option of cantripping if you have more mana than cards.
Bloom Tender
: It taps for 4 mana with Ascendancy out. Unfortunately it costs 2 mana, competes with Caryatid, and does not actually help you cast Jeskai Ascendancy (it doesn't tap for U/W/R until you already have one permanent of that color).
Fatestitcher analysis (vs Zendikon):
Trivial case: you don't have Ascendancy. You're not winning, regardless of what you play.

Case 1: Ascendancy, 0 cantrips in hand. With Zendikon you can cast it, loot, and hope to draw into a cantrip and continue the combo. With Fatestitcher you can't do anything. It's still a long shot for Zendikon, since the moment you don't draw a cantrip you fizzle.

Case 2: Ascendancy, 2 cantrips in hand.
2a: Zendikon
Cast Zendikon (-1 mana), loot (draw 1 discard 1).
Tap Zendikon (+1 mana).
Cast cantrip (-1 mana, untap Zendikon), loot (draw 1 discard 1), resolve cantrip (draw 1).
End result: You spent 1 mana, have an untapped Zendikon on the field, drew 3, discarded 2.
2b: Fatestitcher
Cast cantrip (-1 mana), loot (draw 1 discard Fatestitcher), resolve cantrip (draw 1*).
Unearth Fatestitcher (-1 mana), tap Fatestitcher (+1 mana).
Cast cantrip (-1 mana, untap Fatestitcher), loot (draw 1 discard 1), resolve cantrip (draw 1).
End result: You spent 2 mana, have an untapped Fatestitcher on the field, drew 3, discarded 1. OK, strictly speaking you discarded 2, but you cast Fatestitcher from your graveyard so that counts as +1 card.

Case 3: Ascendancy, 1 cantrip in hand.
Similar to case 2, but you need to draw a cantrip at the point marked with a *.
Postmortem Lunge analysis (vs Zendikon):
Cast
Postmortem Lunge
targeting Birds/Hierarch with 3 lands: net result is you
lose 2 life
, have
2 untapped lands
, and
1 hasty mana dork
.
OR if you paid black instead of 2 life, you have
1 untapped land
and
1 hasty mana dork
.
Cast
Wind Zendikon
with 3 lands: net result is you have
1 untapped land
and
1 hasty mana dork
.
c) Cantrips
Staples:
Serum Visions
,
Sleight of Hand
: The basic cantrips for any base-blue combo deck. These are vital to the functioning of your deck.
Gitaxian Probe
: It cycles for 1 mana, which is acceptable. You also have the option of casting it for 2 life to dig a little bit deeper for a land in the early-game, or to untap your mana dorks for 0 mana mid-combo. Oh and it lets you look at your opponent's hand as well.
Manamorphose
: This card cycles for a net 0 mana, filters into red for Ascendancy if you only have Noble Hierarch, and untaps your mana dorks mid-combo. It can get a bit clumsy early-game (you have to decide, before drawing, whether you want UU, UG or GG for mana dorks and cantrips) and mid-combo (it's useless if you only have 1 mana floating, which can happen if you tapped low for Ascendancy and tried to combo off immediately).
Treasure Cruise
: The best card in the deck mid-combo. It basically draws 3 cards for 1 mana, which is insane. You'll need it to avoid fizzling. Even pre-combo, it has some utility; you're playing mana dorks after all, so it's not unreasonable to cast this for 3 or 4 after fetching/cantripping a little.
Thought Scour
: This card fills up your graveyard for Treasure Cruise, and if you get lucky you might mill a Fatestitcher. It's also a wincon with Wheel of Sun and Moon (more on that later).
Faithless Looting
(Fatestitcher build): This is necessary to get Fatestitcher in the graveyard pre-combo. It costs red mana and is useless if it's the only card in your hand, but it has flashback. The flashback cost is seldom a problem in the Fatestitcher build because it generates so much mana.
Play 4 copies of Serum Visions, Gitaxian Probe, Manamorphose and Treasure Cruise. Some players play only 3 Cruise, which I don't recommend.
Other options:
Cerulean Wisps
: Works the same way as Manamorphose; it cycles for net 0 mana if you have a mana dork out. However, it requires a target to cast, and if the target gets killed in response, it's countered on resolution and you don't get to draw.
Ideas Unbound
: Treasure Cruises 5-8. It costs 1 more mana, which may leave you stuck mid-combo if you haven't got a second mana dork or Ascendancy yet. It can be casted before the combo to loot.
Chromatic Star
,
Chromatic Sphere
: They fix your mana, like Manamorphose, but for net 1 mana instead of 0. Star is better because if it gets destroyed for some reason, you still get to draw.
Conjurer's Bauble
: It lets you bottom-deck a card, which is mildly relevant. Two Baubles can loop indefinitely.
Note that the bottom-decking is optional, so if you want to keep your graveyard stocked for Treasure Cruise you can do so.
Peek
,
Quicken
,
Visions of Beyond
,
Whispers of the Muse
: More cantrips with low utility.
Abundant Growth
: It lets any land tap for blue, which is useful with Fatestitcher or Wind Zendikon. However, outside of that situation it's worse than any other cantrip, because it doesn't feed the graveyard for Treasure Cruise.
Crimson Wisps
: This lets you grant haste to a mid-combo mana dork. You need to have a lot of cards in hand before you can make that play safely though.
d) Wincons
Staples:
Flesh // Blood
: Cheap, Wishable wincon. Equivalent to Grapeshot, since Ascendancy pumps 1 power every time you cast a noncreature spell. Unlike Grapeshot though, it doesn't use up maindeck space.
Other options:
Grapeshot
: It does nothing to extend your combo, and you can't discard it unless beatdown is an option. If you play Grapeshot, avoid looting with Ascendancy when you're down to 2 cantrips in hand. If you cast one cantrip and draw Grapeshot, you're stuck – you either have to discard the cantrip and win with your current board state + Grapeshot, or discard Grapeshot and win with beatdown.
Wheel of Sun and Moon
(with Thought Scour): Wheel + Thought Scour + any cantrip results in infinite mill. Here's how it works:
1) Get yourself down to 1 card in your library.
2) Cast Wheel of Sun and Moon, enchanting yourself.
3) Cast Thought Scour, targeting your opponent for the mill. Draw the last card in your library. Thought Scour goes back into your library after resolving due to Wheel.
4) Cast a cantrip. It doesn't matter what the secondary effects are, you just need it to draw you a card. Draw Thought Scour. The cantrip goes back into your library.
5) Repeat steps 3-4.
Do note that this wincon is not feasible on MTGO. It simply takes too long.
Play 1 Flesh//Blood in the sideboard. All other wincons are optional.
e) Lands
IMPORTANT NOTE
: The two main colors in this deck are blue and green. All your early plays cost one mana in either of these colors. Any land that does not tap for either color should not be up for consideration. Green is a bit more important because you can cast mana dorks with it and then use the mana dorks to cast cantrips, whereas you can't cast cantrips followed by mana dorks if you only have blue-producing lands.
Fetchlands: Obvious includes. They get all your shocks, feed your graveyard, and thin your deck ever so slightly. Play the Gx ones.
Shocklands: You need Breeding Pool (taps for both main colors), Stomping Ground (taps for red if your mana dork is Hierarch), Temple Garden (taps for white, for Wish). In the Fatestitcher build, you can play Ux shocklands, since Stitcher costs and requires a blue source to cast cantrips during the combo.
Mana Confluence
: It taps for all colors, which is super useful in this deck. The downside is that it costs 1 life every time you do so. Playing this as your first land will rack up life payments fast.
Basic lands: It's possible to do without these. They can be played at no cost to your life during the combo turn. Also, including basic lands leaves you with a consolation prize should your opponent play
Path to Exile
on your mana dork.
Basic Island is better than basic Forest, because casting Ascendancy + a cantrip in one turn consumes , and Forest doesn't pay for any of that.
Dryad Arbor
: Sac fodder for Liliana. It's not that useful as a mana dork because it doesn't tap for blue.
Gemstone Mine
: It works up to 3 times with Fatestitcher, and feeds the graveyard once it's exhausted.
Play 15-16 lands. Historically, this number is appropriate for combo decks looking to draw through a substantial portion of their library – a low land count is good, because you are less likely to draw lands during the combo. UR Storm plays 16, Eggs played 17, Extended Elves played 17. 16 lands is definitely not too low because you're playing both cantrips and mana dorks.
f) Sideboard
3) Deck Construction
There are two different builds of this deck: the traditional build with regular mana dorks, and the Fatestitcher build. Regardless of which build you're playing, your deck should satisfy the following criteria:
1) 12 mana dorks. The traditional build plays 4 Birds, 4 Hierarch, 4 Caryatid. The Fatestitcher build plays 4 Birds, 4 Caryatid, 4 Stitcher. Hierarch is cut because it doesn't tap for red (Faithless Looting), and is easier to remove.
2) 4 of each of the important cantrips. That means Serum Visions, Gitaxian Probe, Manamorphose, Treasure Cruise.
3) Some way of generating mana mid-combo, other than Probe and Manamorphose. In the traditional build this means Cerulean Wisps or Crimson Wisps. The Stitcher build has Fatestichers.
The Stitcher build plays Faithless Looting and Thought Scour to get Stitchers into the graveyard pre-combo. It doesn't need Cerulean Wisps, because sometimes it simply can't be cycled pre-combo due to the lack of targets (e.g. a Stitcher in the graveyard and no other creatures on the battlefield). Crimson Wisps is also cuttable, since Fatestitcher performs the same function.
You can play one or two
Silence
main. It's a lifesaver against decks with counterspells, and pre-emptively stops
Abrupt Decay
, so you can cast Ascendancy and combo off unhindered. Against other decks you can burn it early to "Time Walk" your opponent, loosely speaking.
Don't play 1-ofs that form a true infinite loop and justify them with "it reduces the combo time" (e.g. the Retraction Helix combo). You will end up having to dig for those 1-ofs anyway, turning over a large portion of your library, so you don't actually save any time.
4) Technical Play
Land Sequencing
The first land you want to fetch is Breeding Pool – it lets you cast both mana dorks and cantrips. After that, get Temple Garden for Glittering Wish/Jeskai Ascendancy. If you casted a Noble Hierarch, get Stomping Ground instead.
Ascendancy Triggers
1) Tap all your mana dorks. Refer to the section below for which colors you should generate.
2) Cast the cantrip. Announce the untap trigger(s), then the loot trigger(s).
3) Resolve the loot trigger(s).
4) Resolve one untap trigger. Untap your mana dorks. If you still have untap triggers, tap your mana dorks for mana, then resolve the next untap trigger.
4x) WHEN CASTING CERULEAN WISPS: Tap the mana dork that you targeted with Wisps for mana.
5) Resolve the cantrip.
As far as I know, you can't choose to resolve the cantrip before the loot trigger.
Some shortcuts when goldfishing or playing with people who trust you. The following assumes a board state of 1 untapped mana dork, 1 Jeskai Ascendancy:
Casting cantrips: Loot, then resolve the cantrip.
Cerulean Wisps/Manamorphose: Loot, add 1 mana to your mana pool, then draw a card. If you target Hierarch with Wisps, you only have 3 colors to choose from. If you play Manamorphose, check that you have at least 2 mana floating before you cast it.
Multiple Ascendancies and/or (untapped) mana dorks: multiply the number of mana dorks with the number of Ascendancies, then subtract the cost of the cantrip (usually 1). Add that much mana to your mana pool. Or just ask your opponent to scoop, you're going to win anyway
.
Which colors to generate during the combo
This will vary depending on your build. Generally, before the second Ascendancy/mana dork, I'll choose to float 1 blue, then 1 red, then 1 white. Blue is for cantrips, red is for Manamorphose, and white is for the second Ascendancy.

After the second Ascendancy/mana dork, I'll float 1 blue, 1 green, 1 white, then 1 green. I float white after green if I need to Glittering Wish, then green on top of that for Bound//Determined (Wish target).

If your only mana dork is Noble Hierarch, make sure you have a Manamorphose to generate red for Flesh//Blood.
Comboing off
The two most important cards when comboing off are:
1) Treasure Cruise
2) a second Jeskai Ascendancy, or a Wind Zendikon/Fatestitcher/Crimson Wisps+mana dork (if you don't already have 2+ mana dorks)
Treasure Cruise fills up your hand at a very low cost. It gets you out of situations where you only have a few cards in hand and a series of bad draws will end you. It draws past land clumps – if you desperately need draw spells to keep going, another cantrip might just draw 1 card, which turns out to be a land. Then you lose. Treasure Cruise digs 3 cards deep for that vital spell, and on top of that, you get to keep whatever junk cards you drew as discard fodder. A combo turn can often turn into a race towards the nearest Treasure Cruise from the top of your library. It's vital in this deck, and I think playing 4 is worth the risk of drawing them early.

The second Ascendancy/mana dork breaks you out of the 1-3 mana barrier. Once you get it down, you have a lot more options – you can Wish for something as mundane as Bound // Determined, simply because you have so much mana. Or cast a third Ascendancy just to loot twice. Every spell you cast now loots 2 instead of 1, digging twice as fast towards that vital Treasure Cruise.

Leave your mana dorks untapped until you need the mana (if you have extra dorks/Ascendancies, then go ahead and tap the extras). When you draw more cards, you get more information, so you can plan your mana expenditure better. You should loot before you untap, for the same reason.

These cards can be safely pitched to Ascendancy;
lands
mana dorks
any Ascendancy past the second, or any Ascendancy that you won't be able to cast soon
Glittering Wish, provided you don't need it to grab stuff from the SB

You should always use the loot trigger on Ascendancy, unless you have a comfortable number of draw spells in hand that fizzling is not an issue, and are seeking to maximize your storm count before reaching the end of your library.
The Fiery Justice-on-Spellskite Trick
If you have a hatebear or hatebears that you want to kill with Fiery Justice, but your opponent has Spellskite, just aim 1 damage at the Spellskite and the rest at the hatebears. This works because players can't target the same creature more than once. If Spellskite is already targeted for 1 damage, it can't redirect more damage onto itself. See
this
link, "Spellskite and Multiple Target Spells".
Tip for Cockatrice players
: Sideboard is Ctrl-F3.
5) Decklists
6) Articles
Sam Black:
http://www.starcitygames.com/article/29394_The-Return-Of-The-Turn-2-Kill-.html
Kar Yung Tom and Noah Long:
http://manadeprived.com/captains-log-15-noahs-ascendancy/
Sam Pardee:
http://www.channelfireball.com/articles/pardee-time-jeskai-ascendancy/
GP Madrid coverage:
http://magic.wizards.com/en/events/coverage/gpmad14/deck-tech-stitch-your-own-fate-2014-11-16
Brian DeMars:
http://www.starcitygames.com/article/29799_On-Blue.html
Public mod note!
Banlist discussion is prohibited outside of the official ban thread. If you want to talk about bannings in relation to this deck, please do so there. The MTGS Modern subforum rules are very clear on this point. One-time offenders will be warned. Repeat offenders will be infracted.
-ktkenshinx-

|
Storm
|
Ad Nauseam
|
Infect
Big Johnny.