ktkenshinx
Join Date:

1/27/2010

Posts:

15,668

Member Details
UPDATED: 9/19/2013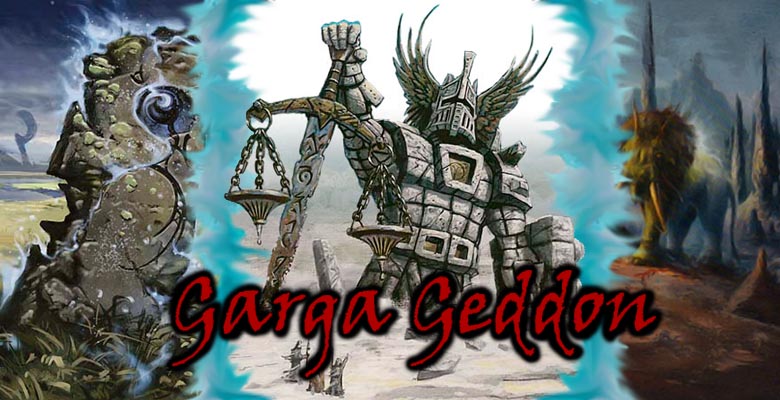 (Special thanks to Elvanos for the banner and the old version of the thread!)
Balance
. One of the most broken cards in Magic. It's banned in Legacy. It's restricted in Vintage. It was unthinkably broken in old Extended. And now, it's legal in Modern. The
Restore Balance
combo deck uses the cascade mechanic to cast Restore Balance and create an asymmetrical Wrath/Armageddon/Mind Twist effect that cripples your opponent. The deck has two versions, one relying on
Greater Gargadon
as a sacrifice outlet, and the other using both Gargadon plus the Alara
Borderposts
. Both versions have their own unique strengths and weaknesses, and both decks prey on the creature-heavy decks that have defined Modern since its beginning. If you are looking for a deck that can rip apart your average Modern opponent, dominate an FNM, take down a Daily, or give you an unexpected edge at a PTQ or GP, then this is the thread for you.
Restore Balance Strengths
Maindecked sweepers: Modern is full of creature-based decks, and Balance is the only deck that runs virtually 11+ Wrath of Gods at 3 mana, 4 of which are instant speed.
Armageddon: Those Modern decks that don't rely on creatures, like UWR Control or Scapeshift, do rely on having a diverse and intact manabase. Being able to Armageddon them for 3 mana (at instant speed) is a huge blowout.
Doesn't use the graveyard: Deathrite Shaman is in about 50% of Green decks and almost 90% of Black decks. Scavenging Ooze sees play in Pod, Jund, Junk, and Zoo maindecks/boards everywhere. Avoiding the graveyard gives us a huge edge against these decks.
Win conditions resilient to creature removal: The beaters are either too big to be Bolted, Blasted, or even Dismembered, or there are just too many of them to trade one for one with Path. In a format where some decks run upwards of 16 maindecked targeted removal, that's a huge benefit.
Highly resilient to targeted discard: Most aggro and midrange decks interact with combo through Thoughtseize (See BGx Midrange and Pod). We are too redundant to care about that.
Very interactive combo: Some combo decks, like Storm, are so dedicated to their own game plan that they can't interact with the opponent. That's bad news if the opponent packs a compact combo into an interactive list, like Twin or Scapeshift. But with our instant speed removal/armageddons, not to mention maindecked catch-all Beast Within, we can always interact with the opponent's strategy.
Surprise factor: This deck is not very common and if you take it to a big event people won't see it coming. Opponents will misplay against you and not even know it. Opponents won't really know how to board against you. If opponents use discard, they won't always be sure what to get rid of. If opponents are playing aggro, they won't necessarily know when to extend and when to be conservative. If you have done your matchup homework, this will give you a considerable advantage throughout an event
Restore Balance Weaknesses
Relatively low-power win conditions: Twin makes three trillion Pestermites. Melira Pod gains three trillion and two life or deals three trillion and four damage. Storm casts 15 Spells on turn 3. Infect threatens a win on turn 2 or 3. Bogles beats you down with a 10/10 Lifelink and Flying monstrosity that can't be killed and puts Akroma to shame. We beat down with four or five 3/3 rocks. Or a big dumb 9/7 that gets distracted by a Birds of Paradise. We have a very strong synergy with Balance, but very low power ways of actually winning.
Extremely vulnerable to countermagic: Most Modern decks deal with countermagic through cards like Dispel, Thoughtseize, or Silence. All of those options are awesome if you don't have a Cascade mechanic that prevents you from running spells that cost less than 3 mana. It doesn't help that you only need to counter or Remand Restore Balance 4 times to basically shut down our whole deck.
Fragile manabase: Both the Borderpost and the No-Post version of this deck have very fragile manabases. The artifact-powered Borderposts are basically lands that turn every Abrupt Decay into a Sinkhole. They make Remand into a Time Walk, and Stony Silence into a one-sided Blood Moon for 2 mana. The No-Post version avoids the artifact weaknesses, but it still suffers from a somewhat painful 5 color manabase and a distinct vulnerability to Blood Moon, Fulminator Mage, and Ghost Quarter.
For almost two years, this thread was operated and maintained by Elvanos. He hasn't been around in months as of this rewriting, so I'm taking over from here on out. I have preserved all of his original contributions in a post following this one and, where relevant, I have given him credit in this OP for his old writing. Wherever you are, thanks a bunch for your hard work!
Table of Contents
Deck History
Basic Strategy and Win Conditions
Version One: Borderposts - Cards and Decklist
Version Two: Nihilith No-Post - Cards and Decklist
Gameplay Tips and Tricks
Matchups
1.
Deck History
Restore Balance decks have been around since the first release of Timespiral with people trying to crack the potential of this card, but none of those was very successful. Everything changed with printing of Alara block and the introduction of Cascade mechanic. By using cascade players were suddenly able to cheat cards like Hypergenesis, Living End and Restore Balance in play in while evading the suspend mechanic.
First two cards were heavily played in many tournament decks, but first attempt to use Restore Balance was a deck called "Garga-Geddon" by Kevin Holmes AKA porter_poet. His deck was using a very powerful combo of Restore Balance, Greater Gargadon and all kinds of artifact borderpost mana sources from Alara block. Using this combo the deck was able to go off on turn 3-4 with leaving absolutely nothing on the opponent´s side of the table, including zero cards in his hand, with you having a somewhat stable mana base of 3 artifact mana sources and a 9/9 crazed elephant on the table.
Unfortunately this deck appeared too late, extended season was almost ending at that time and it had no chance to make appearance on any major tournament or get tested enough to get a stable decklist.
But thanks to the introduction of Modern format this deck seems playable once again. In fact, probably stronger than before, because of the possible addition of pre-timespiral cards such as shocklands, artifacts from Mirrodin or just anything that might work well with the rest of the deck.
Great thanks goes to LVkiller who helped to resurrect this beautiful deck in the modern environment!
Original thread can be found here: Modern Garga-Geddon
(All credit to Elvanos for this section)
2.
Basic Strategy and Win Conditions
Unlike with many combo engines, and unlike the other Modern cascade deck Living End, the
Restore Balance
combo itself doesn't win you the game. Rather, it's a powerful effect that sets the opponent far behind and advances our own game plan towards an independent win condition. To understand the deck, you need to know the cascade combo itself as well as the win conditions that different versions play.
Cascading into Restore Balance
The heart of the deck consists of anywhere between 8 and 12 cascade spells, some combination of
Violent Outburst
,
Demonic Dread
, and
Ardent Plea
. When you use the Restore Balance deck
NEVER run any spells that cost less than 3 mana EXCEPT for the Restore Balances themselves
. This ensures that when our cascaders trigger, they will always reveal cards until they hit the Restore Balance, at which point we can cast it. The deck runs either 3 or 4 Restore Balances so you have a few shots at using the effect. This also ensures that if you draw a Balance, you aren't just out of the game. The deck tries to play artifacts, planeswalkers, and even enchantments that will survive the Balance and keep generating us value while our opponent rebuilds.
Greater Gargadon sacrifice outlet
Both the 20Post and No-Post versions of this deck use the powerful
Greater Gargadon
. With a 9/7 body, plus haste off of suspend, he doubles as his own win condition, but his main function is as a sacrifice engine to make our Balances asymmetrical. Our ideal play involves suspending Gargadon on the first or second turn. Leave him there until you cast your cascade spell and cascade into a Restore Balance. With Restore Balance on the stack, you are going to use the Gargadon's sacrifice ability to destroy all of your lands. If you have artifact mana (as many versions do), you are going to keep those. But your lands are all going to hit the bucket. If you have any creatures for whatever reason, sacrifice those as well. So when Restore Balance resolves, you will have no lands and no creatures. Your opponent will immediately face a Wrath/Armageddon aimed straight at his board. Remember not to sac any artifacts you have. Those are going to survive the Balance and leave you with more resource than your opponent.
Winning the game
Once you resolve the Balance, you still need to win the game. Different versions will accomplish this in different ways. Of course, all versions of this deck have the simple, inelegant, and supremely fun win route of
Greater Gargadon
beatdown. Sure, a little
Birds of Paradise
can chump him, but nothing says "stomp stomp stomp" like a 9/7 elephant with haste ending the game in 2-3 turns. But Gargadon is rarely your primary win condition because of his lack of evasion and his speed; even saccing lands, 10 time counters are a lot of counters to remove. The 20Post version will already have a mana advantage by virtue of the Borderposts, so it can keep ramping into bigger threats. Those tend to take the form of
March of the Machines
,
Tezzeret the Seeker
, and/or
Tezzeret, Agent of Bolas
. All three of these cards use your Borderpost manabase to win the game on the spot.
The No-Post version of the deck takes a different path to victory. Its go-to beater is
Nihilith
, a creature that will often come off of Suspend after a single Restore Balance. He's hard to block, bolt-proof, and ends the game in a hurry. No-Post decks also use manlands like
Treetop Village
and "hidden" artifact creatures such as
Rakdos Keyrune
or
Phyrexian Totem
. Planeswalker win conditions, such as
Ajani Vengeant
or
Gideon Jura
are also not seen in these decks. Finally, both decks can use other Suspend creatures to get around the Restore Balance effect, such as
Riftwing Cloudskate
,
Errant Ephemeron
, or
Keldon Halberdier
.
Hand size and mulliganing
Restore Balance
is an equal opportunity blowout that also goes after the players' hands. If you can ensure that your hand-size is smaller than your opponent's, you can all but guarantee that they are out of the game. To that end, the deck plays cards like
Simian Spirit Guide
which can quickly be pitched to give you resources and make Restore Balance even better. It also means that your mulligans take on added importance. No matter what version you are playing, you should always consider mulliganing to 7 cards unless your opening grip is just too good to pass up. A 6-card opening hand will often be 1 or 0 cards by the time you Restore Balance. That means your opponent is getting a big
Mind Sludge
aimed right at their hand, especially if they are a deck that can't rapidly empty it.
3.
Version One: Borderposts
The Borderpost version of the deck had been a build in Extended before it came into the Modern scene. Its first major Modern showing was back in 2011 at Pro Tour Philadelphia, where
Peter Vieren piloted it to a Day 2 appearance
at the event. Although Vieren did not ultimately crack Top 16 at the event, and although his build needs some 2013 updating, the core of his deck and strategy remains the same today. Here is a modernized (forgive the pun) version of his 2011 deck. Special thanks to Spitlebug for his work and development on the Borderpost version, and for inspiration for this decklist.
There are a lot of different ways to build the Borderpost version, and there are a lot of different card choices you can make. The Borderpost Restore Balance deck has not had much paper success at all since 2011 (indeed, the deck generally has been off the radar for years), so we don't have a lot of competitive templates to work from. Let's go over the basic strategy of the deck, the card choices, and then other options you can include.
Basic Borderpost Strategy
Your most basic plan with the Borderpost version is to bounce a basic land and play Borderposts into a turn 3 or 4 Restore Balance. This will leave you with a fully intact manabase and will leave your opponent with nothing. You can also use Gargadon as a sac outlet to remove extra lands, not to mention his function as a win condition. The deck also abuses Blood Moon, using Borderposts to make its effect totally asymmetrical. To win, you can either beatdown with Gargadon, topdeck a Tezzeret to animate your horde for a big attack, or tutor/draw a March of the Machines.
Borderpost Strengths
"Guaranteed" Armageddon on turn 3 or turn 4: Between the Gargadon and the Posts you will always wipe out your opponent's lands after you cascade.
Very consistent: You only need 1-2 lands, 1-2 posts, and one cascader to have a good opening hand. You can also have a tutor which fetches up Ardent Plea. Or a Gargadon in place of posts. Or a SSG to accelerate out either mana or cascaders. And we run multiple copies of all of those, so good hands are common.
Resilient win conditions. Most Modern decks have no maindeck way to deal with March of the Machines or Tezzeret, let alone without any mana to use.
Idyllic Tutor toolbox. Maindeck Blood Moon is an extremely powerful effect in this format, and if you can resolve it against the right deck you will win even if you can't get the combo to work. O-Ring helps as well. March is also an effective "answer" to Affinity in shutting down artifact lands, Opals, and Plating equips.
Borderpost Weaknesses
Borderposts are VERY vulnerable: There are a number of widely played Modern cards that absolutely wreck Borderposts. The first is Abrupt Decay, which becomes a virtual Sinkhole against our deck. The second is Remand, which becomes a Time Walk when aimed at a Post. The last is Stony Silence, a card that is a total beating against Affinity and just as disastrous against us.
Easy to sideboard against: Almost every deck in Modern has at least 4 artifact hate spells in the board, including nasty stuff like Ancient Grudge. When the opponent boards against us, it's a no-brainer about what they are going to bring in to wreck our gameplan.
Extremely vulnerable to countermagic: Because all of our lands are actually spells, control and tempo decks have an easy time locking us out of the game. Cryptic Command is particularly nasty in countering one spell and bouncing posts.
Card choices
Many cards in the deck are non-negotiable, but there is a little bit of wiggle room in your win conditions and tutors.
4.
Version Two: No-Post
By far the biggest weakness of the Borderpost lands are the artifact Borderposts themselves. Whether facing Remand, Abrupt Decay, Stony Silence, or even Inquisition of Kozilek, their artifact status can become a liability more than a benefit. The No-Post version of the Gargadon deck aims to fix that by moving away from the Borderposts and opting for a more stable build that can't Armageddon as consistently. As an editor's disclaimer, this is my preferred version of the deck. The build below is the one I am currently using, although I am not trying to claim credit for the deck; that credit belongs to
djkipa, spanky_kc, and kaas
more than anyone else.
Updated 9/19/2013
Like the Borderpost version, the No-Post Restore Balance deck has a few different versions. This is only one possible option. Some builds use
Deadshot Minotaur
/
Monstrous Carabid
as cyclers (and tricking your opponent into thinking that you are playing Living End). Others use multiple suspend creatures, including
Keldon Halberdier
and
Errant Ephemeron
to guarantee that you have a clock out after a Restore Balance. There are a lot of different ways to build this version, but I work with those one because I think it gives you the best combination of consistency, explosiveness, and resiliency.
Basic No-Post Strategy
Your core plan is still the same: Suspend Greater Gargadon and then cascade into Restore Balance. But without the Borderposts, you can't always guarantee that Balance is an Armageddon, even if it will always be a wrath. To get around that, the No-Post version also adds in 4
Firespout
as a means of holding the line until you draw into Gargadon. For our win condition, we have a few beatdown options. Gargadon himself can go the distance, but your go-to killer is often going to be Nihilith. If suspended on turn 2, Nihilith will almost always emerge from exile after a single Balance. His 4 toughness puts him out of bolt range, and few decks have the means to deal with him or even block him. I use 3 Ardent Pleas instead of 3 Demonic Dread just to speed up the Nihilith clock. The deck can also win off of the Keyrunes, both of which accelerate our mana and then swing for 3, and off of Gideon Jura, who defends us for a while before ending the game in 3-4 turns.
No-Post Strengths
Strong removal: Between Firespout and your 11 cascaders, you are basically running 15 Wrath effects that all cost 3 mana. Sure, you can only Wrath 8 times, but you can definitely put yourself in a winning position before you need that many sweepers. Given the prevalence of creatures in this format, this guarantees that you have strong matchups against all aggro, Pod, and a variety of midrange decks. The Borderpost version of the deck generally can't fit the Spouts because they are anti-synergistic with March and because there are a lot of slots dedicated to the enchantment tutoring arsenal.
Very resilient: With the exception of countermagic, this deck doesn't have a whole lot of weaknesses. Removal works on all of your creatures, but given that we have 14 beatdown paths to victory, your opponent will be hard-pressed to remove all of them working off 1-2 mana. Unlike with the Borderpost version, artifact removal only attacks a tiny piece of your deck. Even targeted discard isn't particularly effective because we run all our threats in multiples.
Flexible win conditions: A big problem with the Borderpost version is that once March of the Machines is out there, you really can't cast another Balance. That means you can't cast March until you are sure that the game is in the bag. Even after you cast March, your 3/3 army isn't very hard to interact with. Posts can be bolted or blocked by Goyf or Finks. The No-Post version minimizes this weakness with its robust win conditions. If you ever need to re-sweep the board, your win conditions either survive the Firespout (Nihilith/Gargadon) or hide from the Balance (Gideon/Keyrunes). This is especially important against decks like Pod that can recover quickly with mana dorks.
No-Post Weaknesses
Can't consistently Armageddon on turn 3 or 4: If you don't have Gargadon, you probably can't sweep lands off the field on turn 3 or 4. Your creature sweepers make this tolerable, but in some matchups you are really going to want to remove lands as quickly as possible, and the inability to do that can be a problem.
Weaker mulligans: The No-Post manabase is, to put it positively, very diverse. To be more blunt, it is painful and sometimes inconsistent. This makes your mulligans much worse than the Borderpost version. They are still fine but they just aren't nearly as consistent, and that's a potential issue for a deck that actually benefits from mulligans.
Fragile manabase: This is a related issue with the one above. You will sometimes find yourself with a Selesneya Keyrune and only a Blood Crypt in play. You will sometimes have Ardent Plea in hand but no blue mana in sight. This deck tries to minimize that with an optimized color distribution (indeed, Gideon Jura is actually one of the easier cards to play because of the Keyrunes and all the white mana), but it still hits turn-ruining snags on occasion.
Card choices
5.
Gameplay Tips and Tricks
Despite a deceptively simple game plan, Restore Balance actually has a lot of complex play trees and decisions that you need to make as a pilot. This is especially true because of the high degree of interactivity that our deck has. You can't just do your own thing and expect to be successful, especially if you are facing other interactive decks like Twin, UWR, or Mono U Tron. You need to know how to use your spells and how to play your cards in a variety of different situations. This isn't the most complicated deck in the format, but it does have a lot of twists and turns that you need to familiarize yourself with.
Violent Outburst is an instant - Abuse it
: This is probably the most basic trick in the Restore Balance playbook. When you cast Outburst as an instant and cascade into Balance, you can cast the sorcery at instant speed. This is the main way that your deck is going to both interact with other decks and bust through countermagic. When dealing with control, you can use Outburst at their EOT step to lead into a follow up Dread/Plea during your main phase. Unless they have mana to counter both Balances, one is going to resolve. Against decks like Twin, you can Outburst in response to a Twin cast or a Kiki-Jiki activation to clear the board.
Dispel
and
Spellskite
don't stop the Balance (a countered cascade spell will still trigger the cascade), so your opponent needs +2 mana to use Remand as defense. This trick also works to disrupt Pod sac triggers and Affinity modular math, and is totally brutal in response to a Scapeshift. As a final note on Outburst, you can cast Outburst while your own Fetchland trigger is still on the stack to "cheat" a land into play. Fetchland sacrificing is a cost, so it happens before the fetch activation gets on the stack. If you outburst then, Balance will resolve before you get your land, leaving you up by one after the dust settles.
Simian Spirit Guide gives you surprise mana at instant speed
: Good players will be able to discern your play trees just based off of your available mana. 3 mana means a potential Outburst and demands caution. 2 mana, however, probably means you can't cast anything, so players will throw caution to the wind and do silly stuff. SSG completely ruins their carefully calculated turn and lets you cast Outburst when you least expect it. It also screws with
Mana Leak
in the UWR matchup. Cast a spell with 2 mana untapped and all but the most paranoid player will throw a Leak at your Balance. And once your opponent is wise to SSG, his over-caution can be to your advantage.
Greater Gargadon sacrifice tricks
: Greater Gargadon's sacrifice ability is a cost, with a resolution of removing a time counter. Over long games, there will often be situations where you have more lands than you have counters on Gargadon, and you absolutely need to get rid of all of them (this happens a lot against UWR). If you use Gargadon's ability without passing priority, you can sacrifice as many permanents as you want even if you don't have enough time counters to remove. Just remember that Gargadon will come out of Suspend when you do so BEFORE the Balance resolves, so you will either lose him if your opponent has no creatures or your opponent will get to keep one of their guys.
Suspending Restore Balance
: There comes a time in the life of every Restore Balance player where you have a Balance in hand and want/need to Suspend it. Learning when to do this and how to play in those 5 lead-up turns can be tricky and is much harder than timing a
Living End
. In part, it will depend on which deck you are playing. In the Borderpost version, suspending a turn 1 Balance is rarely a bad play. You will almost never have cards in play that will be destroyed by Balance, and in all but the fastest of aggro matchups, you will get to keep key cards in your hand because your opponent won't have an empty one themselves by turn 6. It's particularly strong against control decks that can't let a Balance resolves, so you have the maximum amount of mana available on turn 6 to punch through countermagic with followup cascaders.
Suspending Restore Balance is much harder with the No-Post version because of Nihilith and Gargadon. When using Borderposts, you can Armageddon even without a Gargadon. Without Posts, your earlier Gargadon sacrifices will bring him closer and closer towards being unsuspended, and if he comes out before Balance it can really cause problems. Against an opponent with no creatures, you will lose the beast. Against an opponent with creatures, they will get to keep something, and if that something is a
Deceiver Exarch
or
Emrakul, the Aeons Torn
, that's a big problem. So you need to think multiple turns in advance when removing counters from your suspenders. That might mean voluntarily forgoing a full Armageddon on turn 3 and only saccing 1-2 lands instead of all of them, just so your Gargadon doesn't emerge too early. The same goes for
Nihilith
, who can tempt you into removing counters from him faster than you should. Overall, if you are going to suspend Restore Balance, make sure you are thinking far in advance and considering all of the possibilities along the way.
Knowing when to sweep and when to wait
: When you are effectively running 14 Wrath of Gods at 3 mana, the temptation is often just to play them wantonly and kill everything the opponent casts. As a general rule, you only want to be sweeping if the opponent has 3+ creatures, although 2+ is also viable depending on their quality. But all of that goes out the window in actual games because the value of creatures varies dramatically from deck to deck. Against some decks, a single creature sweep is worth it. Against others, you wouldn't want to sweep even if the opponent had four. A much better rules is this: Will the creature(s) be able to deal 5+ damage if left unchecked until your next sweep? If the answer is yes, then you probably want to get rid of them. And even once you decide to sweep, you need to figure out how you are going to do it. Let's look at two situations that come up a lot and see how they should be handled.
You are playing against Melira Pod and your opponent has an active Pod, a Finks, a Birds/DRS, and a bunch of lands. Do you sweep? The answer is definitely "Yes", although if you have instant speed Outburst, you should probably use that instead of something else. From that position, the Pod player can easily assemble the life combo in a half dozen ways, especially if he has a Chord hidden in his hand. He can even win outright with Redcap depending on his hand. This is a pretty obvious sweep situation.
Here's a less obvious one. Your Melira Pod opponent figured out that you were good at calculating sweeps, and decided to slow roll you. He has a Voice and a Finks on the field and you don't have a Firespout or a suspended Gargadon. But you can cascade into a Balance which will just kill his creatures. It won't hit any lands and it will actually lose you 1-2 cards. Do you sweep? The answer again is yes. Finks and Voice will wipe away half of your life in 2 attacks. If you sweep them and lower their power to 4, there is a good chance that your opponent will drop a third creature to increase his army. Now you can sweep again for value, especially if you were able to suspend something or get a March in hand in the meantime.
These situations are just small illustrations of the various complexities of sweeping in this deck. You will have to play through games to figure them all out and even then, there are no hard and fast rules. As a final note on the No-Post version, you always want to
Firespout
before you Balance. That's especially true if you are dealing with persist or
Voice of Resurgence
.
6.
Matchups
Matchups vary from version to version, but there are some common conclusions we can draw from all of them. For example, Twin is a lot scarier for the Borderpost version because of Remand and Boomerang on Posts. But for both decks, the general gameplan is the same (threaten Outburst as an instant to stop the combo and wipe out their manabase and then finish with beatdown while they rebuild). I will be rating matchups mostly in relationship to the No-Post version because I have more experience with that build, but I will add Borderpost notes where needed; for the most part, the matchups are going to be very similar no matter which version you pick.
Highly favorable:
Bogles
Poor Bogles. All of the tools that make Bogles such a strong metagame force are almost entirely useless against us. Hexproof? Our removal doesn't target. Totem armors? Balance makes your opponent sacrifice. Good topdecks? The deck only runs 12-13 creatures and a lot of dead cards. Fast recovery from sweepers? Not without an active Spiritdancer or Keen Sense. Leyline tech in the board? None of our spells target a player. All of these factors make Bogles one of our easiest matchups. Sure, you can lose the game if your opponent has an amazing hand or if you get caught without sweepers on turns 3 and 4. But even if you have just an average 1 sweeper hand, you can really blow out the Bogles player and take the game.
For sideboarding, I'm actually a really big fan of Slaughter Games because it makes the Bogles topdecks a lot worse. With one card you can eliminate 1/3 of their win conditions.
SIDEBOARD: -1 Beast Within, -2 suspend critters, +3 Slaughter Games

Favorable:
Zoo
I'm hesitant to lump Domain/Gruul/Naya Zoo into one category, but at least for this matchup analysis, they are all treated as a unit. No matter which Zoo you play against, you have a few distinct advantages in that matchup. For one, the 11-15 Wrath effects cannot be understated. That's just a lot of sweepers for Zoo to deal with, especially when they can come out as early as turn 2. Another huge advantage is the curve, and that's true of all versions of Zoo. Naya and Domain Zoo are a bit higher on the curve than Gruul, with a lot less presence and finishing power in the 1 CMC slot. This makes recovery from a big Balance a lot harder, and it becomes even dicier if you get a clock going. Against Gruul Zoo, the issue isn't its curve (which is low enough that they can threaten you with just one land drop). It's the land count itself. Even smart Zoo players who conserve lands in hand to dodge big Balances will find themselves hard pressed to stop Spout after Balance after Balance, especially in game 1. Gideon is just icing on the cake. For games 2 and 3, make sure to bring in that third Beast Within to deal with Blood Moon; many Zoo builds will run it, and although it isn't that bad (we have plenty of basics to fetch), it can be a problem if resolved early.
SIDEBOARD: -1 suspend critter, +1 Beast Within

Pod
The two Pod decks take up the biggest share of both the MTGO and paper metagames by my research. So it's good news that we have a good matchup against these decks. Let's start with the bad news. You will randomly lose to a turn 3 Melira combo in some games. You will also get unlucky and lose to beatdown made in others. But for the most part, you are going to do very well in this matchup both pre and post-board. Pod has good topdecks but unlike Zoo, most of its topdecks require having at least 2 mana. A good Balance early on will completely derail a Pod player for multiple turns. A resolved Pod is annoying but not a serious problem. You can Beast it away, if you draw Beast, or just play around it with your removal. Just remember to fire off a sweeper whenever Pod gets 2 creatures on the field and you will do fine, and never to cascade before you Firespout (unless needed). Another dimension of this matchup that causes problems for Pod is its lack of removal. There is really not much they can do against a resolved Gargadon or Nihilith. Making matters worse, Pod tends to bring itself down to 14-15 life if they get too hasty with their shocks/fetches/Pods, which brings our clock time down by 1-2 turns. If they go slow, then we have ample time to set up perfect board position before a big balance.
For games 2 and 3, Faerie Macabre is your MVP. Ditch the Beasts (you can play around Pod itself) and a lone Keyrune for them. You can also ditch Gideon, but I find him to be incredibly strong in closing out a Pod game.
SIDEBOARD: -2 Beast Within, -1 suspend critter, +3 Faerie Macabre

Neutral:
Affinity
This is a version dependent matchup, with the No-Post much more favored to take game 1 with the 4 Firespouts. There are a few problems with Affinity that make it much harder to beat than traditional aggro. The first is its manabase. Neither Opal nor Drum get hit by Balance, so you will often find Affinity recovering a lot faster than you do. The second is its curve. Even after a Balance that wipes out their entire manabase, Affinity can often just get 1 land into play and continue the beatdown. Finally, Affinity has strong topdecks, with almost everything (lands included) acting as a serious, game-ending threat. That said, it's a creature-based deck and we are running 15 Wrath effects, so we have that going for us. If you can survive until turn 3 without getting too far behind in life, you will generally win. The trick is always to try and clock them ASAP. They can't remove a Gargadon with their main 60, and he will race anything they topdeck if he resolves after a Balance. If you are running the Borderpost version, March becomes a powerful tool that stops Plating and shuts down some of their mana. Just remember that their army is better than yours, so don't toe-to-toe them until you have a lock on the game. For games 2 and 3, add +1 Beast to handle Inkmoth and Plating.
SIDEBOARD: -1 suspend critter, +1 Beast Within

Jund
In reality, this matchup is probably closer to "Favorable" than "Neutral", but given the prevalence of Jund and the different angles that deck operates from, it's safer to put it here. The Jund game 1 is 100% dependent on IoK and Thoughtseize. On the play against Jund, you have a much better chance of suspending a Garg and then just eventually drawing one of your 10-12 cascaders. On the draw, however, Jund can really mess up otherwise good hands with discard. Liliana is also a bit of an issue because she sticks around after a Balance and then can bin your dudes as they come out of suspend. Thankfully, that's where the bad news ends. It's almost impossible for Jund to discard all of your cascaders because you have so many. And if you can topdeck or just drop that Garg anyway, there's almost no way for Jund to deal with it. Even Lilly will often fall to a single attack of a Nihilith or Garg, especially if Outburst/Plea adds the pump. Games 2 and 3, however, can be much trickier if your opponent brings in Slaughter Games. They can drop this on turn 3 off a DRS and, coupled with discard, really ruin your day. It's matchups like these that make Leyline of Sanctity a much more attractive metagame choice.

Unfavorable:
Highly unfavorable:
Over-Extended/Modern Since 2010