Keef
Location:

Inez, KY

Join Date:

2/25/2011

Posts:

82

Member Details
RUG Scapeshift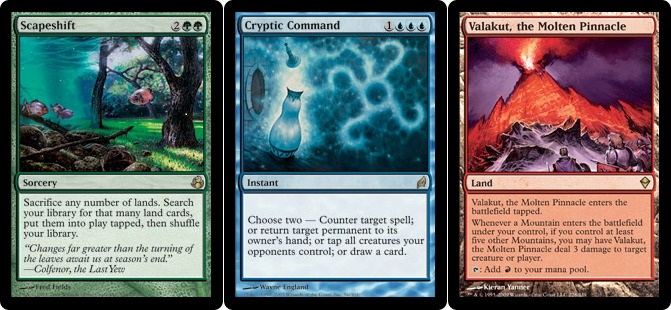 Introduction
Scapeshift is a archetype that was made popular in Extended. The deck had gained it's popularity for being a one-card combo, backed by counter magic and ramp spells. It was quite simple. Get yourself to seven lands, and then cast
Scapeshift
. Search your library for any six Mountains and
Valakut, the Molten Pinnacle
for a total of 18 points of damage. Alternatively, you may also sacrifice 8 lands instead to
Scapeshift
. This will allow you to grab two Valakuts resulting in 36 points of damage.
Since Valakut's unbanning on September 20, 2012, their have been several different brews of the Scapeshift archetype. While this primer will be mainly discussing the RUG version, I encourage others to keep thinking outside the box and creating new ideas for this wonderful combo. So without further ado, let's get into what makes this deck tick.
The Core
~Scapeshift.
This is your one-card combo. It will be your main win condition. This should always be a 4-of.
~Valakut, the Molten Pinnacle.
Although Valakut is a part of this combo, it is not needed in your hand. 2 is the optimal number for this guy.
~Sakura-Tribe Elder.
One of the only creatures in Modern that deserves a 4-of spot in this deck. STE does it all. Stalling, Ramping, and in case of emergencies, he can swing in for a point of damage or two.
~Search for Tomorrow.
While the snake gets credit for being able to multitask in the deck. SfT should get an award for ramping. This is your go-to ramp spell. Being able to effectively give us a turn-1 play while still being a handy spell later on. Definitely a 4-of.
~Snapcaster Mage.
Hard to forget about this guy. I will admit that he's not as good in here as he is in other archetypes. Tiago still pulls his weight by flashing back counters and burn. 2-3 should suffice.
~Remand.
Since stalling is our main goal for early game, we can't ask for more than this. Should always be considered a 4-of.
~Cryptic Command.
Probably the most debatable card on the core list. IMHO, Command is one of the most powerful cards available to the deck. Scapeshift can supply open mana for it by turn three consistently, and seeing how Command can potentially give you 2 turns to work with. I feel that it deserves it's spot. I recommend 3-4 copies.
Supporting Cast
Digging
Serum Visions
. Great card, it's the best alternative we have now that we don't have
Ponder
and the gang.
Peer Through Depths
. Peer has came to be favorite of mine. Digging 5 cards down and at instant speed? 3-4 are very recommended.
Sleight of Hand
. Not so great in here since it doesn't dig as much as our other options. Up to you if prefer it over Visions.
Telling Time
. TT can be a little wonky at times, since you cannot throw away or keep exactly what you'd like. It's decent at instant speed but I would only recommend it only if you have maxed out on Visions and Peer.
Augur of Bolas
. A new defensive way to dig for spells. I highly recommend him if you play in a aggro heavy meta.
Ramp
Explore
. I'm going to group both Explore and Farseek here. Although they do very different things, they want to accomplish the same goal. If you run more lands than normal, I suggest Explore. Alternatively, if you want a card that will always gain you a land, choose Farseek.
Farseek
. See above.
Khalni Heart Expedition
. While not a bad card, we have better options. It can also be a little slow, especially during bad topdecks or getting mana screwed.
Misc.
Prismatic Omen
. Omen used to be a central part of the combo in most extended decks. While it's still a nice card, the meta in Modern makes it somewhat of a dead card. Also, you'll noticed that you won't need it most of the time.
Pyroclasm
. I really suggest all Scapeshift players have a least 2 of these in the MB. Pyro can do some hefty lifting when it comes to stalling Tokens, Robots, and other critters.
Izzet Charm
. Charm has some competition with Bolt in lists. It really comes down to personal preference.
Lightning Bolt
. Really can't go wrong here. As I've said, up to you on whether to run Bolt or Charm. One of the nicest parts about Bolt is the fact it can aim for the dome. Which can come into play quite a bit.
Firespout
. If you need more power than Pyroclasm. This should do the trick.
Repeal
. Sometimes you need an occasional bounce. Cantripping is always a plus.
Electrolyze
. Used to a lesser extent than Pyro and Firespout, this guy can still take down some critters. And as always, cantripping is nice.
Avenger of Zendikar
. A alternate Win-con. I've seen lists with a MB copy, some with a SB copy, and some without any. Meta call.
Rude Awakening
. Same as above.
Land Base
Steam Vents
&
Stomping Ground
. These are a essential 4-of. Valakut likes Mountains, so we should too.
Breeding Pool
. A good 1-of should do.
Misty Rainforest
. This is debatable, it helps during early game. If you have them run them. Otherwise you can always tweak the mana base to accommodate their absence.
Flooded Grove
. Truly depends on whether or not you're running
Cryptic Command
and how many. If so, 2-3 always helps.
Sideboard Options
Ancient Grudge
. Most efficient answer against affinity. 2-3 always recommended.
Shadow of Doubt
. A tech card against
Slaughter Games
. Can also deny fetching and is also hate against mirror matches.
Spell Pierce
/
Negate
/
Dispel
. Your preference, these are always great against combo and other Blue based decks.
Wipe Away
and
Echoing Truth
. Wipe Away is a personal favorite, some others always prefer Truth. It's another meta call.
Cyclonic Rift
. Separating this one from the other bounce since the applications are different. The Overload makes it a very defensive spell and is still always nice to have the cheap bounce as well.
Pyroclasm
and
Firespout
. And again, a meta call. Clears up tokens and other aggro goodies.
Vendilion Clique
. Great at protecting your combo and can be an alternate win condition.
Krosan Grip
/
Nature's Claim
/
Deglamer
. Needing more answers to Leyline and Blood Moon? Look no further.
Leyline of Sanctity
. Word of caution when using Leyline in your board. Only use if your meta is packed with Jund and/or other disruptive decks. Since we have no way to hard cast it, it can be somewhat of a gamble.
Boseiju, Who Shelters All
. Only for the heaviest of Blue metas. Otherwise, rarely ever needed.
Q & A
Q:
What are the general strengths and weaknesses of Scapeshift?
A:
It's biggest strength is being able to ignore most flexible hate in the current meta. Even hosers such as
Leyline of Sanctity
and
Blood Moon
can be played around pretty easily. As for it's weaknesses, Scapeshift can often at times be skill intensive. You must always be conscious of how the next few turns will play out. Sometimes this is more difficult than what it seems.
Q:
Is Scapeshift too slow for Modern?
A:
It depends on how you think of it. The deck certainly doesn't follow the norm when it comes to combo in Modern. Scapeshift tends to play more like a control deck with a consistent combo as it's win condition. If you accept that knowledge, then the deck isn't slow at all.
Q:
Why doesn't Scapeshift use manadorks? Or even Primeval Titan?
A:
Simply because we don't need them. One of the deck's strengths is ignoring all creature removal, adding creatures would only clog up our open mana.
Q:
Why should I play Scapeshift?
A:
Because it's quite fun. Scapeshift always has a high ceiling for skill improvement and is always interactive with it's opponent. So give it a try, you just might enjoy it.
Deck Listings
Alon Chitiz (3/4 Grand Prix Toronto 09/12/12)
James Vance (5/8 Grand Prix Toronto 09/12/12)
Shi Tian Lee (3/4 Pro Tour Return to Ravnica 21/10/12)
Primer Log

12/22/2012 - Lectrys's card analysis additions added. Thank you.
12/21/2012 - Primer Posted.