TappedOutAgain
Location:

CT

Join Date:

2/1/2010

Posts:

265

Member Details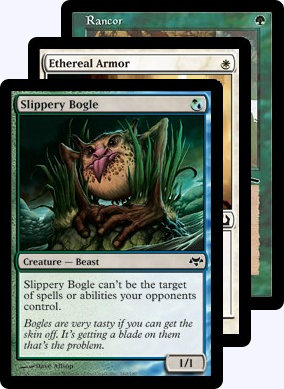 G / W - A u r a s
Also known as that damn Bogle deck...
Introduction:
The Bogle deck is a non-interactive, explosive aggro deck that's based around playing a turn 1 hexproof creature (
Slippery Bogle
or
Gladecover Scout
) and suiting it up with cheap, effective enchantments. In a couple turns you'll be swinging for massive damage, most times it will be with First Strike and Trample or straight up unblockable. This allows for quick wins with turn 4 being the earliest. The deck is an all or nothing deck, meaning if your opponent manages to handle your sole threat the deck is often unable to stabilize and regain board position.
The benefits of the deck are: fast clock, non-interactive, fairly easy to pilot, hard to disrupt, and a VERY low curve. The pitfalls of the deck are: susceptible to narrow hate, hard time bouncing back, moderate consistency issues, and major lack of late game stamina. The deck can also be built on a moderate budget with only fetchlands and
Daybreak Coronet
consisting of the money cards.
Link to the old disscussion thread can be found here:
Link
Deck Core:
The deck's core consists of 8 one mana hexproof creatures, 2 to 4
Kor Spiritdancer
and 14-16 auras:
The number of
Spirit Mantle
and
Kor Spiritdancer
are the flexible point in the core. A majority of the current builds run 2
Spirit Mantle
and average 3
Kor Spiritdancer
main deck.
Rancor
and
Ethereal Armor
are key auras as they allow massive damage for very little mana and provide both reach (trample) and protection (first strike) for the Bogle.
Daybreak Coronet
is a cornerstone of the deck and make an already scary Bogle into a down right nightmare for your opponent while
Spirit Mantle
closes the game faster than any other aura.
Kor Spiritdancer
works great in the deck as a draw source and an occasional beatstick against decks that don't run
Path to Exile
. At worst she'll replace herself when you cast the follow up aura but more often than not she'll be a serious source of major card advantage!
Flex Slots:
With a package of 2
Spirit Mantle
and 3
Kor Spiritdancer
there is room for 15 more cards. The average Bogle deck runs 12 to 15 creatures, 22 to 25 auras, and up to 3
Path to Exile
.
Path to Exile
clears blockers, removes threats to buy time, gives an out to maindeck
Spellskite
and gives us answers to creature based combo decks. The creature count varies by build as having only 8 one drops makes the deck highly inconsistent. So you'll have the following to work with to increase the threat density of the deck:
The only hexproof creature on that list is
Silhana Ledgewalker
and needs little explanation as to why she's on that list.
Noble Hierarch
gains consideration as she offers a boost to your attacking Bogle and can help you crank out more auras in fewer turns. She also gives the deck another 1 drop to work with and makes for fewer hands that need to be shipped away. She does have a downside however: she turns on your opponents targeted removal.
Spellskite
main deck is a great solution if your meta is saturated with decks like Infect, Twin, and the mirror. In a pinch it can be suited up with auras as it's already out of bolt range, just make sure you're not playing into a
Path to Exile
.
Auras greatly outnumber creatures because the premise of the deck is to overload one Bogle to push damage through, so you generally only need one creature in your opener but need to draw auras to put on it. Here's a list of auras to fill up the remaining slots:
Every Bogle deck wants 4 to 8 Umbras in the event a board wipe resolves. Sweepers, such as
Engineered Explosives
at 1, are problematic because the Umbra will still save the creature but all/most auras on it will be destroyed and you'll be left with a wimpy weenie.
Hyena Umbra
is the better of the two since it gives the deck more access to first strike so load up on those before filling in with
Spider Umbra
.
Keen Sense
is a great draw source for the deck and if you are thinking of not running the maximum number of
Kor Spiritdancer
two of these are almost a must. The only disadvantages to
Keen Sense
are they don't provide a power/toughness boost on their own and the card you draw comes after the attack step so you don't get to utilize any auras you may draw into until the following attack step.
Spirit Link
is great to have if your Meta is heavy aggro and burn. The card works different than
Lifelink
since it uses the stack and must resolve. However, that's not really a downside as it stacks with lifelink to gain you even more life. You can even put it on one of your opponents creatures to essentially nullify it (just be careful to not take lethal as you'll still die before
Spirit Link
's trigger resolves!).
Unflinching Courage
is a brutal aura that does everything a Bogle deck wants. By the time it comes down, the Bogle most likely has 3 to 4 auras on it so
Unflinching Courage
just adds even more raw power to the deck. I wouldn't recommend running more than 2 since the 3 CMC can be a burden, but there have been decks that run 3 successfully. So flavor to taste!
The Mana:
Essentially, Bogle is a 19 land deck. The 20th land used is a
Dryad Arbor
and is mainly in the deck for a sacrificial role in the event you have to work around an edict effect like
Liliana of the Veil
.
Horizon Canopy
is a great tool in the mana base, it offers turn 1 mana and can become a card if need be. The rest is pretty straight forward, but you want to make sure you can cast a Bogle on turn 1 and
Daybreak Coronet
on turn 3 with no hiccups. Include one basic Forest to fetch if there's a
Blood Moon
on the stack or in the event you can't afford to fetch for an untapped
Temple Garden
.
Sideboard Choices:
Modern has a deep and diverse Metagame, but luckily Bogle has access to some broad answers and since most are enchantments, they wont devalue
Ethereal Armor
.
Leyline of Sanctity
: Mainly answers IoK and
Thoughtseize
as turn 1 discard on the draw can be game over for Bogle. It's also a great answer to Burn as most, if not all, of their cards target you for damage. If you run these in your sideboard you have to run all 4 as having it in the opener is the easiest way for Bogle to cast it since 4 mana might as well be a million...
Suppression Field
: A great answer to a lot of headaches. It pretty much stifles
Celestial Colonnade
, hurts 3 color decks when they need to use fetchlands, cripples
Splinter Twin
, and of course makes
Spellskite
a little less scary. Just remember that it effects your fetchlands and
Horizon Canopy
so crack them before slamming Field on the table.
Stony Silence
: A great answer to Affinity and other artifact-centric decks.
Nature's Claim
: Our sole out to
Blood Moon
as a resolved one cripples the deck. It's also a great answer to
Spellskite
and other problematic enchantments and artifacts.
Rest in Peace
: Great against any deck that might have graveyard shenanigans such as
Living End
. Some side it in to neuter opposing
Tarmogoyf
but if your deck is built right, Goyf shouldn't be a threat anyway.
Pithing Needle
: The classic sideboard answer. It's great for Skite, Lilly, and just about any other activated ability that can stop the Bogle or win your opponent the game.
Gaddock Teeg
: There are a lot more 4 CMC spells in Modern than you think:
Cryptic Command
,
Supreme Verdict
,
Scapeshift
,
Splinter Twin
, every threat in Tron except
Wurmcoil Engine
... The Teeg stops 'em all and most of the decks side out targeted removal and you can back him up with an Umbra if need be.
Retether
: A nice card to have if you expect the match to grind out. It's a shame they won't return Coronets to a naked Bogle though. Don't run too many though as the 4 CMC make it a pain to cast.
Fog
: A great answer to Infect decks as they usually try to kill in one shot.
Other sideboard considerations:
But wait!!! What about Blue?!?
The deck performs the exact same function but at a more consistent rate when it's only G/W. Mainly it's in the fact that the mana can produce turn 1 Green, turn two any combination of Green and White, and turn 3 double White. That allows the deck to get more explosive hands and curve out the nuts on a consistent basis. With blue in the deck, it makes it harder to resolve a Coronet if you are playing with
Breeding Pool
s instead of
Razorverge Thicket
s and harder to drop a turn one Bogle/Scout if you got a pair of
Hallowed Fountain
s in your opener.
It's also been well proven that the deck can run off of 12-14 creatures and comparison between
Silhana Ledgewalker
and
Invisible Stalker
is close enough to discount any argument that Stalker should be included. Also, unblockablility can be obtained through
Spirit Mantle
and Trample is huge in the format considering the creatures with the fattest bottoms are
Tarmogoyf
and
Restoration Angel
.
Geist is a three drop and that immediately discounts any use since the average Bogle deck caps at 2 CMC on the curve. The Blue auras are overshadowed by current aura package and
Curiosity
is easily replaced by the shifted
Keen Sense
.
Decklists:
Here's the link to Reid Duke's Deck Tech from his 2nd place finish at Worlds 2013:
http://www.youtube.com/watch?v=g-xEoMEzkN4
His list:
Below are example Decklists along with some lists that placed top 8 at recent PTQs.
Basic Play Concepts:
Before I move on to match ups, I'd like to cover some basic plays for anyone interested in playing the deck that never has. If you're familiar with the deck, no need to read the basics below.
The key to playing Bogle is knowing how to mull aggressively. You can not keep a hand filled with great auras and a couple lands in hopes of peeling a Bogle off the top... It just doesn't happen with only 10-14 creatures in the deck. Same goes for no landers, the odds to pull lands are a bit better but just don't count on the topdeck... Bogle is notorious for bad topdecks, it's just the nature of the deck. You want a hand with a turn 1 Bogle and a follow up enchantment turn 2. Mulls to 6 and 5 are common place and mulling to 4 still can win you the game. Try not to keep hands with Coronets and no other auras, if you have to it's OK, but again I stress that sometimes you won't peel that first aura til is a bit too late.
Once you get that Bogle to stick, just pile him up with all the enchantments you can. Very rarely will you have two creatures on the field with auras on each. After playing the deck a bit you'll get the feel for which auras you want to resolve first.
Bear in mind
Daybreak Coronet
s restriction. If you have a Bogle with Coronet and one other aura and that aura gets destroyed, Coronet is going to the grave as well. It's not all downside with the restriction though. If you have an enchanted Bogle and your opponent has an unenchanted
Spellskite
out, you can still cast a Coronet safely without worrying about the
Spellskite
snagging it.
Bogle is one of the
only
decks that I'd advocate deck thinning. The math has shown deck thinning to have only a minor impact on drawing. However, with the decks curve topping out at 2, topdecking land when you already have 2 or 3 on the field is not good. Between the fetchlands and
Horizon Canopy
, you have access to some good thinning which will hopefully lead to drawing more auras off the top. So fetch as much as you can.
Sometimes it's better to resolve your auras after combat. This is especially true if you're facing
Cryptic Command
decks. You'll get them to tap and draw rather than counter and tap. There will be times when you won't want them to draw (they have sided in
Supreme Verdict
for example and are digging for it), in that case just throw out a lesser aura to bait the counter magic. Most blue decks will counter
Ethereal Armor
on the spot, so that's usually the best bait to get Coronet or
Spirit Mantel
on the Bogle.
A turn 2
Liliana of the Veil
can be a scary occurrence. Just try to keep an uncracked fetch on the field if your opponent drops a turn 1
Deathrite Shaman
. If Lily does come down, you'll at least be able to fetch for
Dryad Arbor
in response. Bear in mind that can only happen if you're on the play and most decks will hold off until they have enough mana to remove the Arbor with the ability on the stack. Sometimes there's just nothing you can do and they have you by the nuts.
Sideboarding is fairly easy with Bogle. Always expect your opponent to board in
Spellskite
as it fits easily into just about every sideboard out there. If you're not facing a deck with access to edict effects, you can side out
Dryad Arbor
to free up a slot. Don't worry, siding out
Dryad Arbor
has almost no effect on the mana base.
Match Up Analysis:
Under construction. I will have the Jund/Junk, U/W/r Control, Pod, and Scapeshift match ups done by 3/25/13. Currently looking for assistance with the Tron and Infect match ups. PM me if you have any insight to those particular match ups.
Change Log:
3/28/13: Added Seal of Primordium and Deglamer to SB choices
8/4/13: Added Reid Duke's Worlds 2013 list
8/11/13: Added reasoning for no Blue in the deck
5/14/15: Major Update
Previous Discussion:
http://forums.mtgsalvation.com/showthread.php?t=474493
...I'm a cold-hearted Islands disciple, so I firmly believe there is a private hell for Red Deck Wins players.
Magic is dead, again, for the 2nd(?) time this year? I think this is probably the 43rd or 44th time Magic has died. When will they stop killing Magic?