Clipper70
Join Date:

3/22/2016

Posts:

85

Member Details
-Living As Foretold-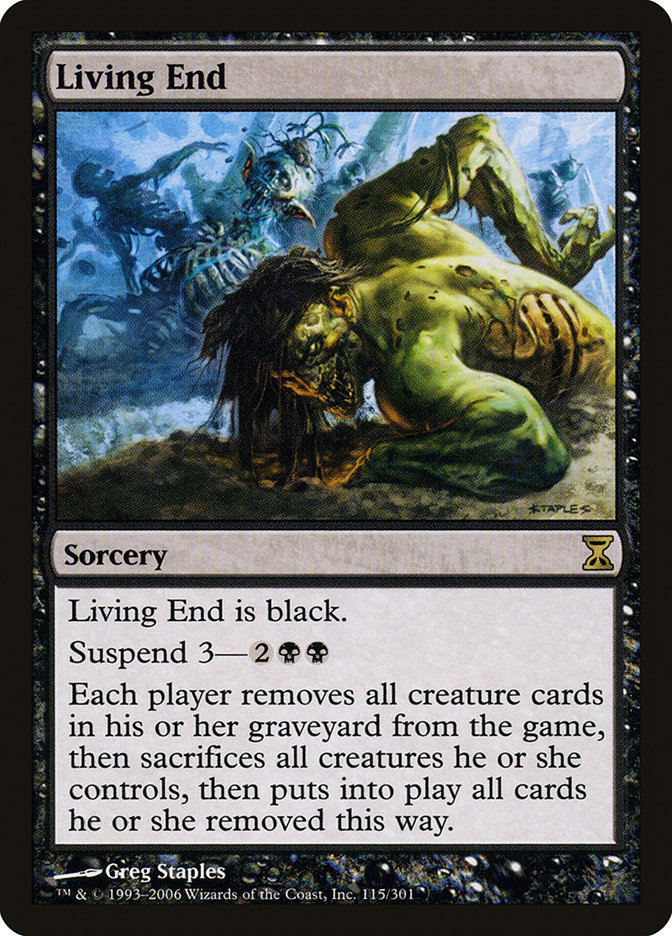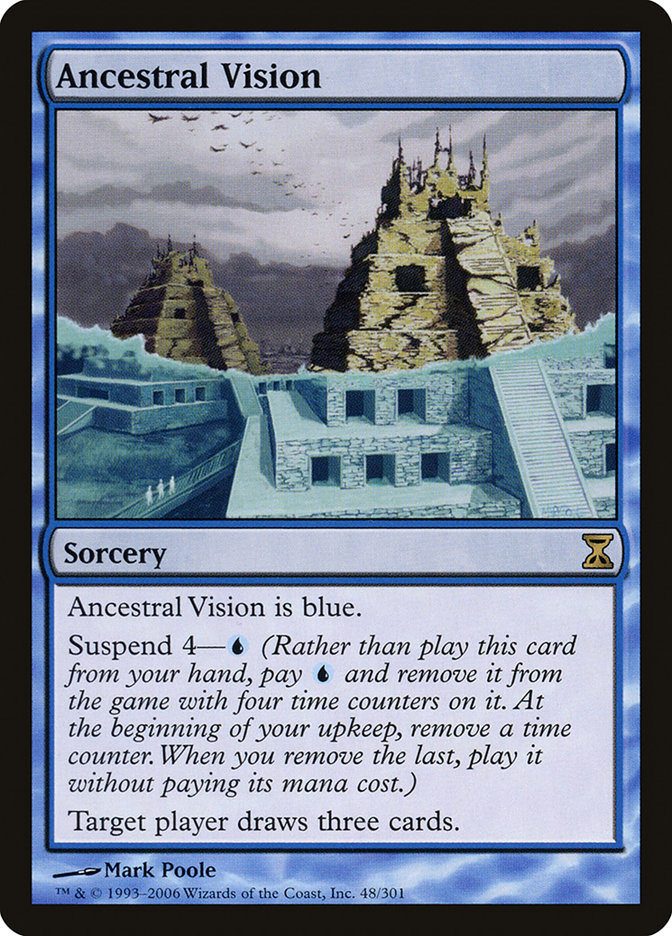 ------------------
The deck functions similarly to the older versions of Living End. The primary objective is to cycle a bunch of 1 mana cycling creatures in the first couple of turns and then drop
As Foretold
on turn three and cast
Living End
. This moves your previously cycled creatures from your graveyard to the battlefield while putting any creatures your opponent has played in the initial turns into their graveyard.
The secondary objective is to control the game with counter magic and draw extra cards by casting
Ancestral Vision
with
As Foretold
.
The reason this interaction works is because both
Ancestral Vision
and
Living End
have CMCs of 0 which means that you are able to cast them from hand through
As Foretold
as soon as it comes down and for subsequent turns. The other key interaction to keep in mind with this deck is the ability to tutor for any 0 CMC card by transmuting
Tolaria West
. This means you can fetch up cards like
Living End
,
Ancestral Vision
,
Bojuka Bog
,
Ghost Quarter
,
Field of Ruin
or
Engineered Explosives
whenever you need them most.
The core strength of the deck is that it can be extremely explosive while also having counter magic based interaction to draw out the game if necessary and it also takes advantage of the relatively sparse amount of enchantment hate in the modern format.
The central weakness of the deck is that it's primary strategy relies on the graveyard so is therefore susceptible to graveyard hate, however keep in mind
Living End
manages to dodge
Grafdigger's Cage
. Also drawing tons of cards with
Ancestral Vision
and casting
Curator of Mysteries
to beat down while holding counter magic backup is often effective to close out games through graveyard hate.
-------------------------------------------------
Here is 1310hazzzard's original mono blue 5-0 competitive list that Saffron Olive played on stream:
(1310hazzzard Twitch channel -
https://www.twitch.tv/1310hazzzard
)
(MTG Goldfish Twitch video -
https://www.twitch.tv/videos/207586827
)
This is the latest (as of this post) list that HolyShamgar has been streaming online and tuning as he goes:
(HolyShamgar's twitch link with other iterations-
https://www.twitch.tv/holyshamgar/videos/all
)
And this is my list I've put together and been testing:
It's been performing well and is a blast to play. I've added white to improve my sideboard (making
Leyline of Sanctity
castable among other things) and in order to include
Path to Exile
for early creature interaction that exiles so I don't put creatures in my opponents graveyard (see also
Condemn
in the sideboard). Let me know what you think, cheers.
---------------------
List updates:
Most recent list from 1310hazzzard - 16th Dec 2017:
Recent (6-1) 10th place list from Kombo11408 for Modern Challenge #11063097 - 23rd Dec 2017:
Competitive Modern League Jan 6th 2018, (5-0) - urzatheplaneswalker
UW version placed top 32 at Modern MOCS - Jan 7th 2018 - Erus
MKM Series Rome - Modern Main Event - 192 players - Mar 17th 2018
3rd place Ub Living End - Lorenzo Farotti