Torpf
Staff
Join Date:

5/21/2014

Posts:

3,057

Member Details
With the spoiling of
The Gitrog Monster
there is a lot of potential for old decks to get a boost and even new decks to emerge as a result of the Frogs unique abilities. It has great synergy with so many graveyard cards and decks already in the format and this thread is going to look at each one in an attempt to find the best possible deck. Lets
hop
right to it and see what can be brewed up!
---
Lets start by looking at the Frogs abilities: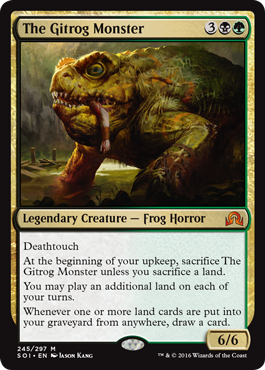 Deathtouch
- Allows the frog to trade with anything he can touch. On the massive 6/6 body this isn't really much of a problem, but it can come up if he is ever given Trample or has to block a
massive creature
.
At the beginning of your upkeep, Sacrifice The Gitrog Monster unless you sacrifice a land.
- An upkeep tax on a creature is never a great thing to see when you first read a creature. Fortunately this is one that we can put to good use. Since there is virtually no land interaction in the format this means that you are going to have lands around to feed the frog each turn. This trigger also gives you a reliable card draw each turn with it's last ability to keep churning through the deck as fast as possible.
You may play an additional land on each of your turns.
- This makes up for the first ability by using the extra cards drawn to try and catch up on your land count and keep the frog happy. It also allows for some cute plays with things like
bouncelands
.
Whenever one or more land cards are put into your graveyard from anywhere, draw a card.
- This is where the real power is coming from. Having a land enter the graveyard from
anywhere
is the key here and what allows the frog to be pushed over the top. This interacts extremely well with
Fetchlands
,
Dredge
,
Retrace
, and
Cycling
, to name a few. It is very easy to get lands into the graveyard in Modern, and that's conveniently what this deck is aiming to abuse.
---
A sample deck to kick things off:
Right now this is essentially a worse BG Rock shell that has the ability to mill the entire deck in one turn by chaining dredgers with
The Gitrog Monster
. There is really no win condition right now once the entire dec is dredged just because there are so many directions to go in with the deck. Do you use
Narcomoeba
and
Emrakul
for a Four Horseman type of effect? Do you try and play traditional dredge by using the second land drop from
The Gitrog Monster
to bring back 4
Bloodghast
? Jam in
Vengevine
and friends?
Necrotic Ooze
combos? Play some convoluted
Rise of the Dark Realms
effect? Infinite zombie tokens with
Bridge From Below
or
Zombie Infestation
?
All of the cards are in the format so all we need is the brains to come up with a deck to effectively break the deck.
---
What are some of the best card to abuse the frog:
Golgari Grave-Troll
/
Sinkweek Imp
/
Golgari Thug
- Cards with Dredge interact super well with the frog and are the cornerstone of the deck. Dredge is a replacement effect and when you would draw a card you can instead mill cards and put the Dredger back into your hand. If the dredger hits a land then you can draw another card because of the frog and replace that draw with a Dredge card in your graveyard to keep the chain going.
Golgari Grave-Troll
has the highest Dredge count and will spend 99% of it's time going between your graveyard and hand. It can be played in a pinch for a massive creature but the games where you get to cast it are few and far in between.
Sinkweek Imp
serves a similar purpose but can be cast much easier. It trades with pretty much anything because of both Flying and Deathtouch which makes it a great asset to have in holding off aggro decks and in long games.
Raven's Crime
is a great way to both disrupt the opponent and get your own cards into the graveyard. You can always target yourself with it to bin creatures that need to be reanimated and get lands into the graveyard for more
frog
triggers.
Footsteps of the Goryo
/
Goryo's Vengeance
/
Unburial Rites
- All reanimate
The Gitrog Monster
for the combo turn.
Edge of Autumn
- Ramps into playing the frog and triggers it's ability for free getting you two cards!
Traverse the Ulvenwald
- A powerful new card. Delirium will be easy to trigger since this is a graveyard/reanimation deck. It will be a one mana tutor for whatever creature you need to reanimate or any utility land you need. Welcome to Modern new
Worldly Tutor
!
Dakmor Salvage
/
Darkblast
/
Golgari Thug
/
Necroplasm
/
Golgari Brownscale
- More cool utility dredge cards
Life from the Loam
- Loam is to the Gitrog what peanut butter is to jam.
Lotleth Troll
- Discards your creatures for reanimating and boasts both a decent threat attacking or defending.
Necrotic Ooze
- This is a graveyard deck and this thing loves graveyards.
Griselbrand
- If you are playing [card]Goryo's Vengeance[/card and reanimating stuff then why not reanimate more BIGGER stuff?
Tarmogoyf
- It's a graveyard deck that plays green, what did you expect?
Red Colours:
Magmatic Insight
- Draws cards, like a lot of cards. Requires cards to do it's thing though so don't have too many since it sucks to topdeck this unless you have a spare
Dakmor Salvage
.
Seismic Assault
/
Molten Vortex
- Goes infinite with
The Gitrog Monster
and
Seismic Assault
which is cool but very mana intensive.
Faithless Looting
- The go-to draw/discard spell for graveyard decks. Dredgevine already uses this to great extent.
Wild Guess
/
Tormenting Voice
- Goes great with Dredge cards because you discard a card before drawing the two cards. This means you can discard a
Golgari Grave-Troll
and then dredge it back right away.
Blue Colours:
Thought Scour
- After scouring a lot of cards I came to the conclusion that this is the best blue one there is.
Trade Routes
- Bounce your lands, discard them, draw double. A great value engine all in one card.
Last edited by
Torpf
: Jun 4, 2018