Isamaru
Location:

Michigan

Join Date:

10/30/2005

Posts:

1,648

Member Details
[Official Thread] Vile Horror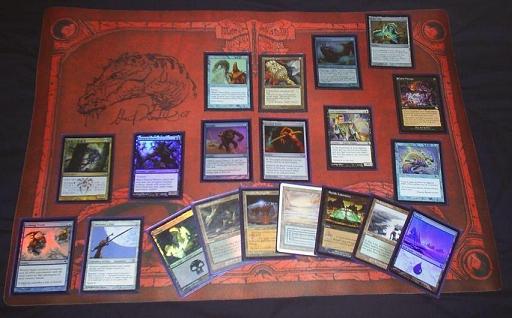 Please see
this thread
.
It is just an odd predicament that in order to advance the deck, it was necessary to lose its original meaning. Depressing, but true as well in life in general.
Also, take time to finally go out and get fresh air, finish homework on time, and spend time with your family now. Enjoy life.
Introduction and Consideration:
Two years have been spent on this deck by myself and others. I have spent countless hours on each proportion, on each card choice, on each sideboard choice. It has changed with the metagame shifts, some in favor of the deck concept, others against it. With the printing of Tarmogoyf and the un-errata of Phyrexian Dreadnought, the time is ripe for playing Vile Horror, the best
truly
rogue deck I know of, as long as it stays rogue, that is... what a paradox.
In light of this, please respect my efforts by giving credit where it is due. If you should play my deck, do it for me or do it for the thread as a group by citing your source (MTGSalvation Legacy Forum / Stephen Judd). I asked for help and am glad I got it, but I want to make sure it doesn't all go unnoticed.
Things I Love to See:
True Believer
Ivory Mask
Jackal Pup
Reanimator
Slower Janky Burn
Very Large Creatures
Aggro Decks with larger creatures / Rancor
Isochron Scepter
Land Destruction, especially without Discard (but need Vial)
Things I Hate to See:
Pernicious Deed - no longer bad
Chalice of the Void
Supression Field
Powder Keg - no longer bad
Engineered Explosives - no longer bad
Goblin Lacky - no longer bad
Swords to Plowshares (not so so bad)
Akroma's Vengeance
Nevinyrral's Disk
Null Rod
Energy Flux
Multiple Pithing Needles
Crime//Punishment
Simic Sky Swallower & Plated Slagwurm
Haunting Echoes
Matchup Difficulty Levels:
"Great to Good/Medium" Matchups:
(These are generalizations in some cases, so please don't take offense or argue over speculation)
Reanimator and Graveyard Strategies
Targettable-Fat Beatdown Decks / Low-land-count Stompy (G/GB/GBu)
RG Aggro / things with Rancor, Kird Ape, often with nice big guys like Iwamori (steal) and Winter Orb (vial)
Decks that utilize Goblin Welder (usually)
UG Madness - it seems strange, but Gilded Drake usually wins this, along with Horror, Wretch, and other graveyard hate. It has really been an easy matchup, especially now with Pongify.
Affinity - again, for some reason this is rediculously easy.
RGSA usually

Life from the Loam / Assault Loam decks - usually (postboard).
Terrageddon - Drake Take Smash. Might need Annul or FoW for SB Null Rods.
43 Land - haven't tested with sideboard in, but I think postboard it should be okay.
Angel Stompy - Not a great matchup, but Pongify, Drake, Needle, and ProWhite from sideboard help a lot.
Solidarity - I haven't lost a game to it yet, but I always get nervous
IGGY Pop - not too too bad, but of course there is always the possibility of a crazy draw - Stifle in sideboard helps a lot, unless Defense Grid stops it.

"Medium to Bad" Matchups:
Threshold - has improved a lot with the more recent variations
Goblins - this matchup has gotten better with Sage and Pongify, but Goblins is the best aggro deck in the format, so...
Burn - can outrace Horror without Hymn backup, but Horror can't be easily burned. Creatureless burn, of course, is more difficult by far.
Discard / Suicide Strategies - if on the play, usually can survive. If a Confidant can stay out for more than a turn or so, it is easier to win.
Pox - this is really quite annoying, but Sage of Epityr has helped a lot... Trinisphere, though, really screws things up.
Meathooks - Untargettable... it's do-able, but quite difficult. CounterSliver has really become a problem lately, but ProWhite and Engineered Explosives help a bit.
UW/r/b Fish - often very troublesome, using a lot of Daze-stuff, cheap creatures, Jitte, cheap card advantage, etc. (almost similar to Meathooks)

"Bad to Horrible" Matchups:
MUC - not too bad, but Vedalken Shackles is VERY annoying pre-board and Powder Keg kills... MUC doesn't see that much play, I hope.
Truffle Shuffle, Dirt - Pernicious Deed and Swords to Plowshares, board control, Haunting Echoes...
Landstill - pretty bad matchup... board control
Faerie Stompy - SoFI is a problem here too, but it's Chalice that hurts most.
Stax - Quite hard to beat with 4 Trinisphere... Ensnaring Bridge, Chalice, etc.

Tournament Reports:
Tournament #1 7/17/06
Tournament #2 7/24/06
Tournament #3 7/31/06

These are now missing links because they were on the original thread here at MTGSalvation, which apparently has been deleted...

I entered the Magic-League.com
Legacy Tournament Trial
and got 2nd place out of
59 players
. Here are
the decklists
. I won every game I played except for the final round... Mountain. Lacky. Lose. :'( How could I be stupid enough to not take the Defense Grids out for Funeral Charm? I even was doing just that in real life WHILE I was signing up for the tournament... Greh.. Note to self, Jitte SUCKS vs. Goblins contrary to popular belief.
Here's a short list of the 6 matchups in order:
IGGYpop
BG Deed/LD
Angel Stompy
UW Weenie + Control
Suicide Black
Vial Goblins
The Game Logs are attached in
this post
.
Tournament #5 8/07/06
Tournament #6 8/14/06
Tournament #7 8/21/06

Grand Prix Columbus Tournament Report 5/19/07
Flint, Michigan Mox Tournament Report 7/28/07



Some History:
You'll have to excuse a lot of the false claims I made as a n00b
but MagicManiac and others were very foolish in their suggestions and rude in their remarks.
http://forums.mtgnews.com/showthread.php?t=196753
RB - Eww
http://forums.mtgnews.com/showthread.php?t=197815
FoW - Still rough
http://forums.mtgnews.com/showthread.php?t=198533
Shade - Almost there
http://forums.mtgsalvation.com/showthread.php?t=29475
Most Recent, here on MTGS
3 Threads Started at each MTG Forum stirred about by the Magic-League Tournament Win:
Wizards
http://boards1.wizards.com/showthread.php?p=9893109
Source
http://mtgthesource.com/forums/showthread.php?t=4105
SCG
http://www.starcitygames.com/phpBB2/viewtopic.php?p=631183
SCG Mirror
http://www.starcitygames.com/phpBB2/viewtopic.php?p=631188
SCG Recent
http://www.starcitygames.com/phpBB2/viewtopic.php?t=301403
Looking for VH:
http://boards1.wizards.com/showthread.php?p=13232036
Japanese List
German Forum 1
German Forum 2
Italian Pikula Thread mentions Stronghold from VH
Italian gentlemen took VH to a tournament and did well

Latest Decklist Since Last Thread:
What About Brand?
Though I have strayed away from Brand after trying it, there is a close, simultaneously-developed Rule 216.1a concept (by
UrDraco
).
My variation on his concept would be something like -5 Stylus/Scepter, -3 Infiltrator, -1 Echoing Truth, -4 Stifle, +3 Mystical Tutor, +4 Brand, +2 Engineered Explosives (mainboard), +4 Brainstorm to my current list, and then using a BUr mana base with 4 Forbidden Orchard and 6 fetchlands.
Thanks to:
Not in any order...
Thank you to R&Doom at Ye Olde Sig and Avatar Shoppe for the classic banner!
Thank you to Craven at Epic Graphics for the second header banner!
bladewing019
Apokalypse Kid & Faeren Lord of Carlisle
magicianofthought
The_grey_king
Shindig_Ascension
z38gm
pooispoois
MD
MorgulLord
MultaniMan3000
Finn
Avatar of Kokusho
Orion_Pax
Viroid
SapphireTri
Sr. Kitty & Belgareth
The_valdrox
Twinkee
Last edited by
Isamaru
: Oct 7, 2007

Celebrating 3 years of
open-minded acceptance,
indispensable help, great advice, and incalculably-creative deck-design... Thanks for all the magic!
While netdecking and testing VileHorror i thought about

Biorhythm

. Sure its really expensive, off-color and crappy but still you're always the one with creatures while playing VH. That made me think.