urdjur
MTGS Writer
Scion of the Ur-Urdjur
Location:

Cloud-hidden whereabouts unknown

Join Date:

4/16/2009

Posts:

1,553

Member Details
Thanks to Eseph, creator of the previous Burn thread, to Demonauel_Sedai for help with updating, to Masa88 for valuable tips on more obscure match-ups and to MrDownToEarth, Yug and other Burn thread regulars for sharing tournament reports and insight compiled in this primer. If this thread doesn't sate your Burn reading needs, you could always look into:
*The 90+ page monstrosity that is the previous
MTGS Burn thread
(Feb. 2009 to May 2010).
*Its predecessors
Burn Mk. 3
(also by Eseph) and
Right Said Red v.2
(by doodlebird)
*The Burn thread at
//www.mtgthesource.com/forums/showthread.php?7811-[Deck">-Burn"]The Source
(started 2007 and 61 pages so far)
*Kirbydsl's impressive spread sheet analysis of almost any conceivable card choice in
Legacy Burn
. Though it's a bit dated, it shows how many things one should really consider when it comes down to putting together those 75 cards.
I. INTRODUCTION
Burn is a red deck characterized by a large number of direct damage spells such as
Lightning Bolt
. This focus gives it some unique properties:
Fast clock
: In a goldfish, Burn has an average fundamental turn of 4. In reality, counters, land destruction and discard may delay this, but on the other hand, fetchlands and other self-damage can increase your clock too.
Non-interactive
: Much like a combo deck, you can often ignore your opponent and simply try to resolve your spells thanks to your superior speed. If you have time to resolve about six of them, you typically win.
Inevitable
: Unlike a combo deck, Burn has no "key" spell to counter or discard. Robbing it of a few spells will only delay the inevitable.
Virtual card advantage (VCA)
: You get VCA from anticipating that your opponent will run certain answers, and then building a deck that makes them irrelevant.
Risk spreading
: To further the VCA concept, a well built Burn deck spreads its risk so that no conceivable "answer" will work against the entire deck, which also makes it more inevitable. This includes diversifying your curve against Chalice of the Void and Counterbalance, having a few undisruptable spells, means to handle life gain and so on.
Burn is a cheap deck to build, and fairly easy to pilot, giving you plenty of time to socialize and enjoy your tournament experience. This makes it an excellent choice if you want to explore the Legacy environment. It's also a strong option for experienced players in a meta with few storm combo and board lock decks. To optimize your Burn deck, you should be familiar with the underlying principles of Burn, understand how to evaluate new (and old) direct damage spells, and have some knowledge of other Legacy decks to build a good sideboard.
Would you like to know more?
Read
"The Essence of Burn"
, an MTGS article by yours truly on the underlying philosophy and deck principles of the Burn archetype. Recommended reading if you want an in-depth understanding of a deck that seems deceptively simple at first glance.
Before you suggest a card for Legacy Burn, please make sure it's not already mentioned in the primer, paying special attention to the Bad List below. It is of course possible that your suggestion is so obviously and incredibly bad, that we didn't even think to put it on the Bad List (example:
Death Spark
), but we trust you to be able to make that call yourself after having read and understood the primer.
Please do not just post your deck list without comments, or asking for general suggestions. That's what the primer is for – just read it and decide for yourself. If there are any specifics you need help with, don't hesitate to ask, but please include a well-reasoned commentary with your list.
This is not a complete listing of cards that are bad in Burn. Rather, the purpose is to list the close cases and describe why they are bad.
Incinerate
is the cut-off point for inclusion in this list. Anything clearly better than it will be mentioned elsewhere in this primer. Anything equal or worse, yet often discussed, will be mentioned here. This list isn't static, and you're welcome to debate cards on it in the thread as long as you have familiarized yourself with the general opinion below. Many of the cards on the list have been discussed for years in various threads and forums, so it's important that you familiarize yourself with the most common arguments to avoid endless repetition and thread clutter. It is recommended that you read the full primer to better understand the selection criteria behind the Bad List.
Note
: Bad sideboard options are not discussed here as it's not constructive to do so. Instead, the sideboard section of the primer lists the generally best and most common choices. However, you know your meta best and might choose something more narrow that falls outside the scope of this primer. The list below tries to catch as many cards as possible in various blanket categories, and explain why an entire category of spells is bad rather than listing every single card.
2-for-1 spells
such as
Shock
,
Seal of Fire
,
Tarfire
,
Burst Lightning
,
Forked Bolt
and
Sudden Shock
: Burn does not need mana efficiency at all costs. It needs to play enough cheap spells to enable its game plan (see basics below), but after that it's interested in optimum card efficiency. In short, it wants to squeeze as much damage out of each mana as possible, and 2-for-1 isn't efficient enough.
4-for-3 spells
such as
Flame Javelin
,
Staggershock
,
Char
,
Pulse of the Forge
and
Flames of the Blood Hand
: If Incinerate is better than Shock, then why isn't Flame Javelin better than Incinerate? Burn can only afford to play very few 3cmc spells to fit its game plan, and the truth is that there are more efficient and important things to play in this slot than simple 4-for-3 spells. Just like Shock isn't good enough in the 1cmc slot, there are better things in the 3 cmc slot as well.
Other 3-for-2 spells
such as
Chain of Plasma
and
Thunderbolt
: Even if you might feel the need to run a few Incinerate to fill out your last remaining slots, there's clearly no need for more Incinerate-type spells. Since these are slightly worse than Incinerate, they end up on the Bad List.
Kindle
and
Flame Burst
are other examples on Incinerate-like spells that are strictly worse than Incinerate and have no place in a Legacy Burn list ever.
Any card costing 4 or more
: Assume that you will never have 4 mana to spend on a single spell in Burn. There are precious few exceptions to this rule, and they all concern "last ditch efforts" where you need an out to a hopeless position. For example,
Anarchy
could be considered in the sideboard for certain metas.
X-for-X+1 spells
such as
Fireball
,
Banefire
etc: By now it should be apparent that these spells will never approach the damage per mana efficiency that Burn requires. You should only assume that you'll have 3 mana available, which translates to a 2-for-3 damage to one target. Horrible!
Acceleration
:
Chrome Mox
,
Simian Spirit Guide
and
Lotus Petal
are sometimes seen under the assumption that Burn needs explosive starts. It doesn't. It needs to resolve about 6 spells in a timely fashion. It can resolve one spell each on turns 1, 2 and 3, and then play 3 more on turn 4 and win just as well. Mana sources with card disadvantage will only serve to slow your fundamental turn through long term mana shortage.
Non-basic lands
: Burn decks use Mountains almost exclusively, though some builds may use fetches and possibly R/W or R/G duals. That's it. Immunity to
Wasteland
is crucial both to Burn's game plan (win by turn 4) and to its VCA concept. Attempts to squeeze more damage or tech from a Burn list by running direct damage lands (
Barbarian Ring
,
Valakut, The Molten Pinnacle
, Shivan Gorge), manlands, artifact lands to enable
Shrapnel Blast
or
Galvanic Blast
, or even your own Wastelands have all ranged from barely playable to catastrophic failure. When in doubt, use Mountains.
Cantrips
:
Mishra's Bauble
,
Urza's Bauble
,
Street Wraith
and even
Manamorphose
,
Githaxian Probe
and
Needle Drop
are not recommended for Burn, despite the argument to increase the average "card quality". To keep your threat density, running such cantrips means cutting land. Since you want at least 2 lands in your starting hand, cutting land will force you to mulligan more often, giving you card disadvantage. To make matters worse, you're still running the same threat density so you'll be just as likely to top deck land off those cantrips as in a standard build. So you're still running the same amount of "effective" land, only you pay the price in more mulligans. This doesn't compensate for the added card quality when cutting your "worst" Burn spell for cantrips.
Bad top decks with situational power
such as
Fork
,
Ankh of Mishra
,
Reiterate
,
Reverberate
,
Pyromancer Ascension
,
Shrine of Burning Rage
and
Quest for the Pure Flame
: When playing Burn, you will often find yourself in the situation where you're waiting to top deck those last 2-or-so points of damage. While these cards can be more efficient than Incinerate in very unlikely situations, it's a very bad trade to sacrifice consistency for horrible top decks. As a rule of thumb, if it doesn't deal damage on its own, it doesn't belong in your main deck.
Almost all creatures
: Burn doesn't run "creatures" as such, it runs the most efficient burn spells ever printed. On very rare occasions, these happen to be creatures. The ONLY thing that matters is how much damage the creature *will* (not can) deal, in practice, to the opponent - either directly or by virtue of some other mechanic. Extremely few creatures measure up to this level of efficiency - even
Tarmogoyf
is too slow. See the rest of the primer for the playable ones. Here's an incomplete listing of the ones that aren't:
Mogg Fanatic
,
Goblin Arsonist
,
Ember Hauler
,
Mudbutton Torchrunner
,
Spark Elemental
,
Hell's Thunder
,
Ball Lightning
,
Kiln Fiend
,
Chandra's Spitfire
,
Genju of the Spires
,
Figure of Destiny
.
Bad sweepers
: There are only really two choices for sweepers in Burn -
Volcanic Fallout
and
Flamebreak
(and for most metas you want Fallout). However, there are many "cool" choices that should probably never be played, including:
Breath of Darigaaz
,
Slagstorm
,
Cave-in
,
Starstorm
etc.
Cards that give choices to your opponent
such as
Browbeat
,
Blazing Salvo
and
Skullscorch
: These cards will never be better than their worst option - to the point where they will sometimes be completely useless. These cards aren't "tech", they are just bad. You're much better off with Incinerate. Read
this article
for more information on Browbeat.
Cards with irrelevant, bad or risky effects
: For instance
Molten Rain
,
Wheel of Fate
,
Final Fortune
,
Blood Moon
. This is Burn - play burn spells.
Close cases
: These cards are borderline playable - they may work in certain metas or with specific builds, but you're usually better off avoiding them.
*
Shard Volley
: This was a staple in many Burn lists before Goblin Guide. It improved our clock and permitted more T3 wins, despite forcing us to run only 3 Fireblast. Since the printing of Guide however, going back up to 4 Fireblast and running the hasty goblin gives even more speed. If you wish though, you can probably run 2 of these alongside a full playset of Fireblasts, but most lists don't have the room.
*
Flame Rift
: The extra point of damage is sometimes relevant, but the symmetrical damage doesn't help at all in a race. Burn balances on a 1 turn margin against most other aggro decks, and dealing 4 to yourself is often more relevant than dealing 1 more to your opponent. For most Legacy metas, Flame Rift is not recommended.
*
Reckless Abandon
: A hugely efficient Burn spell that unfortunately shoehorns you into playing a more creatures than most are comfortable with. Supporting more than 2 is not feasible, and you need at least 11 creatures in the deck at all times to do that (meaning you probably need to run more than 11 creatures to not make sideboarding a pain).
*
Burning Wish
: In a meta that's all over the place with many opponents running main deck shenanigans, Wish can be a way to make more of your 15 SB slots. Only useful in splash builds where you have access to needed bombs like Retribution of the Meek or Tranquility. Most of the time though, you're better off not building a 2-mana tax (and often a 1 turn delay) into your answers.
*
Cursed Scroll
: Cursed Scroll has both advantages and disadvantages when compared to similar cards that are actually played, such as Grim Lavamancer and Sulfuric Vortex, but right now the meta doesn't favor those advantages. Not targeting players is more important than dealing colorless (Vortex) and coming on-line quickly is more important than resilience and longevity (Lavamancer).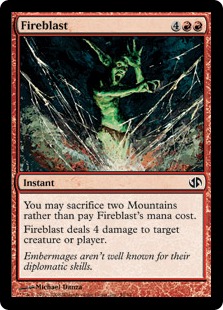 II. BUILDING THE MAIN DECK
It's not very hard to build a good Burn deck, but for some reason, even good players too often approach the task much too casually and end up with suboptimal builds. Just follow these simple steps and you'll be fine.
Basic Concepts: Average Damage and Average Cost
On average, you will see 10 cards by turn 4 (factoring for mulligans), which should be your goldfish win. This means you want to deal 20 damage with 10 cards, requiring an average damage of at least 2 per card. In these 4 turns, you'll make 2-4 land drops, producing a total of 7-10 mana. For a 20-land deck, the average mana produced is 9.3, which means your average cost should be about 0.93 mana per card, or in other words, that the total casting cost of your main deck (including alternate costs for Fireblast etc.) should be about 56 to maximize on your curve and game plan. This is more important to follow if you're running a mana curve build, whereas mana sink builds will want to have obligatory casting costs of about 44-48, depending on how many sinks they run (see below for details).
Basic Concepts: Land Count
So how many lands should you run? The exact number actually matters less than most people think, when it comes to mulligans and top decks at least, as can be seen from the table below:
-----0---1----2---3----4--5+
17:--8--27--34--22---8--1
18:--7--24--34--24---9--2
19:--6--22--33--25--11--3
20:--5--20--32--27--12--4
21:--4--18--31--28--14--5
The table shows a statistical simulation of #lands in your opening seven (in percent), depending on how many lands you choose to play. As you can see, there's not a lot of difference as far as mulligan decisions are concerned. You want to always mulligan hands with 0 or 5+ lands. The sum of these columns is a constant 9% whether you play 17 or 21 lands. More 4-land hands than 1-land hands are keepable, but we're really looking to max out on 2-3 land hands.
As you can see, 20-21 lands gives a total 59% chance for such hands, while 17 lands give a 56% chance. Thus, it's generally accepted that 20-21 lands is the optimum break point. However, care should be taken to balance your land count to fit your build and curve.
Basic Concepts: Keeping Pressure
The key to a competitive Burn deck is to incorporate a main deck strategy to ensure that you don't run out of gas. The build assumptions above are pretty tight, and while Burn is probably the most consistent deck in Legacy, randomness is part of the game. Land pockets can prevent you from getting there in time, as can an interactive game plan from your opponent. Over the last years, two basic strategies to handle this has emerged, which will be refered to as the mana curve method, and the mana sink method, respectively. More on these subarchetypes below.
Card Choices: Land
Mountain
: It's hard to top the sheer resilience of basic lands in Burn. One of Burn's weak spots is its mana base, and keeping it as solid as possible is a good idea. In fact, 100% Mountains might be the strongest option out there.
Fetchlands
: There are a number of more or less dubious reasons behind why people run fetches. Regardless of the motives, you always pay the price in self-damage and vulnerability to
Stifle
. Here are some of the reasons that often come up:
*Deck thinning: There is no such thing. It's been mathematically proven that alleged "deck thinning" through fetchlands is a false assumption. Never ever run fetches for this reason.
*Support Grim Lavamancer and/or Searing Blaze: This is typical for the mana sink builds discussed below, so if you want to run such a build you'll most likely need to run fetches, unfortunately.
*Splashing: This also entails adding 1-2 duals, weakening your mana base further. Green brings
Krosan Grip
to the table, which can be an improvement on red's sideboard options in certain metas. White brings
Lightning Helix
and/or possibly
Steppe Lynx
to the main, plus various disenchant effects and
Retribution of the Meek
to the board. Splashing was probably more of a concern before Ratchet Bomb was printed, but remains a viable meta/playstyle option. Black and blue splashes do not merit your consideration at all.
Card Choices: Core Burn Spells
You will generally want to play all of these cards in your list, unless you have very strong reasons not to. All of these are intended to be 4-ofs unless otherwise noted. However, you will have to round out your deck with a few more spells that are slightly weaker or more situational to get to 60 cards (see Category 2 below).
Lightning Bolt
: The archetypical Burn spell.
Chain Lightning
: Worse than Lightning Bolt, but still very good.
Rift Bolt
: A very flexible bolt that plays well around Counterbalance, Chalice and Daze effects.
Lava Spike
: Not worth running in any deck except Burn, but one of our bread and butter spells. Often boarded out for more dedicated tools games 2-3.
Fireblast
: Bow before the almighty God of Fire, infidel! This is the most efficient spell in Burn, since it costs 0 and deals 4 damage.
Price of Progress
: This will deal 4 damage on average, sometimes more and sometimes less. For most metas, 3 in the main is the right number.
Goblin Guide
: Guide has tested to be one of Burn's most efficient damage sources. Once the board position makes him irrelevant, he can take down big creatures together with a sweeper, chump or trade with a weenie. The information he provides is often more relevant than the occasional mana ramp, so all his abilities pretty much work in your favor.
Keldon Marauders
: Marauders might be one of the most disputed "core" cards, but in the hands of a skilled player he's one of the most efficient Burn spells ever printed. Marauders can either give you great tempo advantage (stalling and dealing 5 for 2 mana) or card/mana advantage (deals damage while trading or drawing removal that only deals with half of the problem). The key is to exploit this edge to its maximum on a case-by-case basis. Playing 3 or 4 both have merit.
Assuming 20-21 lands, that's 50-53 cards that are pretty much decided for you if you want to play the most competitive Legacy Burn. The remaining 7-10 cards define your subarchetype while also influencing your optimal sideboard choices.
Card Choices: Mana Curve Builds
In a mana curve build, you exploit the average available mana to the maximum in the deck design. This allows you to play a few very powerful 3 cmc spells that help keep pressure on various opponents. These builds also use library manipulation in the form of Magma Jet to play 3 cmc spells in a timely fashion, fix Fireblast-to-Mountain ratios, avoid land pockets and find sideboarded answers. These builds play:
Mana curve builds thrive in varied metas with a focus on tribal aggro and equipment. In a meta where Zoo and Elves dominate over Merfolk and Ichorid,
Flamebreak
is preferred over Fallout (both have a much wider application than one might think - see the match-up section). Sideboards tend to build on the main deck by including more and broader sweepers such as Ratchet Bomb, as well as alternative answers to life gain with broad applicability such as artifact removal. More situational 2-ofs can be used in the MD and SB thanks to the scrying power of Magma Jet. Mana curve builds are inherently stronger than most mana sink builds against strategies such as Chalice of the Void and Counterbalance.
Card Choices: Mana Sink Builds
In a mana sink build, you play some spells with partly optional costs to attenuate the effects of both mana flood and mana shortage. You can get by on less mana, but if there is an excess, you can sink it into your optional costs.
Grim Lavamancer
is a jack of all trades in these builds, essentially replacing some functionality of both Volcanic Fallout and Sulfuric Vortex in the mana curve versions. These builds often vary more, but typically play:
Mana curve builds thrive in slightly faster metas, ideally with less white creature removal than normal. Sideboards shun sweepers due to anti-synergy, but use
Searing Blaze
for good measure instead. Other SB options often favor kill speed over control (
Smash to Smithereens
over
Shattering Spree
) and the ability to deal damage over broad applicability (
Pyrostatic Pillar
over
Null Rod
). Mana sink builds are inherently stronger than most mana curve builds against land destruction and discard.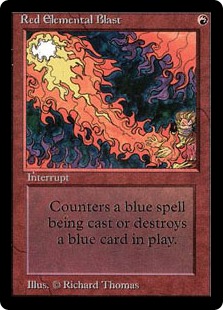 III. BUILDING THE SIDEBOARD
Burn has trouble with three things, and you should sideboard accordingly:
Locking permanents
: Chalice of the Void, Counterbalance, Iona @red, Trinisphere, Chill, Sphere of Law, Thorn of Amethyst, Solitary Confinement, Glacial Chasm, Story Circle, Scepter/Chant etc.
Quicker clocks
: Both Storm and Ichorid are quicker, but only Storm Combo is problematic as our sacrificial creatures and many sweepers keep Ichorid in check. A very early fatty such as t2 Phyrexian Dreadnought can present problems too, especially if backed up with the odd counter.
Life gain
: Jitte, StP, Rhox War Monk, assorted angels, vampires and knights, Zuran Orb, Nomad Stadium etc. are things that are simply embarrassing to loose to. Since these are fairly common even game 1, you should pack main deck hate (Vortex), with more coming in from the sideboard.
The final tweaks to the main deck must be done in parallel building the sideboard. The most well constructed Burn decks consider sideboard plans for specific match-ups, both what will come out and what will come in, when making these final tweaks.
Card Choices: Sideboard
Ratchet Bomb
: This addition to Burn's arsenal conveniently solves nearly all (cheap) permanent based locks and ways to gain life in a single card. The real beauty however, is that it simultaneously removes threats, compensating a potential tempo loss. Since you never really know what your opponent will board in, this also provides important insurance for game 2. Will that Merfolk player board in Jitte or perhaps Chill? If he does, you have an answer. If he doesn't, you can blow up Standstill and Lord of Atlantis instead. All these factors combine to make Ratchet Bomb one of the most commonly boarded cards for Burn. This does not mean you should play it in the main, as it's really more useful when your opponent tries to board in answers than in game 1.
Null Rod
and/or
Pithing Needle
: Multi-problem solvers just like Ratchet Bomb, these help stop things like Zuran Orb and equipment proactively, while also having additional applicability against combo. Due to Mental Misstep, the prevelance of Affinity and the banning of Survival of the Fittest, Null Rod has gained ground over Needle and is now the favored of the two.
Shattering Spree
and/or
Smash to Smithereens
: Artifact removal is always useful and almost mandatory in a Burn SB. SS is favored in a meta where decks tend to play lots of artifacts and/or back them up with counters. StS is favored in a meta where many run a few not necessarily relevant artifacts (such as Aether Vial) that you can exploit for tempo gain.
Red Elemental Blast
: REB will only be crucial in a few situations, for instance to kill Rhox War Monk or to counter key combo pieces like Show and Tell. Yet it has broad applicability against any blue deck, but is dangerously susceptible to Mental Misstep.
Vexing Shusher
: A silver bullet against Counterbalance, though it has become slightly less relevant after the printing of Ratchet Bomb. Also somewhat useful against Chalice. Like REB, it will be generally useful against any blue deck, and can also serve as a simple "bear" when you don't fear removal or opposing creatures (e.g. combo).
Combust
: An alternative to REB that was originally played as a definitive answer to Rhox War Monk, but proved to have great use against Merfolk too. Merfolk, Bant and Maverick are some of the most played decks, so this won't go amiss if you choose to run a few.
Searing Blaze
: Much like StS against artifacts, this double whammy will be useful against anything running up to medium-sized creatures, but especially powerful against Zoo. Mostly useful in fetchland builds.
Pyrostatic Pillar
: Most likely a weaker answer against storm combo than Null Rod, but it deals damage which can be relevant in a race. Consider this more as an effective Burn spell against combo rather than an out. Both this and Null Rod are better answers to combo than Mindbreak Trap will ever be for Burn.
Relic of Progenitus
and/or
Tormod's Crypt
and/or
Ravenous Trap
and/or
Faerie Macabre
: Running GY hate was more of a concern when ANT and Reanimator etc. dominated Legacy. The problem with boarding GY hate vs. Dredge is that you need a lot to have any effect, and that in turn dilutes your burn spells too much - often just racing with sweepers is simply more effective. However, if you feel the need to run GY hate, all of these have merit depending on your meta.
Phyrexian Metamorph
: This new toy attacks cheated-into-play creatures directly rather than attacking the mechanic by which they enter play, which saves SB space if such decks are causing you problems. Iona and many other common choices die immediately to the legend rule, while others such as Empyrial Archangel are matched for power.
Anarchy
: This is a silver bullet against Stax and Enchantress, as it's better than Ratchet Bomb for handling big white things like Sphere of Law, Solitary Confinement, Leyline of Sanctity or Battlegrace Angel. It's also a worthwhile board against other mono-white decks. Consider a few of these if you regularly see Enchantress and Stax in your meta.
Chaos Warp
: A slightly faster alternative to Anarchy, particularly useful against Leyline of Sanctity. Has the same "insurance factor" as Ratchet Bomb, which means it's easy to board, but it will often create card/tempo disadvantage rather than advantage. That still labels is "for emergency use only":
Ensnaring Bridge
: An answer to Emrakul and many other fatties, as well as most lifegain creatures and equipment. However, it's only useful until removed, and doesn't really help you win. For instance, it can delay the inevitable against Iona, but not really solve the problem. It's generally better to focus on removal and preventing problematic permanents from resolving, but Bridge can be potent in certain aggro metas.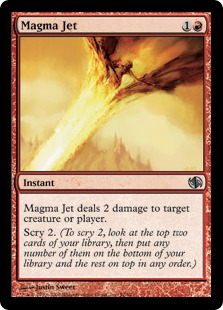 IV. STRATEGY GUIDE AND MATCH-UP ANALYSIS
Basic Strategy: How to Mulligan
With an optimum 20 lands, mulligans will still happen about 50% of the time, resulting in an average 10 cards by turn 4 (3.3 land, 6.7 burn) if factoring for being OTP/OTD. 2-3 land hands are typically ideal, with more 4-land hands being playable than 1-land hands. Keepable 1-land hands are very rare in a tournament situation and typically include Goblin Guide against a known opponent. In most situations though, it isn't worth the risk. Keeping a 4 land hand with three strong spells (for example: any bolt, Keldon Marauders and Sulfuric Vortex) is much better than mulliganing to 5, since chances are rare you'll be better off. As for spells, weak hands to mulligan include:
*No turn 1 plays
*3+ 3cc spells, unless one of them is extremely relevant
*3+ Fireblast or some other spell that can hardly be used three times
*Hands with 2+ irrelevant cards (like double Price of Progress against the mirror)
Basic Strategy: Plays by Turn
Turn 1
: Goblin Guide is the best t1-drop by far, and often FoWed against blue opponents. Of the bolts, Rift Bolt is the optimal 1-drop since it's delayed 1 turn and you might not play more bolts until the turn you aim to win. If you suspect Trinisphere, don't suspend it t1 because you risk loosing it. Against a red opponent, Chain Lightning t1 can be better since he won't have mana open to send it back. If you suspect that you'll need it for removal later, Lava Spike is a better t1 play. Against Goyf Sligh or the mirror, keeping mana open for a t1 Lightning Bolt on Goblin Guide can be very useful, but it's normally better to save Lightning Bolt for later turns.
Turn 2
: Normally you want to drop Keldon Marauders here if you have it. If you have a 3cc spell that needs to be played t3, you may wish to use Magma Jet instead to fix your t3-t4 draws at opponent's EOT, especially if it's an opponent where you could need the instant speed removal anyway. Hellspark Elemental is also a strong t2 play unless the opponent has an untapped creature with 4+ toughness. If you have a rare shot at a t3 win, you could also play double bolts here. Any bolt + Rift Bolt is also a pretty strong way to play around Daze t2, leaving Daze mana open for a t3 Marauders instead (against Merfolk for example). Lavamancer is a nice play here also, as you may want him on-line next turn.
Turn 3
: It's optimal to drop Sulfuric Vortex t3, unless you have more pressing plays. It sets up a t4 kill in opponent's upkeep very nicely with instant speed finishers. Magma Jet to fix your draws is also a strong play here. You could also leave mana open for either Volcanic Fallout (if needed) or Price of Progress with Daze protection (especially if you're going for the kill against a suicidal opponent and also have Fireblast). A lavamancer activation is easy to squeeze in here too.
Turn 4
: A turn to play finishers for the win or additional Magma Jets and 3cc spells if the game goes to t5+
Turn 5
: If the game is still undecided, this is usually where you unearth Hellspark Elemental, stoically observe Sulfuric Vortex doing more damage or simply pray to top deck a burn spell!
Match-up Analysis
This section is focused on how to play against all decks currently in the Proven forum as well as the stickied decks in Established. The reasoning is that if you know how to play against the top decks, you'll be able to figure the rest our for yourself (otherwise, just ask). Unfortunately, the primer can't fit detailed and updated play instruction on every conceivable match-up.
Burn tends to have favorable or very favorable match-ups against control decks directed towards lands and creatures such as Landstill, 43 Land, Pox etc. It has a very broad spectrum of favorable to average MUs comprising all the aggro decks in Legacy, such as Zoo and tribal aggro. As a general rule, the more self-damage and dedicated creature removal these decks run, the better for Burn. The more life gain, the quicker the clock and the more relevant disruption (Hymn, Force) they run, the worse it gets. Burn has unfavorable MUs against decks that lock out spells, such as CounterTop, Stax and fast ways to cheat Iona into play. Burn also has a very unfavorable MU against most storm combo builds, though its fast clock and consistency is very unforgiving against bad (or unlucky) combo builds/players.
Here is my current deck list which will be used as a basis for how to sideboard against the decks below:
[Updated match-up details coming soon...]
Last edited by
urdjur
: Jun 18, 2011

A series of seven articles using Magic to explore the very stuff of the Universe!
"At least for those who can play cards, their present incarnation is not quite wasted."
[Click here for the articles!]