Mastodon
Location:

North Carolina, US

Join Date:

7/6/2011

Posts:

2,717

Member Details
Legacy Ad Nauseam Tendrils
UBx Storm Combo
Last updated 10/1/16. Old discussion and primer found here.
Introduction and history
Ad Nauseam Tendrils is a storm-based combo deck that utilizes various draw spells, fast mana, and tutor spells to kill the opponent with a lethal
Tendrils of Agony
, or in some cases
empty the warrens
. At the core, Ad Nauseam Tendrils is essentially a UBrgw storm-based combo deck. For those unfamiliar with Storm, storm is a mechanic that triggers once the spell with storm is cast that puts a copy of the spell on the stack for each spell cast before it this turn. There are several other storm-based combo decks in the format, but this is generally considered the most viable. While not quite as fast as some combo decks in the format, it is still feared as one of the fastest, resilient, and consistent combo decks in the format having ways to combo through even the toughest hate.
The history of this deck is almost as old as the game itself. Cards like
Dark Ritual
,
demonic tutor
,
black lotus
,
ancestral recall
,
wheel of fortune
, and
timetwister
have existed since the game began. Wizards quickly realized these cards were not healthy for competitive game play with the other cards available and since, we scarcely ever see anything even close to the same power level. But while those cards, and even others that came later such as
necropotence
and
yawgmoth's will
, had been restricted or banned magic players continued to find ways to create combo decks that abused the power of draw spells and fast mana. Win conditions varied over the course of roughly a decade in this kind of deck that came and went through what would be known as standard;
Juzam Djinn
to
drain life
to
hypnotic spectre
among them. The actual combo finish of the deck in its current iteration came long after the degeneracy to support it. The Scourge set from the Onslaught block finally blessed the game with one of the strongest, one-sided, uninteractive, yet beloved keywords the game has seen and would quickly become the name of the predecesor deck with a fitting title: Storm.
After cards such as
tendrils of agony
and
mind's desire
had been printed, Magic players quickly found ways to exploit these cards as their win conditions in combination with casting multiple cheap spells in a single turn. Early iterations of storm-based combo decks involved things like
cruel bargain
,
infernal contract
, and
meditate
in combination with rituals, and artifact-based fast mana. Compared to current Legacy ANT, these decks were very inconsistent and were often outclassed by other combo decks such as reanimator and
tinker
decks, especially when they appeared in standard. But players definitely remembered the power of the Storm mechanic into the following decade of modern magic despite their lack of consistency.
Five years passed before
Ad Nauseam
was printed as the most significant addition to the deck since
tendrils of agony
, which would then solidify the potency and consistency of the strongest variant of a storm-based combo deck. Ad Nauseam finally gave the decks that employed it the ability to generate a massive number of cards to consistently finish combo kills since most storm combo decks used low CMC cards. This new card, along side other more recent magic cards such as
ponder
,
infernal tutor
, and later cards such as
past in flames
would combine with the older combo cards to shape this deck into what it is know as today: Ad Nauseam Tendrils, or ANT.
Again, the history of this deck is as old as the game itself, but it was not until recent years that this deck had become a known force in the modern meta game for the Legacy format.
Before you decide whether or not this deck is for you, here are some pros and cons to help you weigh your decision.
Pros
⦁ You like combo. Winning out of seemingly thin air with blazing speed. The deck has the ability to win on turn 1 or 2, especially if met with no resistance.
⦁ You like to practice hard. This deck rewards those who are more familiar with it.
⦁ You like to win. This deck is currently top tier, and will generally always be. Unlike other storm-based combo decks, this deck is very resilient and consistent.
⦁ You like quick matches. As a combo deck, matches are generally a little shorter than other matchups.
⦁ You like historical, textbook, broken magic. Sometimes this deck just does stuff that even the pilot didn't know could happen...and it results in a win.
Cons
⦁ You have little to no format knowledge. You need at least some format knowledge because if you thought
force of will
was the only card that can stop this deck, you probably haven't played the format enough.
⦁ You like turn 1 kills. This deck is not for you if you are looking for turn 1 kills and other super degeneracy and shenanigans. Sure it can get a turn 1 kill, but its not meant to go off on turn 1.
⦁ You dislike blowouts. The deck is highly resilient, but you may occasionally get locked out by some strategies with little to no outs, especially if you're new to the format. If you really dislike having to concede due to a lockout, you may want to consider something else.
⦁ Similarly, if you dislike losing to yourself, you may want to consider something else. Again, the more experience you have the less it will happen, but it still feels really bad to lose because you messed up the combo.
⦁ You don't have the resources to acquire this deck. This isn't the most expensive legacy deck, but it certainly isn't the cheapest. There are some decent budget alternatives, but the most optimal lists start at around $1200.
As mentioned in the history of the deck, ANT is a storm-based combo deck that will normally try to win the game with a lethal
tendrils of agony
. What that means is
you must cast (X ÷ 2) - 1 spells then cast Tendrils of Agony, where X is the opponent's life total
...so to simplify, if your opponent has 20 life, you must cast 9 spells, followed by tendrils of agony. If your opponent is at 19 or another odd number, you will have to round up. What happens when you cast tendrils of agony after casting 9 other spells is 9 copies go on the stack, plus the original you cast for a total of 10 which amounts to your opponent losing 20 life. How convenient! Note that this magic number will generally always be right around 8 or 9, but it can be greater or fewer. When calculating this number, note common cards that can help your opponent gain life such as
deathrite shaman
or
umezawa's jitte
. So, 8 or 9 spells is a lot of spells to cast in a single turn, how do we manage to cast that many? The deck chains the spells together using what we call fast mana to give us extra mana that we wouldn't normally have. We use the fast mana to cast can trips, hand disruption, and business spells in succession and end the chain of spells with tendrils of agony. The can trips allow us to draw more cards or shape up our hand to create the spell chain. Hand disruption stops our opponent from trying to interfere (and can also be used on ourselves in to help us out some rare cases). Business spells, such as
infernal tutor
and
ad nauseam
give us the ability to find what we need to close out the game at the end of the spell chain.
So before we go into how the combo works, lets look at some mulligans. Keep in mind that your deck only has 14 or 15 lands, so average starting hands will only have one or two lands. This is completely normal for this deck, so don't be alarmed at the land desparity. As long as you have one or two, you're fine. Ideally,
you shouldn't be keeping hands with 4 or more lands either unless you have brainstorm to replace some of them with spells
. Everything in between takes a little bit of experience, but for the most part you should only be wary of having too many of your business spells and not having a brainstorm to fix that. Here are some examples of acceptable starting hands.
This hand, though it has 1 more land than what we would normally prefer, is pretty ideal. It has 2 can trips, 2 fast mana spells, and at least 1 fetch to use with our
brainstorm
. Its a little soft to potential hate cards with no hand disruption, but there's a good chance we can find what we need to win with at least 2 card selection spells.
This hand is a little dangerous, and also demonstrates the need for blue mana in the early stages of the game. I'm not sure what this
bloodstained mire
is doing in my list either haha; it creates a problem because I can't fetch a basic island which opens us up to wasteland. You probably still keep it in game 1 though knowing that there's a solid chance you can get off both your can trips and reasonably get a kill with the fast mana you already have in this opener.

Again, access to no basic island makes this hand a little sketchy, and again make sure you play only blue fetches if you can...but we still have 2 cantrips, 2 fast mana spells, a tutor spell, and 2 lands. Plus we have at least one chance to use brainstorm with a fetch land. Definitely still a keep, especially in the blind.
Ah, our first 4 land hand. Its actually not all that bad, but with no cantrip spells to guarantee improvement on it, its probably a hand you will want to send back. It might have been better in games 2 and 3 if you know what you're playing against, but even in most match ups you'll probably want to find a hand with more spells in it. I can't emphasize enough the importance of shipping hands with 4 or more lands in them; not having enough spells will often get you into a lot of trouble.
The mulligan off the previous hand. This is actually really solid, especially for a mulligan to 6. We have access to basic island to safely cast at least 2 cantrips, plus a lotus petal for if we need access to black or red. The only downside is the past in flames, which isn't normally ideal in our starting hand since we really need to find some more fast mana before we can use it. Definitely a keep, though, for a mulligan to 6.

This is the only hand I actually sculpted to demonstrate a point. This hand has the ability to go off the first turn, but is also dead to a force of will. Basically, you keeping this hand banks on whether or not you think your opponent has a force of will, or if we are on the draw. If we're on the play, they really only have force, but if they're on the draw they have more options so I would ship it on the draw. Personally, I would keep it on the play and hope for the easy kill, but perhaps you knew they were on a blue deck by some means, and you would be smart to ship it. There are other hands similar to this, some of which are actually just unbeatable on turn 1 or 2, but hands like these is where format knowledge, and even more importantly, meta knowledge comes into play.
After we've started the game, the goal is to sculpt the ideal hand to start the spell chain, and if necessary, make sure our opponent isn't trying to stop us. As you saw with the mulligan examples, we need cantrip spells to sculpt the ideal hand. So what are we looking for to sculpt the ideal hand? You will generally be looking for some combination of fast mana spells and an infernal tutor or one of our other business spells. The required cards to start the spell chain varies on what route you will go to finish the spell chain, so I will describe the most common spell chains below.
The first route, which is normally the easiest but least consistent, is the Ad Nauseam route. The Ad Nauseam Route requires only 7 mana to go off, unless you already have
Ad Nauseam
in your hand, in which case, you only need the 5 to cast it. If your opponent is playing aggro, the Ad Nauseam Route may not be the most ideal route unless you still have 17 or 18 life, but you can generally still use Ad Nauseam as low as 5 or 6 life in a pinch. Anything less is really desparate...but sometimes you may have to go for it. Let's assume we don't have Ad Nauseam in our hand already. This means we will need to tutor for it with either
Infernal Tutor
or
Dark Petition
. Note that both of these are net -2 normally, so in order to cast ad nauseam, we will need a total of 7 mana. More mana is ideal so you have more mana to continue the spell chain after you resolve ad nauseam, but there's a good chance you will get a lotus petal or a lion's eye diamond to contine if you need to. You may also need additional mana to cast a hand disruption spell to take an opposing counter spell so you can resolve your tutor spell. If you're using infernal tutor, you will need to be hellbent as well. This means you will generally need a Lion's Eye Diamond to use the hellbent ability of infernal tutor, but you may be able to get hellbent without it by using your hand disruption spells or just simply casting everything else in your hand.
You can hold priority and use Lion's Eye Diamond's ability in response to casting Infernal Tutor to get it's hellbent ability and net 3 mana. This is one of the most important interactions in the deck. Don't forget it.
After resolving infernal tutor and using the remaining mana to cast Ad Nauseam, the real trick is to know what spells you specifically need to finish the combo. Luckily, our deck is mostly cards with very low converted mana costs, so most flips for ad nauseam aren't going to dock you more than 1 or 2 life each but you may occassionally flip one of your higher cmc spells for 4 or 5 life. That said, you should not continue to reveal for Ad Nauseam once you are at 4 or 5 life if you can. Generally you will need more mana to finish the combo, so things like lotus petal and rituals are usual required. You will also need tendrils of agony at some point (or possibly empty the warrens if its game 2 or 3), or a way to get it which is usually
infernal tutor
. Of course, you will probably need another lion's eye diamond if you need to use infernal tutor again. All of these spells combined should get you to a lethal storm count. This method can also be used as sort of an emergency method if another combo route you were trying went wrong. Keep in mind, though, that a failed Ad Nauseam usually results in a game loss since you will probably take a significant amount of life to use it.
The second route is the Past in Flames route. This route is usually the safest, but may not always be available due to cards like
rest in peace
,
deathrite shaman
, etc. It also usually requires a bit more mana and can therefore be a bit harder to set up. Unlike Ad Nauseam, however, it will not destroy your life total meaning even a failed attempt is still not always as drastic as a failed Ad Nauseam. The set up is essentially the same as the first route, but the total mana required to finish the combo is at least 9 or 10 before tendrils of agony. The goal with this route is to cast several rituals, infernal tutor for past in flames, cast said past in flames, then flash back the aforementioned rituals...and then the infernal tutor to get Tendrils of Agony. Again, this route is usually the safest because it won't take a huge chunk out of our life total, and using spells out of the graveyard usually doesn't have a drawback. Be wary, though, that you must still be hellbent for infernal tutor to do what you want it to do, so a lion's eye diamond may still be necessary. Also, you must avoid drawing cards after you've cast past in flames if you plan to use infernal tutor again, as you may not necessarily be able to get them out of your hand unless you have another Lion's eye diamond. Gitaxian probe can be flashed back at the cost of 2 life from the graveyard, but if you're using infernal tutor and you don't have a lion's eye diamond, using the gitaxian probe to put a card in your hand may neuter your infernal tutor and stop you from finishing the combo (especially if you draw something like a land that you can't play).
The third route...well, the third route is basically every other method of comboing off. This could mean anything from casting 6 rituals spells into infernal tutor into tendrils, or some combination of the above two routes where you had to use both ad nauseam and past in flames because something went wrong along the way and you still had the mana to do both. Honestly, it would take too much time for me to sit and write all the possible ways this deck could potentially kill your opponent, but all you need to know is that you can still win games without past in flames, ad nauseam, or even tutor spells sometimes. All you need to do, as previously mentioned, is cast (X ÷ 2) - 1 spells then cast
Tendrils of Agony
, where X is the opponent's life total. Realistically, winning without past in flames or ad nauseam usually involves several ritual spells, several can trips, and usually a hellbent infernal tutor or dark petition to get tendrils. You shouldn't usually be aiming to go this route; this usually happens as the result of games going longer than usual and you having an abnormally large amount of lands or mana and not having access to past in flames or ad nauseam. But sometimes, you may just have the perfect hand to do this, even on turn 1. The more you play this deck, the more ways you may find to successfully combo.
If you still have trouble figuring out how to win games with this deck: see the images below.
Below are images with explanations below each image that explain the steps in the combo. On the left side, the black and red circles represent black and red mana in the pool. The orange circle represents the storm count. The red area represents the stack, the green area represents our hand, and the purple-blue area represents the battlefield. The zones on the left are our graveyard and exile zones (which will be brought up when necessary). Images brought to you by Cockatrice :).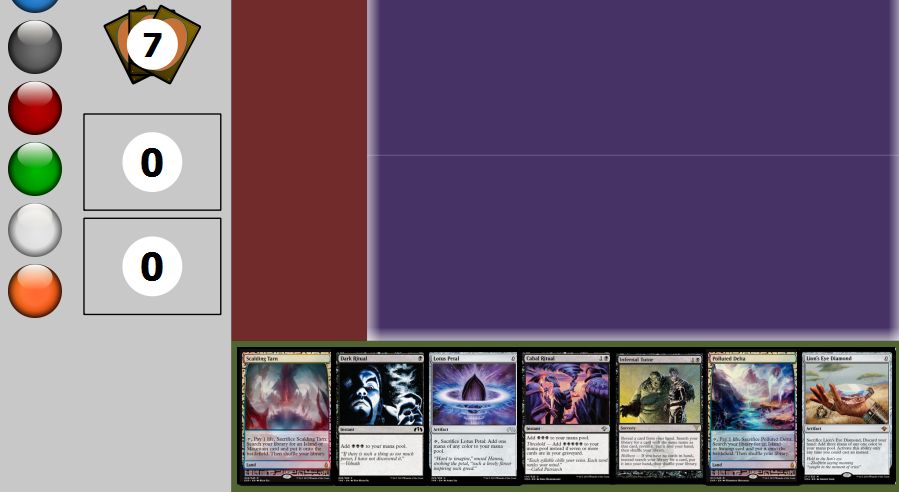 1.)
This is roughly what your hand will look like to start the combo; you should be trying to sculpt your hand with your cantrips to look something like this in order to successfully perform the combo. Hand disruptions spells or other cards (such as removal from the sideboard in games 2 and 3) are also usually important in this preceding step in order to make sure its safe (or even possible) to go off. In this particular example, this just so happened to be my opening hand, so this would be a turn 1 kill assuming our opponent had no interruptions.
2.)
As long as we can, we want to play around
daze
, which is why we lead with our land, and the lotus petal that we have so our opponent can't stop us with daze. If we know our opponent is playing
wasteland
it may also be a good idea to fetch a basic land instead, but in this example it doesn't matter and we just grab an
underground sea
.
3.)
Now, in this example, we may go ahead and cast our fast mana spells which puts our storm count to 4 and our black mana to 4 total. Generally, we want to cast
Cabal Ritual
last to get threshold, but in this case we have no way to reach threshold no matter the order so it doesn't really matter.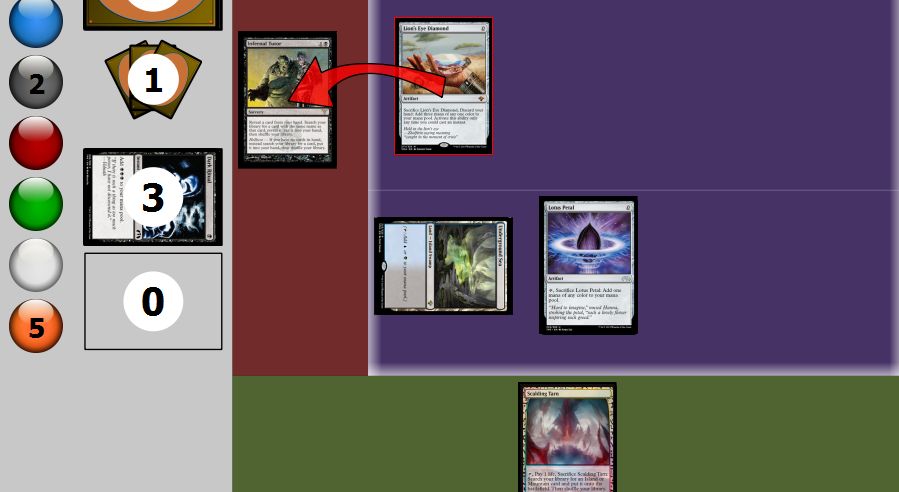 4.)
We will now use 2 of our black mana (leaving us with 2) to cast
infernal tutor
. This is the step that confuses those who are unfamiliar with how this deck works. Now that infernal Tutor is on the stack, we need to hold priority (meaning we will immediately respond to our own spell being cast before our opponent has an opportunity to respond) and activate
Lion's Eye Diamond
's mana ability by sacrificing it and discarding our hand which at this point only had a land we couldn't play. This will add 3 mana to our pool and allow us to use the hellbent ability of infernal tutor, which essentially makes it a
Demonic Tutor
(which is currently banned in legacy). In this case, we will add red mana in case we want to use
past in flames
, but we also have 2 black and 5 total for
Ad Nauseam
or
Dark Petition
.
This is the most vulnerable step
of the combo, since an interruption at this point will leave us with no cards in hand since we used a LED. Therefore, if you have hand disruption, you really want to use it
before
this step if possible.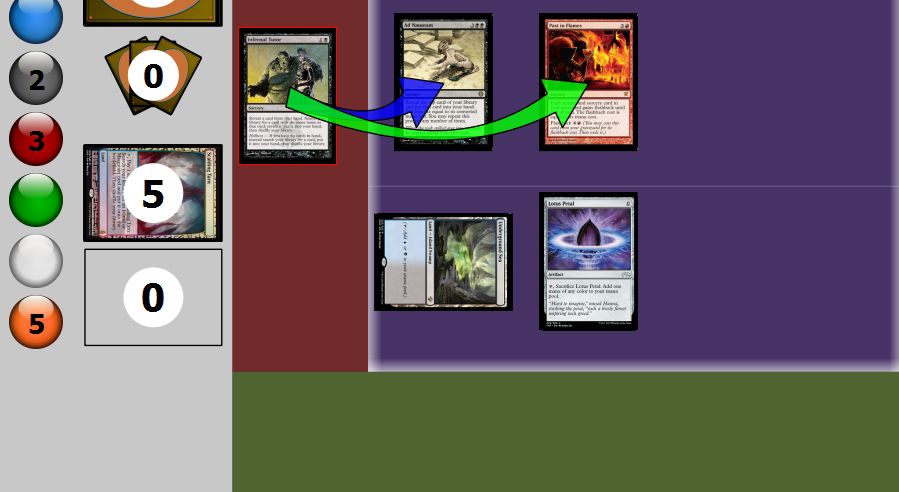 5.)
Assuming nothing went wrong in step 4 and our infernal tutor resolves, we are now at only 5 storm so we can't get
tendrils of agony
yet (unless our opponent only had 12 life for some reason). Instead we need to pick another spell to continue the spell chain:
Ad Nauseam
or
Past in Flames
. Which one you should get depends on the situation, and will take some experience deciding between the two. In this example we can do either, but having the ability to safely do either is rare. In some rare cases, we can just get another
infernal tutor
or
dark petition
here instead to simply increment the storm count by 1 before going for tendrils, but in this example we don't quite have the mana for that and we'll also just assume our opponent is at 20 life, meaning we'll need at least a storm count of 9.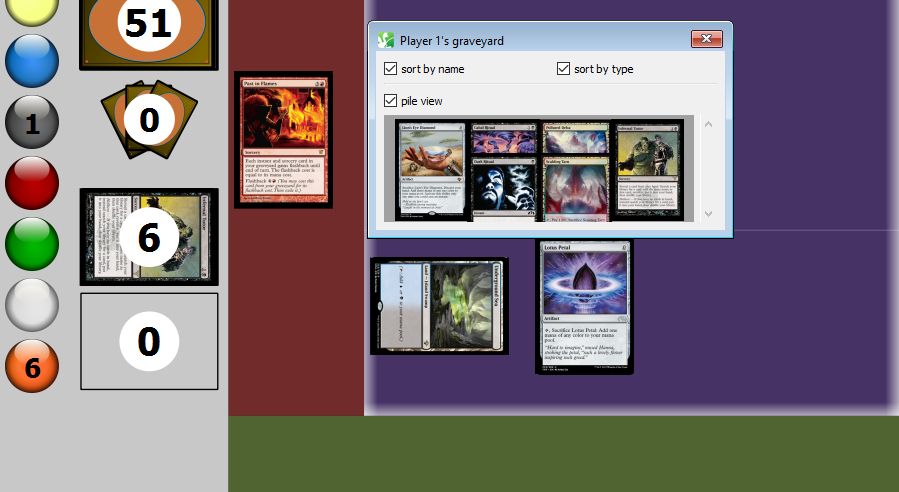 6a.)
Assuming we picked past in flames, we would then cast it from our hand which now allows us to recycle (flashback) the sorceries and instants in our graveyard. Luckily, we have just enough spells in our graveyard to do this. If we don't, you will have to go for
Ad Nauseam
instead when resolving the infernal tutor in the previous step.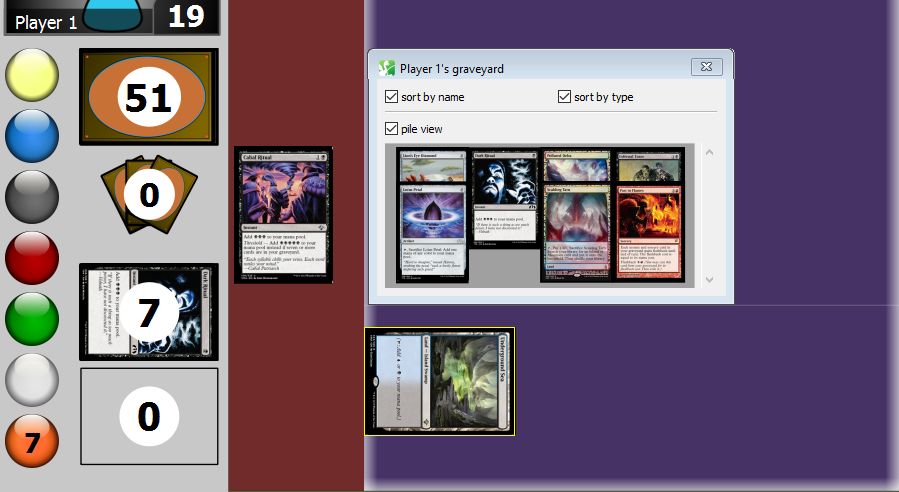 6b.)
In this particular example, we need to crack the lotus petal for mana to flashback the
Cabal Ritual
first
to make sure we have 7 cards in our graveyard to get the threshold ability. Otherwise, we wouldn't quite have enough mana to finish the spell chain with tendrils. Normally this isn't a problem since we normally go through more fetchlands and spells before getting to this point, but in this example comboing off on turn 1 brought us to this particular issue.
6c.)
After we resolve the cabal ritual, we may now flashback the dark ritual, and then the infernal tutor. Since we still don't have any cards in our hand (because we were casting those from the graveyard), we will again have the hellbent ability of infernal tutor to get whatever we want from our deck. In this example, we are now at 9 storm count with a total of 5 black in the pool so we can go ahead and get our win condition:
Tendrils of Agony
.
7a.)
Assuming we picked
Ad Nauseam
in step 5, we would then cast it and resolve its effect. This part is essentially Black Jack: Magic the Gathering edition...except the odds are generally much more in your favor--but not always. You take hits from the top of the deck and try to get what we need to finish the combo without letting our life total become 0. You need to know whats in your deck while resolving this spell because going too low in life could result in you killing yourself on the spot. You also need to know what you need to finish the combo so that you don't have to dock your life total unnecessarily. Note that besides step 4, this is the most vulnerable point in the combo, as our combo is left to random chance on the resolution of this spell and we could just brick. This is why past in flames is generally preferred if possible since that is usually guaranteed if we can do it, but sometimes we may just have to go for this route, win or lose. Don't worry too much, though, this deck handles this step surprisingly well as long as you have a healthy life total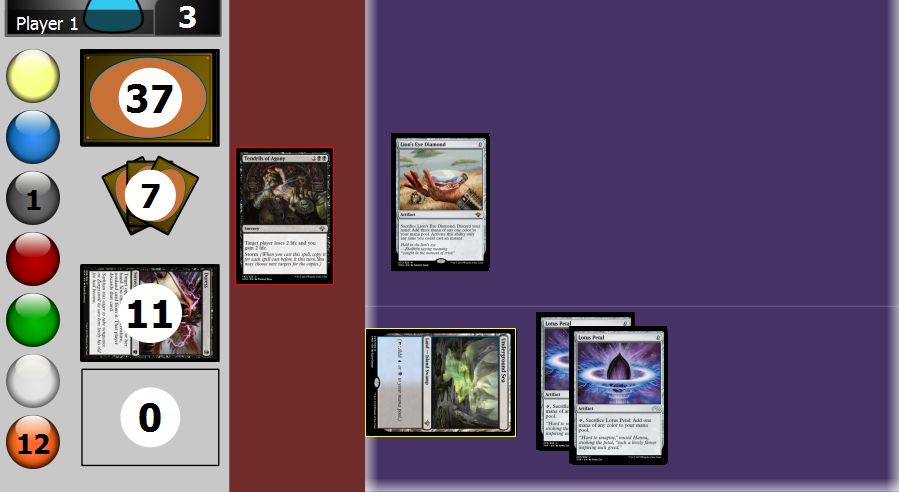 7b.)
After resolving ad nauseam, which in this example put me to 3 life, we may now simply unload on our opponent. In this case I happened to get the tendrils from Ad Nauseam (which can often be a bad thing) so I don't have to tutor for it, I just have to cast my fast mana spells, some hand disruption (just to be sure), then the tendrils. In most other cases, it may require repeating some of the previous steps like the one outlined in step 4.
8.)
Either route should result in this step. Which is our opponent losing all of their life. Sometimes we may use
empty the warrens
instead, which should put enough goblins into play to overwhelm our opponent. Congratulations! You've won!
Here are some example deck lists for reference. Note that due to the nature of the deck being a combo deck, lists will not vary much and will be roughly 85% to 90% the same across the board. There is not much room in this deck for variation since it requires consistency.
This is closest to what I think would be the most normal ANT list, based on the current meta and deck lists available on MTGtop8.com. When in doubt, I recommend using this list as the best reference, or at least the best list to start with to get familiar with the deck.
Caleb Scherer has many notable results playing ANT in the SCG open and classic series. The main difference in his lists from most other lists is the mainboard
rain of filth
and an extra
dark petition
. He also does not choose to play
Sensei's Divining Top
. The most unique part of his list(s), however, is his unique sideboard which employs an aggressive transformation option with several extra copies of tendrils and 3 chrome mox for speedier kills. He also plays a bayou which is not too uncommon these days with 4 abrupt decays in many people's sideboards.
Here is a great example of a European list which has some notable differences. The first of which is 15 lands with mainboard Bayou and Tropical island, as opposed to only 14 with no green lands in the main. For whatever reason this is pretty common in European lists compared to North American lists. As such, the sideboard has some extra slots. Many European lists are still playing
Krosan Grip
in addition to abrupt decay. Also, many European players prefer
Flusterstorm
in their sideboards as well. Notable differences in the main include an extra past in flames, both Sensei's divining top with an extra in the board, and rain of filth.
The sideboard for ANT is very important. There are a few cards that come in from the sideboards of other decks that we cannot normally deal with or have a very difficult time dealing with and without having an answer for them the deck can be locked out of the game on the spot. Additionally, many decks will bring in what they can to interact with us and take out things that don't really work on us such as removal spells or unnecessary creatures.
The sideboard for this deck should have everything it needs to answer the cards that our deck could not normally deal with. Luckily for us, the list of things we actually care about is pretty straightforward. Counterspells and hand disruption are the obvious offenders, and you should be able to play around those with your cantrips and hand disruption. However, our deck has a hard time dealing with some permanents and therefore we generally need something to deal with those permanents. Below is a list of all permanents relevant to us in their corresponding colors so you know what to prepare for.
NOTE
- Knight of the Reliquary is only problematic due to the fact that it can fetch
Bojuka Bog
to effectively stifle
Past in Flames
. This example is rare, but should be remembered. Scavenging Ooze and Deathrite Shaman simply make past in flames a little more difficult and don't usually actually have to be dealt with. Blood moon and back to basics can usually be played around, but may come by surprise so it they are worth considering when sideboarding.
Now that we know what permaments we have to play around we can look at our sideboard options.
Abrupt Decay
- This card is absolutely necessary currently due to the high presence of counterbalance and chalice of the void in the meta. It also blows up a lot of other things that we care about too and is therefore a 3-of or 4-of in most sideboards nowadays.
Xantid Swarm
- So, in case you needed help explaining what this card is for: this card is really good against decks that cast counterspells. Obviously, xantid swarm prevents said decks from interacting with you on your turn when you try to go off. Unfortunately, it is susceptible to removal, but the idea behind this card is that the opponent takes out their removal for games 2 and 3 because they presume you don't play any creatures in your deck and they'd rather have more counterspells. This card preys on that particular plan by silencing them and negating their counterspells. Do remember, however, that experienced players know this simple trick and will often keep some removal if they can to deal with the swarm.
City of Solitude
- This card is essentially the same as xantid swarm, except its harder to interact with, and it costs 3 mana which can be difficult for this deck. This has become much more relevant in the recent meta due to the presence of
sensei's diving top
since it neuters its ability as well, which in turn makes counterbalance a non-issue. Notably, it also stops a few other relevant abilities on your own turn such as
deathrite shaman
,
umezawa's jitte
, or cards such as
nihil spellbomb
or
relic of progenitus
. Successful lists in more recent times have generally been playing this over xantid swarm, but they each have benefits over the other, so you may want to come to your own conclusions, or adjust according to the forecasted meta.
Carpet of Flowers
- Good against decks that play islands...obviously. Its really strong in a delver meta since they focus really hard on mana denial. However, its actually not that great against most other decks playing islands simply because the extra mana is not important as getting through opposing counterspells.
Dread of Night
- The only creatures that we actually care about are white, and therefore this is about the only card we have that interacts specifically with the creatures that we care about. It's about the best thing in the game to keep both
thalia, guardian of thraben
and
vryn wingmare
off the table. By itself, it doesn't get rid of
ethersworn canonist
or
gaddock teeg
though, which brings us to the next option...
Massacre
- This is a little more reactive than proactive, but effectively deals with all creatures that we care about. Of course, you must be certain your opponent will have a plains in play though in order to cast it.
The next few sideboard slots should be dedicated to some bounce spells or other generic removal spells. This primarily means cards like
chain of vapor
,
echoing truth
,
krosan grip
, etc. This is for decks that likely bring in the permaments that don't get destroyed by abrupt decay. Its can also be used against opposing combo decks that also rely on permanents for a kill such as dredge, show and tell, or elves--or even some aggro decks.
Many ANT sideboards will dedicate a few spots to additional combo options in addition to the normal suite of removal/interaction. In the sideboard above you see an additional tendrils and
Empty the Warrens
. Empty the warrens is employed in just about every storm deck sideboard as an alternative win condition against decks that may have limited removal or blockers. The additional tendrils of agony can be useful against decks where casting two may be necessary, or the deck has heavy hand disruption in combination with cards that exile things from the graveyard. These situations are a little niche, but they do come up so you should have a plan for them. Not listed in the above sideboard, some decks may go into additional storm cards such as
chrome mox
or
rain of filth
for a speedier combo kill.
Lastly, there's usually room for other spells such as
Flusterstorm
and additional hand disruption that are just pretty good to have if you can fit them in there. You never know what your opponent might bring in and these cards can generally answer them before they hit the table. Flusterstorm is also, of course, hilariously good in the mirror which is becoming a little more common than in previous years of magic. Your own experimentation will be required in this particular area, as many ANT players differ on opinions or what they prefer.
For tips on how to sideboard for certain match ups, I leave that to Bryant Cook:
http://www.theepicstorm.com/sideboarding-guide/
. This link is actually a sideboarding guide for TES, which is a similar but different deck. However, many of the same principles in this sideboarding guide can be applied to this deck and therefore I would highly recommend you read it. Since I had little knowledge and experience of this particular area while writing this, if this were a scholarly work, I would simply have inserted stuff Bryant Cook said and cited it. But since this is the internet and I did not want to type up all of that I put the link here--go look at it!

Modern Junk Primer
Legacy ANT Primer
L1 Judge