runningbear

Join Date:

7/12/2011

Posts:

784

Member Details
INFINIGRIFFIN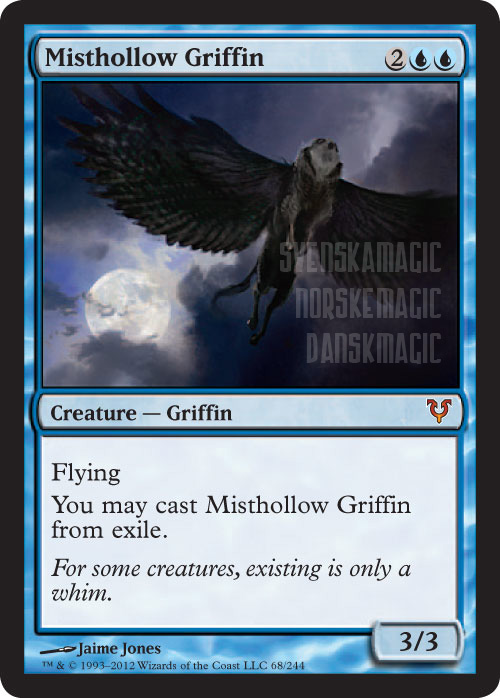 Mods: Images hosted by magiccards.info and mtgsalvation.
The new
Misthollow Griffin
from Avacyn Restored has a great interaction with
Food Chain
. You can cast and exile it repeatedly for infinite mana of any color. Unfortunately you can only use this mana on creatures.
Now there are a couple of ways that you can use this mana to win. Doubling Cube copies your mana, but gets rid of restrictions on it. Unfortunately it costs 5 mana to use, which is not ideal.
Lightning Serpent
and
Maga, Traitor to Mortals
are the best creature-based options. I think it's pretty obvious which is the better choice...
Lightning Serpent
can get PtEd, or
Fog
ged, and Maga sticks around if you can't find a Griffin for infinite mana. Maga is obviously the better choice.
A few short card explanations.
Creatures:
Maga, Traitor to Mortals
: Finisher. Kills with your infinite mana. If you can't find a
Misthollow Griffin
, you can normally get enough mana to damage somebody and set up for a lethal swing next turn.
Emrakul, the Aeons Torn
: Win condition. This guy is pretty threatening...
Ingot Chewer
: Only played because it gives you the largest net gain in mana for the lowest initial cost. The artifact removal can come in handy too.
Misthollow Griffin
: A combo piece. Goes infinite with
Food Chain
.
Mulldrifter
,
Court Hussar
,
Raven Familiar
: Vital pieces. These dig for combo pieces and get you extra mana.
Imperial Recruiter
: A very important part of the deck. These chain together to net you 4 extra mana, and can end with your combo piece,
Maga, Traitor to Mortals
. If you have a Maga, you can go for some digging with
Court Hussar
,
Raven Familiar
, or
Mulldrifter
.
Fierce Empath
: Tutors Emrakul. Tutored by Recruiter.
Lands:
City of Traitors
,
Ancient Tomb
: Tap for 2. Ramp you. Pretty simple.
City of Brass
,
Gemstone Mine
: Tap for any color. Again, pretty simple.
Instants:
Misdirection
: Redirects counters, hand disruption, and kill spells. Exiling Griffin is sweet.
Pact of Negation
: Free counterspell. It does force you to combo out on the turn you play it though.
Enlightened Tutor
: Tutors for your combo piece.
Sorceries:
Glimpse of Nature
: Helps you dig through your deck for combo peices, or draws the entire thing if you have your Griffin.
Artifacts:
Lotus Petal
: Free mana. That's it. Tested
Chrome Mox
, but I typically only need the mana once, and Chrome often didn't give me the color I needed.
Enchantments:
Food Chain
: There can only be one. Er.... Four. Amazing card. Come would say broken. It's what makes this deck function.
Thanks for reading. I've tested it a bit and it typically combos out on turn 2-4. Any suggestions or criticisms would be welcome.
Can't wait to play some Grull again... with Wold Run!
"chill, let's all primetime vorinclex yo"